Retention is the new acquisition for the simple reason that it's a more lucrative path for apps to drive exponential growth. A mere 5% improvement in retention rates increases profits anywhere between 25% – 95%. Plus, as alluring as acquiring a new customer is, it costs 5-25X times more than retaining an existing one. So it's easy to see why retention becomes the key driver for growth. Yet, it continues to be a significant challenge for many of the brands. Why? Because nearly 1 in 4 people abandon mobile apps after only one use and within 72 hours of installation, on average, 77% of the daily active users are lost. No doubt, we need to shift our focus to customer retention to drive growth.
So, where do you get started? We understand that implementing successful retention strategies and optimizing them can be tough to crack. But let's break through! Here are the 6 proven retention strategies (that have stood against the ever-evolving user behavior) directly from the horse's mouth.
6 App retention strategies that the leading brand's bank on
Read the six time-tested retention strategies from some top customer-facing brands – Dunzo, Gojek, Dream11, IntrCity, CoinDCX, and Unacademy, that have fought and won the user retention battle heads-on:
But, before we dive straight in, here's a quick overview of the strategies talked about in this blog: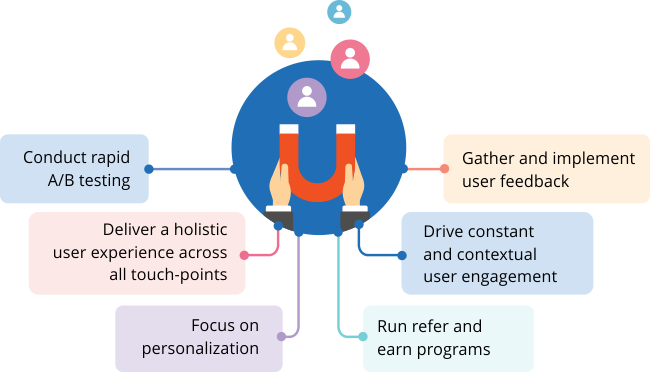 Dunzo's A/B testing strategies
Leveraging the experience economy, Dunzo follows a multi-layered user-experience-focused approach to drive user retention. Their primary focus is to fix leaky funnels by identifying, tracking, and measuring the metrics that impact the retention rate. Based on the data points (preferences, demographics, app usage pattern, past behavior, and more) gathered from deep product analytics, they run multiple A/B tests to quickly identify the root of the problem, see what's working, eliminate what's not, and start implementing the solutions. These tests help understand users' preferences, likes, and dislikes and deliver user-preferred experiences.
A/B tests you can run on your app
A/B test, or split testing, can be conducted across various sections/aspects of the app. Running tests on the onboarding process, feature discovery/adoption, app layout, CTA, user flow, and conversion process helps you identify how users interact with the app and what drives them faster to conversion. By analyzing user behavior, you will notice that users frequently skip the onboarding tour or drop off before completing the onboarding journey. To approach this, you can test multiple variants of the onboarding flow (lesser steps, different CTAs, a different tour flow, and more). In addition, you can add and test nudges in possible drop-off/friction points.
A/B testing your app can help you identify what works better in getting users to interact and engage more with your app. This gives away a lot of insights into the kind of experience users look forward to/expect. And not being able to deliver that experience is the quickest receipt to doom!
Unacademy's focus on user experience
Unacademy believes that a great user experience strategy is the most significant growth and retention strategy. A personalized, contextual user experience becomes the key differentiating for Unacademy. Every experience is tailor-made for every user based on their specific needs/expectations. The app flow is customized for each user segment, again, depending on their high-value actions and goals.
How can a superior user experience increase retention?
Be it a first-time user or a power user, user experience is what keeps them coming back to the app. A seamless flow on the app is what you need to chase to deliver the perfect user experience. For instance, a lengthy onboarding process can increase friction points and discourage users from moving further.
Highlighting core features of your product using contextual nudges like spotlights, tool-tips, and beacons helps drastically improve the user's overall product experience. Smooth navigation, unique layouts, hyper-personalized experience, effective guidance through nudges and walkthroughs, and relentless experimentation–all add up to create a great user experience.
A study suggests that 1/5th of the customers who had positive user experience referred the app to at least ten people in their circle. This stat, alone, should be enough to compel you to improve your app with a special focus on user experience.
Gojek's user engagement tips and tricks
Gojek focuses on specific high-value actions so that there's a constant stream of user engagement with the app. High-value actions are users' activities and behavior that directly impact the critical app growth metrics. Also, when looking at the relevent retention metrics, Gojek believes that continuous engagement isn't limited to purchasing a product or the transaction at the end, but it circles back to whether or not an end-user is coming back on the app or maybe browsing the product details page (and other key sections) on the app. The higher the user engagement, the better your chances of retaining them. Gojek prioritizes continuous user engagement and keeps its customer coming back to their app using push notifications, targeted emails, and other forms of communication.
Consistent user engagement = higher retention; here's how
The first step is to understand that purchase or transaction is not the only data point for measuring retention actions. Constant user engagement is equally crucial as it builds habit loops that have the potential to retain users for life.
For instance, the ecommerce space is highly competitive, and brands are trying every trick in the book to draw in the customers. Targeted marketing campaigns for your pre-existing customer base are among the most efficient ways to stay on top of their minds. Push notifications, personalized recommendation emails, and loyalty programs can actively encourage your customers to engage with the app continuously.
An interactive user interface coupled with a solid user engagement strategy is the key to a higher customer retention rate.
User engagement is highly dependent on effectively understanding user behavior. Here's more on the same.
IntrCity's indisputable feedback loop
The experts at IntrCity seem to have found the strategy that works best to improve user retention rates on their app. According to them, listening to customers' feedback and requests can positively influence user retention rates. The customers are more likely to keep returning to the app if they feel valued. For IntrCity, empathizing with and solving user problems is the sure-shot way to improve retention.
Here's how you can integrate such a feedback loop on your app
Feedback surveys are a straightforward way to listen to your customers' woes and understand what works (and what doesn't) for them.
Leverage this feedback to refine your processes—eliminate, add, and improve accordingly. Making these constant iterations on your app based on user feedback helps you build a stronger base of loyal app users and drive retention numbers through the roof.
No-code feedback/survey nudges are one such tool to gather user feedback and collect it at just the apt time (when a user is most willing to share the feedback). These nudges could be triggered in real-time – for instance, when a user completes a transaction or maybe receives an order. And that's how you can gather meaningful user feedback and take corrective measures to improve the app experience accordingly.
Dream11's personalization strategies
Dream11 has a comparatively low monetization rate. This, in turn, increases the frequency of customer visits as they can use most of the features for a free or low cost. But then, how do they retain their high-value customers? This is where personalization and segmentation strategies come into play. They personalize many features for various users and package them as attractive propositions for non-paying visitors.
How can personalization work for your brand?
Personalization strategies can be implemented in various ways and multiple processes. Using personalized recommendations on your app shows the different products currently relevant to that particular customer. You can also set up a reward or loyalty program and awards points for every purchase. This not only increases the customer retention rate but also increases the lifetime value of the customer. The reward program also makes users feel like they are part of an exclusive club.
Personalized messages targetted to specific user segments are a surefire way of finetuning the overall user experience and increasing the retention rates.
Coin DCX's experimental approach to user retention
Coin DCX is big on experimentation. With every new update, they introduce new features and tools for the users to use. This is followed by thoroughly analyzing the feature usage, including the number of users interacting with a particular feature, the ratio of feature users to product users, unique feature users, usage context, and more. It also involves analyzing user behavior and creating cohorts to identify usage trends and the correlation between retention and feature usage. If they see that the tool is underutilized or ignored, they take the necessary steps to rectify it. They either introduce smart nudges to guide the customers on using the tool, or they entirely rescind the feature.
In addition to this, referrals and word of mouth are leveraged extensively to not only acquire new users but also retain the existing ones.
How to create a successful referral program?
The best way to go about building a successful referral program is by offering rewards that not only get users to refer the app but also bring them back to the app to unlock those rewards. Cashbacks, bonuses, discounts on the next purchase/booking are all ways to ensure that users return to the app and keep engaging with it. That's one part of referrals. The other (and safe to say – the more important one) is when, where, and how you approach users to participate in such programs. The ideal channel is within the app, and the optimal time would be when the user's satisfaction level is at its peak. Using subtle nudges helps get users' attention towards the refer and earn feature without dampening their experience on the app.
And this is how it's done!
Conclusion
There's certainly no one answer to the question – 'how to increase app user retention?' What's needed is a mix of strategies, each of which focuses on the needs/goals of users.
All in all, the top strategies (you can't afford to miss) include:
Measuring and optimizing the right retention metrics and investing in deep product analytics to understand user behavior
Relentless experimentation and A/B testing to drive user-preferred experiences
Critically focussing on personalized user experience, consistent user engagement, and user feedback.
If you've read to the end, we're pretty sure you're looking for ways to implement these strategies on your app. It's a good thing we've got an effective solution for you. A single no-code Product Experience platform can help you run rapid A/B tests, collect user feedback, fire up the referral loop, and enhance the overall product experience – all without writing a single line of code. Are you excited to see how? Talk to us!