A lot goes into building a product with world-class features. But retaining users for a long time remains the most significant challenge faced by brands. The best way to approach user retention is to build it into your product. There's nothing that a great app with a superior product experience can't solve – retention included.
There are thousands of guides, ebooks, whitepapers, and blogs available on solving the user retention problem. But this article puts together the 10 top user retention strategies with some unique approaches and tools to take poor retention rates to the grave.
So, let's get to it!
Must-have user retention strategies:
1. Prioritize app onboarding
Onboarding is the first and one of the critical phases of retention. Evidently so, given that it is the first impression a user has of your product. A poor/complex onboarding flow that makes it difficult for users to discover and use high-value features results in users dropping off. So, it becomes vital to help new users understand your app's unique value proposition quickly. A few ways to do that effectively are:
Implement contextual user flows that help users get started on the app quickly. Product walkthroughs do the job here! For instance guiding users on setting up their accounts – signing up, filling in profile details, setting preferences (like language), and more.
Identify the core activity/actions and get users to perform those. Ideally, the core function for a fantasy gaming app is users playing the first game/joining the first contest. Similarly, for a healthcare app, it would be the user booking their first tests. Nudging users towards such actions drives quick activation. This way, you retain users better by guiding them to actions closest to your app's value proposition.
Avoid overwhelming users by introducing multiple features (including irrelevant ones). What you could do instead is highlight features at the time it would be most relevant to users. Here's a simple use case – an e-commerce app highlighting the filter option to the user segment browsing through products.
All of this makes it easier for users to realize the app's value in the first interaction itself. And, helping users discover this value gets much easier with a no-code platform that allows you to deploy real-time no-code nudges in just a few minutes.
Related Read: https://netcorecloud.com/ebook/best-practices-for-app-onboarding/
Fittr, a leading health-tech app, implements a superior onboarding journey by highlighting critical sections of the app using spotlight nudges. In no time, users realize that the app is the perfect partner in their fitness journey (which is precisely the value the app offers). This leads to quicker activation rates and higher Day 0 retention.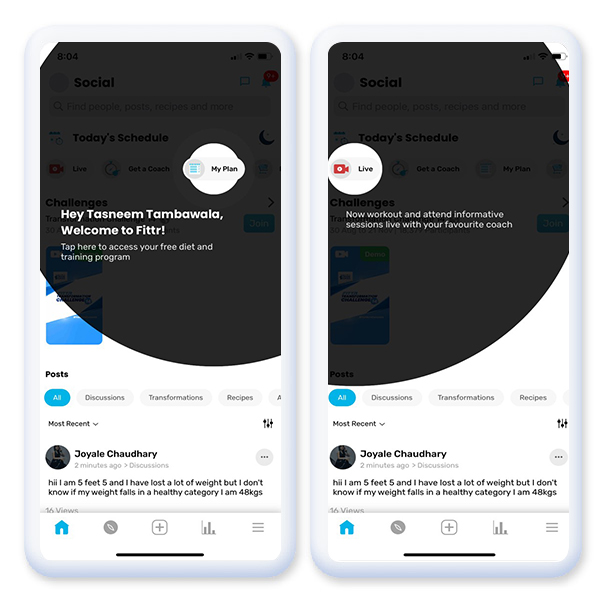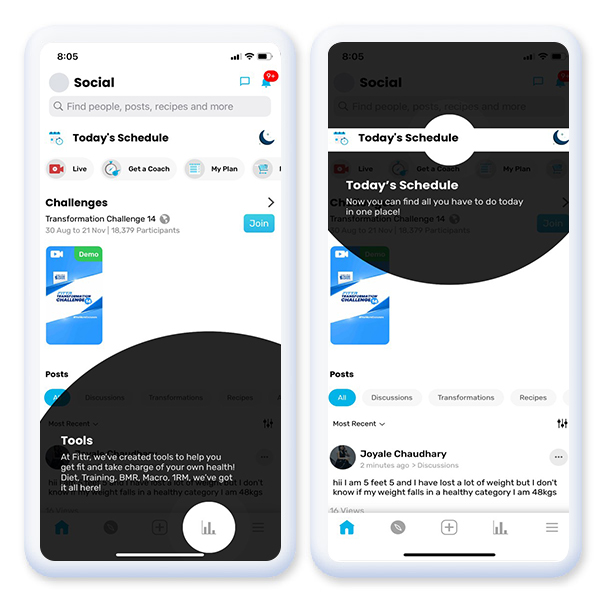 Onboarding doesn't end upon user activation. It's a continuous process, so to speak. App onboarding needs to be extended to existing users to introduce new features.
2. Visualize the ideal user path
Create the core path users need to take to perform the core action on your app. For instance, the ideal path for a fantasy gaming app would be to sign-up → add funds → join/form a team → play a match. It gives you a clear picture of how many users are completing these steps, the time spent doing so, and the drop-off points. Let's assume users derail at the 'add funds' stage. To prevent that, you could surface a joining bonus or credit a certain amount to the user's wallet and induce a positive behavior (playing a match) in users.
Not only are you minimizing funnel drop-offs but also building the foundation for long-term retention.
3. Adopt a product-led growth strategy
Product-led growth is all about prioritizing product experience. Here's what a product-led growth strategy does for you:
Let users experience the product first-hand. It thrives on the motto – experience first, commit later. Building free trial/freemium models resonate with this.
Make the product self-serving – While there is a long list of in-app engagement tactics, let's cut straight to one of the most effective ones – Contextual Nudges. These visual hints in the form of instructional/informational tool-tips, spotlights, beacons make the product more intuitive.
Deliver quick value – Contextual walkthroughs deployed during onboarding help users experience the app value early. Users can come across multiple aha moments in their journey – starting at the onboarding stage. As users keep engaging with your product, you must focus on helping them find value constantly.
Empower your product to drive the metric that matter most – retention
Stitch a great product with the perfect product experience and see it become the single strongest source for getting users to stick to your app.
Read more about how product experience is at the center of product-led growth.
4. Segment users based on multiple user events/activities
User segmentation is the key to driving 1:1 conversations with users. You must segment users based on critical app events (like products viewed, product clicked, scrolls), user attributes, or even both.
It helps deliver user-preferred communications across multiple channels. Let's talk about nudges as an instance. You can build nudge journeys based on user segments.
Let's look at a couple of user segments and the ideal nudge journeys you could build for each of them:
Add to cart – For the set of users who've added certain products to the cart, you can deploy a tool-tip nudge highlighting offers/discounts running on specific items on the cart. Using the FOMO tag (x users have bought this in the last 24 hours or items fast-selling) is another excellent way of enticing users to go from 'add to cart' to 'place order.'
Average session time – Segmenting users based on average session time is another way to look at triggering nudges. You could increase up-selling by nudging users who spend a great deal of time on your app to upgrade to a paid version. Nudges can highlight the value users would receive on paying for a premium membership/account.
Page activity – This could include users who've visited a particular page. Nudges are implemented to highlight a key feature on that page or guide users on the next step. Here's an example: users visiting the wishlist page can be prompted to move the products to the cart and complete the purchase.
Delivering engaging and contextual experiences to user segments helps drive up your retention numbers.
Lesser known fact: You can now build unlimited no-code segments. Integrations with multiple analytics providers help you add all of your app events directly to our dashboard without passing any data onto our servers.
5. Build personalized user journeys both outside and within the app
If it's not personalized, it's not going to work! It's the one thing that's the essence for every move you make to retain users.
Having a unified view of every customer helps deliver targeted communication that keeps users coming back for more. A stitched experience across touch-points – email, push notification, web messages, contextual nudges & walkthroughs help orchestrate unique journeys to every user. Every tap, click, search, and scroll can be sliced and diced to deliver segmented messaging.
It could start with sending personalized emails, push notifications to get users on the app – all of this again is obviously based on the user's activity on your app. Let's say a user had been browsing through denim jackets. The emails and push notification campaigns could communicate exciting offers on the users' favorite brands, new styles/trends. Once the user is on the app, a personalized homepage (that would help them pick where they left off) would help keep users engaged. As users spend more time checking out various options, nudges can encourage users to add products to the cart (taking them a step closer to completing a transaction).
The personalization module becomes your primary lever for user retention – from tailored product recommendations to engaging real-time customer segmentation.
6. Create win-back campaigns for dormant users
A day, a two, a three (and more!) passed by, and a few users still didn't turn up on your app. To get these users back to the app, the foremost thing to do is analyze the user's previous actions on the app. You could start with identifying the last feature/page the user interacted with you on your app. Let's look at a first-time user who dropped off in a few seconds. The points to analyze here would be – Did the user drop-off in the middle of the onboarding journey? Did a user simply explore the app and not sign-up? A few ways to get them back to the app would be – surface campaigns that highlight offers on first sign-up or tell users to complete a core action to start using the app.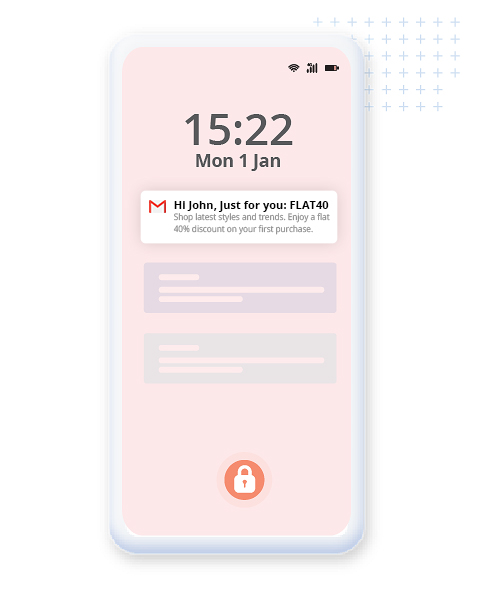 In short, identify drop-off points, act fast with relevant campaigns and enhance user retention. Predictive segments help point out the user segments that are most likely to churn. Alternatively, you can also identify the segments that are most likely to respond to a specific campaign. Further, you craft re-engagement campaigns to dodge user churn.
7. Curate user-preferred experiences
Running growth experiments is hands down one of the best ways to deliver experiences users love. And the need of the hour is being able to conduct rapid experiments with extreme agility.
Be it a new feature, new layout, types of nudges, or the time you trigger the nudge – test, iterate, and optimize to know what works best. Roll out different versions to different user segments, set goals (related to specific events, CTRs, conversion), and analyze the results. Pick the version that gives you the best outcome and further deploy it to your more extensive audience.
Agile feature releases further help optimize experiments and speed up the cycle of constant testing, iteration, learning, and deployment.
Engaging users in the way they prefer further increases user retention in the long run.
8. Encourage feature adoption
The way to keep your users hooked to the app is to deliver continuous value. The more value users see in your product, the stickier your product becomes. Feature discovery and adoption promote engagement and drive up product stickiness. A contextual cadence of feature adoption – nudges, grabs the user's attention to new features/existing hero features. This helps drive change in user behavior and build habit loops that retain users.
A top-of-the-mind example is Airbnb tying a tool-tip to the instant book feature. Without hindering the user's experience, Airbnb lets users discover this new feature and use it to optimize their booking experience.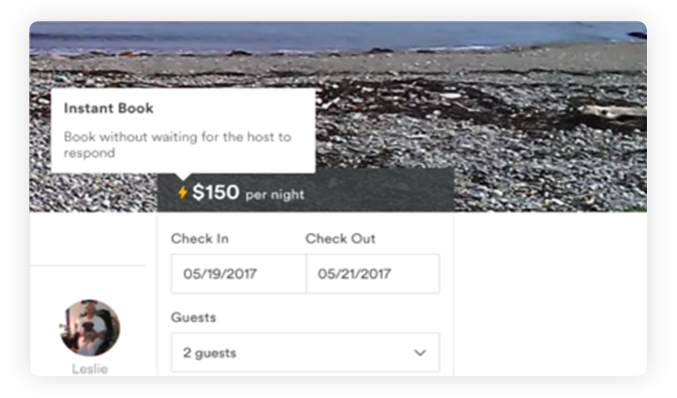 The instance where apps go wrong is taking a random approach to introducing features. Nudges fix this problem by being contextual at all times. You highlight a feature to the user only when it's relevant – based on the user lifecycle stage, like nudging users to refer the app to a friend when they've rated you well.
An important aspect of feature adoption is listening to users. Gathering feedback from users and building features into your product is a critical part of retaining users.
NPS surveys, multi-choice questionnaires, survey nudges are a few no-code tools you can deploy to collect real-time product feedback.
9. Gamify the in-app journey
Gamification on mobile apps is a big win when it comes to retention. Rewarding users for completing actions are a great way of incentivizing users to log in to your app regularly.
We see many health apps do that when you reach your daily goal (number of steps, workout minutes) or log your food daily. When you read something like "Good Job! You've logged in 7th time in a row", you're motivated to come back for the 8th time to maintain the streak. These gaming mechanisms nudge users towards actions that uptick retention.
Another effective form of gamification is checklists/progress bars that motivate users to complete tasks.
10. Boost cross-selling and upselling
Upselling results in a significant increase in user retention. This includes nudging users to upgrade their accounts to access exclusive features/content. The point is to not only encourage users to pay up but also to make it easy for them to do so. Here's where nudges guide and prompt users to move to a paid account by highlighting the extra value offered. OTT apps, for instance, can trigger nudges that get users to upgrade their accounts to watch their favorite movies/shows or for full access to any current shows/movies they might be watching.
Of course, not every user can be turned into a paying customer. So, the key to engaging free users is to help them interact and adapt more features on the app.
This way, users tend to be more committed to the app, making your retention curve a golf stick.
Winding up!
Retention is not a quick fix you can do later. It has to be a well-thought-out strategy that relays across the entire user journey. The onboarding process, personalization across every touch-point, in-app gamification, constantly testing multiple user experience hypotheses, feature adoption, and every strategy covered in this article plays a critical role in improving user retention. To that end, Netcore's No-code Product Experience platform can help you implement nudges & walkthroughs to implement the above strategies with no-coding effort.
Are you interested to know more? We'd love to give you a walkthrough. Drop in a request, and we'll get in touch with you.