Nudge marketing is increasingly becoming popular in the e-commerce space. The brands have now started to get their customers' valuable attention without having to introduce 'brazen' discounts and offers.
Isn't that fantastic?
There is no denying that 'offers' grab your customers' eyeballs, but if you are a smart marketer, you know it's not a long-term success strategy. To make a mark in the highly competitive e-commerce space, online brands need a marketing strategy that helps customers make the right choice and faster buying decisions.
And this is where nudge marketing or contextual nudges come into the picture. From Amazon to IKEA, giant online retailers are making the best use of nudges to improve their customer engagement, conversion, and retention.
A little Introduction to nudges and nudge marketing
Nudge marketing is all about helping customers make better decisions without hesitation. Or it can be defined as a marketing practice used by brands to communicate brand messages that induce desired behavior by appealing to consumer psychology.
When customers arrive on your e-commerce website, they have a hard time making a choice because hundreds and thousands of options are available to them. If you could help your customers make a decision by narrowing down product options and subtly nudging them towards those options, you will certainly experience an improved conversion and retention rate.
You might have noticed how some e-commerce stores label their products as "high in demand" or "popular choice". That's what you call a subtle nudge which is likely to influence their customers' buying decision.
To know everything about nudges and how it evolved from the nudge theory, read The what, why and, how of nudges
How E-commerce Brands are Using Nudge marketing for Higher Retention
This can be best explained with the help of practical use cases and examples. So here it goes
1. Smart product labeling by IKEA
IKEA has been quite creative in using smart product labels that trigger the psychology of its potential customers.
By labeling some products as 'IKEA Family Price', they are trying to appeal to the psychology of deal-hungry family shoppers. And by labeling a couple of products as new, they are trying to appeal to the psychology of customers who would like to buy novelty products.
Also, they have star-marked some products as highly rated products that will appeal to the customers for whom other customers' rating matter. Customer rating is something that I also consider when buying a product. And I think this works for a lot of other customers too. So why not highlight the best-rated products?
2. Use popularity and scarcity like Booking.com
The popular hotel booking site booking.com has been royally using nudge marketing tactics like social proof, popularity, and scarcity. And they are nailing it too.
In this example, the site is subtly nudging customers by putting social proof and scarcity in the spotlight. Your customer's buying decision involves a lot of small decisions. If you could appeal to their psychology by highlighting features that will help them seamlessly reach those small decisions, you are nudging them in the right direction and making their life easy.
3. Use scarcity to create FOMO like Amazon
Amazon is the king of nudges. And most probably one of the first brands that started using nudge marketing to influence their customer decision.
In this example, they have made the product really exclusive by highlighting scarcity. Also, how the potential customers can get the product delivered faster if they order in a particular time frame.
Another example where Amazon nudges its customers towards using Alexa more frequently. Along with boosting feature adoption it will also enhance customers' shopping experience with Amazon, which, in turn, will boost retention.
4. Offer Guest checkout like Mango
This one's my favorite because it's subtle and quite helpful. Mango's e-commerce site makes sure that they don't heckle the customer buying decision by making registration mandatory. And let's accept it, we all love guest checkouts.
However, by replacing log-in with returning customers, they won my heart. This subtle nudge reinforces that their customers keep returning because of their brand value. Won't that be fascinating for any frequent online buyer?
Also, they have replaced the sign-up or registration option with 'are you new?' and let customers continue shopping by just filling in their email address. Also, they have stated that customers can create an account later. Now that's what I call the right kind of nudge marketing.
5. Creating urgency for limited stock items by Rue La La
Flash sale sites like Rue La La very smartly appeal to customers who don't want to miss out on hefty discounts on big brands like Burberry. They heavily rely on scarcity to help customers make decisions swiftly.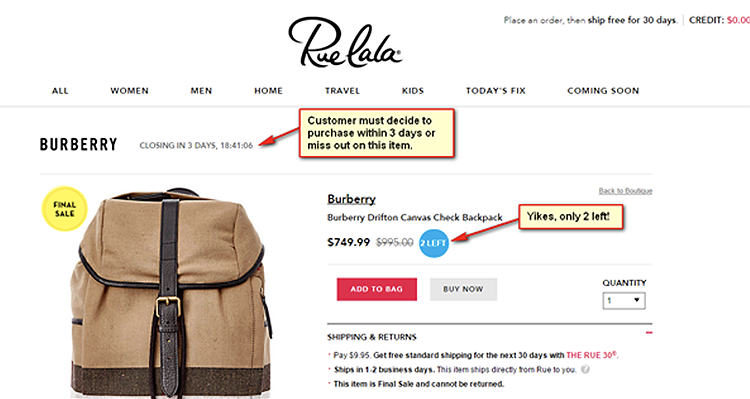 They have created a subtle urgency by telling customers that they can buy this item within three days and that only two items are left in stock. The stock indicator highlighted in blue is a subtle nudge introduced to reinforce that they need to act fast because the item will soon be out of stock.
6. Exit Intent Overlay for customer retention
A lot of e-commerce brands are already using the 'Add to Wishlist' feature under each product, but most customers fail to even notice this amazing feature.
You can always reintroduce this as an overlay nudge with autonomy when the user is about to exit the site. If your customer adds that item to his or her wish list, you can always retarget them with a remarketing campaign. The best part is they are making the nudge skippable, so no regrets whatsoever.
7. Time Sensitive Product Drop like Ntwrk
Ntwrk is using the scarcity of products by pushing their time-sensitive product drop notifications. I found this one pretty smart.
In this example, they are driving the early promotion of the new products that are yet to arrive. The countdown on the banner image is trying to convey that the new product line is likely to get out of stock when it arrives because the demand for new collections is usually high. So better get notified when a new product line drops.
8. Highlight the popularity of product with social proof
You can always spotlight the popularity of products with social proofs like 'how many people viewed this product', 'this item is trending', and 'customer reviews'. Believe it or not, it creates wonders.
A social proof example that uses the wisdom of the crowd
Yes! Your customer needs that one last push. If you reinforce in their mind that the product they are looking for is well in demand by highlighting the social proofs. It will nudge them in the right direction and help them make a faster buying decision.
A social proof example that uses the wisdom of the crowd
9. Highlighting functional benefits like OYSHO and ASOS
Oysho is a women's home wear and activewear website. The website design is minimalist. But they drive the user behavior by highlighting the functional benefits of each item.
Another great example of highlighting functional benefits is by ASOS. They have added labels that help customers look for jeans correlating to their body shape. And I think it makes for quite an apt nudge marketing example that helps boost the customer retention rate.
10. Nudge customers to increase the cart value
I personally never like to pay the shipping charges. I am pretty certain a lot of people love free shipping too. So, e-commerce sites can always appeal to the psychology of customers who are reluctant to pay the shipping charges. You can do this by nudging them to add another valuable item to their cart to enjoy absolutely free shipping.
Must Read: Must have contextual nudges & walkthroughs: Ft. E-commerce apps
Parting thoughts on nudge marketing for e-commerce
Some of the examples mentioned above are overlay nudges, and others are underlay nudges (part of site development). But all kinds of nudges are aimed at better product experience and customer retention. Your consumers are smart, and they understand brash marketing strategies. This is where your ecommerce store subtler – nudge marketing – comes to the rescue, helping customers enjoy a positive shopping experience.
Netcore's No-Code Contextual nudges and Walkthroughs
Wondering how to take this forward? We've got you covered with Netcore's Product Experience Platform. You can
Deploy contextual walkthroughs and nudges with absolutely no-code
Be free of engineering efforts
Choose from a huge nudge library with multiple customizable options
Build experiences powered by a robust segmentation engine
Empower your product teams with agility to build on the move experiences
Ready to craft great app user experiences for your e-commerce brand? Talk to us