Engaging in the fast-paced world of WhatsApp? Travel and hospitality companies can leverage chatbots to ensure customers have immediate and timely assistance.
All of us, or almost all of us, love to travel. Right?
While it's true that traveling is an experience that most of us care to include in our lives, the reality is that it isn't always easy.
Figuring out your destination, the amount of time you wish to spend, and determining a realistic budget and sticking to it, are just a few of the tasks you're faced with when deciding to take a trip.

Why Do Travel Companies Need WhatsApp Chatbots?
Travel is all about immediacy. From last-minute changes to real-time updates, travelers need information at their fingertips. A WhatsApp chatbot ensures they're always in the know.
Booking Assistance: Automated yet personalized help with bookings, giving travelers a seamless experience.
Timely Updates: Real-time notifications on itinerary changes, ensuring travelers are never caught off-guard.
FAQs: Instant answers to common questions, reducing the need for manual customer service.
6 Key WhatsApp Chatbot Templates for the Travel Space
Travel Deals & Offers:"Hello, [Name]! Looking for a getaway? Check out our latest deals on [destination]. Book now and save up to 20%! 🌴"
Booking Confirmations:"Hi [Name]! Your reservation at [Hotel/Flight] is confirmed for [Date]. Here are your details: [Booking ID]. Safe travels! ✈️"
Itinerary Updates:"Important! Your flight to [Destination] on [Date] has changed gates. Please head to Gate [Number]. Keep an eye on this chat for real-time updates."
Reminders:"Hey [Name]! Don't forget, your check-in for [Hotel Name] is tomorrow. Need a digital map or any assistance? Reply 'HELP'. 🏨"
Cart Abandonment Notifications:"We noticed you left some items in your cart. Still thinking about that trip to [Destination]? Book now and take the leap! 🌍"
Feedback:"How was your experience with us, [Name]? Rate on a scale of 1-5. We value your feedback! ⭐️"
Benefits of WhatsApp Chatbots in the Travel Industry
So, why WhatsApp? Amongst all available messaging platforms, why is WhatsApp getting so much attention across all business areas, including the travel sector?
Well, WhatsApp brings a lot of benefits to the table:
Reach: WhatsApp is the most popular messaging app in the world, with a whopping 2 billion users. So, it's a safe bet as the channel that is likely to help you reach the most customers around the world.
Encryption: WhatsApp communication boasts end-to-end encryption, making the channel a safe place to share flight and booking information.‍
Automation: The WhatsApp Business API allows for chatbot automation, which means that even if you don't have customer service representatives available, your customers will still be able to get 24/7 assistance, no matter where in the world they're traveling.
Personalization: Even on the go, and needing to solve issues immediately as they arise, customers still crave personalization. WhatsApp enables this kind of personalization, improving user experience.
Top 15 Use Cases of WhatsApp Chatbots in Travel Industry
The messaging apps your customers use to chat with family and friends are becoming places of business. And, despite being more and more concerned about privacy, users are rather welcoming brands using messaging.
The main reason?
Convenience!
When it comes to travel, that convenience translates into personalized services, immediate answers, up-to-date information, and a sense of control… All that is delivered by a channel where the user feels at home, no matter how unfamiliar their environment is.
In other words, travel companies using WhatsApp (or any other relevant messaging app) have been given a chance to offer a frictionless customer experience, at scale, in situations that were, once upon a time, hard to control.
So, without further ado, let's check out the potential use cases of WhatsApp Business in the travel and hospitality industry.
1. Accommodation/Activities/Transport Finder
Our journey following WhatsApp Business in travel and hospitality starts pre-trip.
When the internet empowered people to look up information on their own, planning holidays became a largely independent venture. Traditional travel agencies lost a great deal of their value for customers.
However, while the wealth of information gives travelers the power to choose the best and most tailored options, the decision process has become a more stressful event filled with doubt and indecision.
In other words, the more options travelers have and the more they jump between devices to find these options, the more anxious they are and the harder it is to commit to a decision.
So, where does WhatsApp fit into this mess?
During the primary search stage, WhatsApp integration can allow for a very swift and precise search. Instead of losing time navigating through menu options or filters, travelers can voice their requests with your bot or agent using natural conversational language and receive the results they are looking for instantly.
This way, instead of adding to the noise, you focus on the points relevant to each individual user. Moreover, the transition from desktop to mobile or vice versa becomes significantly smoother.
For instance, by enabling clients to start conversations on the web and transfer them through to their favorite messaging app, agents can respond when they're available without losing leads because of frustrating waiting times.
Many companies are already taking advantage of WhatsApp. For instance, SnapTravel, a Toronto-based startup in the hospitality sector, is one of the first messaging-first companies that put conversational commerce as their core value proposition.

Users can choose hotel deals via SMS, Facebook Messenger or WhatsApp after sharing details like city, dates, and budget preferences with SnapTravel's chatbot.
2. Booking/Payment Channels
While searching for travel and accommodation deals and receiving booking confirmations are catching on quite quickly, completing bookings directly via messaging app is still relatively uncommon.
The reason?
Companies were reluctant to exchange and pass sensitive personal information via channels that lacked end-to-end protection or made payment authentication difficult.
However, the situation in China is very different. There, the most popular messaging app, WeChat, allows travel and hospitality businesses to drive direct bookings across Asia using a special feature called Mini Programs.
‍In the West, WhatsApp is soon to change the game. Besides the end-to-end encryption that allows for the transfer of sensitive information, WhatsApp has officially launched its first payment system in its most active market, India.
WhatsApp Pay is set to make payments as a matter of sending a message.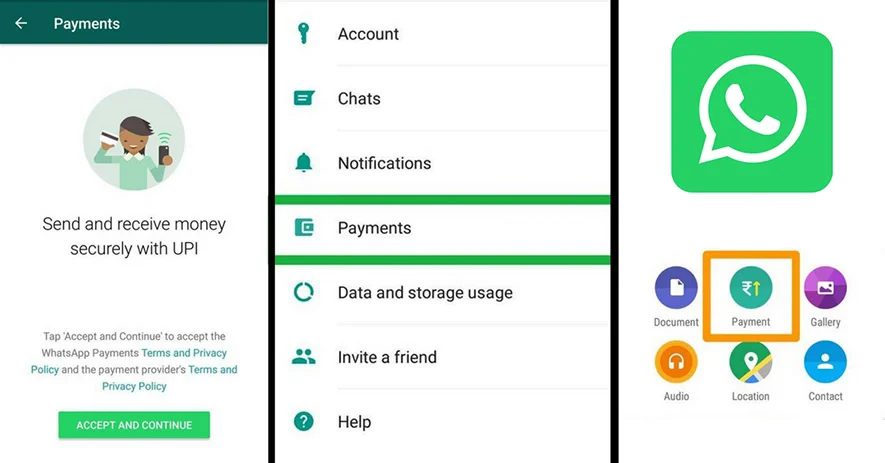 As if that wasn't enough, Facebook also announced its debut in the world of cryptocurrency by unveiling its own global digital coin, Libra, managed by Libra association.
So, while you can quite yet process transactions via WhatsApp outside India, the feature is likely to go live globally soon. Today, your users step outside WhatsApp to complete the payment but not for long.
Perhaps that's something to keep in mind when preparing your messaging strategy.
3. Itinerary Designer
Besides choosing accommodations, booking flights, and arranging rentals, people spend hours looking for authentic activities and experiences to make their trips unforgettable.
From searching for top sights, guided tours, and thrilling local activities to the best restaurants, bars, clubs, and cafes, digital travelers leave little to chance. After all, nobody wants their long-awaited holidays spoiled by mediocre experiences.
Hence, itinerary builder/designer/concierge is most definitely on top of the list when it comes to WhatsApp travel use cases.
For instance, by asking for travelers' basic preferences, your WhatsApp bot or agent can recommend (and even proceed to book) tailored activities, things to do, and places to eat in the chosen destination…My SWFT, a UK startup, build its business concept on the messaging-based itinerary designer. The company focuses on helping people organize group trips through WhatsApp or Messenger.

Interested clients interact with bots as well as agents in order to create a complete travel itinerary while allowing each member of the group to have their say.
4. Content Channel
You don't have to be a huge online travel agency with connections in every sector to be able to offer extra value through messaging. Any company can find a way to use WhatsApp to make a difference in both customer engagement and overall experience.
One such way is sharing useful or inspiring content not on your website or social media accounts but via WhatsApp in the moments when the content is relevant to your customer.
You can use the channel to go the extra mile and answer questions before they are asked. Send users tips on things to do, food to try, or even cultural rules to be aware of before and during their trip… WhatsApp allows you to share images, gifs, locations, weblinks, and videos, giving a free hand to your creativity.
5. Send & Collect Billing, Invoices & Personal Documents
Thanks to end-to-end encryption, WhatsApp enables you to send and receive sensitive documents and information such as invoices, payment details, passport copies, copies of rental agreements, liability disclaimers, proof of age, and more.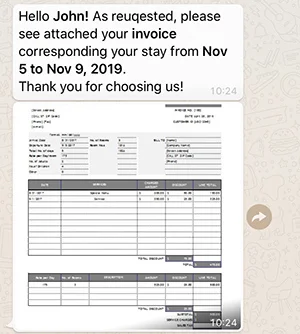 6. FAQ & Customer Services
Not all use cases of WhatsApp Business travel industry have to be fancy and complex. Sometimes, giving travelers a fast and convenient way to answer the most common doubts is the best you can do to keep them happy.
You can use the WhatsApp integration to design a simple FAQ bot that answers the most commonly asked questions. But you don't have to stop there.
Taking an example from the use of WhatsApp in the eCommerce, you can use the FAQ bot as a first touchpoint. The bot will either answer the query or classifies it to be sent to the right live agent for handling.
7. Reminders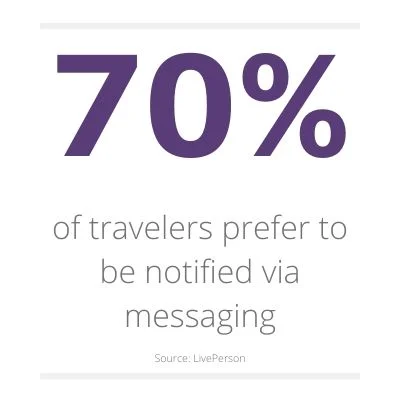 The issue with making plans in advance is the probability of forgetting all about them; remembering the details incorrectly or simply not bothering to cancel the reservations even though it's clear we won't be able to make it.
Whatever the case, either the client or the company will have to cut their losses.
Neither is good for business.
When traveling, communication with customers gets more complicated as they are on the move, not always checking their email or answering their phone. Messaging apps are a whole other matter… WhatsApp messages have a 98% open rate, and stats prove WhatsApp users to be even more enthusiastic.

You can use your WhatsApp Business API integration to send travellers real-time reminders about schedules and rules (luggage, dress code, etc.) or, alternatively, send them inquisitive messages to remind them to cancel on time or confirm their attendance.
8. Updates & Notifications
Travel is an unpredictable endeavor and changes, delays, and reroutes are a rule rather than an exception.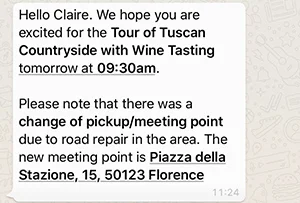 Since Wi-Fi is almost at every corner, cellular data coverage is getting better by the minute, and instant messaging open-rates are enjoying their golden age, sending WhatsApp notifications regarding sudden changes is probably your best shot at delivering the news.
9. Boarding Passes & e-Tickets
This use case will hardly surprise you. After all, among the first travel companies using WhatsApp Business API were airlines.
The very first airline to have gained access to the WhatsApp business account was KLM Royal Dutch Airlines. Using an opt-in during the booking process, the company started sending boarding passes, notifications, and reminders to its clients.
This made KLM one of the most mentioned WhatsApp API success stories of 2019.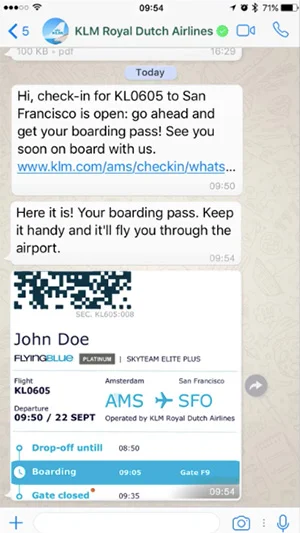 The point is WhatsApp is a handy platform to send boarding passes as well as any other kind of e-tickets. The best part is that if your customers have a problem, they don't need to go online looking for a way to get in touch. All they need to do is reply to the number that sent that ticket.
10. Local Support Group Chats
Brands in China have long been leveraging the community power of group chats. They used it to provide superior customer experience as well as upsell and cross-sell products in an organic way, the western market is only now starting to pay attention.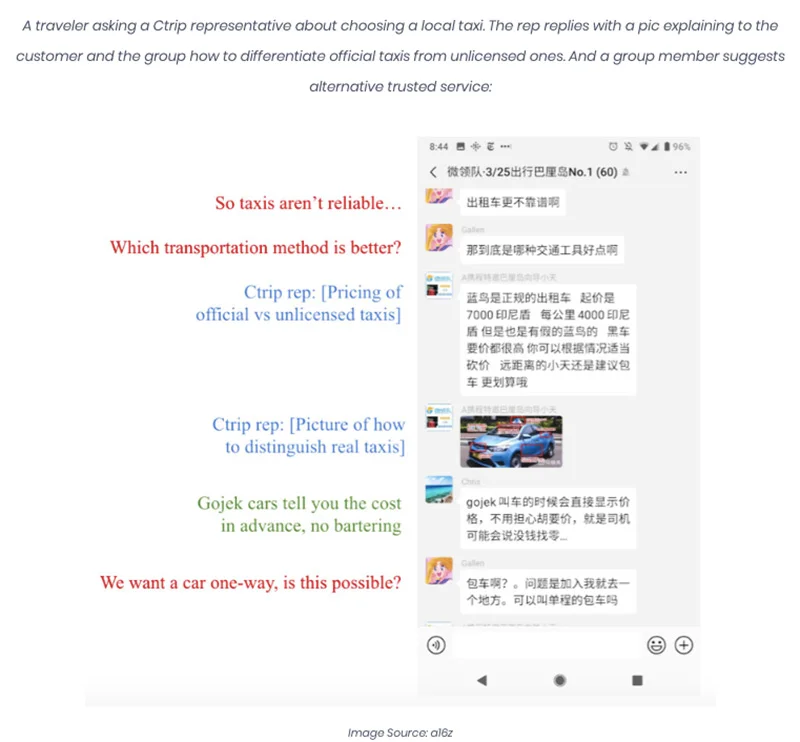 Brand-supervised group chats are particularly useful in the travel industry as they allow companies to take advantage of crowdsourced knowledge. So, besides bots and agents, your travelers have access to the collective knowledge of locals and past visitors.
While WhatsApp Business API allows for group creation as well as sending HSM messages to those groups, group chats are still an unexplored area for most Western travel companies.
11. Personal Space to Keep Friends & Family Up to Date
WhatsApp Business API not only allows you to create group chats to connect with strangers, it also creates private WhatsApp groups for your customers. Once again, KLM offers a successful example.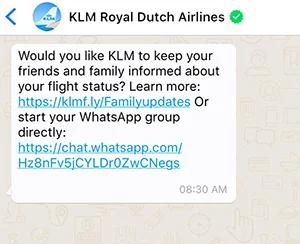 Upon purchasing flight tickets, KLM creates a private group for the traveler. Once the traveler clicks on the invitation link, he or she becomes the admin of the group and can invite family and friends to receive updates about her flight.
Such a group is gold for parents whose child is traveling alone.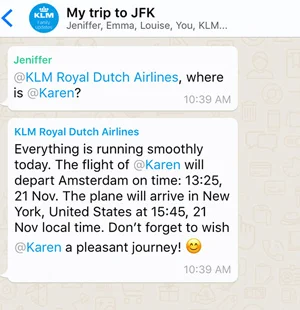 However, this concept is relevant in a multitude of scenarios. Imagine similar groups for cruises, agency-organized road trips, or hiking trips. Or any organized holidays that stretch over a longer period and cover different locations.
12. Concierge Services
WhatsApp travel concierge services can be offered as part of a:
Brand-controlled group chat
Private one-on-one conversation
For travel brands and businesses who care about providing more personal, authentic, and emotionally-impactful CX, the messaging channel is the ideal medium. This way, travelers can start customizing their journey before arriving at their destination or as they progress through it.
Such concierge service can provide advice on local transport, warn against tourist traps, make restaurant reservations (check out this restaurant table reservation template)… all things that seem simple at home but become incredibly hard when you don't speak the language.
For example, imagine a hotel allowing its guests to order room service or a ride to the airport via WhatsApp.
For instance, W Hotel uses WhatsApp (and other messaging apps), integrated into their loyalty app, to let guests traveling to stay at their hotel get in touch with the hotel's front desk before arrival.
With an average response time of 60 seconds, guests can ask the hotel anything, from asking for restaurant recommendations to requesting an extra blanket.
13. Complaints/Refund Handling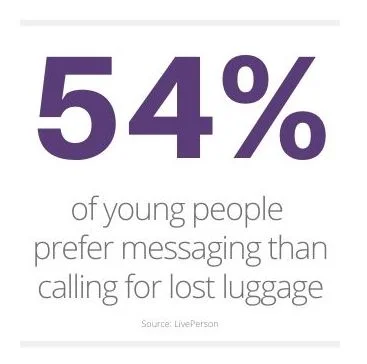 User experience doesn't end with hotel check out or the plane landing at its destination… Post-trip or post-flight services are as important as first impressions. Perhaps even more so! The main reason customers get in touch with you after the adventure is over is to submit complaints.
‍WhatsApp provides your customers with a comfortable and fast way to contact you in case something goes wrong like luggage getting lost or something important getting forgotten in the hotel room. You can use a chatbot to classify the type of issue and use that information to connect the customer with the right department/agent right off the bat.
For example, Red Bus, one of India's major bus transport companies, uses WhatsApp to solve one of the clients' major pain points.
Hence, besides notifications about real-time bus schedule, they use it to provide info about refund requests. They use this solution to notify customers at every step of the way. Thus they managed to reduce frustration and increase trust in the company.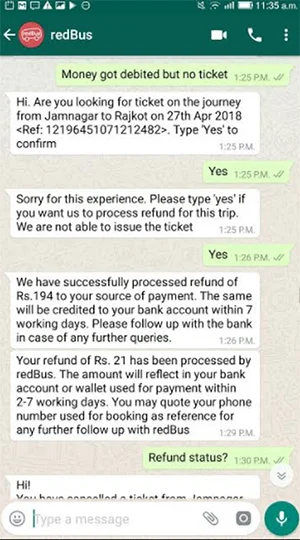 14. Collect Feedback
As we mentioned at the beginning of this article, digital travelers spend a great deal of time on research before committing themselves to a decision. Peer reviews make up a huge part of those decisions. But getting feedback is hard, especially the positive one.
Travel companies using WhatsApp API can benefit greatly from designing their WhatsApp service to collect feedback after the fact.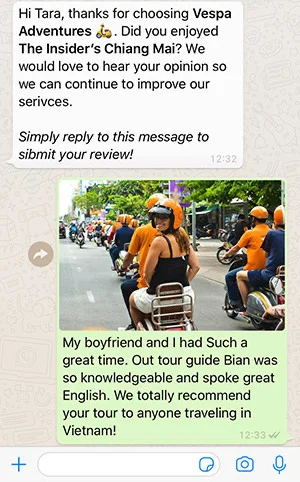 Imagine that instead of clicking on a button inside the email, waiting for a page to load, and filling in an often lengthy online form, all you need to submit a review is a reply to a text message.
Plus, the WhatsApp interface also makes it incredibly simple to add images to go with that review and so collect user-generated content by default.
15. Loyalty Program Engagement Booster
Last but not least, there is the use of a travel WhatsApp channel to drive your loyalty program.
According to a survey conducted by Capgemini, 54% of loyalty programs are inactive.
‍Furthermore, almost one-third of members quit loyalty programs without ever redeeming any of the points or advantages they earned because they simply don't know how many they earned.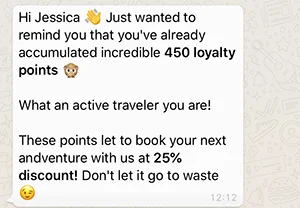 Your WhatsApp integration can help reshape the CX in the travel industry by keeping returning customers well-informed.
Smartly timed messages summarizing earned privileges or discounts your clients earned won't let them forget the value they can get sticking to your brand.
What's Next? Top 5 WhatsApp Chatbot Providers in 2023
Netcore: Netcore's platform integrates seamlessly with WhatsApp, ensuring real-time, personalized communication for travel brands. It's a no-code platform, which makes it user-friendly and effective.
BotSpace: Theyhelp businesses grow faster with WhatsApp by providing tools that help automate notifications, deliver first-class support and drive more sales.You can broadcast messages and integrate WhatsApp with third-party software such as Hubspot, Shopify, BigCommerce, Zapier, etc.
Zoko: They allow for all the capabilities that one has come to expect from an application that calls itself the 'hub of all marketing, sales, and customer activity.There is the Team Inbox with multiple agents, the capability to send broadcast messages, personalized rich content messages. Basically, the drill!
Twilio: It is among the more customizable WhatsApp Business API services going. The flip side is also true that one needs to have a bit of a technical mindset to make it feature-rich that it is capable.
WATI: Itis a specialized WhatsApp tool, focusing solely on WhatsApp as a communication channel.It caters to businesses of all sizes and offers plans tailored to different business segments, assuming WhatsApp is the preferred channel for customer communication.
Read about each of them in detail here.
Conclusion
The digital landscape of the travel industry is ever-evolving. With WhatsApp chatbots, travel companies can offer real-time, personalized assistance, transforming the traveler's journey.
Ready to explore more? (pun-intended)
Book a demo to try Netcore's WhatsApp solutions and set your travel business on a path to success. 🚀