Today marks a major milestone in Netcore Cloud's journey. It gives me immense pride and joy to announce our strategic investment of close to US$100mn for a majority stake in Unbxd Inc. based in California, USA, Unbxd is a leader in intelligent search relevance and personalization.

This investment is a big commitment towards advancing our vision to empower digital commerce brands to build personalized shopping experiences.
Founded in 2012, Unbxd provides AI-powered search-personalization to leading eCommerce retailers and D2C brands. They offer best-in-class product discovery and search relevance to significantly improve customer retention and conversions. Their customers include marquee brands across the USA, UK, and Australia, including Mattress Firm, Express, Ashley Homestore, Home Shopping Network, Advance Auto Parts, The Children's Place, Mitre10 and Kookai.
Bigger, Better, Stronger.
With Unbxd, we now have a strong foothold in the US and developed markets.
Strengthen our dominance in India and SEA.
Immense cross-selling and upselling opportunity
Unbxd's AI-powered search solutions augment Netcore Cloud's full-stack Digital Experience Platform (DXP), enabling eCommerce retailers/ D2C brands to deliver a rich shopping experience.
Beyond the product, the Unbxd team shares our strong commitment to solving customers' problems through technology and innovation.
What does this mean for our customers?
Enhanced capabilities in product discovery and search optimization, eCommerce retailers and D2C brands will be able to forge connections with consumers by delivering a relevant and memorable experience.
A unified view of the consumer, with an entire user journey in a single platform delivering bespoke experiences.
Interactive feedback loop for crafting an effective customer retention strategy.
Excellent monetization capability, harnessing the power of search personalization and a full-stack digital experience platform.
Delivering 5-8x times the ROI on marketing spend by increasing conversion rates and lifetime value.
Since 2019, Netcore Cloud has undertaken three major acquisitions, the first being Quinto.ai (Conversational AI platform), followed by Boxx.ai (AI-First Omnichannel Personalization & Recommendation Engine) and Hansel.io (Real-time no code, product experience platform). These three platforms, teams, and capabilities are already successfully integrated with the Netcore Cloud Platform.
Today, I can confidently state that very few martech players offer capabilities as strong as ours.
Together, Netcore Cloud and Unbxd will have an efficient go-to-market engine to capture the larger opportunity in US and developed markets
Unbxd will continue to operate independently following this investment and be led by its founders.We couldn't be more excited about the combination of Netcore Cloud and Unbxd. We believe we can unlock significant value creation, paving the way for a powerful IPO.
Buckle up and join us for the ride as we transform the future of digital commerce experience.
Here's what the best minds in the SaaS industry have to say about the investment.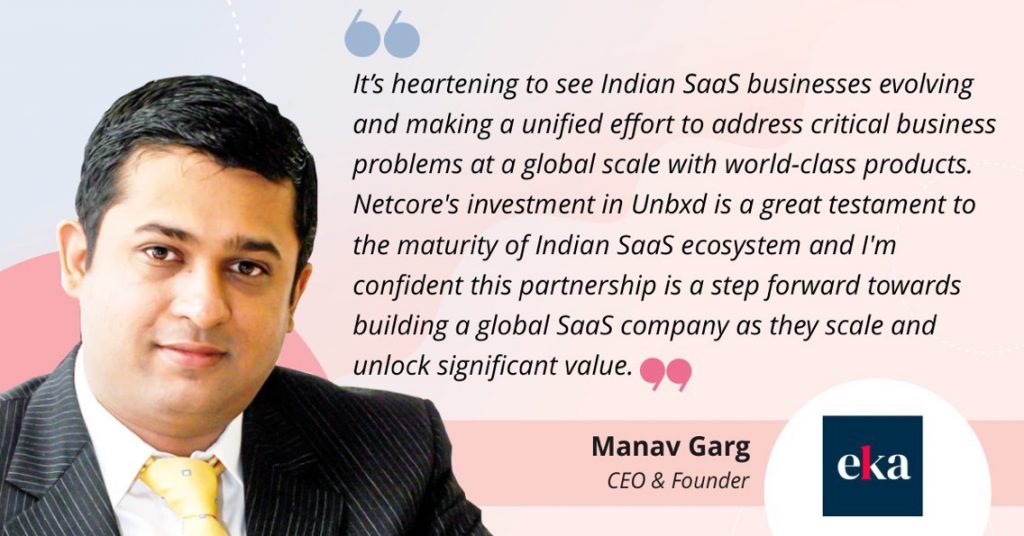 Come join us in transforming the future of digital commerce experience.
We are hiring additional 800+ professionals this year across various departments – Engineering, Product, Pre-Sales & Sales, Marketing, R&D, Customer Success.