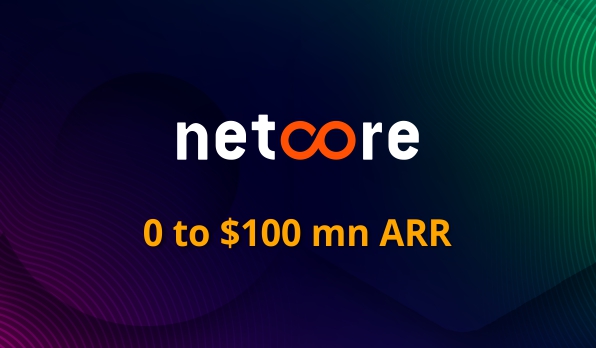 2 deals, 22 years apart
Netcore Cloud invested close to $100 million in Unbxd to buy out all the investors and take a 90% stake. Netcore is a Mumbai-based B2C SaaS company with a full-stack customer communications, engagement and experience platform for B2C companies. Unbxd provides AI-based search and product discovery for B2C brands, and is based in San Mateo, California and Bengaluru. Netcore's strengths in India and emerging markets complements Unbxd's customer base in the US and other developed markets. Netcore's $85 million ARR combined with Unbxd's $10 million ARR creates a combine with nearly $100 million ARR.
So, how did Netcore buy out global investors in Unbxd without ever raising capital? In a world where most new age companies lose money, how did Netcore build a profitable foundation? This is the story of how we built a $100 million ARR (annual recurring revenue) proficorn – private, profitable, bootstrapped and highly valuable. (Other examples of bootstrapped Indian B2B SaaS proficorns are Zoho, Wingify and Zycus.)
But first, a little detour to a day in late November 1999 when I was on the sell-side of a $115 million deal.
I had built IndiaWorld as India's largest Internet portal. It had been the first India-centric portal to launch in March 1995 – just around the time Yahoo and eBay had launched for global audiences. It was the early days of the Internet – commercial access in India was made available five months later in August. IndiaWorld was not my first entrepreneurial venture – for the past three years, I had failed with multiple initiatives after my return to India from the US; a multimedia database venture and an image processing platform were the two prominent ones.
IndiaWorld grew to be very popular among NRIs (non-resident Indians). Its family of portals included Samachar.com (news), Khoj.com (search), Khel.com (cricket) and Bawarchi.com (food). We also designed and managed over 200 corporates websites. IndiaWorld was profitable since its early days – revenues coming first from website design and hosting, and then from advertising.
In late 1999, I saw many other Internet companies raising capital and spending aggressively for growth. I had tried to raise capital through the past four years and failed. It was then that I got two offers to sell; in a matter of weeks, our valuation rose from $40 million to $115 million in a competitive process managed by DSP Merrill Lynch. And so it was on November 29, 1999 that the acquisition of IndiaWorld was announced by Satyam Infoway, which had just listed on Nasdaq about a month ago.
22 years later, I was participating in a similar-sized deal – this time on the buy-side. Netcore, in its 25th year, was investing $100 million to take a majority stake in Unbxd. The capital was coming from Netcore's internal accruals, thanks to 15 years of consistent profitable growth under 3 CEOs (Abhijit Saxena, Girish Nair and Kalpit Jain). I had stepped back from active day-to-day management in 2007 to ensure that Netcore became a professionally run company and was not constrained by my limitations as a founder.
As an enterprise software company which has made the transition to SaaS, Netcore's investment into Unbxd is planned as an accelerator on our path to an IPO – to ensure not just that the global growth story continues but that the 25% employee holding in Netcore gets liquidity and enables wealth creation for our past, present and future employees. For me, the vision is to build Netcore into an enduring great company. As I wrote at the start of 2022: "Netcore has a unique opportunity to build a "profipoly" – not just for ourselves but also for our customers. As an entrepreneur, nothing can be more exciting – lead the creation of a new world with the power of our ideas and products. If we execute well, Netcore can truly become a global company, with all the right adjectives – growing, profitable, enduring, great, forever. The leaders will change, but Netcore as an institution should thrive. That is the best legacy of an entrepreneur."
To be continued…