Switching to Netcore Cloud's customer engagement platform for AMP in emails has proven beneficial for over 50 brands. These dynamic, interactive emails offer a website-like or an app-like experience within the email. With AMP emails, brands can avoid landing pages and click-throughs.
Here's what you get when switching to Netcore Cloud for AMP in email.
Excellent support from Netcore Cloud
Custom-build designs and AMP email templates for you
Fast delivery and superior inboxing
Powerful martech platform
Expert consulting to build use-cases
Let's look at all the benefits you get with Netcore Cloud while building AMP emails in detail below.
1. One platform, end-to-end support
At Netcore Cloud, we work as an extension of your team. We can help you:
Integrate AMP for Email
Whitelist your domain
Build bespoke use-cases
Create custom designs and templates for AMP emails
Optimize email delivery and customer journeys
Maximize your email ROIs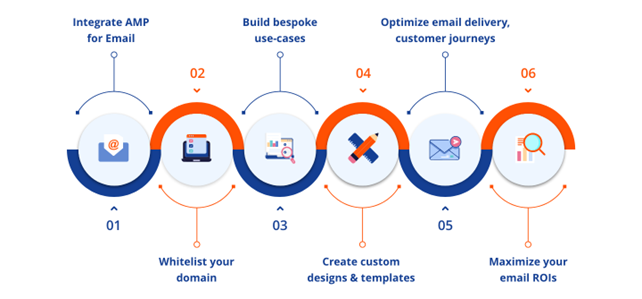 2. Excellent support that goes beyond AMP integration
Integration of AMP emails is merely the first step.
The real work begins after this—understanding business metrics, building use-cases, designing AMP email templates that suit your needs, and optimizing campaigns to improve the email ROI. 
With Netcore Cloud's customer engagement software, you're supported at every juncture.
3. Custom-build designs for every use-case
Netcore Cloud focuses on improving business profitability, not just email deliverability.
After integrating AMP for email with your system, Netcore Cloud will work closely with your teams to build use-cases that can further your business goals.
Based on these use-cases, you will get custom designs and templates to maximize the campaign's success.
4. High inbox placement rate of 95%
At Netcore Cloud, the average inbox placement rate is 95%. Email deliverability is optimized to prioritize users with the highest potential to open or convert. Such optimization helps improve your AMP email campaigns' reputation and inboxing.
5. Fast delivery, reaching inboxes in 3 seconds
Netcore Cloud's customer engagement solution, Blaze, is an AI-powered in-house MTA designed for optimal speed and deliverability.
With Blaze, you can rest assured that your emails will be delivered incredibly fast without compromising on inbox delivery. Blaze leverages machine learning and artificial intelligence to maximize efficiency.
6. Full-stack martech platform to win and retain customers
Netcore Cloud is a full-stack growth platform that can help you with your marketing intelligence needs.
Whether acquiring, onboarding, engaging, or retaining customers, Netcore Cloud's martech platform can help you with its omnichannel features.
7. Most powerful AI in email marketing
Forrester Wave deemed Netcore Cloud "ahead of the curve when it comes to implementing AI."
With Raman, the powerful AI engine, this customer engagement tool enhances email marketing, ensures superior email delivery, provides predictive intelligence, and facilitates personalized engagement across all marketing avenues.
8. Expert consulting aligned to business objectives
Delivering good emails depends on CRED: Creative, Reputation, Engagement, and Data Segmentation.
With Netcore Cloud, you get consulting services from email experts that are available 24×7.
9. Local support across 11 countries
Over 5,000 brands across 18 countries have trusted Netcore Cloud throughout the last two decades. This customer engagement solution offers localized support through its offices in countries including India, the USA, Singapore, Malaysia, Indonesia, Nigeria, UAE, UK, Germany, Philippines, and Vietnam.
10. End-to-end marketing stack
With Netcore Cloud, you can do more than AMP emails. It's a versatile customer engagement software offering a range of products for:
11. Changing the way brands think of email
Netcore Cloud has successfully rolled out AMP in email for 50+ brands. Here are some success stories of AMP for email.
1) Yourstory, a media, and publications company, enjoyed 5.5x uplift in registrations     AMP email.
    Read the case study here.
2) Axis Securities, part of the Axis Group and a subsidiary of India's third-largest     private sector bank, increased its open rate by 27% and click rate by 24% with     AMP emails and other actions.
    Read the case study here.
Conclusion
Harness the power of AMP for email with Netcore Cloud and redefine your email marketing strategies. Experience firsthand the transformative impact it can have on your brand's engagement and conversion rates. Don't miss out on this opportunity to elevate your email campaigns to the next level.
Book a demo now and embark on a journey towards unparalleled email marketing success.