Every mailbox service provider (MSP) strives to block unwanted emails for their users; a tiny slip and your emails end up in the spam folder. To define what lands in the inbox and what doesn't, your emails undergo a lot of stringent checks that also lead to your sender reputation.
Building a good sender reputation with the MSP is the most important criteria for your inbox placement. Here are some proven strategies to get you results and drive customer engagement.
How to improve your sender reputation?
Your activity through the past email campaigns has set your current sender reputation. Naturally, to shape it for the future, you need to redefine your current actions. Here is what you should understand and do to enhance your sender reputation as part of your customer engagement strategy.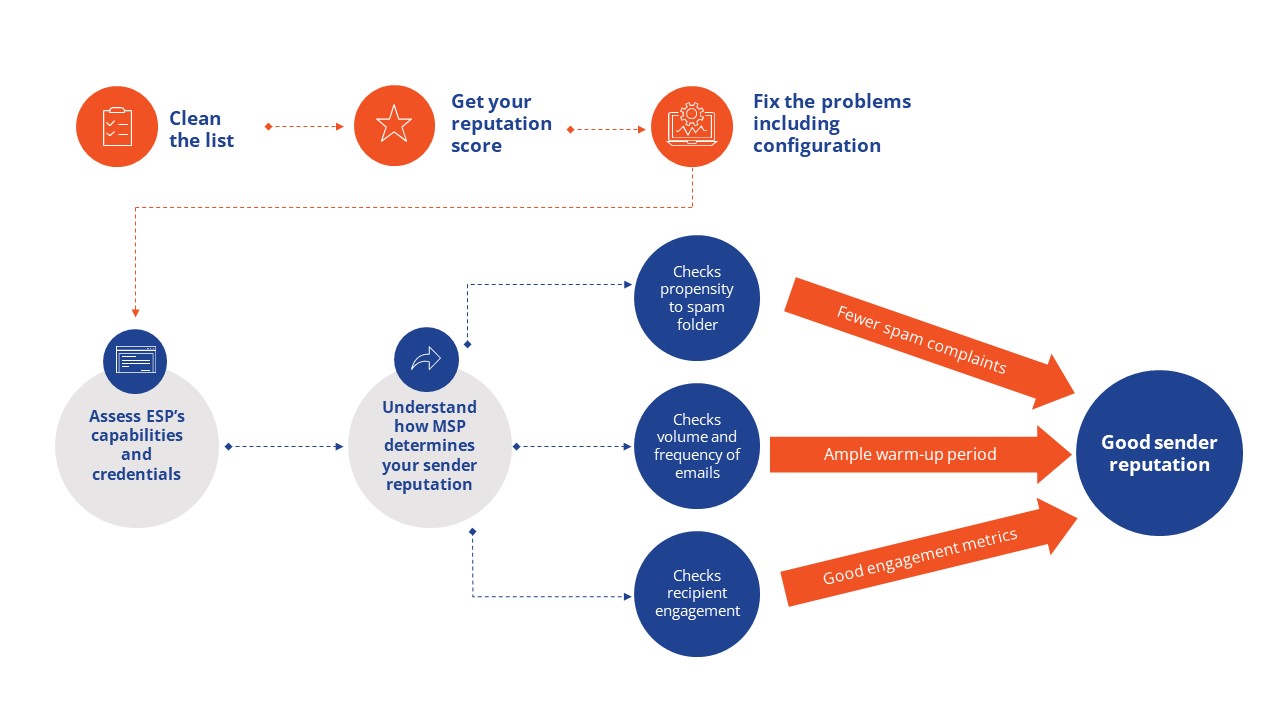 1. Clean the list
Start with checking your list for purchased email ids; if you find any, discard them immediately. Build opt-in lists and secure the consent of recipients to send them emails. In addition, include a sunset policy to remove inactive users. Add such users to a separate list to run reactivation programs and enhance your customer engagement.
2. Get your reputation score
Find your current reputation score and identify what's affecting it by using online tools like grademyemail. Use actionable insights from the report about content relevance, email configuration, blocklist status, and more to transform your email program, and boost inbox customer engagement.
3. Fix the problems in configurations
Make changes to the content and email settings to get them right. Include SPF and DKIM authentication methods to strengthen the trustworthiness of your IP and domain; most ESPs will do this by default. Add another layer of authentication with a strict DMARC policy that will require additional integration. A full-stack customer engagement platform such as Netcore Cloud does this seamlessly.
4. Assess ESP's capabilities and credentials
Your ESP should be capable of handling a large volume of emails at fast speeds (3 seconds or less to deliver) to run your email campaigns. Confirm if the ESP offers the latest technological tools and upgrades them frequently. A detailed dashboard for campaign management is a must. You may also refer to the client portfolio of the ESP to feel assured about their credibility, and their ability to support your customer engagement initiatives.
5. Understand how MSP determines your reputation
An MSP will place your emails in the inbox only if they perform well against their criteria. Some criteria may vary for each MSP but most of them appraise your sender reputation based on a few common benchmarks explained below.
Propensity to Spam Folder
You must keep your emails relevant and valuable. Do not use spam trigger words like free gift, prize, deal, etc., in email content and subject line. Steer clear of spam traps by using opt-in lists. Staying out of the spam folder is critical to maintain a good sender reputation, and boost customer engagement.
Volume and frequency of emails
If you have a new domain, do not send a large volume of emails at the outset. Take 8-12 weeks to properly warm up your IP and domain. Maintain a consistent flow of emails to establish a good reputation with the MSP, and improve your customer engagement strategy.
A higher ratio of opened to unopened emails is a positive signal for an MSP to place your emails in the inbox. To increase email deliverability, begin your campaign by sending mails to the highly engaged segment of your email list.  A robust customer engagement platform that offers email marketing and email API services can help in improving your overall deliverability score.
Good sender reputation score
Each step above moves you closer to an enhanced sender reputation. Once you've rounded off all these actions, you will notice a considerable rise in your sender reputation score, ultimately leading to better customer engagement with your emails. To maintain it, keep your email program aligned with good email sending practices.
Conclusion
Establishing a good sender reputation secures inbox placement for your email campaigns. But to keep it consistent, you need to continuously monitor the checkpoints mentioned above and keep making modifications and enhancements, ensuring optimal customer engagement. Do remember to track policy changes from MSPs and make course corrections as and when required.

Netcore Cloud's email API helps you deliver effective email campaigns to the right people at the right time and increase your ROI, making it an all encompassing solution to skyrocket your customer engagement and provide a seamless experience. Book a demo with us to know more.