Messaging is a critical part of mobile usage and WhatsApp is the undisputed king of messaging apps. It is a great platform for businesses to take customer conversations online, while still having a fast and efficient solutions suite to foster customer engagement.
WhatsApp is popular with users across the world with support for multiple languages. India is WhatsApp's biggest market with 400million users, and nearly half of all the app's downloads are from India.
WhatsApp Business is a win-win for both businesses and customers. While the WhatsApp Business app is a free download, tailored to suit the needs of a small businesses, WhatsApp Business API helps medium and large businesses communicate efficiently with customers globally at scale. The API needs to be powered by an intermediary platform like WhatsApp Business Solutions by Netcore Cloud to integrate all business processes on the platform.
With customers looking for more personalized experiences, WhatsApp business solutions aim to provide a quality solution for brands today. The current global scenario is straining the engagement economy, thereby prompting brands to explore easier and faster resolutions for their customer engagement problems. The coronavirus pandemic prompted government restrictions on supply chains, impacting businesses all over the world adversely. WhatsApp Business solution is becoming the need of the hour as businesses nimbly strive to function efficiently and get back to normalcy during these testing times.
In this blog we share some key insights by Chetan Kumar, Strategic Partnerships at WhatsApp India, in conversation with Pradyut Hande, Growth Marketer and Product Evangelist at Netcore Cloud, in a recently concluded webinar. Additionally, check out the winning strategies to boost sales using the Whatsapp API in this ebook
This post covers:
How a brand or business can leverage WhatsApp business solutions
How WhatsApp Business API helps reimagine personalization in the engagement economy
How small and medium businesses can leverage WhatsApp better with a majority of consumers already on the platform
Related: Learn How Netcore's WhatsApp Chatbot Helped Flipkart Deliver Customer Delight at Scale
Why do businesses need to look at WhatsApp?
In a survey by Facebook IQ, it was found that a majority of consumers across its four major markets, i.e., the US, the UK, India and Brazil already communicate with businesses using messaging apps.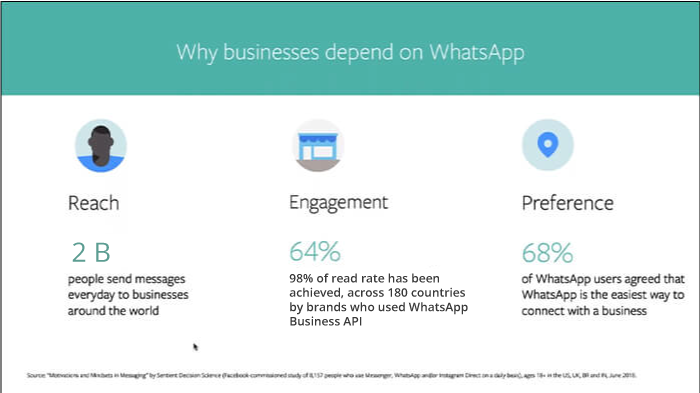 As of 2021, WhatsApp had the following figures:
Reach – 2 billion people send messages every day to businesses around the world. 400M + in India alone.
Engagement – WA has users across 180 countries and some brands have reached a read rate of 98% with Whatsapp Business API
Preference – 68% of WhatsApp users agreed that the platform is the easiest way to connect with a business.
While it is important to reach out to customers on a channel they are most comfortable and engaged with, WhatsApp as a platform is great for businesses because there is least amount of friction and moreresponsiveness with customers.
How can brands establish presence on WhatsApp for businesses?
Depending on the scale of the business there are broadly two types ofsolution that WhatsApp offers:
WhatsApp Business App
This app has been created to cater to the needs of small businesses. Businesses using this can interact with customers easily by using tools to automate, sort and quickly respond to any messages or queries.
WhatsApp Business API
This solution caters to the needs of medium and large businesses. It helps businesses or brands communicate with customers using automation and technology at scale for multiple use case scenarios.
WhatsApp Business API can be broadly used for the following two use cases: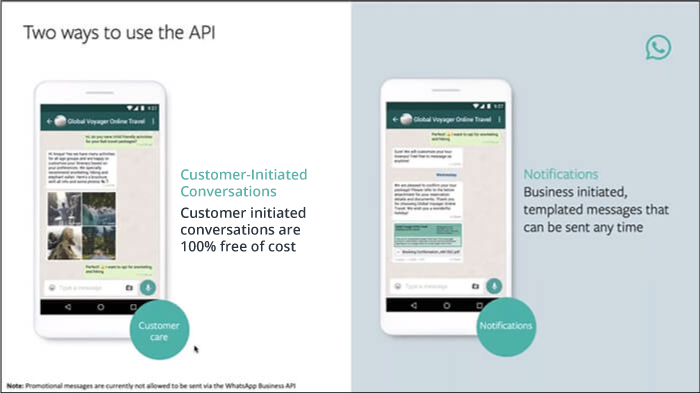 Customer Initiated Conversations
It covers all customer initiated conversations with businesses. It allows you to engage opted-in customers in full-funnel conversations across their customer journey free of cost without the transactional-only restriction on messages outside the 24-hour window. This includes text, images, and even PDFs.
Notifications
It covers all communication to customers which are business initiated in the form of templated messages that comply with guidelines laid down by WhatsApp. Such notifications can be sent to customers anytime.
The most common types of such notifications are business to person transaction messages, tickets, invoices etc., which customers receive after voluntarily opting-in for business notifications. It can also be used to send product recommendations based on a customer's recent purchases, timely offers or valuable informational alerts.
It is important to note here that all notifications which businesses put out to customers need to go through scrutiny as per Whatsapp guidelines to ensure no spammy, or unwanted message reach its users. Also, promotional messages must comprise clear call to actions and should be sent to customers at a logical time. This is to ensure that customers have a hassle free experience throughout their interactions influencing high-quality conversations between businesses and their customers on WhatsApp.
How does pricing work on the WhatsApp Business API for brands leveraging it on a commercial scale?
Customer Initiated Conversations
Engage opted-in customers in full-funnel conversations across their customer journey without the transactional-only restriction on messages outside the 24-hour window. Responses to customer initiated conversations are completely free of charges which enables businesses to:
Resolve customer issues one-on-one with private conversations rather than resort to social media where conversations spiral out of control leading to lost brand reputation.
Connect with customers immediately as and when issues arise. Avoid friction and frustration related to customers calling an IVR or waiting for email response.
Communicate seamlessly with customers on a channel they prefer. Customers are always on and engaged with WhatsApp.
Conversation-based pricing
WhatsApp has switched from notification-based pricing model to a conversation-based pricing approach. This means that instead of being charged on notifications/messages sent, businesses will be charged per conversation.
First 1000 conversation per month will be free, to give your business the room to build experiences your customers will love before having to pay.
No charges will be imposed on conversations that are initiated when a user messages a business using a call-to-action button on Ads that click to WhatsApp or a Facebook Page CTA .
Faster Communication with new types of messaging
There is a massive uptick in the number of businesses that wants to communicate with their customers through WhatsApp. Many of the businesses have seen visible uplifts in their user engagement and click through rates through WhatsApp Business. The new features rolled by WhatsApp is projected to help people get business done faster. This new list of messages offer a menu of upto 10 options so customers no longer need to type a response. The reply buttons enables customers to make faster choices with just a tap on 1 out of the 3 options, businesses set ahead of time through WhatsApp API.
Prior to the introduction of these features, businesses were often limited to sending timely notifications, which made it difficult to follow up with customers outside of a 24-hour window. With the support of new types of messages –the app aims to cater to every business needs. For example: notifying people when an item is restocked, or suggesting similar products to customers as per their purchasing behaviours.
In our next blog, we shall dive into how a typical customer care operation flow looks like on the WhatsApp Business API platform and certain key guidelines related to the same.