Evolution is the only truth–in app success and otherwise. Brands have forever explored a vast territory for app growth–to best catch the audience's attention and retain them. And now we're seeing more and more brands (big shot, highly credible brands like Zoom, Slack, Pinterest, and more) adopting product-led growth as their go-to growth strategy. So, what's really driving this change/shift in the app growth approach here? Well, it's simple. It's you, me, and every other user and how we interact with products. Users have become increasingly independent and want to self-educate themselves about the app and its usage rather than a salesperson guiding (or subtly pressuring) them to use the app. The most successful brands you see today have understood this basic change in user psychology and behavior and have identified the necessity of a growth strategy that aligns with this constantly evolving user behavior.
This is where a product-led approach calls the shots!
But what is product-led growth, and what does it bring to the table? And how are brands leveraging it to leap above and beyond? Let's dive into all of this and more in this blog.
The need to look at app growth through a new lens
The reason why we choose to order from an online delivery platform like UberEats or Swiggy instead of dialing up a restaurant and ordering through an executive is the reason why mobile apps need to move towards a new-age (much needed and much wise)app growth strategy.
Going back to the example – ease and empowerment are why we choose to do the former. It's much easier to order in a few taps rather than going through the entire process of placing the order through the restaurant. This ease and empowerment is what users value today the most. What they need is the power to discover the product (app in this case) themselves before they make any decision. And times like these call for a strategy that shows your product in full action and lets users explore it at their own pace.
This is drastically different from when users used to depend on customer support executives to explain the intricacies of the product and tell if it would be a good fit for them.
That's why instead of focusing all efforts of app growth on sales and marketing funnels, it's time businesses keep their products at the forefront to drive growth and retention. Because simply relying on aggressive marketing is unsustainable if the product doesn't deliver on user expectations. The company will fail to generate enough revenue, and sky-high customer acquisition costs can turn businesses into loss-making machines.
And this is where product/growth leaders need to look at the new-age thinking – product-led growth strategy. A concept that thrives on optimizing the interactions/experiences of users within the app itself.
What is product-led growth?
The product-led growth strategy puts the spotlight on the front-end user and focuses on offering an intuitive, self-serving experience that would drive the larger growth story. It's about building a product that eliminates the need to fuel ineffective, expensive sales and marketing techniques. It uses the product as the main channel for driving low-cost acquisitions, high engagement, quicker conversions, and sky-touching retention numbers. Moreover, this strategy levels the ground for newer start-ups that do not have deep pockets. Product-led growth focuses most of its resources on building a product that engages the customer. Why? Because when you focus on the product experience, your product markets itself, and your customers bring in new customers. That's how you build a winning product-led model to enjoy the loyalty of a vast user base.
It's a growth strategy where every team is customer-obsessed and relies on the product to deliver business results.
Looking to enhance your product experience? Here's the way.
How does a product-led approach help drive long-term app growth?
If you're still looking out for the benefits of product-led growth, this section is for you.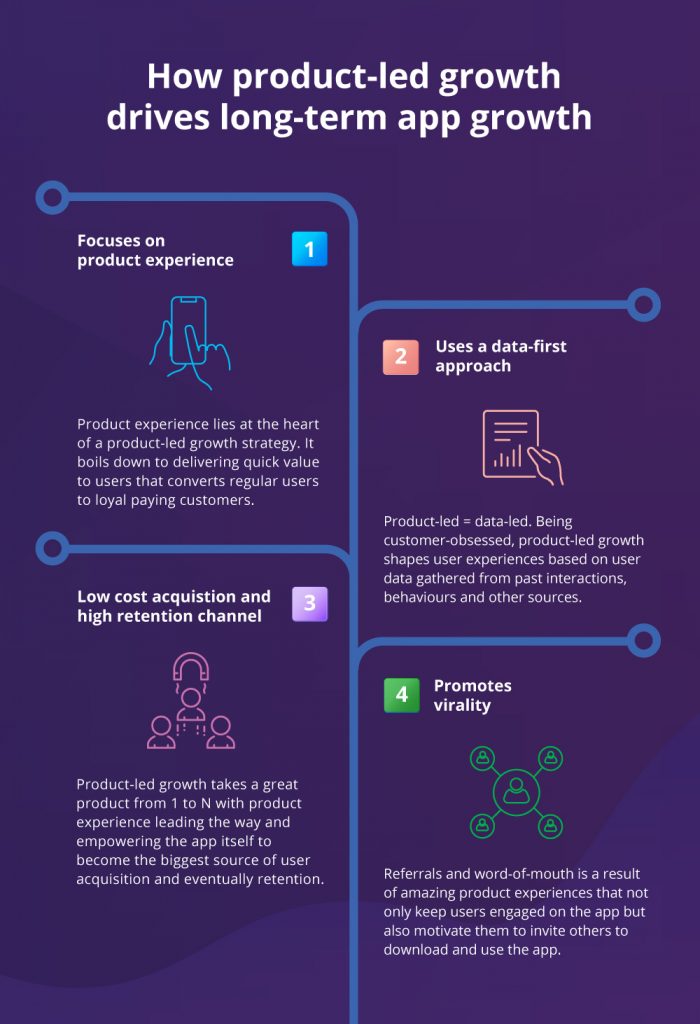 Focuses on product experience
There is no denying that product experience lies at the heart of long-term app growth strategy. Product-led growth involves adding value to the customers' lives before capturing them. Offering freemium, free trial models helps users experience the product and quickly realize the app's value proposition before they opt to upgrade. This experience is what eventually leads your freemium users straight to your upgraded product. And that's how you drive app growth.
Uses a data-first approach
As product-led growth is all about a user-centered approach to growth, data becomes one of its most potent weapons. A product-led strategy relies on data from user interactions, past behavior, and usage patterns to create experiences that lead users to the 'aha moment' sooner than later.
User path analysis to visualize the most common conversion journeys across your app, behavioral analysis to analyze user behavior, and performance of key metrics are some of the more critical data needed for creating a pristine user experience. Based on your finding of product experience, you will be able to create a winning product-led growth strategy.
Low-cost acquisition and high retention channel
The entire ethos of product-led growth is driving user acquisition through the product itself, which can otherwise cost as high as five times the cost of user retention. By letting product experience lead the way, you're increasing the chances of your current users becoming the biggest advocates of your product! Conversely, users are most likely to become repeat customers or, even better – become repeated paid users of your app. In the long run, this is what will drive sustainable app growth.
Did you join Slack because a colleague invited you? Did you try notion because someone suggested you do so? Or did you set up Calendly because you saw the convenience it brought to your peers? The high chances are that all your answers end with a yes. That's the beauty of product-led growth you see. It creates experiences that get current users spreading the word about your app – making it viral in no time.
How to achieve product-led growth?
Truth be told – the best kind of growth is led by the product and product only! But how do you approach that? Is simply building a great product enough? What are those core tenets that put your app on a rising growth trajectory? We will discuss the key ones in the below section:
Create amazing product experiences
App growth depends significantly upon building great experiences and products own that experience today. To start with, apps must be built in a manner that is intuitive and makes it easy for users to navigate and solve their pain points. This essentially includes removing all possible friction points that come under the ruse of putting the product before its users.
You can rely on contextual nudges and walkthroughs to enhance the user experience such that users are not lost on your app and find value in your product from the get-go. Walkthroughs and nudges will win you smoother onboarding, faster activation, boosted feature adoption, and higher conversion/retention.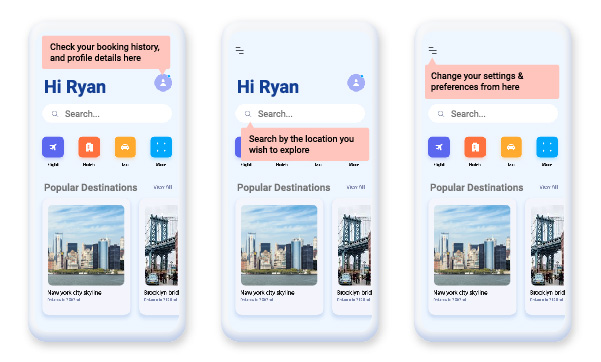 Positive user experience starts from onboarding which is built around specific user goals and not the features your app offers. The entire onboarding flow can be made friction-free with nudges and walkthroughs that help users avoid the choice overload when they have just started using your product.
This brings us to another prime participant of the product and the entire user experience, i.e., user journey optimization. You can't afford to miss out on creating context-aware user flows to impact conversions. Delivering a hyper-personalized experience to each user and experimenting intensively will help you ace this area.
Read more about how you can build amazing product experiences using a no-code platform
Track, measure, and optimize the app experience constantly
To create an experience users love, it's essential to know: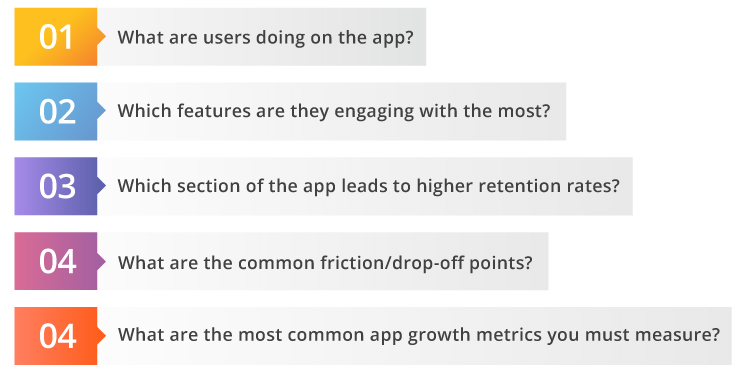 The only solution to all these questions is to dig deep into product analytics and take the right steps to spark app growth at every stage of the funnel.
This also includes collecting and implementing user feedback. The quickest (and least annoying) way to do that is deploying no-code survey/feedback nudges that can be triggered in real-time based on user actions. For instance – you can show a user placing an order a nudge that asks them to rate the overall app experience.
Build a winning referral program
Your mobile app should have multiple built-in channels for newer customer acquisition. This primarily includes having a solid refer and earn program in place. A well-structured referral program helps you exponentially grow your user base. This can be best understood with the example of Spotify. They smartly nudge you to share your songs on various social media platforms whenever you listen to music on Spotify. As more people click on the link, they will be redirected to Spotify or asked to download the app, bringing in new customers and reengaging the existing ones. So you're essentially nudging your current users to bring in more new users. Offering exciting rewards/discounts/coupons on participating in the referral program further drives user acquisition and overall retention.
Related read: Driving acquisition and retention through app referrals
Product-led growth heavily relies on intensive experimentation. Leave nothing to guesswork and experiment with various app elements (layouts, features, onboarding flows, the home screen of your app to the payment gateway page, and the color of the CTA) to deliver a winning experience. Flowchart-based A/B testing will also help you map and test every use case across a user's journey in the app. Testing for each segment will enable you to deliver user-preferred experiences.
These are the most widely used (and must have) strategies for making your app the primary growth engine for your business.
Here's a quick blog on mobile app A/B testing
How have big brands scaled mobile app growth using a product-led approach?
Let's look at how some of the strategies implemented by the best product-led companies:
Initially, Duolingo creators took inspiration from angry birds to design the app. Most people would scratch their heads thinking how one of the most successful ed-tech companies was inspired by a bird game. The answer is simple, the creators gamified the learning process and rewarded the users for completing the lessons. This unique product-led approach focuses on creating a seamless product experience that attracts more users. The entire flow of the user journey is made absolutely frictionless. The gamification encourages users to keep moving in the app, which keeps users engaged and retained for a long time. This is precisely the reason why even though there are thousands of apps to learn new languages; none can hold the candle to the product-led growth of Duolingo.
With a 39.8% share in the video conferencing market, Zoom is a pioneer of product-led growth, so much so that leveraging a product-led growth strategy the right way helped Zoom compete against Google, Microsoft, and Adobe. It's surprising that they even lacked a good marketing team in the first couple of years. They doubled down on one of the strongest driving forces of product-led growth – letting users experience the product for free before nudging them to buy. The 40-minute free video conferencing model coupled with a rich experience helped it achieve a revenue of over $2.6 bn in 2021 alone! Now, Zoom has taken PLG one step further with the launch of Zoom One, a unified communications platform that expands its offerings to other forms of communication including live chat, collaborative whiteboards, and virtual phone systems.
Pinterest is also one of the flag bearers of product-led growth. They currently have over 400 million monthly active users. This was possible as the company solely focused on the user experience instead of the metrics. Pinterest widely focuses on running rapid experiments to understand better why behind user problems and how to solve them in the best possible manner. The focus is deeply on understanding the user journey and the context from onboarding users to retaining them.
Slack is another example of one of the quintessential product-led companies. Their product experience is second to none, and they are still constantly improving it. The approach taken was simple – entice users with a freemium model, deliver a positive experience and upsell to existing users by offering premium features. And the whole in-built network effect created by Slack has helped it achieve massive growth over the years.
FAQs
1. What are the necessary metrics to track product-led growth?
Awareness, acquisition, activation, retention, revenue, and referral are the six main metrics that you need to track while employing a product-led growth strategy in your business model.
2. Why are more companies shifting towards product-led growth marketing?
"The sales-led way of buying software: Read about the software, create a list of features needed, let sales qualify you, do a demo, and twist their arm, so they give you a trial.
The product-led way of buying software: Just start using the product. Ask for help if you get stuck. Based on your usage and profile, receive personalized recommendations.
Which sounds better to you as a buyer?"
– Peter Caputa IV, CEO, Databox
The latter, isn't it? The same holds for the customer-facing brands. Give the product in the hands of the user, let them experience it, help them realize the value in a short time, and drive positive experiences that bring them back to the app.
3. How do you drive demand with a product-led growth strategy?
A freemium model, unmatchable product experience, rich UI, intensive experimentation, driving in-app guidance with nudges and walkthroughs are some of the ways to drive demand with a product-led growth strategy.
Conclusion
All said and done, to thrive in the cut-throat competition that exists in the mobile app space, product/growth teams need to move with speed and agility to implement product-led strategies that drive key business goals. Without the right tools in hand, driving a successful product-led growth strategy may seem quite a task at hand. And that's exactly where Netcore Cloud's no-code Product Experience platform helps you:
→ Build unique product experiences on the fly using no-code contextual nudges and walkthroughs
→ Run rapid multivariate A/B testing with minimum coding efforts
→ Release and kill features with just a tap
And all of this with no worries of app releases. Knowing the right product-led growth strategies may only get you so far. But having the tools to put strategies to action is what will set you apart.
And we're more than happy to be your partners in your journey to achieving product-led growth! Let's chat!