Great apps are the results of great experiments. Product managers of winning apps understand this and embrace the
culture of experimentation and A/B testing to learn what their users want.
Right experimentations can move mountains for you in the app market. It can boost the app's adoption to first-time users, identify challenges faced by existing users, and help you optimize your user's favorite features, driving sustainable app growth.
However, to make any experimentation successful, you must first create a blueprint of the goals you wish to achieve. Product managers often tend to focus more on the solution than the problem, which leaves them with poor experiments, unclear results, ultimately declining the app's performance.
So, in this case, how can you avoid these pitfalls and step up your experimentation game without throwing arrows in the dark?
Let's find out!
Developing a good app alone is not going to move the needle. To make your app sticky, you must implement a series of high-impacting product-led experimentations. Product-led experimentations help you utilize the product as a primary channel to drive app growth, engagement, and activation. It aids you in getting more out of your product by enhancing its usability to solve real user problems and understanding their needs, turning them into your biggest admirers. They promote your business- on their own accord.
Boost activation and retention with product-led experimentations
Product-led experimentation is an approach where your playground is your product. It helps you unlock your app's potential by identifying the minutest issues preventing users from adopting it while boosting its activation and retention rate.
Long sign-up process, poor onboarding journey, or ambiguity about the product due to insufficient information are some of the many challenges you can overcome by running product-led experimentations.
Product-led experiments leverage the power of data-driven insights to identify a particular screen or feature of the app that holds enormous growth opportunities. Experimenting with these features or screens helps you improve the under-optimized areas of the app by seamlessly driving it to success. Running product-led experiments allows you to remove the barriers that impact your product discovery. It lets you establish a deeper understanding of users, like what they love in your app, which features they use frequently, or why they ignore a particular feature to enhance user experience.
Steps to run high-impact product-led experimentations
As mentioned earlier, experimenting without a proper goal is a futile effort. To make it successful, you need to follow these three steps:
Observation
Hypothesis
Testing
1 Observation– Start by observing the entire user journey of your app. Figure out the roadblocks like poor onboarding, complex features, or a lack of nudges. Analyze each page from signing up to other feature pages within the app to tick out the pain area.
Once you have figured out the reason, you have your goal ready.
2 Hypothesis – A hypothesis is a precise, testable statement of what the researcher(s) predicts will be the study's outcome. Create a well-researched thesis and test it on multiple aspects and promising features of the app to get the desired result.
For example: As per the hypothesis, automating sign-up will reduce D0 drop-offs.
3 Testing – After creating the hypothesis, it is time to test and re-test it by hypothesizing and re-hypothesizing, which lays a strong foundation for the app's success. Hypothesis and testing are the inevitable twins in the world of science and discovery. Testing can only be successful if the hypothesis is correct and vice versa.
With this 3-step process, you can build successful experiments that yield a higher app conversion rate. Test your user data on different intervals of user interaction to undertake the right experimentations.
Different Product-led Experimentations to drive successful app growth
Achieving app growth is hard, but it is harder to stare at a dashboard that shows zero performance, right!
The best way forward is by curating a growth strategy. A strong growth strategy is a plan of action (a framework of hypothesis) that can instantly speed up engagement and motivate users to take action on their high intent moments rather than later.
Experiment with different growth strategies to identify the leakage in your app and fix it. Figure out the problem area, a missed detail, or a loophole instead of overhauling the entire app, turning it into a habit for your users.
Here are some of the app experimentations you can try.
Experiment diverse ways of giving product tours to new users
Experiment with multiple onboarding flows like benefit-focused, feature-focused, account-focussed, or a combination of all to meet your app goals—experiment with the number of steps used in onboarding to see which one gets higher engagements.
You can also simultaneously use multiple CTAs to see which users like what features on your app and leverage it to boost app engagement and retention.
For example, You can run multiple experiments simultaneously, one with five introductory screens and three screens.
Talking about good onboardings, ETMoney, a personal financial app, has nailed this strategy effectively. The minute the user installs an app, they are taken to the welcome page with options to sign up.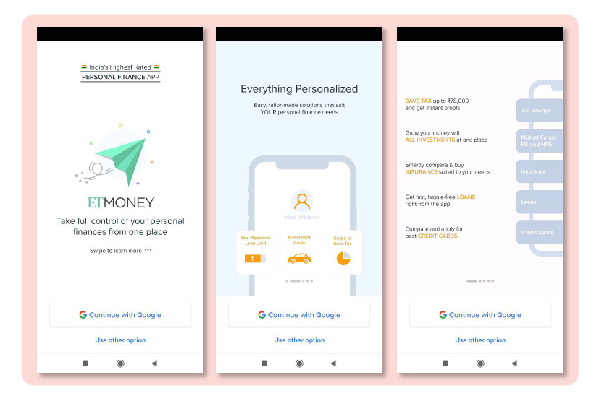 The best part about ET Money is its clean onboarding with short and crisp messages that instantly build a connection with the users. The sequential steps and straightforward CTAs make it easy for users to make the right decision based on their unique needs. Product tours can be a great way to build FTUE (First Time User Experience) with the app. You can A/B test in
multiple ways using code-free product tours to find the one that fits your business.
Plug and play with multiple nudges to highlight critical app features
A nudge is a fool-proof way to arrest user attention immediately. It treads users' to different app features allowing them to make informed decisions.
That's not all; nudges also help in nurturing user motivation to solve a problem. It gives small indications to users to solve their day-to-day problems using an app.
For example, some apps remind to drink water. By nudging users from time to time, the app indirectly nurtures the user's objective to drink more water in a day.
These nudges can be in the form of in-app messages reminders that persuade you to complete the action (drink a glass of water).
You can experiment with a range of nudges like a beacon, tooltips, coach marks, spotlight, and many more on different user segments to see which one delivers the best results.
Let's look at how one of our valued clients and India's most prominent gaming app MPL leveraged nudges to drive growth for its apps.
MPL wanted to boost the adoption of their newly released set of games. They experimented with different nudges to persuade a specific segment based on their preferences and understand the adoption of the new games among the more significant audience segment. The app used multiple nudges like Tooltips and Coachmarks to engage the audience for the new games launched and analyzed which nudge received higher engagement. Experimenting with different nudges enabled the brand to funnel out the high-impacting nudge format to boost the discovery and adoption of suitable games.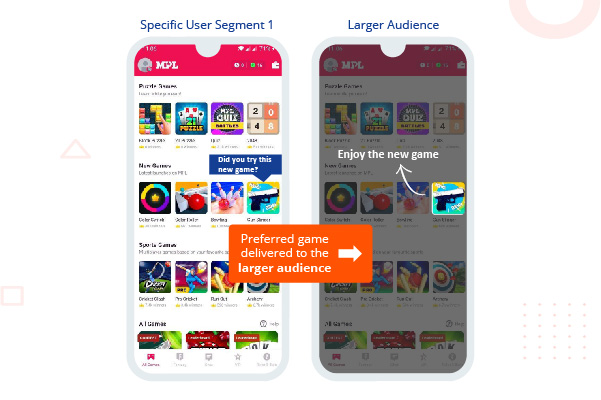 So if you are a fantasy gaming app looking to announce new games or app features without making it an imposition on users, then nudges are your field to experiment.
Funnel out high impacting app features with A/B testing
When it comes to app experiments and growth strategy, A/B testing is the one phenomenon that pops up in our minds naturally. A/B testing enables product managers to segregate multiple aspects of the app and run segment-specific tests to identify the best opportunities.
A/B test with every element of your app like home screen interface, CTA colors/text, nudges, and payment gateways to see which one yield desired results. Again, let's take the same example of MPL. The app brand used Netcore's A/B testing capabilities to boost engagement and activation amongst its user segment. They experimented with multiple app screens for specific users to learn which part responded better to which home screen.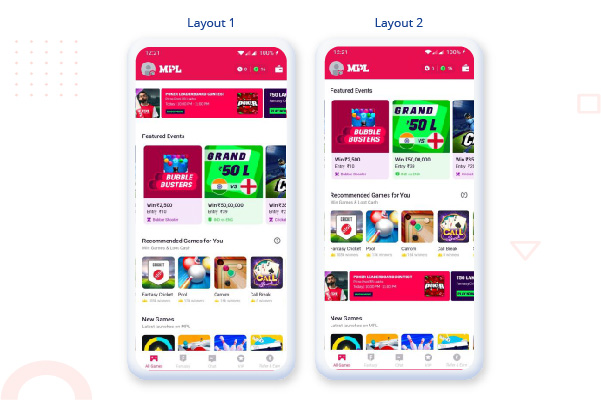 This experiment allowed MPL to understand which home screen appealed more to its users, delivering the most preferred experience to the larger audience. Tackle your app woes by A/B testing one or more experiments to see which yields faster results. You can
start with Netcore's Mobile A/B testing platform to experiment with app journeys by reducing engineering involvement to a bare minimum.
Another way is to run in-app campaigns on different segments of users by personalizing the UI to see what design gives you a better response. A/B test multiple in-app campaigns using varied user segments to understand user expectations better, measure the impact of a new feature and get a higher app engagement rate. Effective A/B testing practice can turn the tables for you in the app market.
Running campaigns on app store pages is also an excellent way to increase your installs and acquire new users. A/B test with different ads to derive higher conversion rates at a lower cost-per-install.
However, just like any relationship requires constant nurturing to stay strong, your app requires constant experimentation to bring out the best possible experience to the users.
Experimenting is a journey, not a destination.
Experimenting and improving app experiences is an ongoing process. You might encounter failures while testing, and that's ok because the way to success comes through failure. There is no success without a fair share of loss, and there is no room for growth without doing at least a handful of experimentation.
You have to experiment and find the right way that will expedite your app's growth metrics. By analyzing what didn't work, you will learn what will work for you. Because growth is about either winning or learning, each time you experiment, you learn something new, which makes your app stronger, better, and exceptional.
The above experiments are just the tip of the iceberg to get you started with your journey of experiments and exploration. Leverage the power of good experiments to discover your north star metric that further advances your app and transforms it into the ultimate growth engine for your business.
If you want to learn more about the Netcore Product Experience Platform, get in touch with us today.