Ever wondered why despite delivering the best onboarding experiences, your app fails to woo the customers into coming back the next time?
Most product managers today are so engrossed in building the perfect app that they ignore the importance of a good onboarding experience. While a good UX design definitely gives you the initial spur, delivering a captivating app experience requires you to get deeper into your target users' minds. And that's where behavioral science comes into play!
Believe it or not but psychology is the key driver behind successful onboarding practices. In today's blog we will peek into some core principles of behavioral sciences that facilitate effective onboarding flows across the user journey and how applying the right principles can help you engage and retain more users effectively.
Role of Behavioral Science in App Onboarding
Behavioral science is a study of how humans make decisions in life. It involves a concoction of various fields like psychology, cognitive sciences, psychiatry, and a tinge of behavioral biology.
It states that every human action good or bad is attributed to their decision-making patterns. These decisions are influenced by psychological forces which make users resistant to change. They find it convenient to follow the trails of the traditional path which they always traveled. (Mostly because it is an easy and secure choice.)
Behavioral science helps in identifying the reasons behind people behaving the way they do and how can these behaviors be modified in a predictable way. Applying behavioral science allows product managers to understand user behavior on a granular level. This enables them to alter the habitual user decisions by crafting better app environments for superior user experience.
Key behavioral science principles that you can apply in your app onboarding strategy
Creating a captivating user experience is a work of art (design) and science (psychology).
Behavioral science powers you to be the choice architect of designing meaningful user interactions. Based on the user behavior, you can plant multiple nudges across all touchpoints of the user journey. Design unique app environments using the choice architecture theory, nudging users to take predictable actions that deliver expected results.
However, while the theory sounds quite easy and doable, in practicality it can be a lot more complex to execute.
So, here are some of the key principles of behavioral science to help ease you into the process.
(Note: Experiment and implement these principles for different user segments to identify what works and what does not work for your users. After all, a data-driven approach gives the best results!)
Embrace the art of priming
Priming is a psychological process that occurs when exposure to one thing alters later behavior or thoughts. It is a phenomenon that triggers a decision by introducing a stimulus (nudge) prior to the decision.
Priming is instilled in human minds since forever. That's why the word 'love', makes us think of the heart or 'sun', makes us think of the color yellow.
Believe it or not, priming is a powerful tool to influence users who are alien to your app's potential. It educates users on how the app can solve their problems and nudging them to take the next best action.
For example: Grammarly seamlessly highlights its emoji feature which helps detect the tone of its content piece. That is priming in action- since users are easily captivated by emojis and detecting tones using them makes your task both easy and fun at the same time.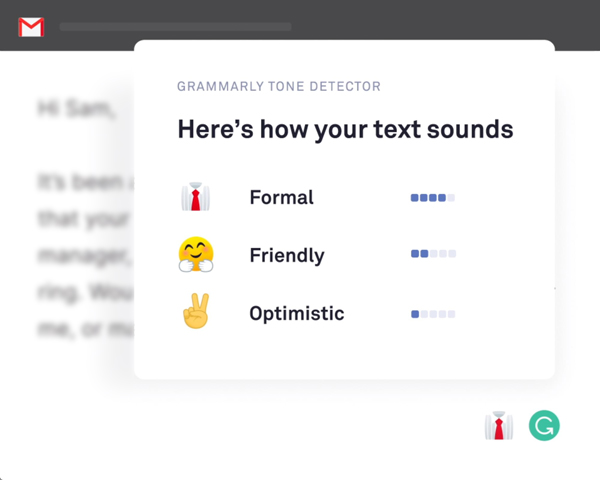 Develop social proof heuristic
Human beings are social animals who act based on social footprints when they are unsure of a situation. The more the number of people favoring a product, the higher the chance that your user will perceive it to be good. This behavior is nothing but the social proof heuristic. As per this research, implementing social proofs like a recent customer activity can boost conversions by up to 15%.
One classic example is the tiny review section that appears on app stores which indirectly influences new users to sign up, based on the number of good reviews that the app has conjured. Here the app reviews act like a nudge that alters user behavior in a predictable way.
Source: Medium.com
Match user mental models
A mental model is a set of beliefs humans develop about how the world operates. It is a bundle of impressions people carry in their mind about themselves, others, society, and everything they interact with. They apply this very knowledge to any future task or situation they come across.
To match users' mental model, product managers need to look at things from their user's perspective. It's always a good idea to do some user testing to coin personas that help to select features that create a user-friendly app experience.
The best example, in this case, would be OTT apps like Netflix which introduced the mobile content streaming revolution in India. Just when corona brought the daily lives to a standstill, OTT made its way into user's minds as a stay-at-home entertainment service with unlimited entertainment choices, unlike our traditional TV which had limited channels. This is the revolution that shifted user's mental model for content consumption from television to mobile experience.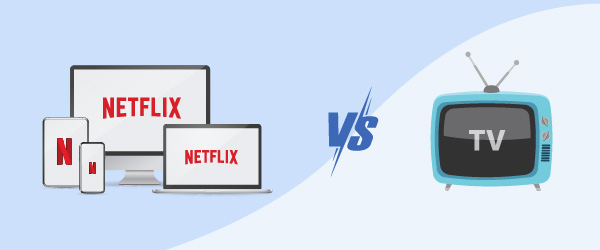 Maintain the user momentum
User momentum is a crucial aspect when it comes to app feature adoption. Even after delivering the best onboarding, there are various factors where users drop off without exploring the app. These includes incomplete information on how to use the app, confusion on the next step, complex user interface, unable to operate the tools and more reasons that can get in way of your user momentum.
To counter this problem, it's essential to understand what your users prefer and what goal are they hoping to accomplish through your app. Once the objectives are set, all you need to do is deploy unique nudges prioritizing the features specific to user goals. This customization of the user journey can help to maintain the user momentum thereby retaining potential users.
That is what Quick Ride– carpool & cab service did to bring back the dropped off user back to its app. They used unique nudges at every stage of interaction to guide and help users have an uninterrupted app experience, thereby keeping the momentum going till the end.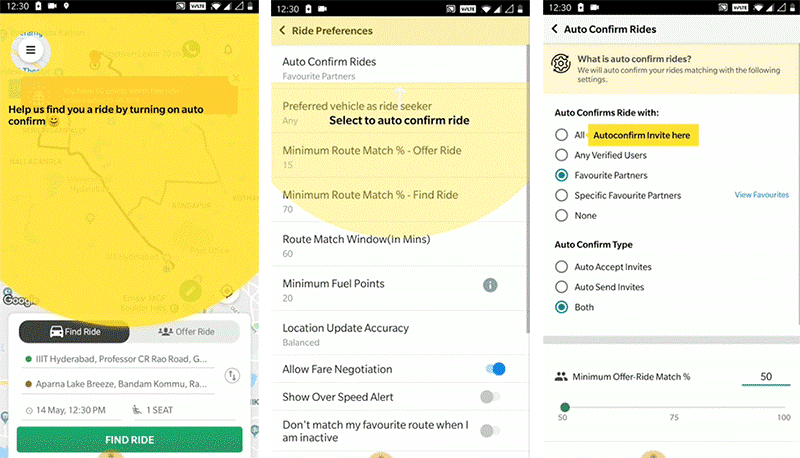 Leverage the investment and sunken cost fallacy
By limiting the shows and movies under free subscription, Disney+ Hotstar the famous OTT platform, prompts you to take up a VIP or premium membership so that you can have uninterrupted access to all the latest shows, movies, series and more.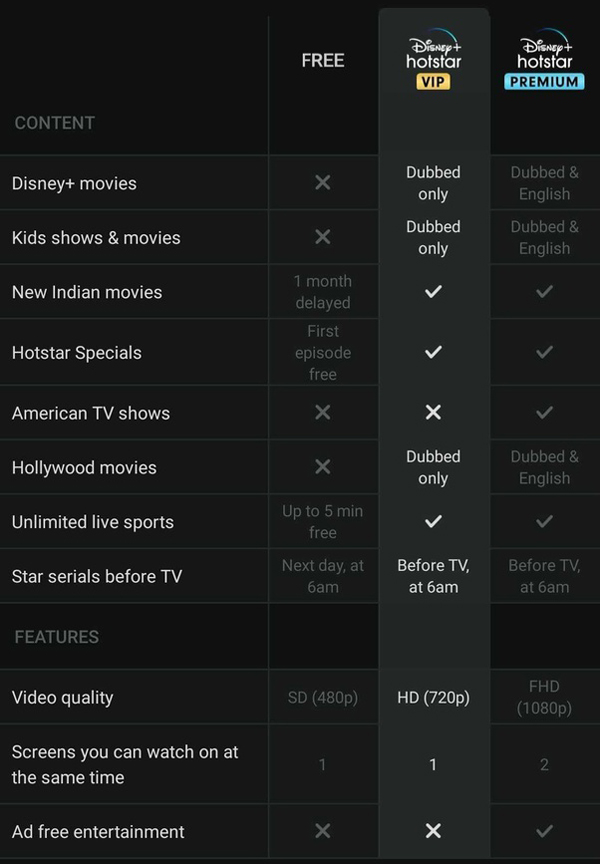 Though this is an age-old trick, it's worth noting. Most product managers use this trick to get revenue in return for the experience they provide. Here the 'experience' is a free subscription. After consuming the free plan you are nudged to make an investment in order to get access to premium content.
Improving app experience is an ongoing process
Activating and retaining app users is a challenge, especially in a world where users are spoiled for choices.
The competition in the app market is constantly at its peak. As per research, Google Play Store become the app store with the biggest number of 3.14 million apps followed by The Apple App Store with almost 2.09 million apps for iOS users.
This means that there's a sea of apps creating a wall between your product and its potential users. The above mentioned principles can help you breakthrough this wall and establish a strong connection with your users seamlessly.
Behavioral science studies is a lot about experimenting your way through the user cognitive process to get the desired results. Hence, before designing your app onboarding journey it is essential to design an image of your target users first. Because great onboarding starts with a great understanding of your potential users.
Read the article: The what, why and how of nudges: Your roadmap to delivering delightful user experience
To explore more about Netcore's Nudges and Walkthroughs, simply request a demo.