Standing out in crowded inboxes and driving meaningful interactions has always been a challenge in email marketing. In the face of a similar scenario, SOTC India, a leading travel and tourism company, teamed up with Netcore to revolutionize their email marketing strategy. By gamifying and making their marketing emails interactive, SOTC increased the engagement of active users and the reactivation of dormant ones.
This blog talks about SOTC's journey to 'amp' up its email campaigns with the help of Netcore's AMP-powered emails. Here's a real-life success story that will help you learn innovative marketing tactics that shoot up the ROI from email campaigns.
SOTC recognized the need to move beyond traditional email campaigns and explore innovations in messaging to boost customer engagement. They aimed to convert high open rates into click-throughs and reactivate dormant customers with captivating in-email experiences.
SOTC enhanced its email messaging with compelling subject lines and relevant storylines to promote conversions. Additionally, they collaborated with Netcore to implement a re-engagement AMP email series for their inactive customers. This series incorporated interactive quizzes within the emails.
SOTC also adopted AI-led segmentation and deliverability best practices. With the combined power of these strategies, they were more successful than before in converting opens to clicks and reactivating dormant users.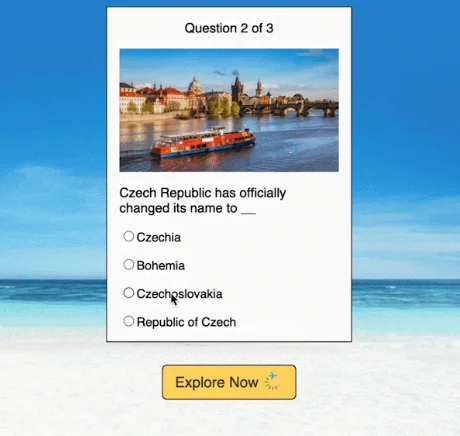 SOTC engaged their audiences by presenting travel-related, multiple-choice questions, sparking a wave of curiosity and generating interest. The interactive nature of these questions served as a gateway for individuals to explore different travel destinations and expand their knowledge about the world.
The gamified AMP email campaign led to an impressive 123% increase in the Click-to-Open Rate (CTOR). Moreover, up to 10% of dormant customers were successfully reactivated.
Here's what Pranil Pillai, Deputy General Manager – E-Business, SOTC, has to say to marketers looking to amplify their email marketing results:
"Driving users to click on a CTA and follow through with the desired action remains a huge challenge. Therefore, AMP's unique capability of enabling users to take several actions within emails caught our attention.
For our campaign, we were primarily looking at boosting engagement and reviving dormant users. Netcore's team offered a solution by combining AI-powered segmentation and interactive AMP emails.
We developed a series of gamified emails using interactive quizzes, which led to our customers engaging with the email and clicking on the nudge to make travel bookings. Our AMP campaign saw a 123% uplift in CTOR. It also reactivated up to 10% of our dormant users.
Gamifying emails is a great way to induce engagement. Anyone looking to amplify the results of their campaigns should definitely try out AMP emails."
In summary
50+ top-notch brands, such as MakeMyTrip, Tata-owned StarQuik, Axis Securities, and Asian Paints, across industries partner with the Netcore AI-powered email platform, to roll out AMP emails and boost their ROI. We have sent more than a billion AMP emails across 200+ highly successful campaigns. Our AMP email wizards consult to achieve your specific KPIs and email marketing goals.
Netcore makes creating AMP emails easy. You can even design custom use cases on your own using the Netcore no-code, drag-and-drop editor in just three clicks. Connect with us to understand how you can benefit from our expertise and experience – we send over 20 billion emails a month on behalf of 6500+ businesses across 40 countries.