How to use Email Annotations to drive maximum conversions from your campaigns
As marketers, one of our many preoccupations is finding ways to get more people to open and engage with marketing emails. But the digital audience is constantly bombarded with so many promotional emails they become indifferent. More often than not, they just ignore marketing communication, no matter what the brand.
Is all hope lost? Absolutely not.
We've written several articles on how to optimize email subject lines, content, and send timing to increase open rates. This time, we're adding to the same line of conversation by discussing Email Annotations for Gmail.
What are Email Annotations?
Remember when marketers were tearing their hair out over Gmail's 'Promotions' tab? After all, how many customers would willingly and regularly visit their Promotions tab to read marketing emails?
But Google did think of it; after a while, they added Email Annotations, which help bring attention to emails in the Promotions tab via images, deals, and expiration dates.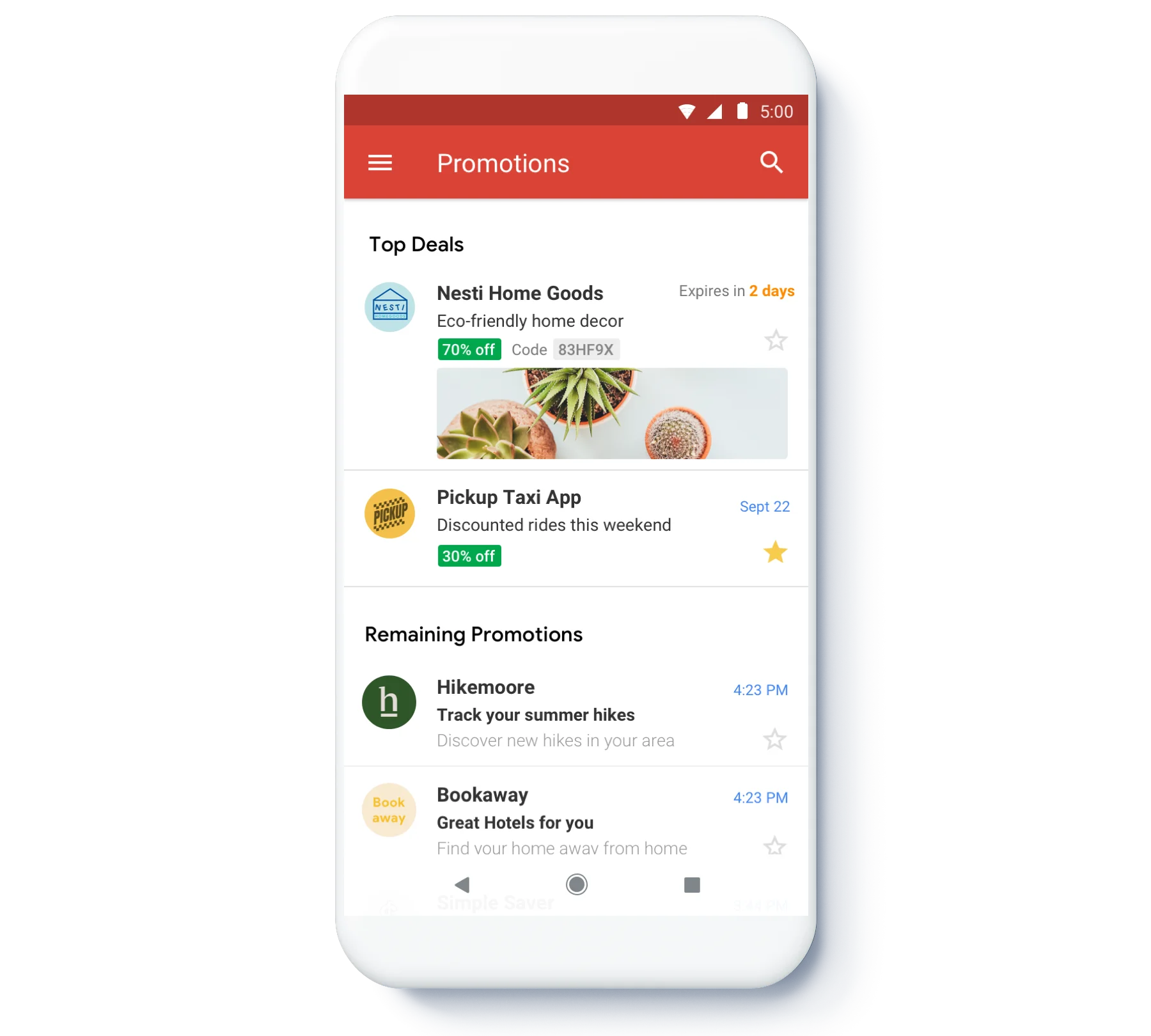 Annotated emails appear in users' inboxes with an image or deal highlighted. Users can click on the text/image in the annotation to get more information about the promotion. They don't even have to open the email to see what's on offer.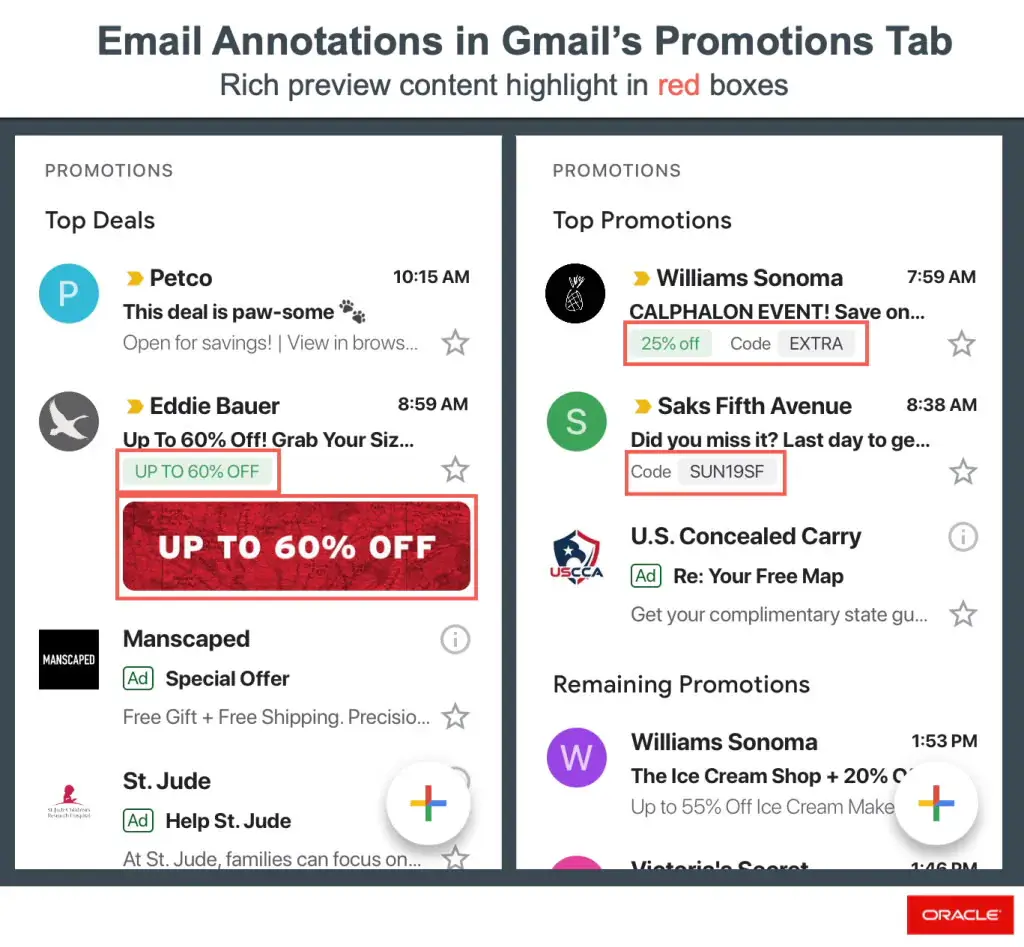 Annotation is essentially an HTML code snippet inserted into the email header. When it shows up in a user's inbox, they see the enticing information that makes them curious about your promotion.
Note: Google does have a tool to build the HTML template for annotations. You have to change the code it generates to showcase the image/text you want. However, the process isn't exactly a breeze, as you can see in their official documentation.
Types of Email Annotations in Gmail
As of now, Gmail allows you to create:
Deal Annotations: you can add text relating to promotions, like a deal code or an expiration date for an attractive deal.
Product Annotations: you can show up to 10 unique images in a carousel format. It is an eye-catcher to advertise a sale or a new product launch.
But what can you really show with Email Annotations?
A Logo
Generally, you have to get BIMI authentication to display your logo as an 'email sender.' You should certainly sign up for BIMI because it has legitimate advantages in terms of data security and user reception (when users know that you protect their data, they trust you more).
Getting BIMI can be somewhat of a lengthy process. But if you want to display your logo right now, email annotations will allow it. However, Gmail will only show them in the Gmail Promo tab.
Note: Use an HTTPS (not HTTP) URL. In this case, the logo will appear only in the email preview.
Discount mentions
Are you offering a discount in your email? You can use annotations to highlight it in the email preview quickly so people know there's a reward waiting for them.
Discount deal percentages and codes
You can take it a step further and display the discount % in the preview using email annotations. It will quickly grab people's eyes – who would pass up an email promising a 30% discount, especially if it's a brand they like buying from?
Additionally, you can put the discount code in the email preview so that users can quickly copy the code and buy immediately. In this case, you're getting a conversion even without the email being opened. Impressive, to say the least.
Expiration dates
Is the 50% discount only valid for 3 more days? Let your email recipients know that upfront. Legitimate FOMO is a real thing, and it drives people to decide about buying products or services they might not have prioritized otherwise.
However, avoid using misleading information to generate FOMO or urgency. Nothing repels a customer faster than a deal with hidden fine print.
A banner
You can add a banner image underneath all the other info you've placed in your email annotations. It is a powerful feature because the banner would turn the email into a complete advertisement when combined with discount codes and product images.
What's more, the email doesn't even have to be opened for the ad to catch the users' eyes. It's all in the preview.
How to create and deploy Email Annotations
Creating email annotations does require a bit of coding, as outlined here in Google's documentation. It's not exactly complicated, but it can be intimidating if you've never had the experience of playing around with your email's HTML editor.
If you want to get into Email Annotations the right way, talk to experts – it would save you time, effort, and money. The faster you get your promotional messaging into Email Annotations, the higher the increase in conversions and ROI.
Need help with Email Annotations in your campaigns? Or want to know more about any of the above points? Our Annotation experts are ready to consult and help you achieve your specific KPIs and email marketing goals. We are leaders in the email deliverability and transactional email space, and the world's most recommended ESP as acknowledged by G2.com.
For the second year in a row, we received the "Highest overall customer rating" as a Customers' Choice, in the 2022 Gartner Peer Insights "Voice of the Customer" Report.
Connect with us to understand how you can benefit from our expertise and experience – we send over 20 billion emails a month on behalf of 6500+ businesses across 40 countries. We're constantly analyzing results, gathering insights, optimizing at different levels, and pushing for the highest achievable ROI in email ecosystems.