In this post, we are going to present some efficient ways to collect the user data from your brick and mortar stores and get them to sign up for your online platform. This should include getting your CRM and data analytics tools organized and working to your benefit to ensure that this plan works. This post is going to answer all the questions related to growing your Online customers and bring a considerably large amount of website traffic and ROI.
Let's Begin, Shall We?
In the digital world of 2020, if you have a retail brand and you don't have any website presence to sell your products then you are severely restricting the reach of your potential customers. They may flock to other competitors if you don't have an online presence.
Avoid that happening.
A well-designed website that displays your products in the best way possible and delivers them to your doorstep is a fundamental ingredient of any successful digital brand in 2020.
In our daily hum-drum of suggesting Email strategies for brands, we come across some which are newbies in launching their product website. They have until now a massive franchise of their offline retail stores but have recently designed their swanky new website and are in a conundrum as to how to get traffic on it.
Building your organic online customers is a journey rather than a destination. It takes time to build your brand affinity as an online business, but if your offline brick and mortar stores are already a hit, then, it becomes easier to get traffic on the website.
Email is a great channel to reach out to your store customers and persuade them to shop on your Website. Email is an effective channel to having a direct approach to your consumers and being direct about what you have to offer them. It is also a cheaper option than other marketing channels and offers a relatively higher investment to the ROI ratio.
According to a survey by Hubspot, 51% of marketers say enriching contact data quality is their most significant barrier to achieving email marketing success.
Thus data quality and how you collect them is still a major issue for offline brands meaning to go online with the (O2O model) and expand their online business platform.
Here are some useful strategies….
1. Collect Email at the Kiosk
The data collection should start at POS. When the customer enters one of your retail stores, ask them to sign up their Email for a 5% discount voucher which will be emailed to them. Once the Email verification is done, you have received a genuine user who you can add to your mailing list. The customer will also benefit from a 5% off on their shopping.
In case the customer does not have an Email address then get their mobile number registered and then send them a text for the voucher with a link for signing up to the website.
2. Know your Customer
Apart from the mandatory details like Email address, mobile numbers, you should also be collecting their other details like age, gender, location in order to get a complete demographic view of the customer.
Eg: Collecting the gender,location details of the client post filling up a form and clicking on verification.
This information when fed into your CRM and data analytics tools will help to segment the users based on their above attributes and help to target them more efficiently. This also proceeds to give a holistic view of your user and you can further devise strategies to target certain products to users who have been recommended these products in-store.
Eg: Users who have searched online for particular types of bags for the last 3 months but not shopped anything from the store. These can be targeted with a discount offer on those bags and converted.
This shall also help you to promote your in-store products to people from certain locations who have a past history of frequently transacting with your store.
3. Focus on Data Segmentation
The offline collected email addresses need to be segmented based on the following use cases:
Loyalty card members (They should be targeted on priority as they are long time, loyal customers and are bound to check out the online website if not buy anything)
Users frequently transacting more than 10 times for the last 6 months. (Frequent transactors should be next)
Users who have transacted less than 5 times in the last 6 months. (Less frequent ones come next)
Users who have not yet transacted but browsed the store. (They could find better offers online)
It should be clearly mentioned in your promotional campaign that they are receiving the offer as they have transacted or visited your retail outlet store.
A popular fashion retail brand approached us with a use case to turn their offline customers to recently launched online traffic. They had collected location-wise retail store data for the last 3 months and were targeting these users with a festive offer on products online.
The engagement statistics showed that the average open rates received were between 5-9% and click rate was between 0.6 to 1%. This has helped the brand to get new subscribers on its platform on a monthly basis and expand their reach of audience.
4. Geolocation Marketing is the Future
When you have all the data details about your customers in your CRM and analytics tools, you can further process them to get segments on users who transact location wise.
The next time the users will be close to a retail store, they will be targeted with app push or text notifications on special offers which are currently underway. There will also be online offers to contend with and these offers should be on products having lower price points than the ones sold in-store.
Geolocation marketing might seem like it might annoy your users, but going forward this will be an effective conversion tool that you can use to leverage your best offers and gain new regular customers.
5. How was your Instore Experience?
If a shopper has visited your store and provided their Email to your CRM system, they should be triggered a mail within a week, to remain fresh in their minds with a current best selling offer from your website to redirect them to sign up.
It will be kind of a feedback emailer but it accomplishes your goal of highlighting your users that you care about their interests and allow them to feel comfortable providing feedback to you.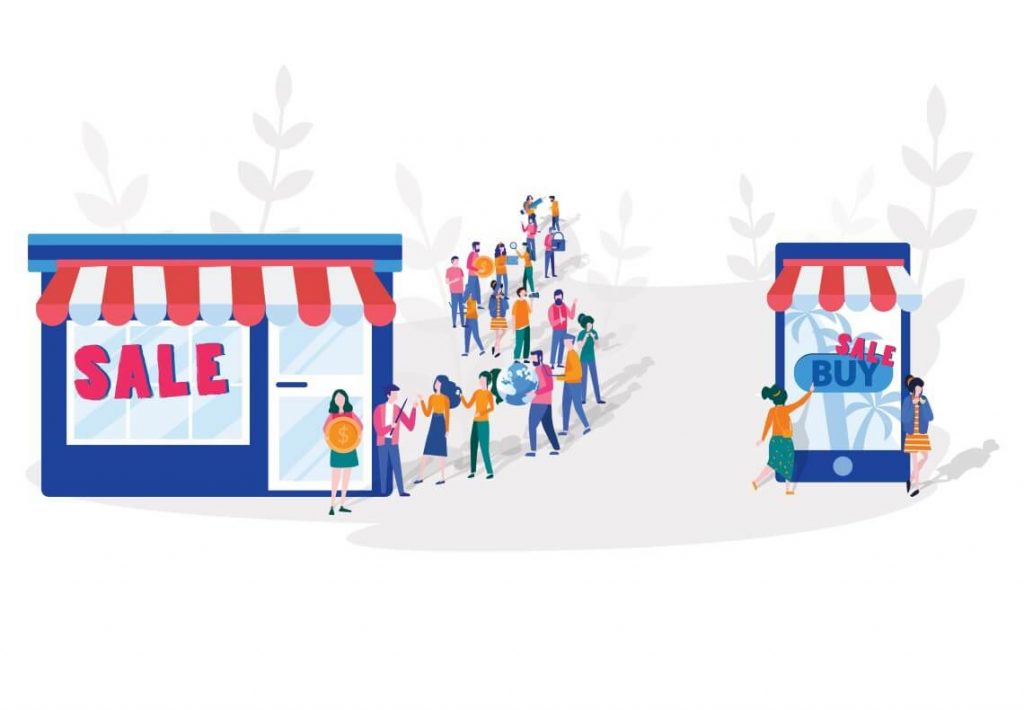 6. Recommendation mailers for locationwise users:
Another way to amaze your offline customers is by providing them better offers for the items they could buy from the offline store based on their location and nearest store to them. This will get more footfall into your retail outlets and a good word of mouth about these recommendations might result in new loyal subscribers who can't stop raving about your brand.
Recommendations have a strong effect on the customer as it is a direct mail tailored to their interest.
7. Prediction Modelling to the rescue
Predictive modelling entails use of data mining to segment your database and then forecast outcomes based on individual purchases.
Make the use of your data analytics tools to predict which items your customers are more likely to buy next or when they are binge shopping, which items are they most likely to buy together and target them with similar items from your online store. Note that these items should be priced at an affordable rate and at a price point lower than that of your brick and mortar store.
Build customer profiles based on the products they like and have not yet bought due to xyz reasons. Target these profiles with offers on those products to check for results
8. Scan Offline,Purchase Online
A very few establishments like Amazon have started with this innovative concept. When a shopper sees some product of yours in your departmental store they can scan it and save it to buy later on your website. There could be several reasons why shoppers could do that , but that should increase your traffic on the website and boost your sales there.
9. Offline and Online Promotions go Hand in Hand
Send mailers offering in-store discounts as well as online offers on best selling or limited stock products in the same mailer to give a comprehensive display of your product range to your customers. This will also achieve twin goals of marketing your online platform as well as providing them a nearby retail outlet to shop from.
Thus your online and offline store must be functioning in tandem to provide something unique and convenient for the customer each time.
Here is how Starbucks achieved it using two pronged strategy for marketing their brick and mortar stores as well as online platform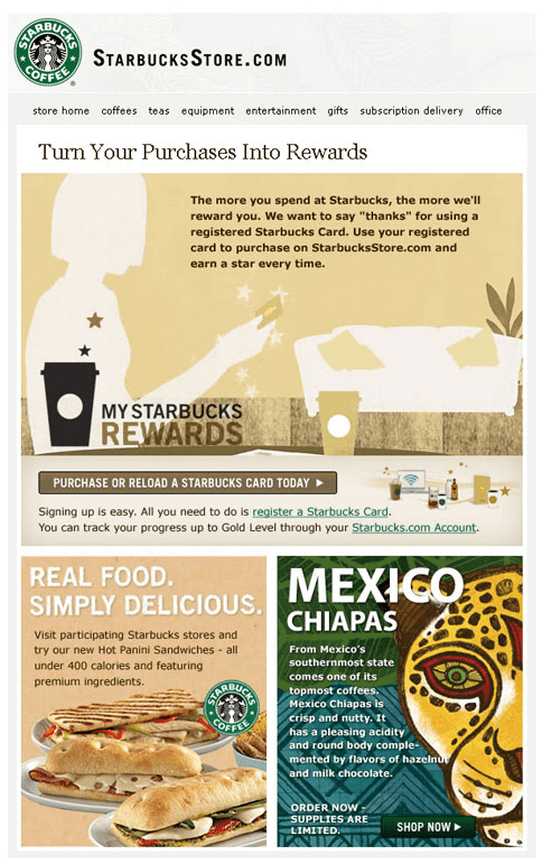 Conclusion
Increasing your online subscribers might seem like a strenuous process, but it dosen't have to be. Offline store is where the customer comes to you. But online presence will help you to reach out to customers.
These are just some of the strategies that you can use to convert them to your online business and provide more ROI as you go forward. Clearly, your CRM data collection needs to be super organised for the above practices to work and needs to work in parallel with predictive marketing and data analytics tools.
But if that is achieved then the above techniques should be able to improve your customer's offline to online experience and engagement. In turn, this should increase your brand popularity and add value to your customers, building trust with them for the long time.