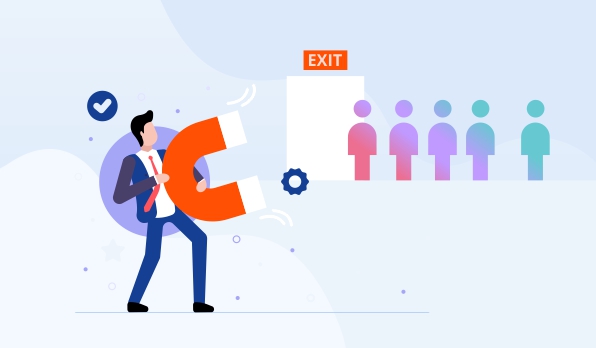 In post-pandemic times, customer retention is the new acquisition.
Brand marketers have shifted focus from what content they have planned to what their customers will like to read.
According to a survey by Bain and Company, increasing customer retention rates by a mere 5% leads to an increase in profits in the range of 25 to 95%. So, if you don't put any effort into retaining your best customers then, you are leaving money on the table.

According to the Pareto principle, 80% of your revenue comes from 20% of your customers. So you have to retain your loyal customers to generate healthy cash-inflow.

In email marketing, 'churn' refers to the percentage of people unsubscribing from your email list. We have found that a high amount of opens but no clicks from a customer could also show tentative signs of churn. More about this elusive type of churn later in the post.

Believe it or not, customer churn is inevitable in E-commerce businesses.

Not every single one of your email subscribers will be loyal forever.

Churn should not cause you sleepless nights – while you can't eliminate email churn, you can certainly reduce it.
We share 5 actionable strategies for reducing your E-commerce mailing list churn in this post.

Let's first see how to calculate this metric.
How is email churn calculated?
Email churn will provide you with information on your subscriber engagement levels. It will show you the subscribers who don't want your emails anymore.

Easy way to calculate Email Churn rate:

Churn rate = Number of unsubscribes / Total number of subscribers in your list.

Ex: If 100 users unsubscribe out of a list of 10,000 users, then the churn rate is 0.01%.

You can calculate these over a week, month, quarter, or year to determine the churn percentage.

So let's look at 5 effective strategies to reduce your churn rate.
1. Provide a 5-star welcome experience
First impressions count a lot! It could be your last impression.

If you present yourself professionally during a job interview and give a good first impression of your skills and personality, you are more likely to get selected. Leaving a bad impression will just do the opposite.

It's the same with welcoming your new subscribers.

Some subscribers could be undecided about your brand, so reducing churn starts as early as your welcome campaign.

Rather than start talking about your products right away, use your welcome emails to show the benefits of receiving your newsletter.

A winner welcome series will contain the following:
– Thanking your subscribers for signing up.
– Setting the right expectations with content and frequency.
– An attractive first-timer discount.
– The unique story of your brand and its growth.

Let your new subscribers explore your website/app, and connect with you on social channels.
Impress your subscribers with your range of products and make them indispensable.

What problems do your products solve for your customers? Why is your product the best fit for them?
Answering these questions will reassure the doubtful first-timers, giving you a good start to reducing unsubscribes.

Here's a great example of a welcome email from the men's grooming brand Harry's. It thanks the customers and mentions the brand story in brief. It sets the expectations on what customers stand to gain from the brand. Complimentary products at the bottom attract store browsing and first-time purchases.

Source: Inbox
2. Connect your customers with your purpose
Your customers want your brand to add value to their lives.

An excellent way to start is by educating them about your brand origin, products, and service.

During a first date, you will want to get to know each other right? You will ask questions and have a good conversation. It's all about building a connection.

Likewise, with email marketing, you can accomplish this by sending educational content that nurtures relationships. Get your customers to understand that you believe in much more than just getting money from them.

Example: Let's say you are a marketer for a men's fashion E-commerce store selling grooming products. A new customer has bought a shaving razor from your store. What content do you send them next?

Here's how you can send the next few emails to add unique value:

* A guide on smooth shaving and having a perfect shave for men.
* How can you take care of your skin? An essential skin-care routine for men.
* How to maintain a good beard or a trimming manual for your beard.

Send rich, quality content related to your products and make a space in your customer's mind. Be known as a brand that genuinely cares for its customers instead of sending "buy-from-me" offers all the time. It's also a great way to create a following while maintaining a productive list.

This order confirmation email from Harry's contains educational content to leverage post-purchase emails, attract brand equity and provide a better customer experience.
Source: Barrel.blog
3. Find out why they are leaving
If you don't know why your subscribers are leaving you, you have to ask. Reach out to them and understand what's missing.

If you see an increasing unsubscribe rate, then you need to figure out why it is happening. Run a survey campaign and ask meaningful questions to your subscribers. Based on the feedback, make the necessary changes in your content strategy and hold them back from quitting on you.

You don't have to wait for a high churn rate to take action. Include a feedback survey in every post-purchase email to stay on top of what your subscribers expect from you.

Casper's feedback campaign is a perfect example of a well-done post-purchase email. Detailed insights from the customers enable you to better your products and stay on top of your subscriber demands.
>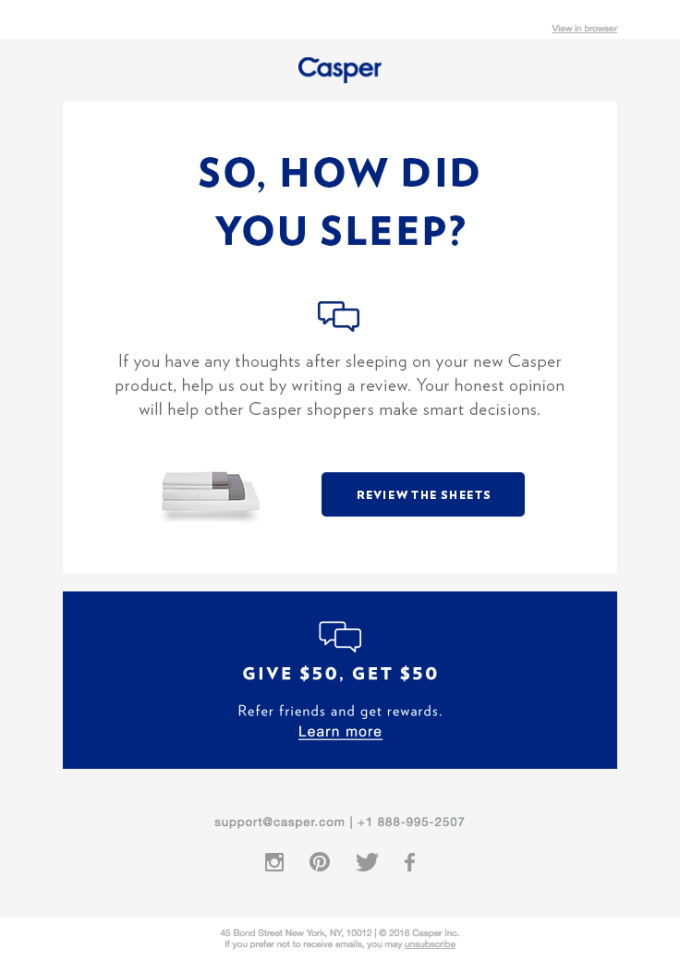 Source: Reallygoodemails
4. Arrest active and passive churn
Minimizing churn should start early in your email program.
Example:
If this is your welcome email flow: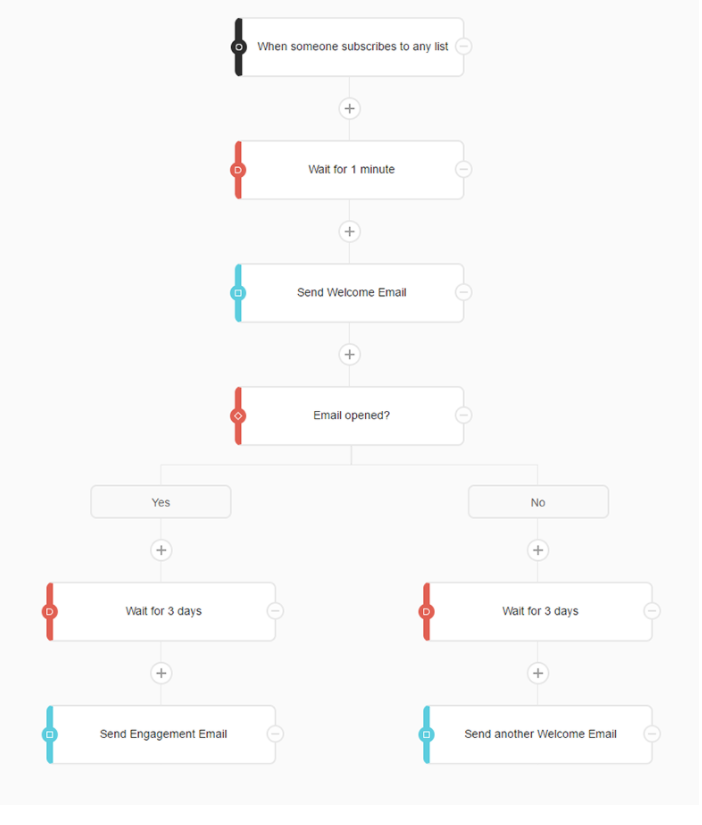 Source: Moosend
Adam is your new newsletter subscriber. He receives a welcome series of emails but does not click on it nor purchase any product. He then goes on to open your emails for the next 4-5 weeks but does not find anything interesting to click or purchase from your store. At this time Harry is at risk of churning out. You will need to design a strategy for each type of churn to combat it.
There are three types of churn to arrest:

1. Active churn: These are the subscribers who actively opt-out of your emails. They can also be the users who report emails to spam.

2. Passive churn: These are the subscribers who simply ignore your emails; they don't open or click on them. They don't engage or purchase and pose a risk to your inboxing and revenue.

3. At-risk churn: These are the subscribers who open your emails but never click. They engage with your emails but don't purchase or check out your products. They eventually become passive churn.

We have already seen the tactics to arrest active churn till now. To reduce passive and at-risk churn, you can adopt the following strategies:

1. Reduce your email frequency to these subscribers. That will boost your list engagement and deliverability as you will only mail to engaged users.

2. Send automated re-engagement campaigns asking these subscribers about their preferences for future content. Optimize your content strategy to suit their needs.

3. You can also offer them to opt-down for your emails or snooze them for some time.

4. Remind them through your re-engagement campaigns of the exclusive deals, content, and experiences they will miss out on if they become dormant.

According to research, on average, marketers tend to lose 25% of their email list every year, and 45% of re-engagement emails recipients read them. So, there's still hope for you to get those dormant users to engage again!
5. Segment and target the inactive customers
Based on the above churn categories, you will need to re-engage with at-risk and passive churn before they leave you.
You have to re-engage with those subscribers who have not opened or clicked on your emails for the last 4-5 weeks. You can categorize your subscribers based on the following engagement activity:
1. Non-openers/non-clickers for 30 days
2. Non-openers/non-clickers for 45 days
3. Non-openers/non-clickers for 90 days
4. Non-openers/non-clickers for 180 days+
You can now use automated emails to retarget the above segments with relevant content.
Example:
If a subscriber has not opened emails for the last 30 days, trigger a "we miss you" mailer. Post subscriber action or inaction, you can set regular triggers on time intervals to get their attention.
Despite your repeated attempts to engage your inactive customers, if they don't respond, then sunset them from your list. You have to let them go for the sake of your engagement metrics and deliverability. Focus on your current subscribers instead.
Urban outfitters have come up with an innovative and funny way to get in touch with their inactive subscribers. The social messaging image works well for young customers, and the storyline of the break-up makes for a humorous message. Subscribers will surely want to check out the products before deciding to stay or leave.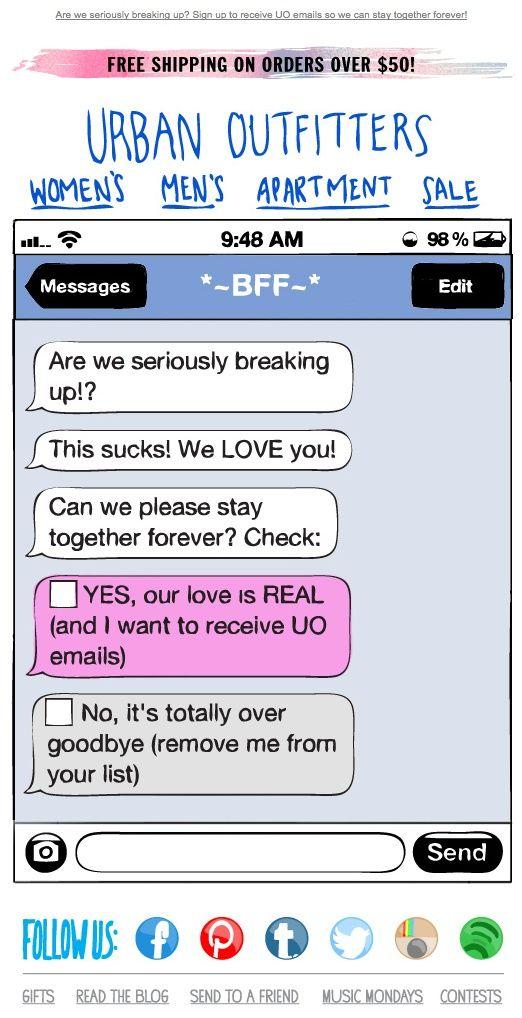 Source: EssenceofEmail
Final thoughts
For E-commerce marketers, reducing churn is a critical part of growing their business. Minimizing list churn helps to retain your best customers and increase their lifetime value.

If subscribers are leaving you, then your email relationship is broken. Using the above tactics, you can lower your churn rate and retain valuable customers. Start using any one of these strategies to solidify relationships with your subscribers to keep them for a longer time.
Churn can occur at different stages of the customer lifecycle like after the first series of welcome emails, post-first purchase, and cart abandonment. The above strategies should help you prevent those churn problems at each of these stages.

Benefits from these strategies for your customer retention are numerous:

-Providing a great welcome experience will lead to first-time purchases and engaged subscribers.

– Educating your subscribers will increase retention levels and brand loyalty.

– Survey campaigns will allow you to understand the customer needs at various stages of the lifecycle and help you plan your content strategy accordingly.

– Arresting active and passive churn will reduce the dormant subscribers leading to unsubscribes or silent churn.

– Segmenting and targeting the silent ones with re-engagement campaigns will halt them from leaving you.

What tips do you have for reducing churn and increasing CLV? Have you tried any of the above initiatives?

If your brand needs help in getting the most from your online customers, reach out to us at https://netcorecloud.com/. Our email delivery platform and CRED consulting team can help you strategize better and gain value from your email program.

#fortheloveofemails