Our shopping habits have undergone a remarkable transformation. Convenience, personalization, and seamless experiences are what shoppers value the most and want upfront. Consumers now expect more than just transactions. They now want immersive, tailored, and hassle-free shopping journeys. Fortunately, just when we thought online shopping couldn't become even more convenient, a ground-breaking innovation in email known as Inbox Commerce emerged.
Inbox Commerce seamlessly weaves together the best elements of app and web experiences right within your shopper's email inbox. This approach transcends traditional retail boundaries. It also shortens customer journeys with a ' no-redirects' philosophy that challenges the current status quo of marketing emails. Say goodbye to the frustration of bouncing between the marketing emails and the website landing pages to complete simple tasks such as cart manipulation, order management, or tracking deliveries.
As we approach the Black-Friday-Cyber-Monday (BFCM) extravaganza – a season when customers spend 11 billion dollars every year, where the average American spends $500 between every Black Friday and Cyber Monday – Inbox Commerce redefines how your consumers shop and how you can make their experiences not just efficient but also a fun journey. Let's delve into the six remarkable strategies using Inbox Commerce and revolutionize this BFCM season.
Six Inbox Commerce Strategies for the BFCM Season
1. Gamify from Awareness to Loyalty
Like a digital magician pulling a rabbit out of a hat, inbox commerce works magic on Black Friday & Cyber Monday (BFCM). It introduces gamification elements right in your shopper's inbox.
In your BFCM emails, include fun games and elements like – scratch-off discounts, spin-to-win wheels, word-based games, and quizzes throughout your shoppers' journey. Make that emailer more engaging and more competitive this BFCM season. Use these interactive components to bring out the playful side of your audience.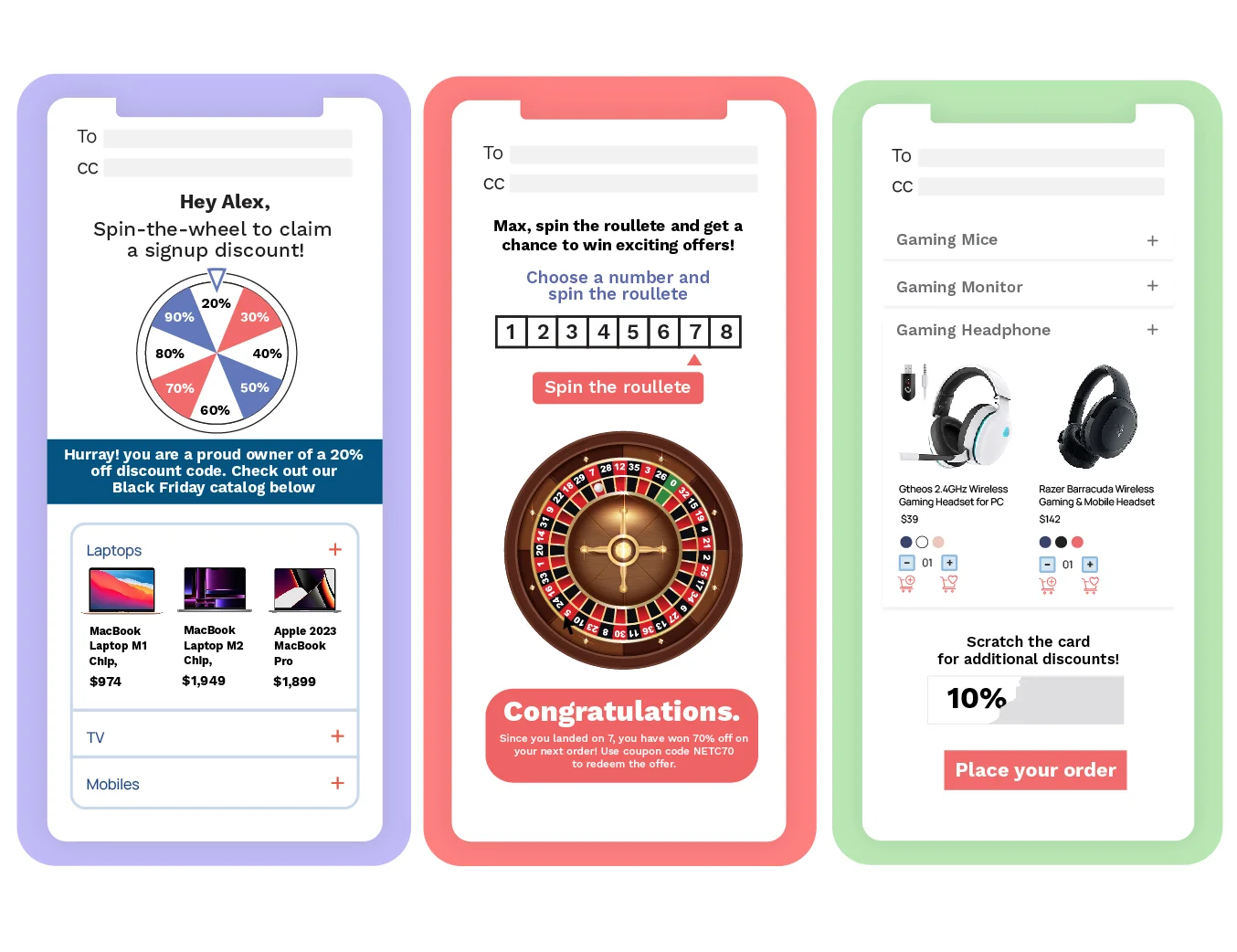 Then there's the element of 'points' which are so valuable during this season! These games let shoppers collect and share loyalty points. As customers engage with the interactive features, they can accumulate loyalty points or unlock exclusive discounts. They feel rewarded and recognized. Such reward and recognition reinforce their loyalty. When they play games and win points right there within the email, it motivates them to participate more actively and gives them a sense of exclusivity and appreciation. It strengthens their loyalty and commitment to your brand.
2. Arouse a Sense of Urgency
Use Inbox commerce to instill a sense of urgency. Strategically integrate energetic flash sales and countdown timers. Flash sales are short-lived, time-sensitive promotions that offer steep discounts on select products. Inserting these into your email campaigns creates a compelling reason for customers to act quickly. Use persuasive language. Emphasize the limited availability of the deals and the brief sale duration. For example, use phrases like "Act now, before it's gone!" or "24-hour flash sale: grab it while you can!" to convey a sense of urgency. Encourage shoppers to make immediate purchase decisions.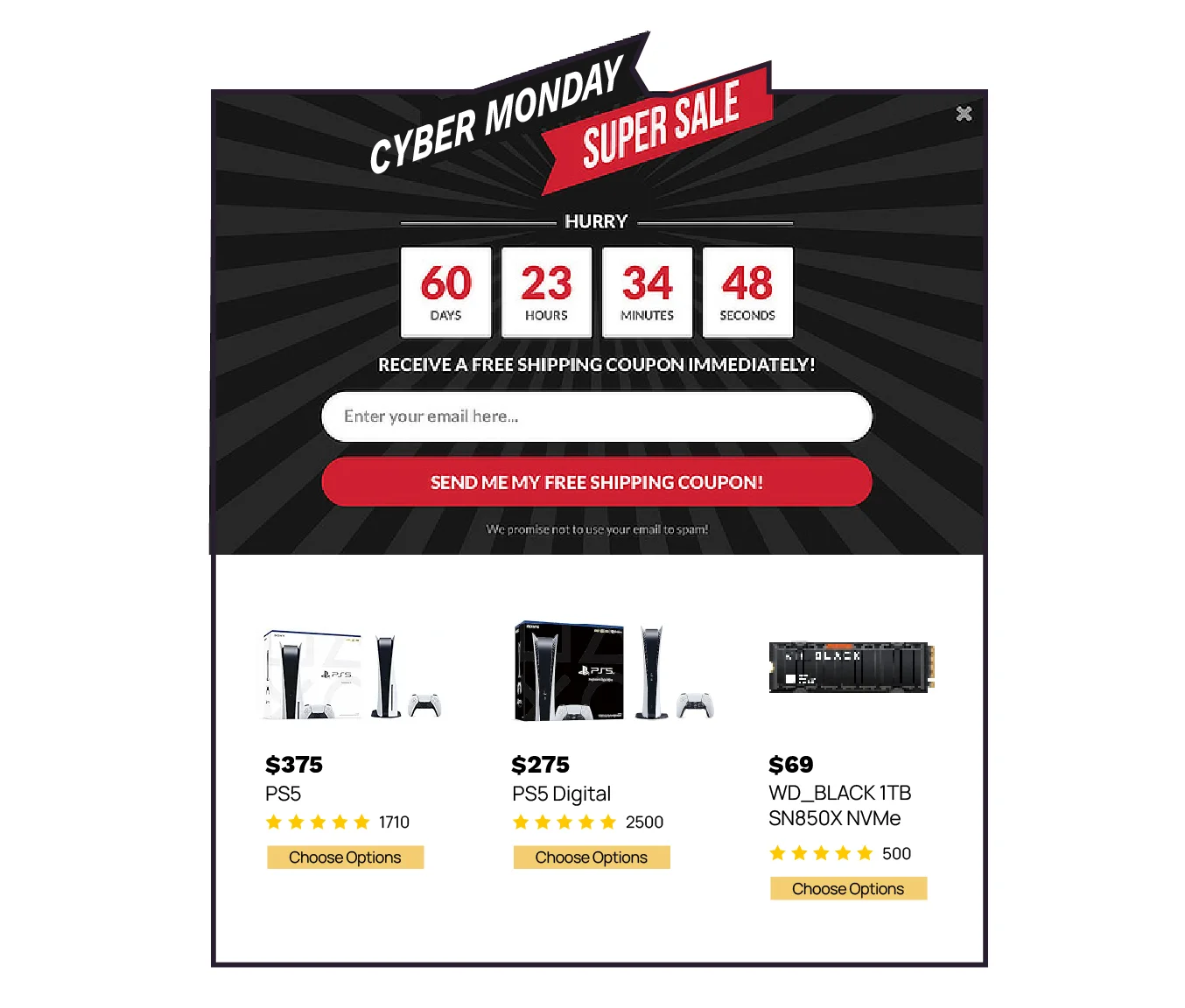 Countdown timers are another powerful tool. Prominently displayed within your emails, they visually reinforce the time-sensitivity of your offers. Set these timers to correspond with the duration of your flash sale or other time-bound promotions. As shoppers open your emails and see the seconds ticking away, they're reminded that they have a limited window of opportunity to take advantage of that deal. This psychological trigger often prompts faster decision-making and checkout, as customers will want to take immediate advantage of your special offers. Combine flash sales and countdown timers in Inbox commerce campaigns effectively. Create a compelling sense of urgency. Drive increased engagement and conversion rates.
3. Offer Smooth and Convenient Product Discovery
In the age of instant gratification, most shoppers won't want to search for too long to find what they are looking for. Inbox Commerce acknowledges this and introduces embedded search bars right within your emails that make browsing your catalog of products a breezy experience.
Picture this: your customer receives an email showcasing an array of tantalizing Black-Friday- Cyber-Monday deals, but one product in particular catches the eye. Instead of clicking through the website and navigating to the search bar, your customer can simply type the product's name into the embedded search bar within the email.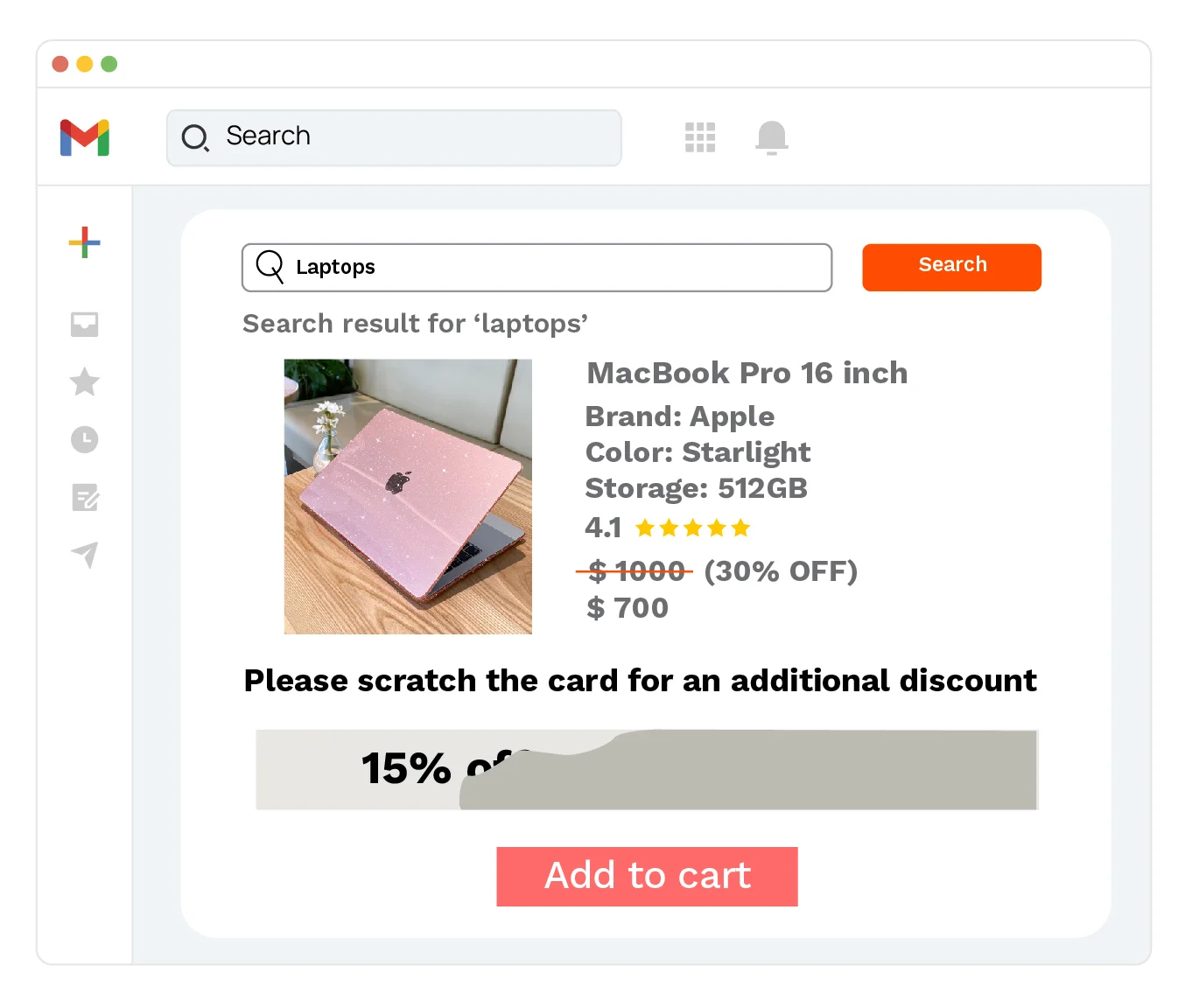 This feature eliminates unnecessary steps in the shopping journey, making it quicker and more efficient. Your customers can explore products, and SKUs, compare prices, and make purchases without the hassle of switching between tabs. It's the epitome of convenience, especially when trying to snag those limited-time deals during the shopping season.
4. Merge Product Catalogs With Interactive Emails
Online shopping is visually driven by how products are presented. The display can significantly influence decisions. Inbox Commerce takes this to heart. Dynamic and interactive accordions and carousels make product views easier to navigate, right within the email.
With accordions, you can expand and collapse product details within emails and so provide a compact yet informative view. This means your customers can explore product specifications, reviews, and images – without opening multiple tabs or visiting the website. It's a game-changer when they need to make quick yet informed decisions during Black Friday and Cyber Monday sales.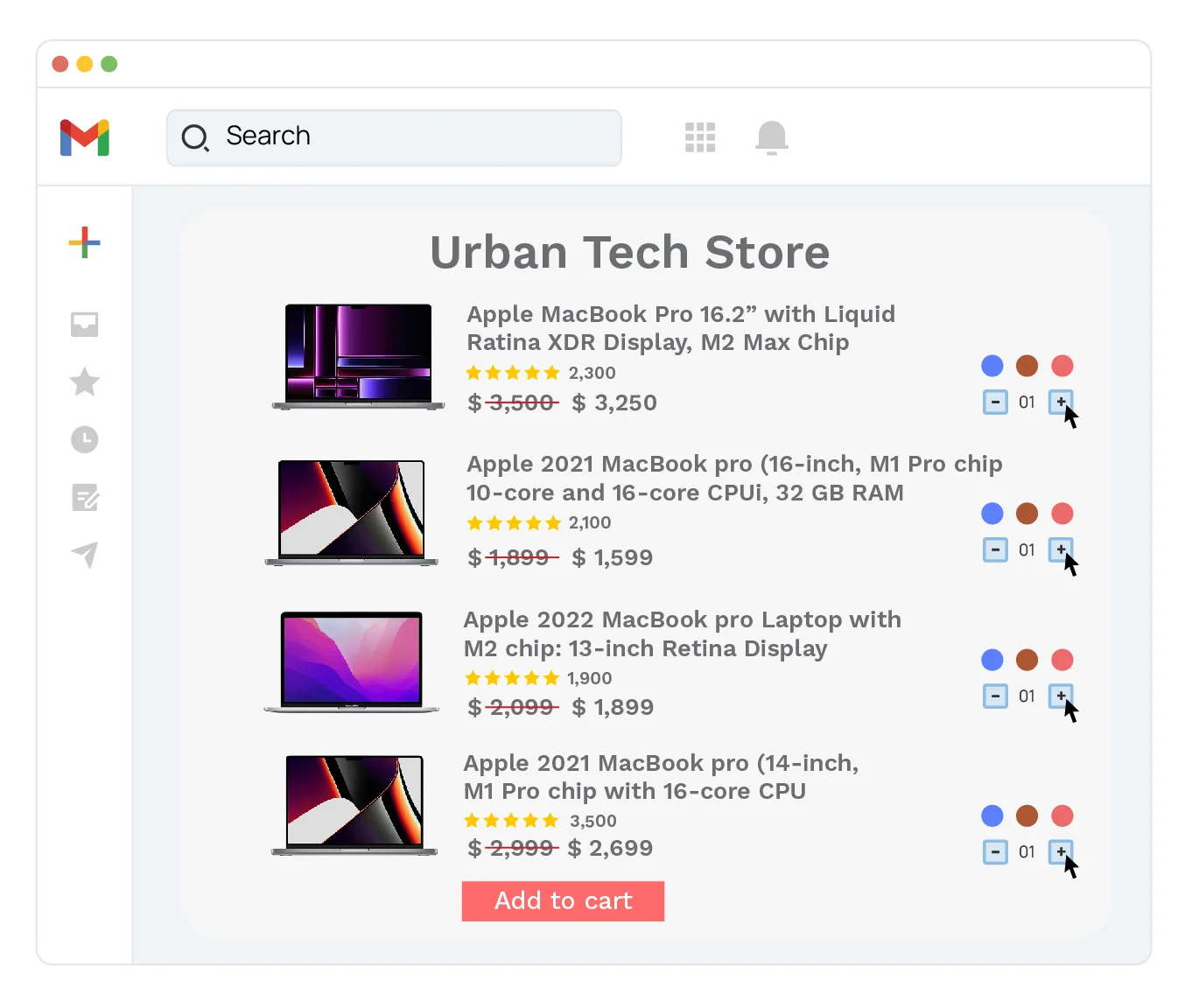 Carousels also let you scroll through a selection of products horizontally within the email itself. Customers can quickly browse various options, discover hidden gems, and easily grab irresistible deals.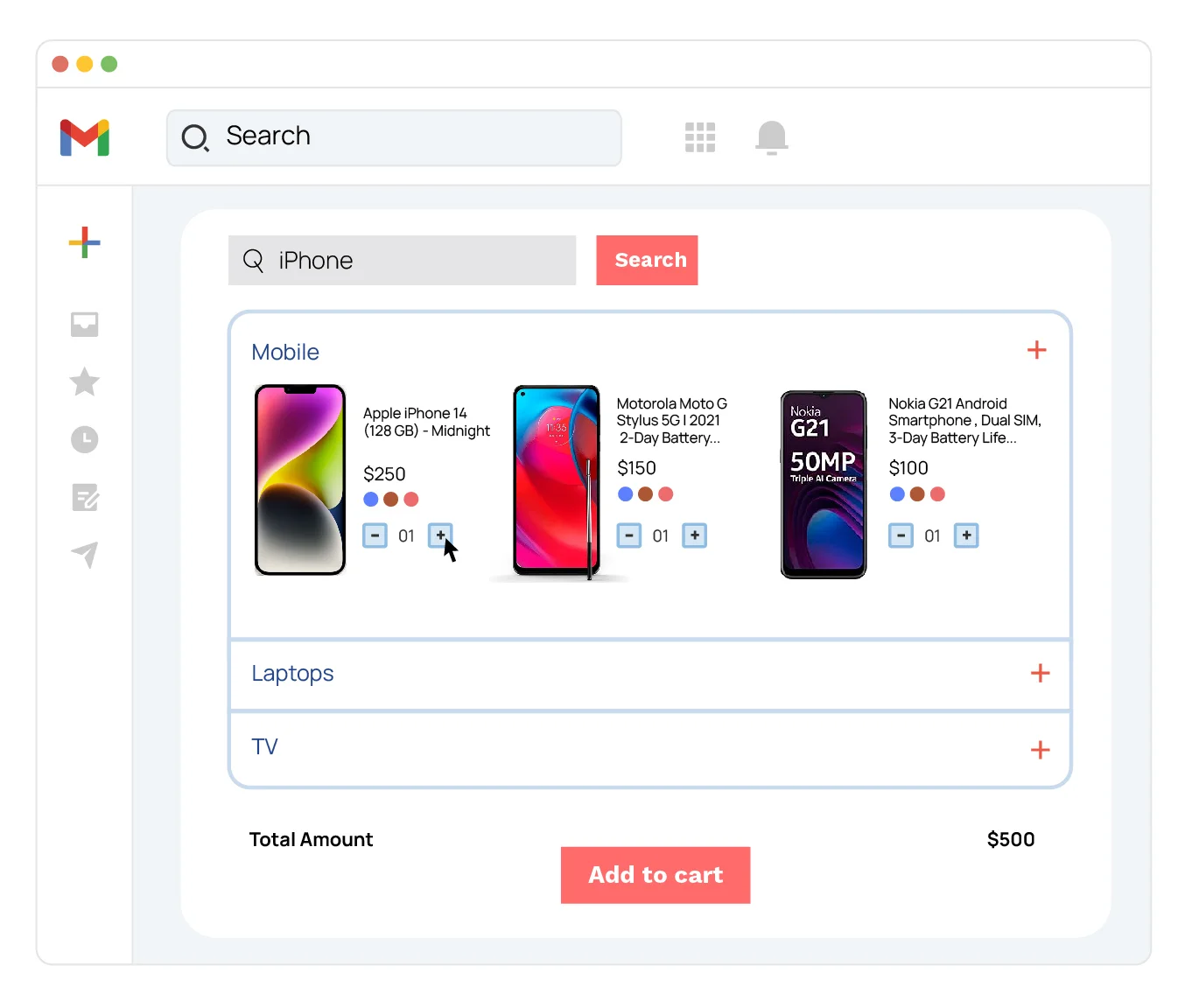 With these features, they'll have a more immersive and interactive shopping experience right from their inbox. Everything you want to present is neatly organized for them right within your emails.
5. Capture Shopper Preferences For Better Experiences
During the Black Friday & Cyber Monday season, you can send emails that invite your customers to share their thoughts and preferences. These forms allow you to provide feedback on previous purchases. Customers can rate their shopping experiences and share their unique style preferences.
Understanding your customers' preferences is vital. Inbox Commerce goes beyond the surface of shopping habits and engages directly with forms for sentiment and preference capture.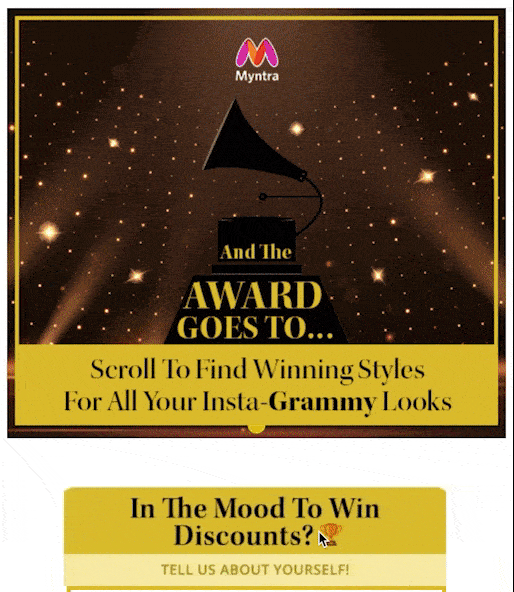 The value of this feature lies in its reciprocity and trust. Zero–party data empowers businesses to personalize BFCM shopping experiences and simultaneously respect privacy, foster relationships, and boost sales through better-informed customer preferences. As your customers share more about what they like and dislike, you can tailor your offerings to suit their tastes. It's a win-win situation, resulting in a shopping experience that feels genuinely custom-made.
6. Offer Enhanced Support via AI Chatbots
Now, let's talk about the game-changing use case that truly sets Inbox Commerce apart: AI-powered 'chatbots'.
These virtual shopping assistants are designed to understand your preferences, answer your queries, and guide you through your shopping journey—all within the confines of your email inbox.
Imagine receiving an email with a selection of Black Friday & Cyber Monday deals. You're interested in learning more about a specific product, so you type your question into the chatbot embedded in the email. Instantly, the chatbot engages with you, providing detailed information, answering your questions, and offering personalized recommendations based on your conversation.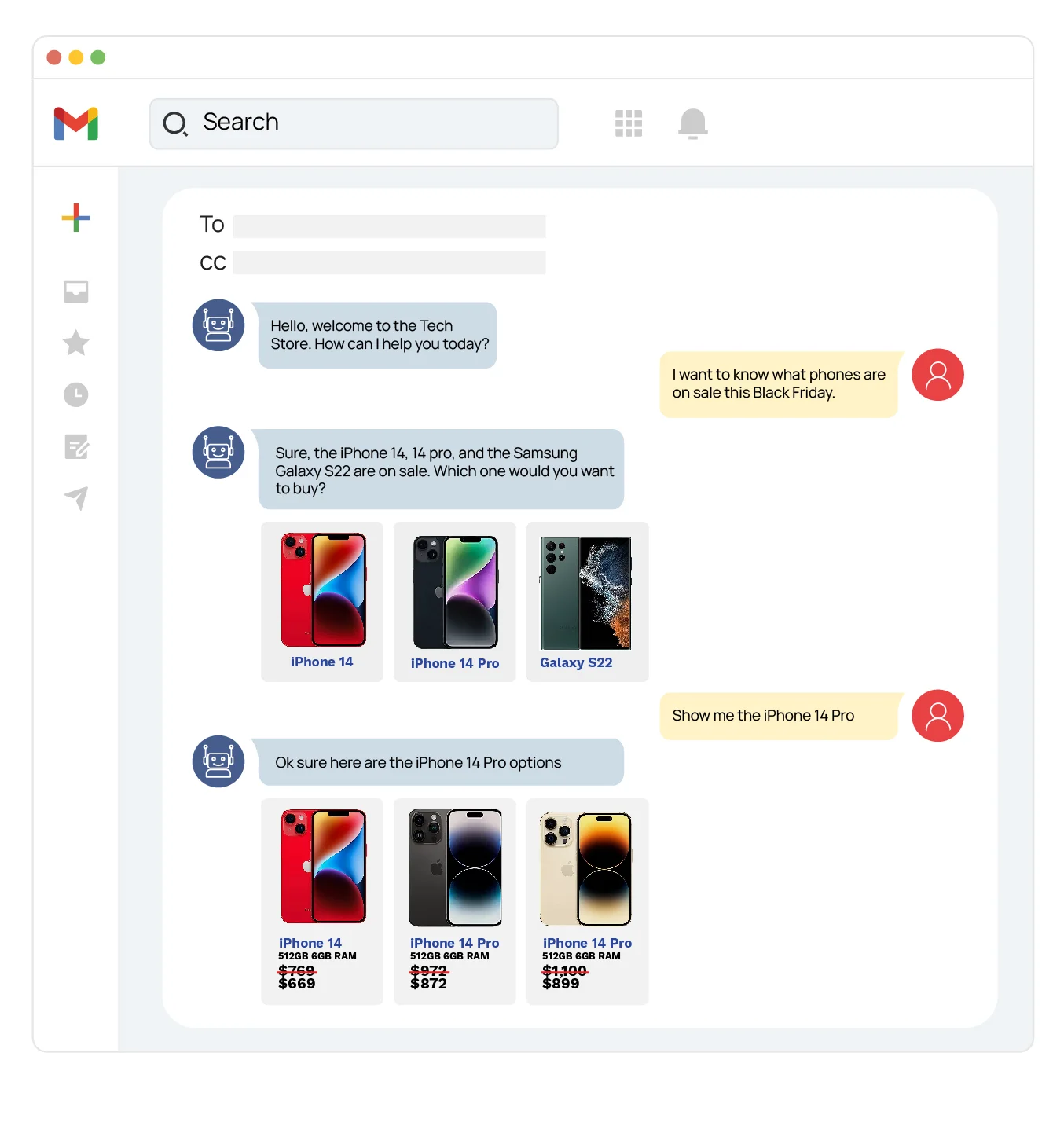 AI-powered chatbots in Inbox Commerce ensure you have a knowledgeable shopping companion at your fingertips, ready to enhance your shopping experience, answer your queries, and help you make informed decisions.
Inbox Commerce emails have emerged as a mighty giant. Take a look at what we did to the email campaigns of our clients such as Myntra (Walmart), CaratLane (Tata), and Crocs. The impact has been nothing short of astounding: a staggering 60% uplift in open rates and a remarkable 140% increase in conversions for Myntra. CaratLane harnessed Inbox Commerce significantly in their product launches and reaped an incredible 300% increment in CTOR.
Conclusion
As we step into the Black Friday & Cyber Monday season, the era of Inbox Commerce is set to redefine the way we shop. These six game-changing features – personalized recommendations, delivery tracking within emails, embedded search bars, accordions and carousels for product views, interactive games, and forms for sentiment and preference capture – elevate your shopping journey to new heights.
Inbox Commerce isn't just about convenience; it's about creating a shopping experience that's directly connected to your customers' needs and desires. So, get ready to unlock the full potential of your email inbox this shopping season and embark on a retail adventure that's faster, smarter, and more personalized than ever before. Happy shopping!
The above use cases are merely the tip of the iceberg. Read our ebook to explore more comprehensive Inbox Commerce use cases now.