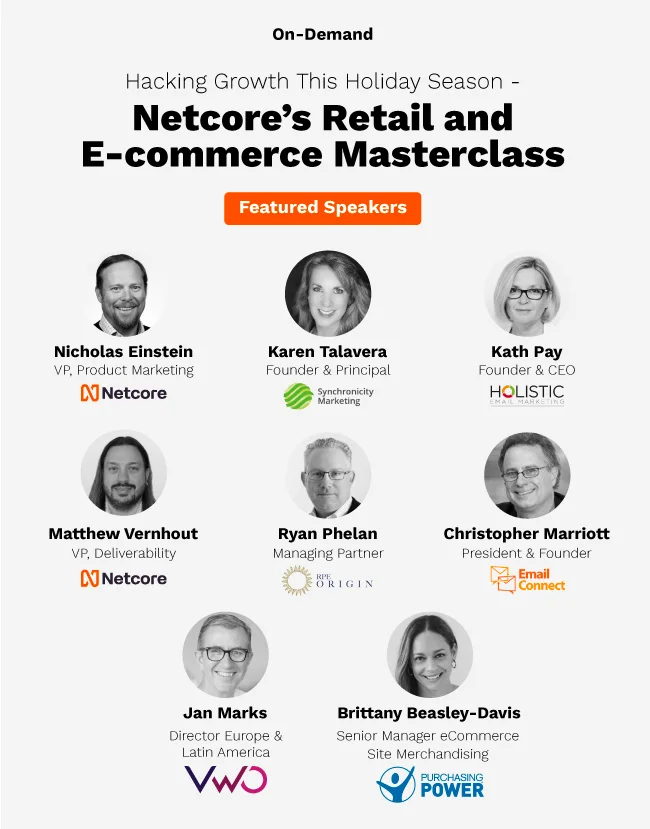 The holiday season brings a contagious sense of joy and excitement, eagerly awaited by people all year round. For marketers in the retail industry, this time of year poses a formidable challenge. Brands across the globe rush to transform and reshape their marketing strategies to deliver unparalleled retail experiences. The ultimate goal? To distinguish themselves amidst a sea of competing brands and create experiences that truly resonate.
In this blog post, we're thrilled to unveil a treasure trove of insights from our exclusive masterclass: "Hacking Growth This Holiday Season". Here, we'll arm you with the knowledge and strategies needed to survive and thrive during the impending holiday frenzy.
Whether you're a seasoned pro or just getting started on your journey, these insights will help you turbocharge your holiday marketing, fine-tune your sales funnel, and craft unforgettable customer experiences. Let's go through what we learned.
Five Key Takeaways from the Masterclass:
1. Focus on unlocking customer value by identifying and targeting segments that drive a return on investment (ROI)
To achieve this, a strategic approach is needed. Start by meticulously analyzing your data to gain a deep understanding of your customer base. Prioritize high-value customer segments based on their potential for ROI. Conduct cohort and RFM analysis to uncover valuable insights into customer behavior patterns over time. However, the real key lies in personalization. Tailoring experiences and communications to each segment can significantly impact business success. It not only enhances customer engagement but also boosts the likelihood of conversions. By implementing these strategies, you can tap into the full potential of your customer base, maximize ROI, and ultimately drive your business toward greater prosperity and growth.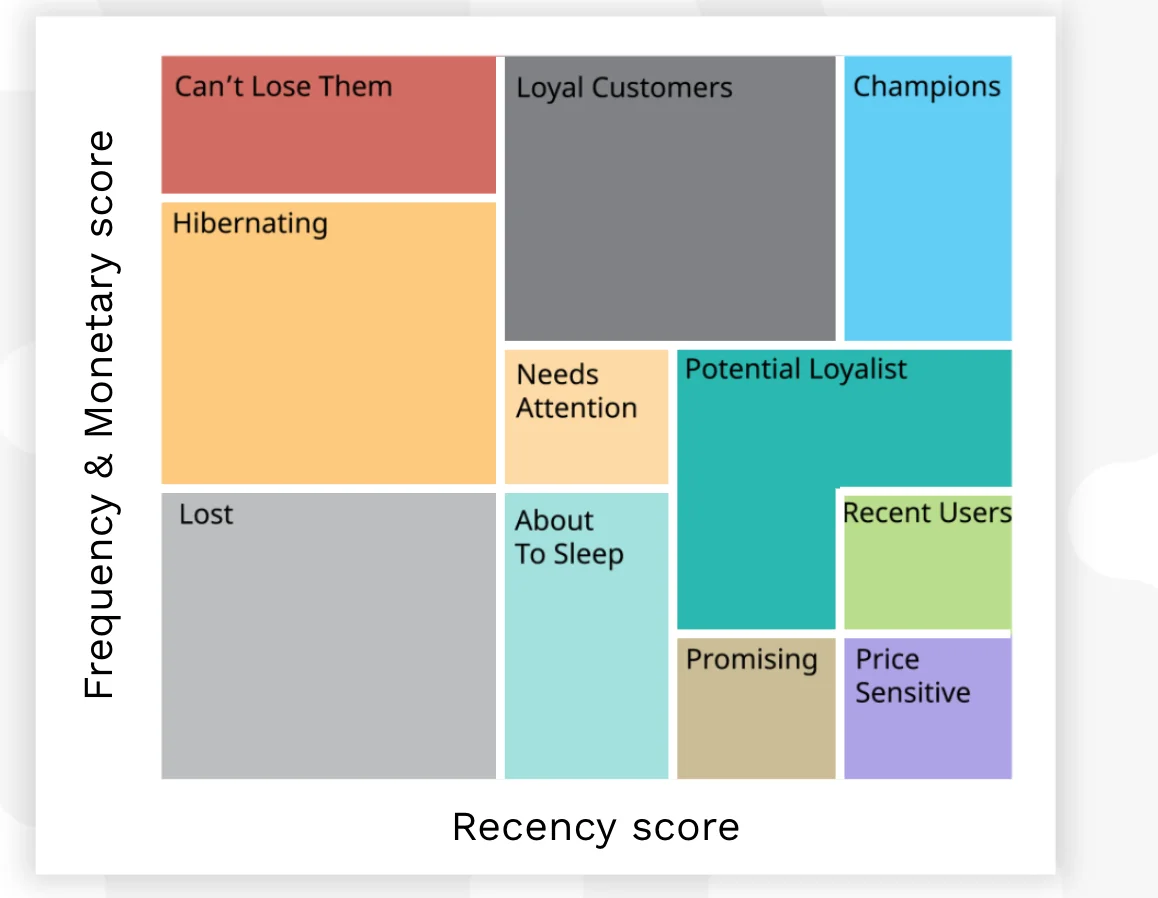 The above is a typical RFM matrix of customer cohorts based on their scores.
Interested in delving deeper into retail retention marketing? We have a valuable resource. You're welcome to download our ebook, which offers in-depth insights into the most successful approaches to identify, engage with, and retain your most profitable customer segments.
2. The focus should be on amplifying the influence of your most valuable customers to enhance their lifetime value (LTV)
Start by identifying your most profitable target audiences, those customers who significantly impact your bottom line. Engage and activate these audiences through personalized and meaningful experiences. Tailor your interactions to their specific needs and preferences. By doing so, you can foster deeper connections, increase sales, and extend their lifetime value.
In essence, this episode highlights the vital role of nurturing and maximizing the impact of your top customers. By implementing these techniques, you can not only boost sales but also cultivate long-term relationships, which ensure continued growth and success for your business. To thrive in today's market, prioritize customer-centricity by embracing personalization, fostering loyalty, and recognizing the value of loyal customers. A 5% retention increase can yield a 75% profit boost. So, focus on LTV, and employ tactics. Cross-sell and build trust for enduring success.
Searching for effective retail strategies that can significantly enhance LTV? You're in luck! Our solutions guide is your ultimate resource. It showcases the powerful combination of technology and strategy. It's quite possibly the best marketing asset you can find online.
3. Harness the potential of Inbox Commerce
Inbox Commerce is essentially an evolution of AMP emails, an open-source technology from Google that enables the inclusion of dynamic content and interactive elements within emails. The power of Inbox Commerce lies in its ability to offer customers a convenient and engaging shopping experience without leaving their inbox. By adopting this technology, businesses can tap into a new realm of email marketing and drive conversions to unprecedented heights. It's about breaking free from the limitations of standard email campaigns with redundant CTAs, which redirect the user outside the email to the websites and instead deliver a dynamic and user-friendly app and web-like experience within the emails itself – a shopping experience that resonates with today's digitally-savvy consumers.
Voila! Here's what it looks like –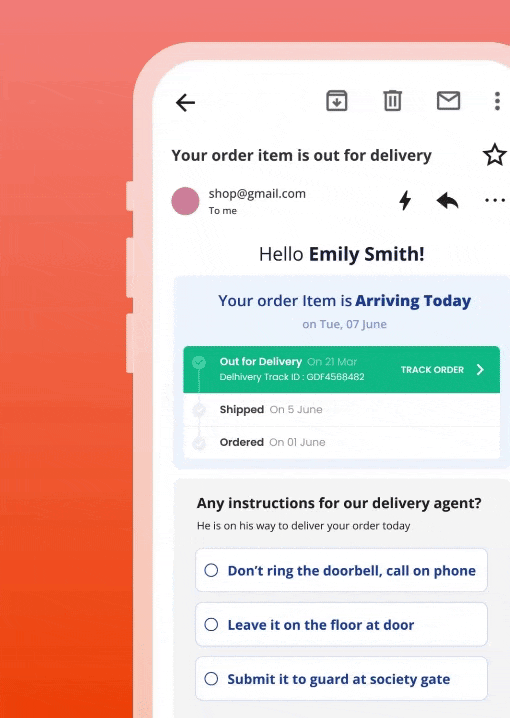 For a deeper insight into Inbox Commerce use cases, we suggest you download and read our ebook and our blog. They provide detailed examples of how retail brands have leveraged Inbox Commerce and real-life KPI improvements for each case. Don't hesitate; click download now!
4. Harness the power of data and AI to evolve from channel-centric to omnichannel strategies
The following are some key insights:
a. Data and AI are Central
Data and AI stand at the core of this transformation, they enable marketers to pivot towards omnichannel strategies while they also craft personalized shopping experiences.
b. Three-Tier Data Utilization
Marketers are encouraged to harness data from three tiers — existing data, readily accessible sources like social media and loyalty programs, and third-party data. This multi-tiered approach ensures relevance and personalization in marketing efforts.
c. ESP-CDP Convergence
The fusion of Email Service Providers (ESPs) and Customer Data Platforms (CDPs) is revolutionizing the marketing industry. This convergence streamlines data management across various channels. It powerfully enhances customer engagement and experiences.
d. Attaining a  360-Degree Customer View
Attaining a comprehensive understanding of customers is paramount. This necessitates the amalgamation of data from diverse touchpoints, including website interactions, purchase history, social engagement, and customer service data.
e. Balanced Personalization with AI
The emphasis is always on getting the right balance in personalization. Leverage AI to achieve this. Use AI to predict behavior, and enhance segmentation. Also, use AI to simultaneously, avoid excessive personalization that hinders engagement and loyalty.
5. Exceptional onsite search is paramount in today's mobile and web-dominated landscape
Particularly during peak holiday seasons, where it significantly impacts conversions. The key takeaway here revolves around the imperative elements of achieving excellence in onsite search.
The following are some critical takeaways:
a. Focus on User Queries, Merchandising, and Personalization
To excel in onsite search, it's crucial to prioritize user queries. Ensure search results align with what customers are seeking. Effective merchandising, where products and content are strategically showcased, is also important and personalization tailored to individual preferences further enhances the search experience.
b. Respect Privacy
While leveraging data to enhance search and personalization is vital, it's equally important to respect user privacy. This ensures a balance. It provides relevant content and also maintains user trust.
Did you know? Netcore Unbxd is a leader in The Forrester Wave ™. In the multi-dimensional evaluation of top Commerce Search and Product Discovery vendors, Forrester has recognized Netcore Unbxd as a leader with the highest possible score in ten criteria. You can download the report here.
Now, it's time to implement these insights and supercharge your holiday marketing. Watch the full masterclass on demand and get certified! Click the button below to access the on-demand masterclass and take your holiday marketing to the next level. Take advantage of this opportunity to transform your approach and achieve remarkable results. Watch now and seize your path to holiday marketing success!