The 2022 holiday season is almost here. With the holidays generating nearly a third of the annual retail revenue in the United States, it is the most important time of the year for all eCommerce and retail brands to boost customer engagement and drive sales.
The coming holiday shopping season is the third since the onset of the pandemic. While conditions have improved, shifts in shopping behavior caused by the pandemic are here to stay. One such shift is the growing focus on online shopping. Nearly 85% of US consumers will include online shopping in their holiday shopping plans this year, indicating that the preference for digital sales channels is here to stay.
A nuanced holiday marketing strategy is the foundation for all retail and eCommerce marketers' success in 2022. It can be the difference between holiday cheer or coal in the stocking. But marketing online is not as simple as it once was.
Today's customers are active across multiple devices and channels, prefer to shop online, and receive an overwhelming volume of messages from more sources than ever. What key strategies should marketers have in place while readying their holiday marketing plans, improve customer engagement, and make the most of the season? Let's take a look.
1. Adopt a data-driven and customer-centric approach
To be customer-centric today is to use data effectively to create tailored experiences based on consumer preferences and behavior. The number of devices an average person in North America uses will rise to 13.4 by 2023. This person will interact with a brand multiple times across devices and marketing channels like paid ads, marketplaces, and the brand's website.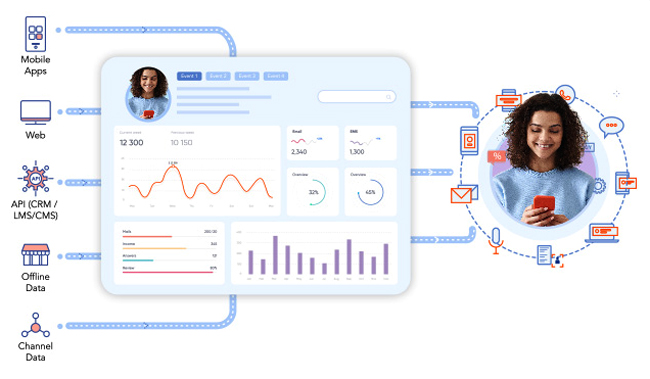 To reach this individual effectively, marketers need a robust customer engagement platform to be able to create a unified customer view. With this kind of view, marketers like yourself can convert billions of bytes of customer data into a treasure trove of actionable information.
How does this help in a holiday marketing campaign? Backed by relevant information, you can:
Personalize holiday messaging based on customer behavior
Provide relevant recommendations and product bundles
Strategically push campaigns at a customer's preferred time
Customize on-site search and product displays
Gather valuable zero and first-party data to improve the campaigns' effectiveness
It's simple; a data-backed customer-centric approach, backed by a comprehensive customer engagement solution, is necessary for any holiday marketing strategy to succeed. Read this blog to learn more about effectively leveraging zero-party data to scale your marketing campaigns.
2. Create an omnichannel mindset
The lines between online and offline shopping are blurring. In a survey conducted by NPD, 74% of consumers said they would shop online and in-store as a part of their holiday shopping plans. Also, brands implementing an omnichannel customer engagement strategy have a 300% higher likelihood of reporting a significant increase in revenue during the holidays.
What should you do? Create a cohesive digital messaging strategy that creates value for customers across all their marketing touchpoints. However, including all marketing channels such as email, SMS, app push, web push, in-app notifications, social media, and on-site search, can be a difficult take.
Do you need help forming an omnichannel marketing strategy? Check out the Digital Messaging Master Class for Retail and eCommerce Marketers and learn about everything you need to improve your customer engagement and succeed in the coming shopping season.
3. Personalize the entire customer journey
Don't make shopping a bore! Use the data you capture to provide personalized experiences for your customers and make their holiday shopping experience more enjoyable. 3 in 4 shoppers today desire a more personalized experience from eCommerce and retail brands.
Success in the upcoming holiday quarter will depend on how effectively retail and eCommerce marketers can personalize their holiday campaigns for each shopper. How can you achieve this? Let's take a look.
Personalize your recommendations
Personalized product recommendations improve product discovery, customer engagement, and ultimately retention. Personalizing product recommendations increases customer-first brands' chances of conversion by 75%. Make it a necessary part of your holiday marketing strategy in 2022.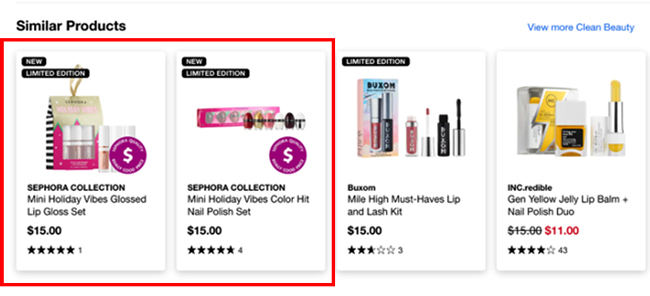 Image Source: Sephora
Sephora implements product recommendations brilliantly. Anyone who browses through or engages with holiday-themed offers or products on their website gets similar recommendations. In our experience at Netcore, implementation of such product recommendations can increase your click-through rates by over 60%!
Related Read: 12 E-commerce Personalized & Non-personalized Product Recommendation Tactics to set your Sales Soaring
Personalize ALL your outgoing communication
The days of broadcasting an offer or a discount as a part of your holiday marketing strategy are long gone. Customers today want a more relevant experience when engaging with your communications. Personalize all outgoing emails and push notifications. Make this a major part of your holiday marketing checklist.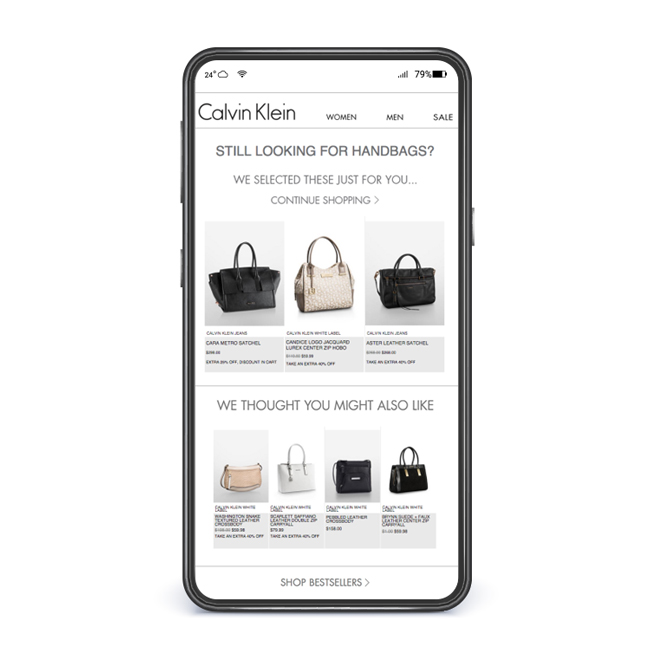 The above example of Calvin Klein aptly demonstrates how to ace personalized cross-channel communication. The email shared is not only personalized to the customer's recent browsing behavior but also provides up-sell or cross-sell recommendations with which the customer is likely to interact. In our experience, such strategies can impact customer engagement and move the needle by more than 20%. You should definitely make it a necessary part of your holiday marketing strategy.
Use cart-abandonment emails to your benefit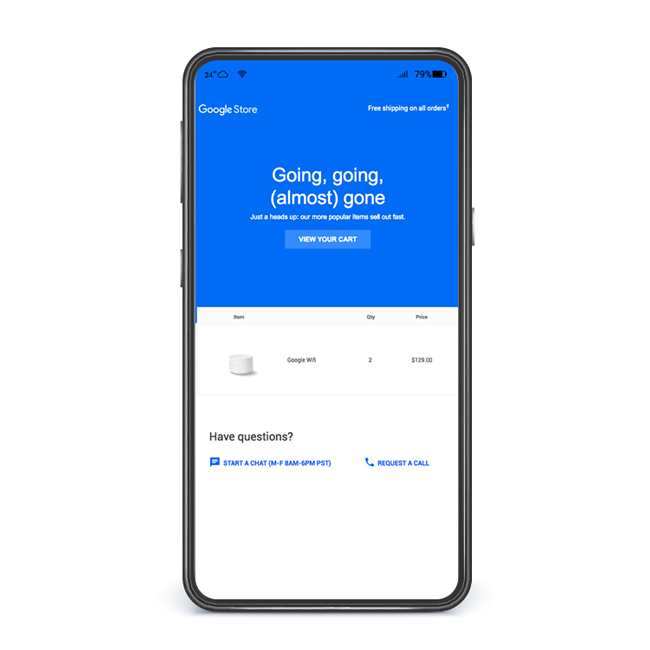 The fear of supply-chain shortages runs rampant during the holidays. To combat this, nearly a third of all holiday shoppers plan to start their holiday shopping earlier than before. Play on the FOMO of modern customers as a part of your holiday marketing strategy to push sales. The above email sent by Google is a simple and effective way to boost sales this holiday season.
4. Simplify the shopping experience with on-site search
94% of U.S. consumers abandon a shopping session because of incorrect search results. Many eCommerce websites lose customers simply because they don't pay attention to incorporating a customer engagement platform for on-site search into their marketing strategy. 
Why will on-site search be a game changer in the coming holiday season? In a survey conducted by SLI systems, visitors using on-site search made purchases at a 2.7x greater rate than the average website visitor. More than half of the consumers purchased additional items once they found what they want.
With on-site search, you can not only present relevant search results but also personalize product recommendations depending on the consumer's behavior and much more. On-site search can help drive sales not only during the upcoming holiday season but should be a part of the long-term marketing strategy for eCommerce and retail brands. Learn more about how you can incorporate an on-site search for your brand using our full-stack customer engagement solution.
5. Automate campaigns in advance
Consumers enter a shopping frenzy during the cyber weekend. In 2021, Cyber Monday was expected to generate $12 million every minute for eCommerce and retail brands. Specific days during the holiday season witness a much much higher conversion than the average eCommerce conversion rate of 2.5.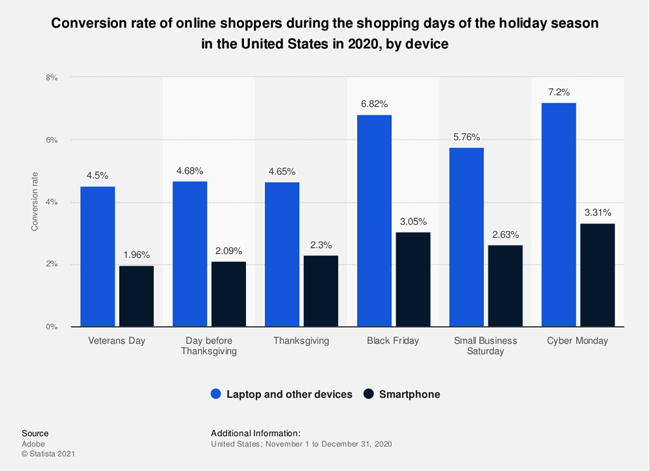 Image source: Statista
Armed with this knowledge eCommerce and retail marketers should pre-plan and automate customer journeys and marketing campaigns well in advance with the help of an AI-powered customer engagement tool.
How does this help? You can use automated journeys to trigger offers and sales without having to push a button. Use the time saved to optimize campaigns based on actionable insights you gather from your analytics tools. Let's take a look at a few customer engagement campaigns that you can automate well in advance:
Flash sales with special offers or discounts
Holiday shoppers expect holiday discounts during Cyber Week. Keep them on their toes by creating flash sales with unique offers and discounts. Offer a flash sale with a short window. Create the kind of 'FOMO' that will help you achieve the results you want this holiday season. Remember to automate such campaigns with a marketing automation tool for better customer engagement. This will let you create multiple flash sales campaigns for different customer segments leading to an up-sell amongst regular customers and the return of those who might have churned.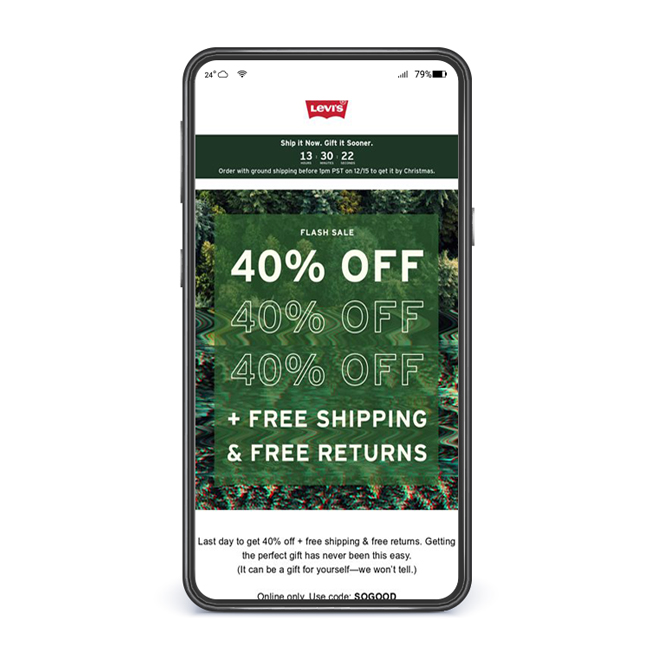 Levi's used this concept well in this email campaign notifying their customers of a flash sale that offered a hefty discount and free shipping. The limited-time deal and effective messaging ensured a successful campaign.
Early access deals for loyal customers
Reward customers from your loyalty program with early access to sales and discounts. Such campaigns are easy to plan and automate well in advance. They not only increase sales during the holiday season but also strengthen your loyalty program and boost customer engagement.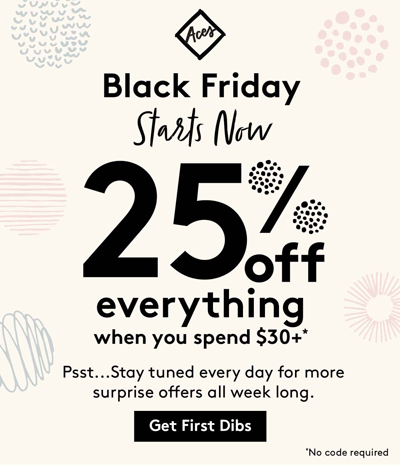 BirchBox does precisely that by enticing its customers to 'get first dibs on all their Black Friday shopping discounts.
6. Stay Social
A strong social media strategy is important for success during the holidays. Online shoppers online have up to a 40% higher likelihood of engaging with a brand on social media than on any other platform.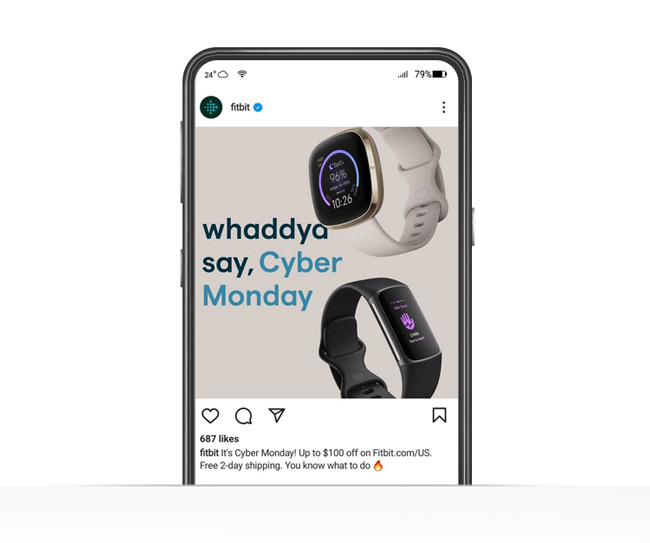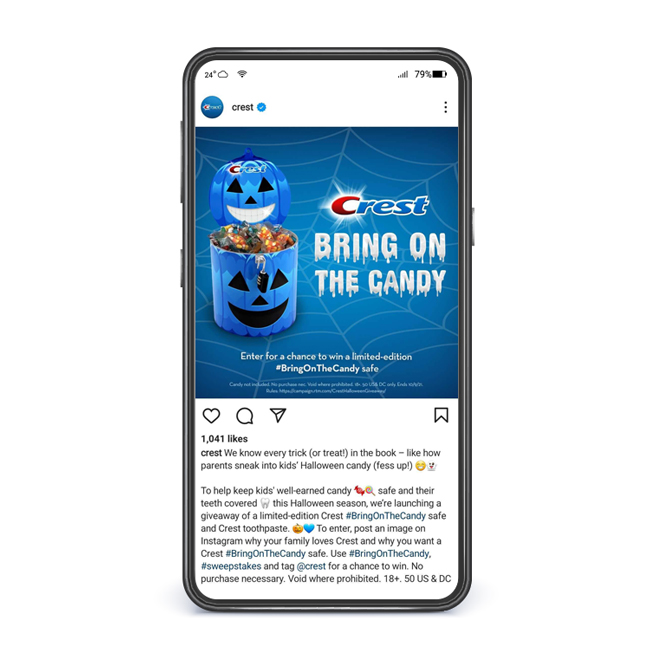 From announcing sales to creating holiday-themed giveaways – eCommerce and retail marketers will only be limited by their imagination when it comes to creating engaging social campaigns in the coming holiday season.
7. AMP up your holiday marketing with interactive emails
AMP for Email (Accelerated Mobile Pages) is Google's open framework which allows marketers to bring a website-like user experience within an email. Utilize these interactive elements to create product showcases, carousels, accordions, and more within one email. This can be a game-changer in your email marketing strategy for the upcoming holidays.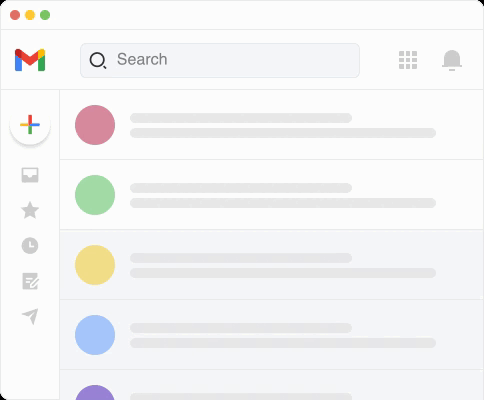 Send personalized product recommendations, customized discounts, and much more as shown above. AMP gives you an interactive element that static HTML emails just cannot match.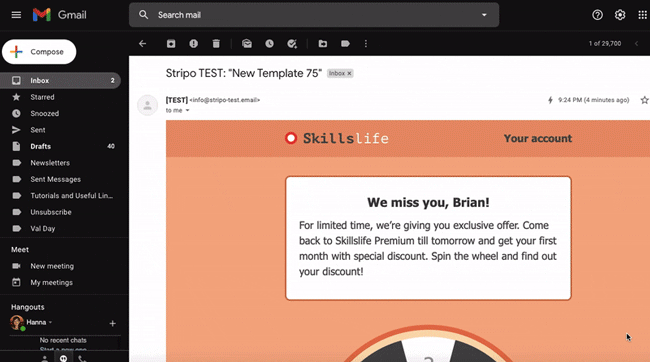 You can create gamified experiences, like the one shown in the image above to increase customer engagement and drive conversions during the holidays.
However, including all marketing channels such as email, SMS, app push, web push, in-app notifications, social media, and on-site search, can be a difficult take. You can use a social media scheduling tool to post on appropriate networks. For example, you can take the help of a Facebook post scheduler if you want to post regularly on FB.
Conclusion: Rolling out valuable, tailored experiences
Your consumers are looking for nothing short of a stellar experience for this holiday season. With many brands vying for their attention, a well-crafted digital messaging strategy is the most powerful weapon in your arsenal to break through the clutter. You need to bring all the methods mentioned in this blog together in a single strategy to jump-start your holiday sales. Long-term success during the holidays will require investment in the right technology and partners, which can combine the various channels, and techniques to provide a consistent tailored experience to your holiday shoppers.
If you're wondering what's the best way to combine all these elements and create a successful marketing strategy this coming holiday season, enroll in Netcore Cloud's Digital Messaging Master Class for Retail and eCommerce Marketers. It's a free online course that delves deeper into all the strategies mentioned above plus more advanced topics like audience segmentation, messaging and channel alignment, identification, and mapping of buyer journeys.
You can also reach out to us for a free consultation so we can provide tailored solutions based on your goals for the upcoming holiday season.