Tell us if this sounds familiar: You've been planning to buy a product for a while. You browse through multiple websites as you research your options. A few days later, almost every other website you browse displays an ad for that product.
This is digital remarketing in action. Although marketers use it, consumers are beginning to rebel.
According to Gartner, consumers say using too much data for personalized messaging is inappropriate, invasive, and "creepy." Gartner's study claims that 37.5% of customers are likelier to stop doing business with a brand that over-personalizes its marketing messages.
Brands doing business online use a variety of systems to collect consumer data. They often rely on second and third-party data to build potential customer profiles and ads that might or might not be relevant to you. Luckily, all this will change with zero-party data, which has marked the dawn of an era of consent.
What are different categories of data?
Zero-party data
Forrester defines "zero-party data" as data a customer "intentionally and proactively" shares with your brand. You can collect it using an account-registration form, in a preference center, or by other means of asking for it.
This data includes personal traits like product categories, name, location, household income, style preferences, purchase intent, clothing size, or shopping frequency. Zero-party data creates more meaningful interactions between brands and customers, as customers only share their information with brands they trust.
First-party data
First-party data is similar to zero-party data in that you collect customer information on your website or mobile app through transactions, visitor data stored in first-party cookies, social tracking, and CRM. Unlike zero-party data, this information is collected passively and includes information like purchase history, discounts used, personal information like size and preferences, and subscription periods. You can also use first-party cookies to collect passive information by analyzing customer behavior on your website or apps. These include time spent on a page, interaction with links, frequency of clicks, and much more.
One caveat with zero-party data: What customers say and do are sometimes two different things. You should always compare customer-provided data and data you observe for yourself for a complete picture of your customer.
Second-party data
Second-party data is the data shared with or purchased from a partner company that collected it directly from its customers. For example, a retail store sells its customer loyalty information to a credit card company it uses for transactions. Second-party data also has been called "purchased first-party data." Its accuracy and quality depend on how well the source collected the data.
Third-party data
Between Apple allowing users to opt-out of app-tracking and Google phasing out third-party cookies by 2024, third-party data is becoming far less valuable for marketers. Third-party data is consumer data collected by data aggregators and sold to companies that don't have direct relationships with those consumers.
How can zero-party data affect digital commerce?
Customers want the power to decide what data they share with brands. They yearn for clarity and expect more privacy from brands. Therefore, the onus is now on customer-centric brands to adapt to a cookie-less world, focus more on collecting zero-party data, and offer more engaging experiences.
Zero-party data promotes transparency and trust. Unlike inferred data sources, which are often inaccurate, zero-party data removes the guesswork associated while defining audience segments and helps create experiences while respecting users' privacy. You can directly learn from your customers to create relevant campaigns, lower acquisition costs, and accurately manage and forecast inventory.
For these reasons alone, second-party and third-party data will become less valuable. Ecommerce brands will need to find other means to measure their online ad performance based on data collected from these sources. In other words, spending thousands of dollars on online ads will become riskier.
How can your brand collect more zero-party data?
Collecting zero-party data depends on being able to persuade customers to share data. Having the right strategy is a start. Showing customers what you'll do with the data and how they could have a better experience by sharing data can also let customers know they can trust you with their data.
Let's look at these tactics in more detail:
1. Registration and onboarding
This is one of the best times to gather zero-party data. Your new customers are usually your most engaged and enthusiastic. Besides asking basic personal questions like name and email address, you can collect information about your customer's behavior, preferences, and opinions about your products.
Take a cue from Pinterest's onboarding process. Pinterest collects basic demographic information and then asks users to choose at least five topics they like, such as memes, travel, tattoos, fashion, or food. As soon as users have registered, their homepages display posts related to those topics. Users get personalized experiences, while Pinterest gathers valuable user-level data.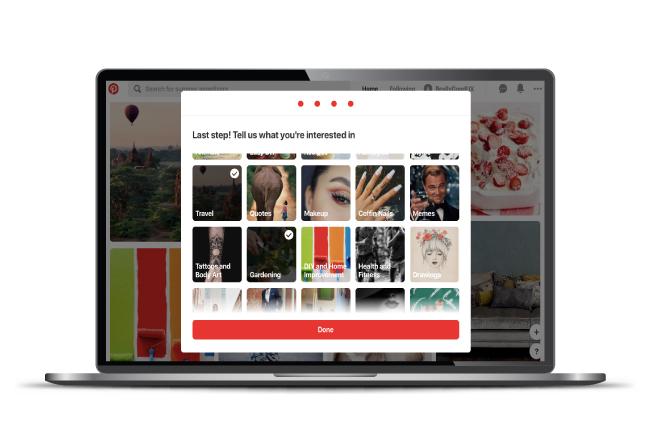 2. Website
Your website is the go-to place for gathering zero-party data. Testing and tracking user behavior on your site will reveal which techniques work best. Here are three popular interactive tactics that can generate the zero-party data you need and create a more engaging experience for your customers:
Brands like Ella + Milla, Tomlinson's Feed, and Miracle Mink Hair have one thing in common: They understand how to use conversational pop-ups for talking with customers. According to data from OptiMunk, conversational pop-ups that offer a discount have an average 15.2% conversion rate. Classic pop-ups with discounts have an average compared with 7.7% conversion rate by comparison.
A conversational pop-up is the digital equivalent of a salesperson in a retail outlet. It asks the questions a salesperson would use to help customers find the right products, such as "What are you looking for?"
Tomlinson's Feed uses conversational pop-ups to drive more conversions without creating friction in the customer experience. The brand uses an engaging pop-up to ask first-time visitors whether they prefer a dog treat or a cat toy. They confirm the first answer by asking customers if they are cat people or dog people.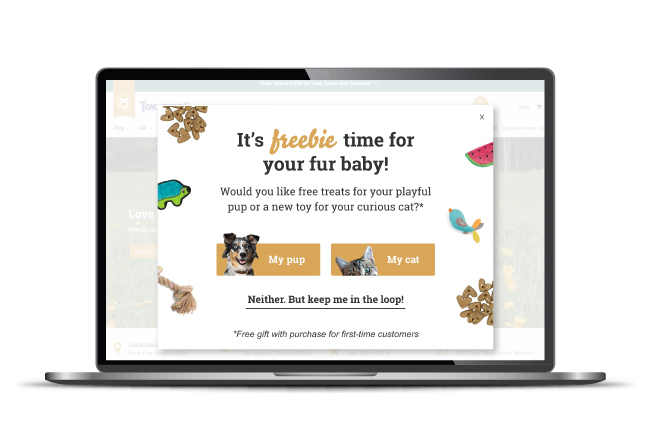 They use this data to send personalized product highlights and recommendations, knowing their customers will find them relevant and valuable.
In a store, you can ask for help. But how do you help customers find what they want quickly on your website? One solution: Use quizzes to narrow their search. This personalizes the search and helps them find products quickly.
Ask relevant and engaging questions to get to know customer preferences and to recommend the right products and content. For instance, Dollar Shave Club encourages its website visitors to take a quiz to receive a customized box of products.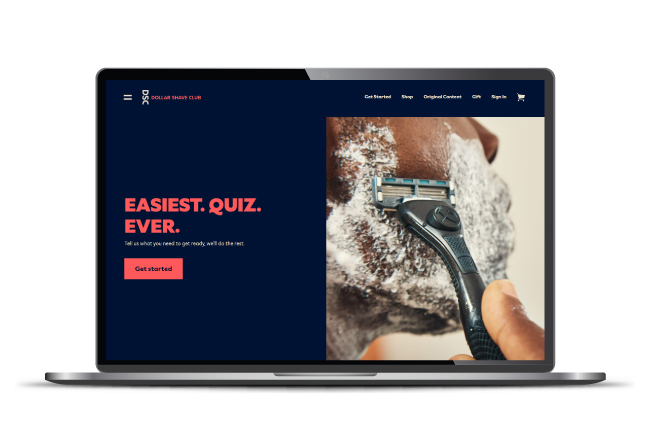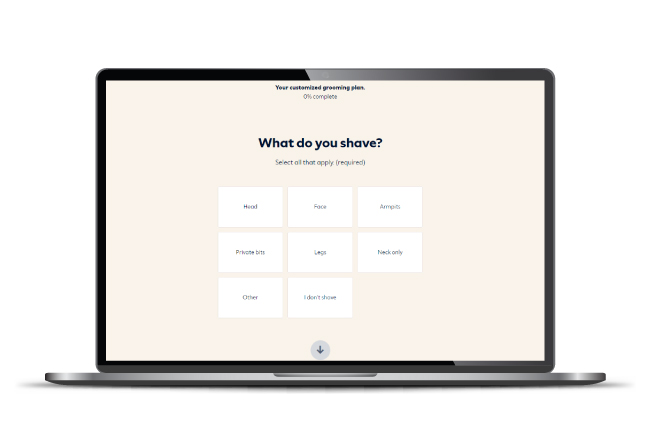 Quizzes allow you to collect the buyer data you need and give your buyers confidence in your products. It's a win-win.
Personalized boutiques: Landing pages designed to convert
Most pages on an ecommerce website are digital storefronts. These pages must communicate a clear, concise value proposition that compels users to act.
With a personalized boutique page, you can get real-time user feedback from every interaction. Swipe-left or swipe-right on mobile devices or clicking on images make it easier for customers to show what they like or dislike. You can also use Instagram-style stories to show different widgets such as "Most Viewed," "Most Clicked," and "Just for You."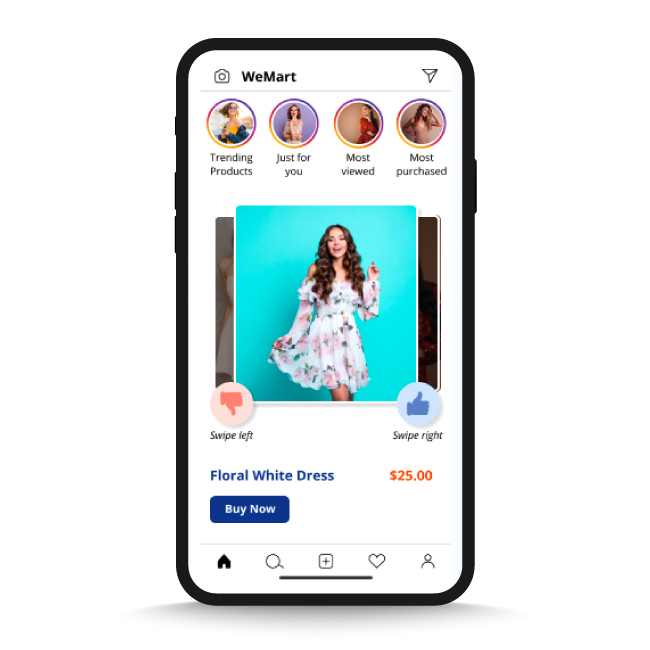 Such experiences are created using AI-backed personalization technology, which analyzes an individual's historic shopping and purchase patterns to provide relevant recommendations.
It can increase your CTRs by 120% to 150% every time customers visit your mobile app or website while also providing deeper insight into their likes and dislikes.
3. AMP for email
AMP for email is a conversation starter in email marketing campaigns. It is an open framework created using Google's Accelerated Mobile Pages (AMP), which allows you to fill out forms, schedule a meeting, leave feedback and perform several other actions within the email.
AMP for email offers a website-like experience and functions in an email. It's a dynamic alternative to regular emails and can quickly collect zero-party data. Below is an example from Atlas 46, which uses AMP to let users browse its featured products in an image carousel.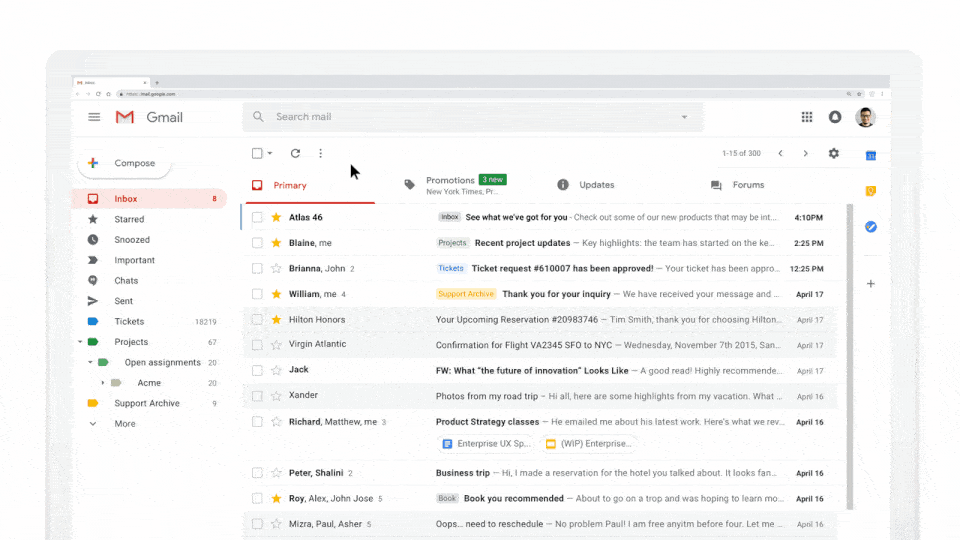 Similarly, you can use AMP to send interactive product discovery questions, quizzes, polls and promos, discount codes, and cart abandonment emails. Here's an example from Startup Slam, which uses AMP for surveys and feedback.
Startup Slam sends a survey email to its attendees to gather feedback on one of their events. Attendees can fill the survey directly in the email, saving them the trouble of being redirected to a separate landing page.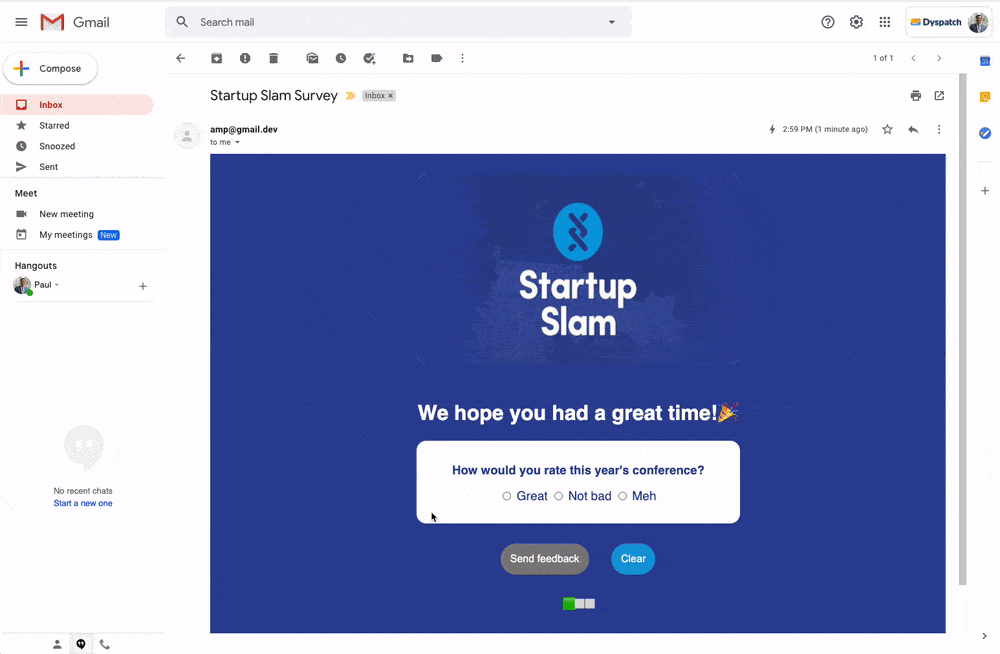 4. Social media
Social media is important for marketers. It's where billions of people make connections, willingly share details about themselves and engage with each other. Reports suggest that online users have 20% to 40% more interactions with brands on social media than on any other platform. This makes social channels great for collecting zero-party data from your customers.
A social media poll that asks, "What do you prefer?" is a great way to reach out to prospects and customers. Preference and feedback data are essential to personalize your campaign and learn about the market, product, and brand trends. IKEA USA conducts an Instagram poll on its kitchen designs and asks its followers to vote for their favorites.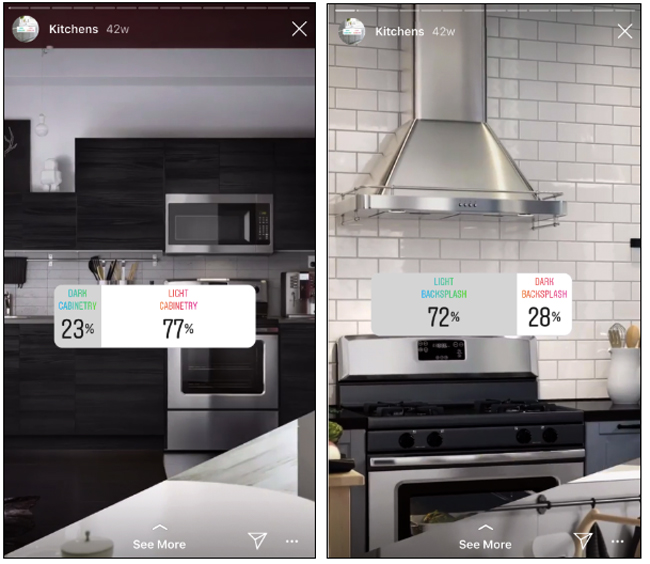 The countdown to zero has begun
Rising customer acquisition costs, stricter data policies, and the uncertain economic scenario of the post covid era are hurting all ecommerce businesses. Today all digital brands need to focus on driving profitable growth.
Zero-party data helps you create better customer experiences. It fosters a profit-centric marketing approach driven by better user experience and personalized marketing campaigns. It delivers sustainable and organic growth and solves the problem of data accuracy. Zero-party data helps customers perceive the value of exchanging their data.
Zero-party data is the future of marketing and advertising. Discover how Netcore can help you collect and use zero-party data more effectively. Contact us to find out!