Introduction
The fascination with marketing on social platforms has withered in the eyes of the modern marketer; once hailed as the most cutting-edge channel, it has slowly become ignored. Why? Poor returns on ad spends (ROAS) is one such reason; promotions on online platforms like Facebook, TikTok, X, and Instagram have essentially been rendered unprofitable. Facebook alone experienced a drop of 25% in ROAS in only one year. This shift has paved the way for the resurgence of a dependable channel—the stalwart email. And the stats prove the same – nearly six in ten marketers believe email is twice as effective as PPC ads.
Half of the world's population is using email. To flourish in this fiercely competitive landscape, tapping into the customer pool via the most prominently utilized channel is an imperative that cannot be disregarded.
This blog talks about the innovative strategies that can be leveraged by apparel brands and technologies around modern email: Inbox Commerce, powered by AMP. These interactive email components are vital as they seamlessly integrate personalized product recommendations and interactive shopping experiences within email inboxes.
This drives customer engagement, boosts conversions, and enhances brand loyalty. The secret lies in the tailored content placed directly where users engage most. By revolutionizing email into a dynamic commerce platform, apparel brands optimize their marketing strategies and deliver compelling shopping journeys. The payout? Maximized revenue and customer satisfaction.
Hence, email—the digital heir to the traditional letter—has not merely weathered the technological revolution but has become stronger.
So, What's Next for Email?
Email's journey has been remarkable. Its evolution spans decades. It all began in 1965 with an exchange between MIT and Stanford. The iconic "@" symbol was introduced in 1971, marking a pivotal moment. The early 2000s witnessed the advent of mobile emails – another significant leap.
To get a better view of the evolution of email, we recommend you check out our ebook.
Then, in 2019, the scene was transformed with the emergence of AMP (Accelerated Mobile Pages), a Google-powered open-source technology. AMP brought interactive elements, real-time data, and, yes, shopping carts and checkouts right into emails, setting the stage for Inbox Commerce.
Inbox Commerce is fueled by AMP for Email. Picture a soft-serve ice cream: AMP serves as the smooth, foundational layer, akin to vanilla, upon which experiences are built. In this analogy, Inbox Commerce resembles the delectable chocolate coating that envelops the ice cream, enhancing the email's visuals and functionality.
In short – with Inbox Commerce, brands can now take a more end-to-end, app-like approach with email; Brands can now integrate the entire shopping journey into their emails, encompassing product discovery, purchase decisions, and customer loyalty.
What does a typical inbox commerce email look like?
Here's a typical inbox commerce email with an interactive search bar, cart manipulation, and add-to-cart features
Imagine this scenario: you, a dedicated marketer, rely on conventional email. Within the constraints of outdated HTML technology, your creative freedom is limited to a mere splash of distinct colors. Your content strives to be captivating, but it needs help.
The following is a sneak peek into what Inbox Commerce is truly capable of:
a. Dynamic welcome emails & reward incentivization
Send your customers intro emails that capture their preferences from the get-go. Send these on signup to offer exclusive deals and discounts. Include a game. Add an incentivized offer for the first purchase. Foster a positive relationship with new customers.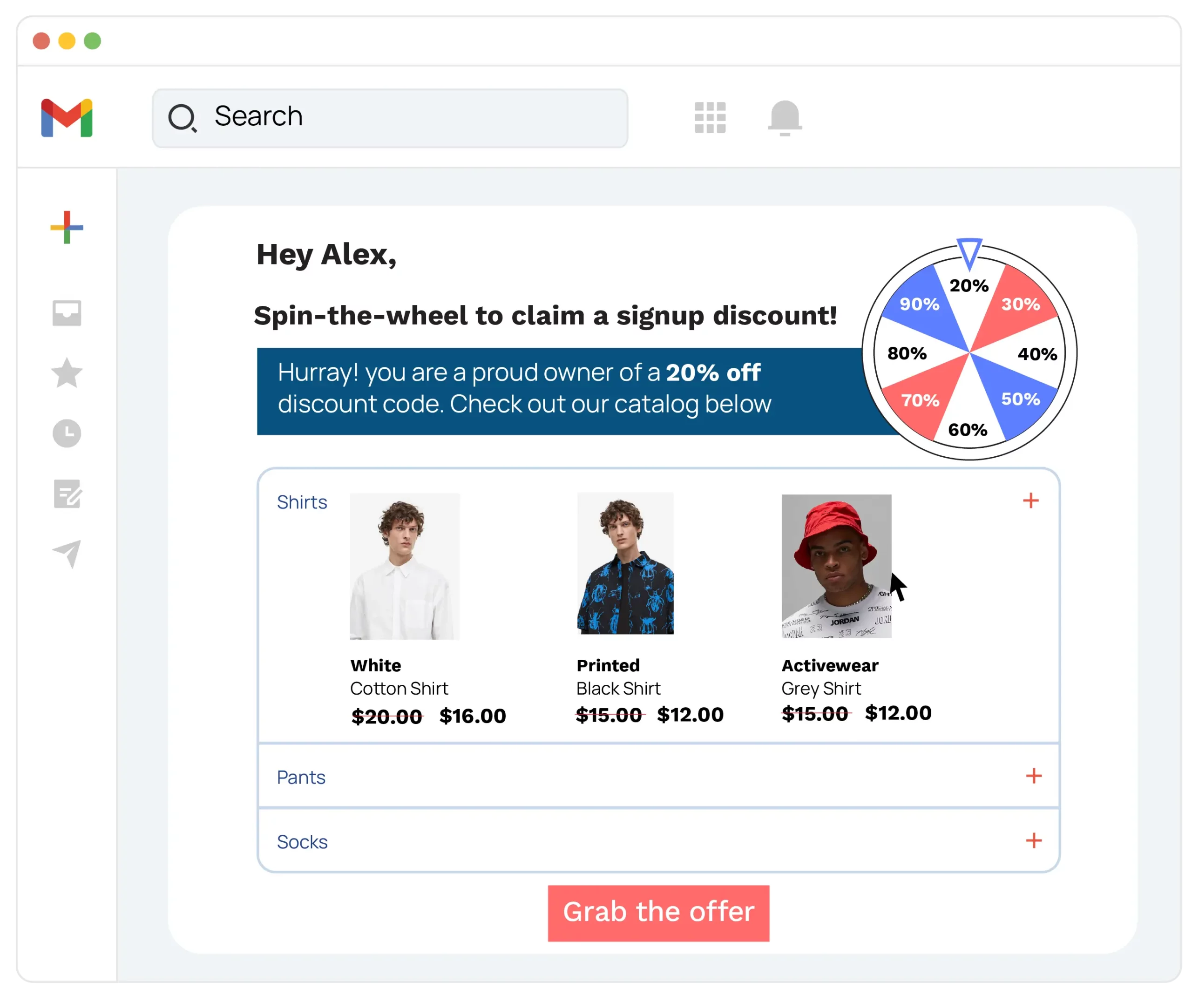 b. Interactive recommendations
Envision a world where your email campaigns evolve and even imbibe the wealth of demographic data. These campaigns seamlessly provide recommendations. They tap into dynamically shifting categories and stock levels. They tailor product suggestions based on your shoppers' specific product preferences or even user behavior such as cart abandonment. The result? Interactive 1:1 recommendations that demand attention.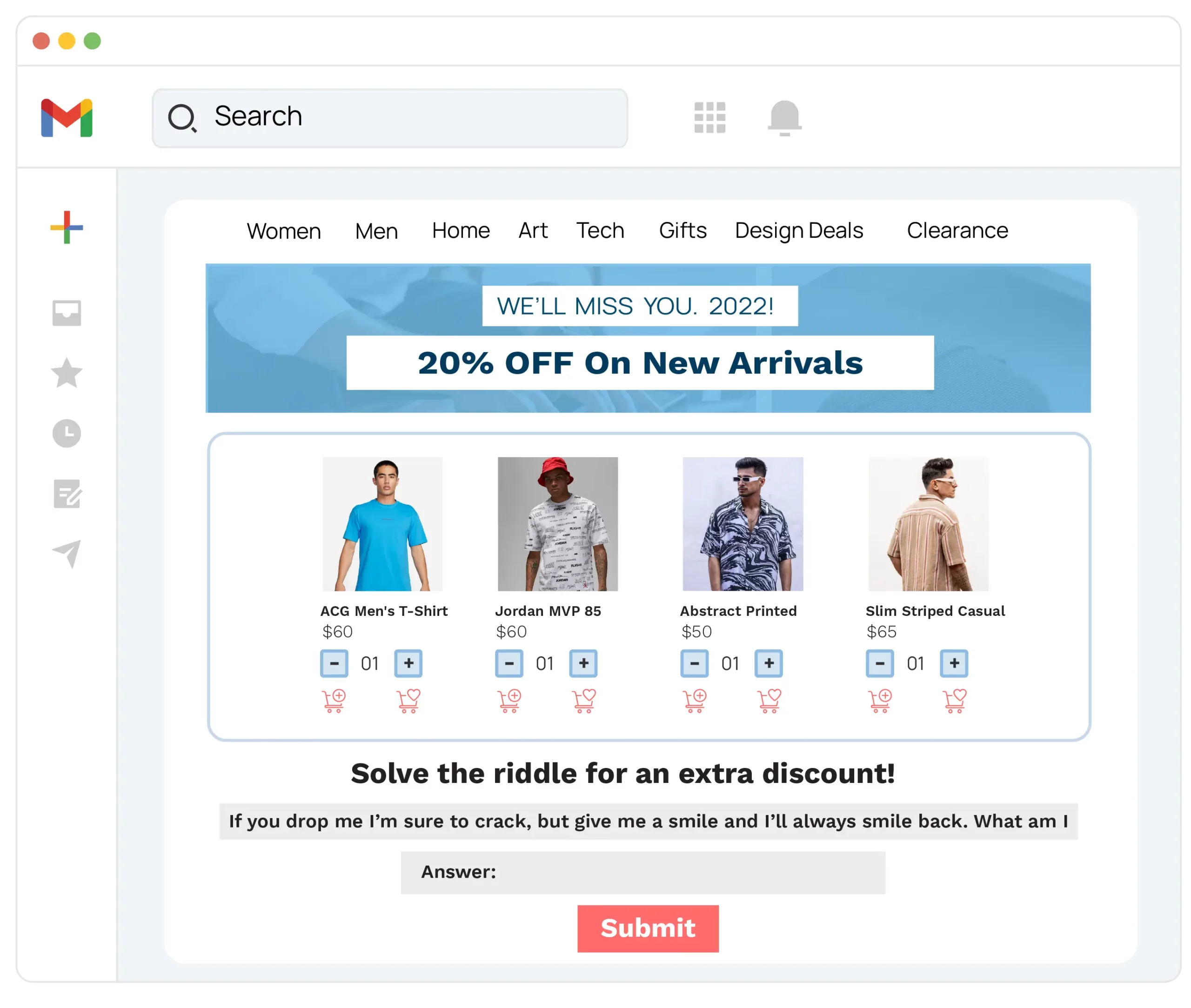 c. Product search & bundled offers
With Inbox Commerce, customers can perform product searches directly inside the email. All you have to do is use AMP to add an ecommerce website-like search bar for quick access to products and services. Avoid all redirects from the inbox to the website to optimize shoppers' purchase frequency and repeat purchases; suggest related or upgraded products. Showcase recommendations based on purchase history. It encourages shoppers to make additional or higher-value purchases.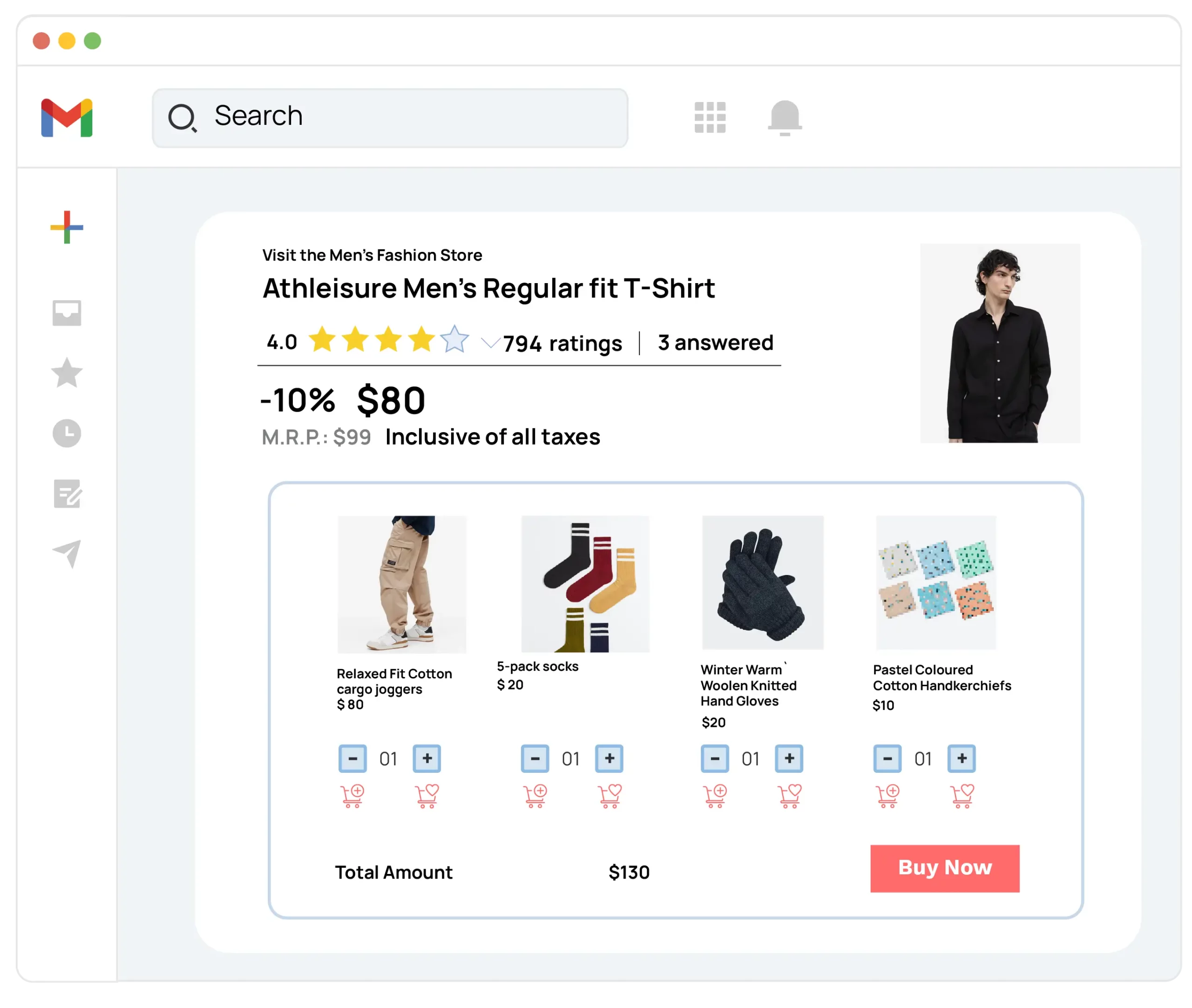 Bundled offers related to the browsed item powered by Inbox Commerce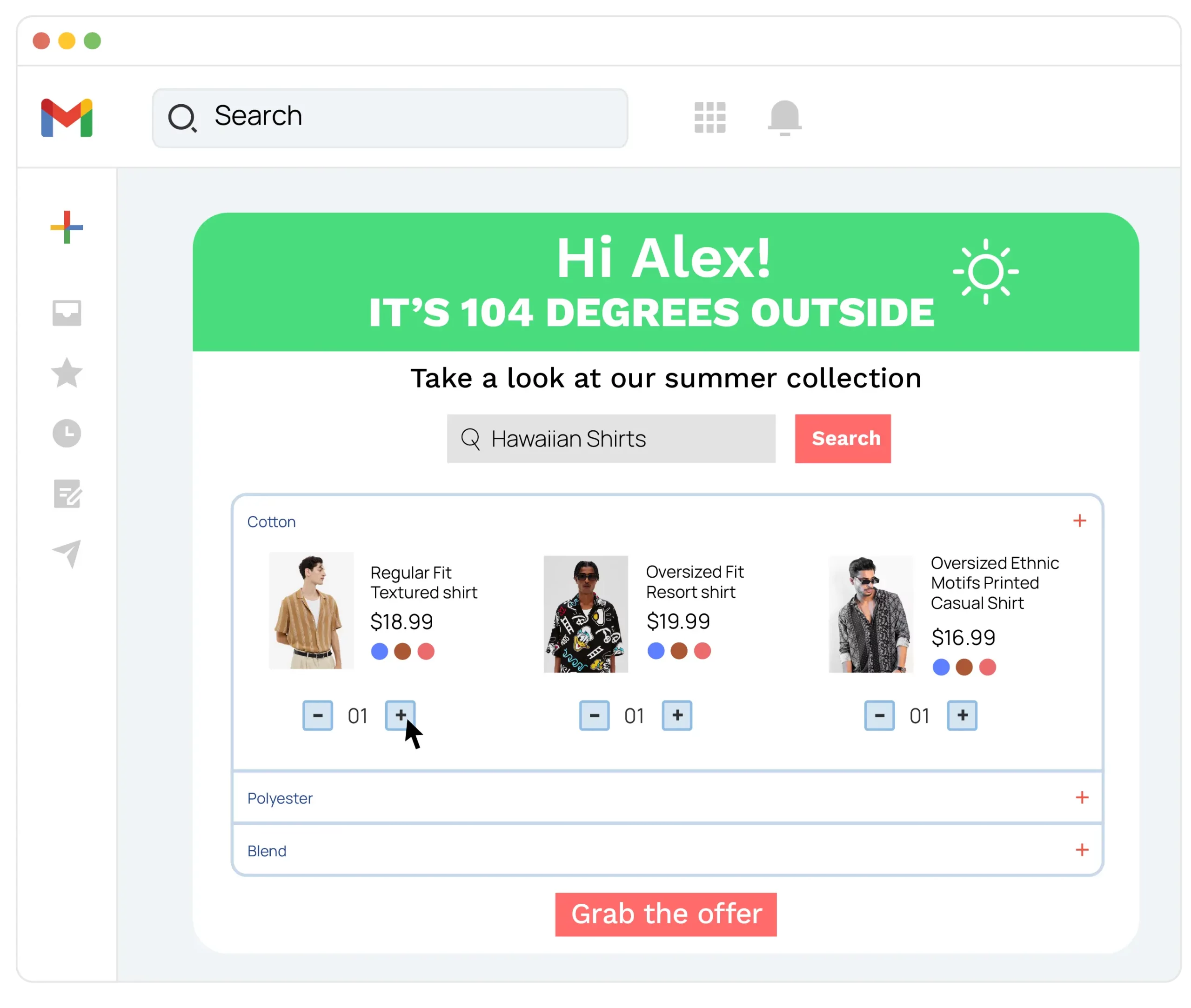 Interactive Search Bar embedded inside an email powered by Inbox Commerce
d. Embedded forms & loyalty programs
Gather valuable customer insights through interactive forms embedded within emails. That's shoppers' first-party data for you. Use it to improve customer targeting and personalization by leaps and bounds. Send rewards or promote initiatives. Let customers gleefully earn points or benefits for their engagement and purchases. Foster customer loyalty. Encourage future interactions and purchases.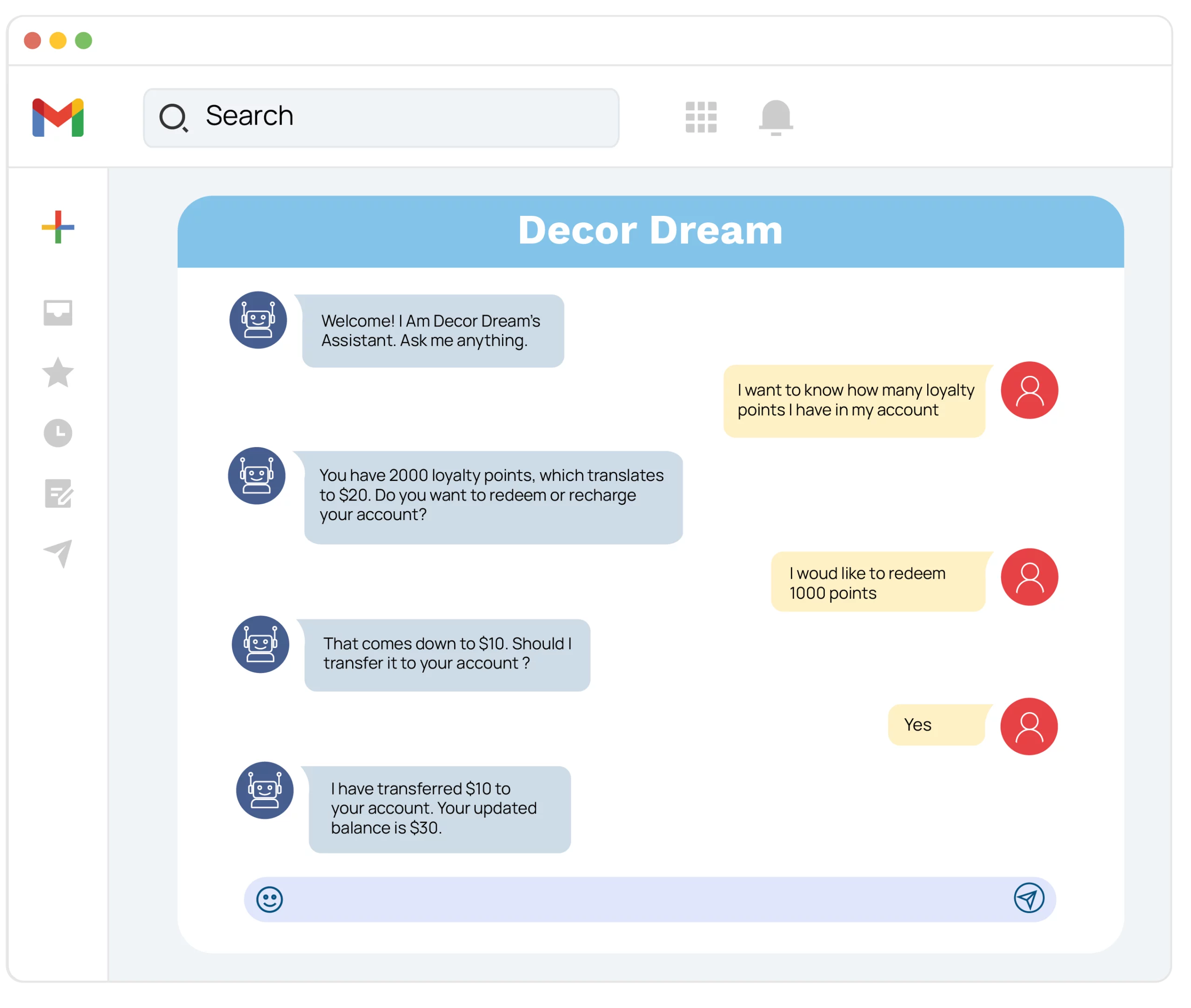 The above use cases are just the tip of the iceberg. Read our ebook to explore many more comprehensive inbox commerce use cases – Read now.
If you plan to read the ebook later, that's ok. Here's a snapshot of some remarkable successes.
Did you know? Inbox Commerce emails have emerged as a powerful force for ecommerce giants like Myntra (Walmart), CaratLane (Tata), and even Crocs. The impact has been nothing short of astounding. A staggering 60% uplift in open rates and a remarkable 140% increase in conversions for Myntra. CaratLane harnessed Inbox Commerce significantly in their product launches. They got themselves an incredible 300% increment in CTOR.
Nine Inbox Commerce Use Cases for Apparel Brands
1. Real-time Inventory Updates
Keeping customers informed about current product availability is essential. Thank goodness for Inbox Commerce. With it you can automatically update current product stock levels in real-time. Prevent disappointment caused by out-of-stock items. Embed extra excitement around new arrivals. Create a sense of urgency. Prompt customers to make quicker purchase decisions. This feature empowers brands to create a sense of urgency, prompting customers to make quicker purchase decisions.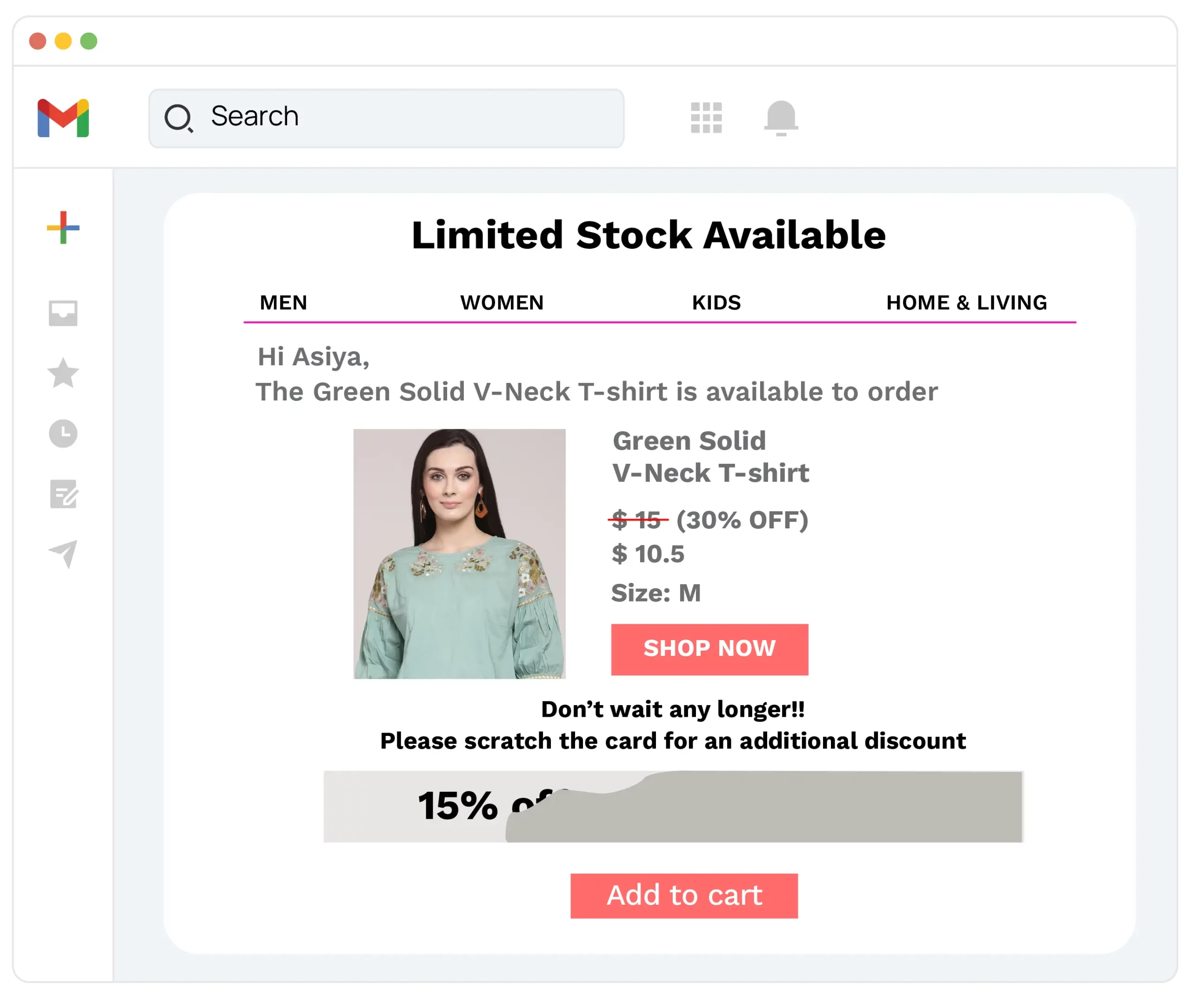 2. Gamified Engagement
Add games within emails. Add fun and excitement. Design a catchy interactive game. Or a smart quiz. Challenge participants and reward them with exclusive discounts, free shipping, or other incentives.This approach boosts engagement and encourages recipients to engage with you.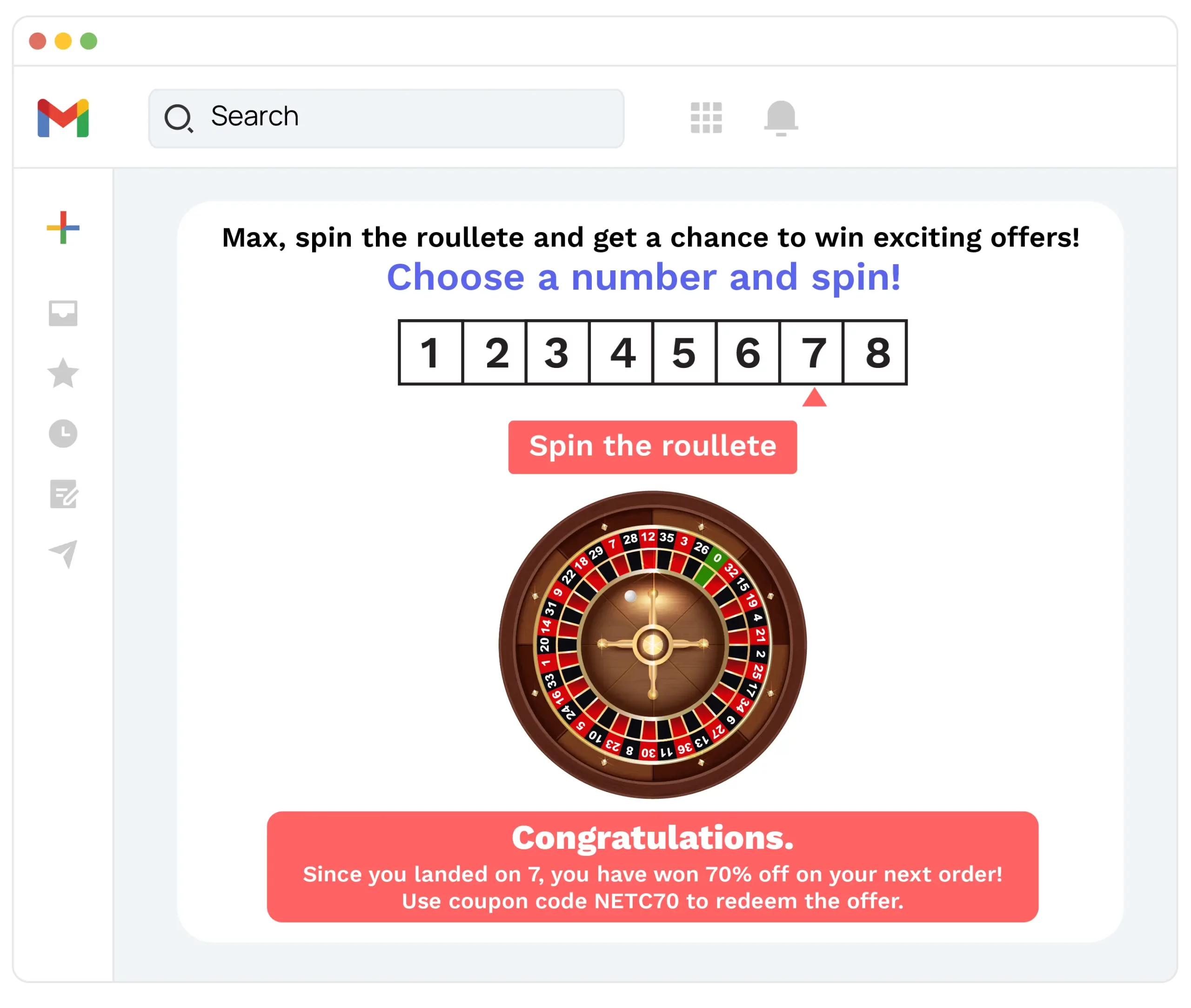 3. Dynamic Delivery Tracking
Using Inbox Commerce, your mail can deliver precise shipping updates and track delivery, product locations, and delivery schedules within these emails. They can also make modifications and adjustments according to their preferences, all without switching to the ecommerce app. Offer a seamless and hassle-free post-purchase experience.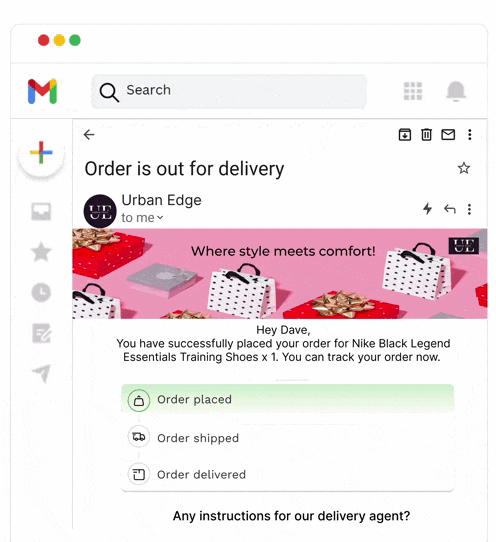 4. Limited-Time Flash Sales
Capitalizing on the sense of urgency. Launch Inbox Commerce to send exclusive flash sales. Send time-sensitive emails with countdown timers Offer limited-time discounts on select apparel items. Encourage immediate action. Drive impulse purchases.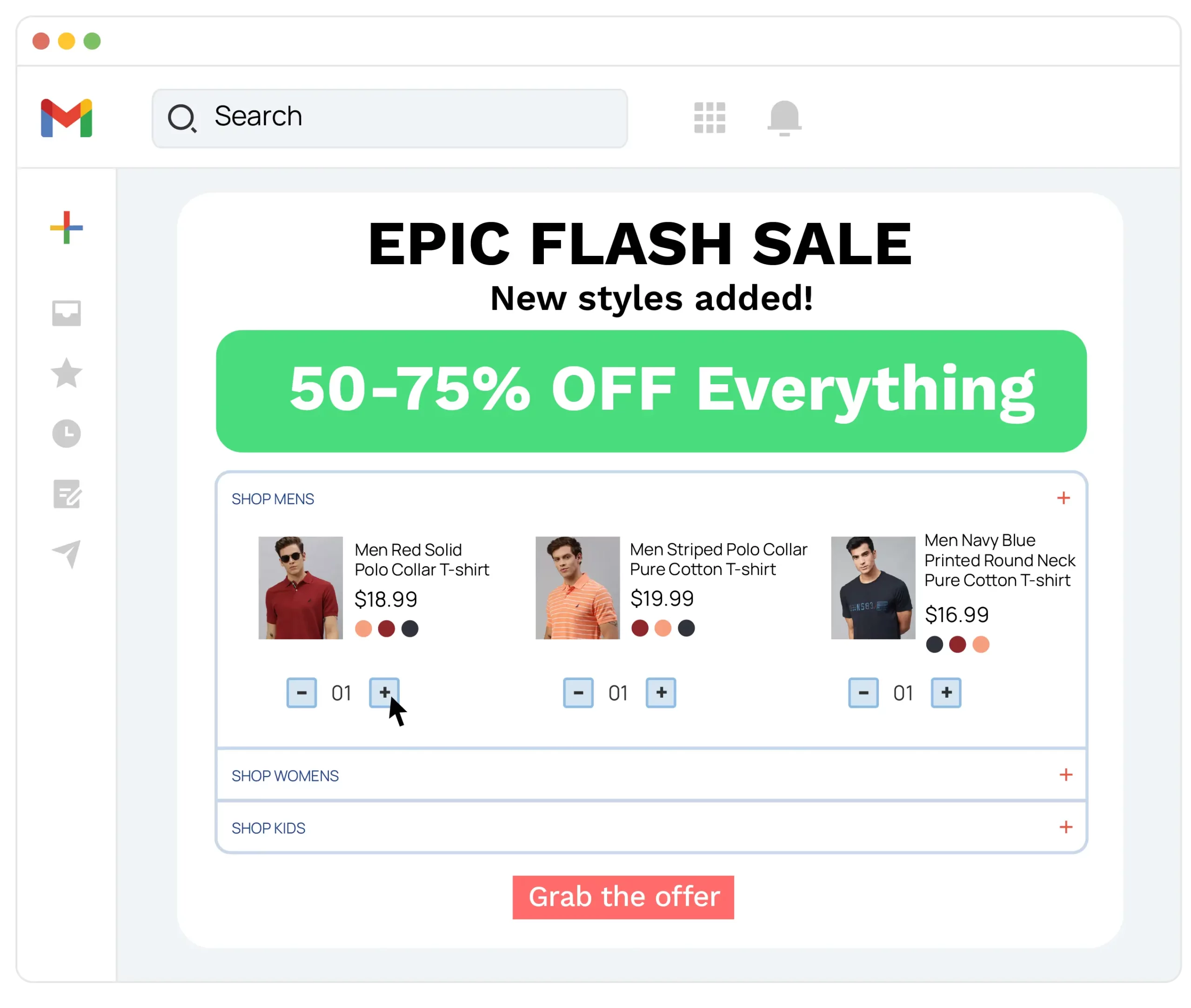 5. Style Inspiration Lookbooks
Inside your email, curate gorgeous style inspiration guides. Showcase complete outfits and combine various products. Create a cohesive look. Provide ready-to-wear ensemble ideas. Ignite creativity and guide shopping choices.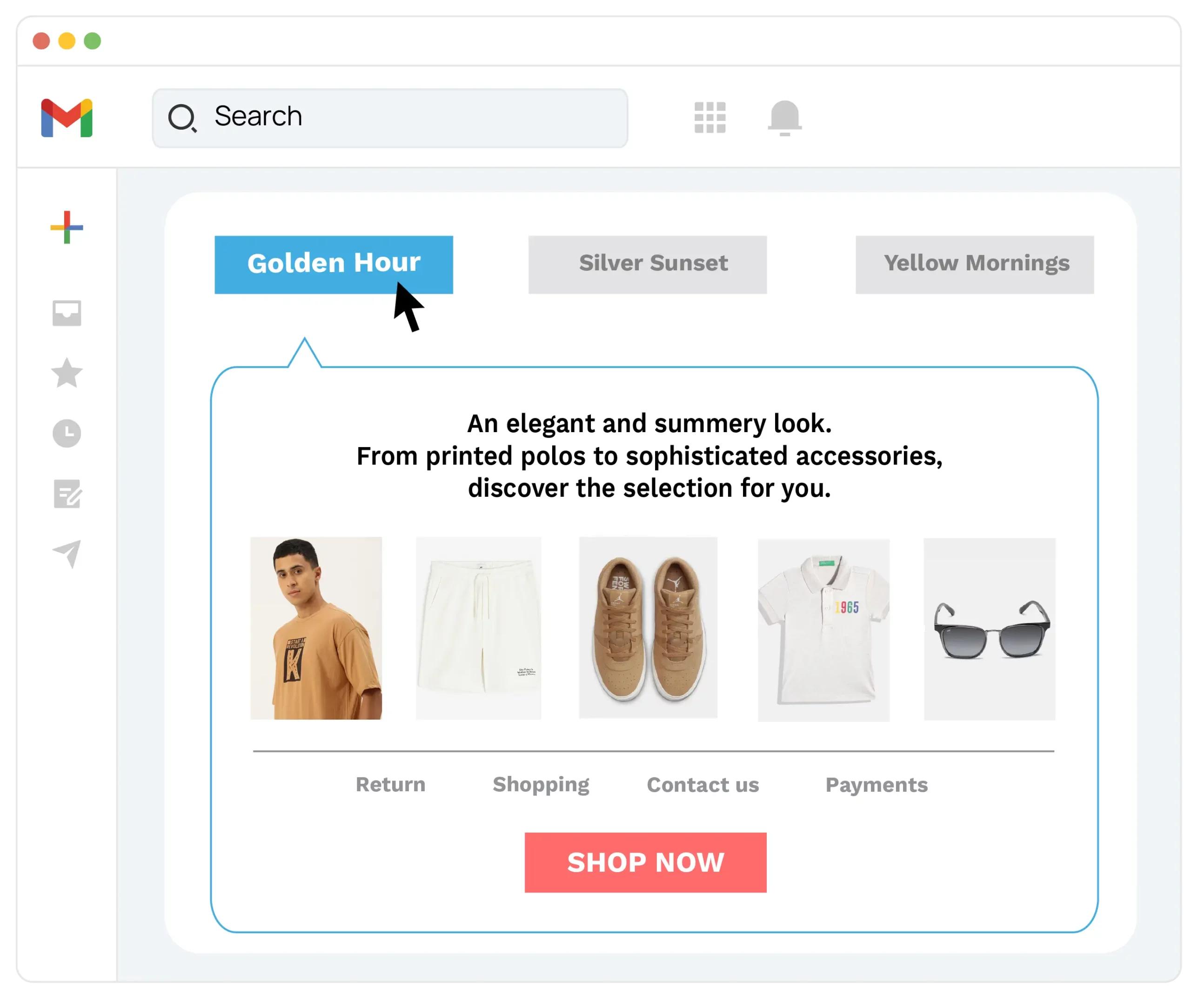 6. Subscription-Based Wardrobe Updates
If you are an apparel brand, offer a fresh wardrobe update and even slip in an alluring subscription service. Send subscribers regular emails featuring personalized outfit recommendations based on their style preferences. Build bonds. Drive consistent engagement and purchases.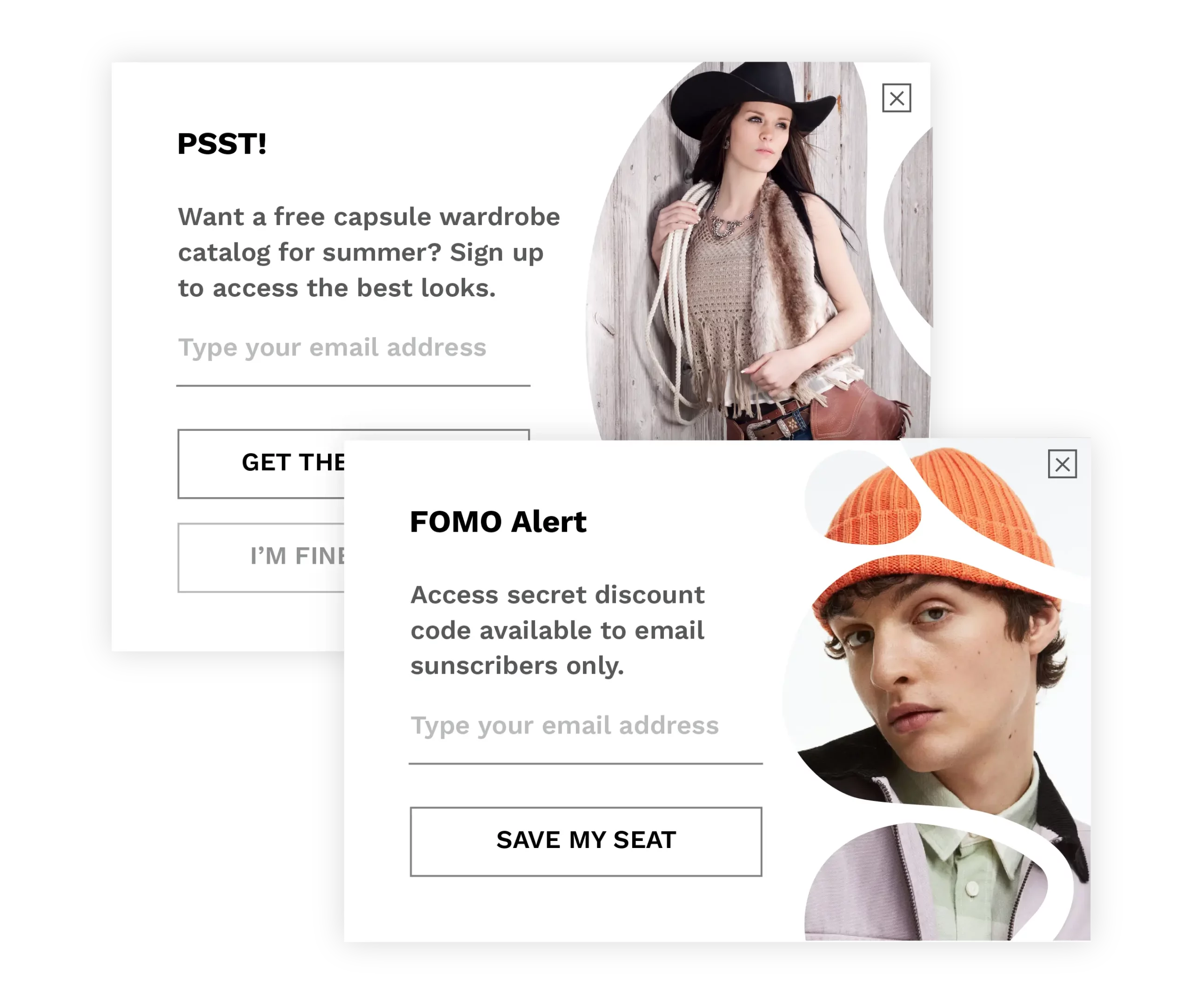 7. Event-Based Wardrobe Recommendations
Provide bespoke tailored wardrobe suggestions for various occasions and events. Whether it's a wedding, vacation, casual weekend outing, or even a change in weather, offer complete outfit recommendations. Ensure customers get to flaunt their perfect ensemble for any event. Enhance customer convenience. Positions the brand as a personalized fashion advisor.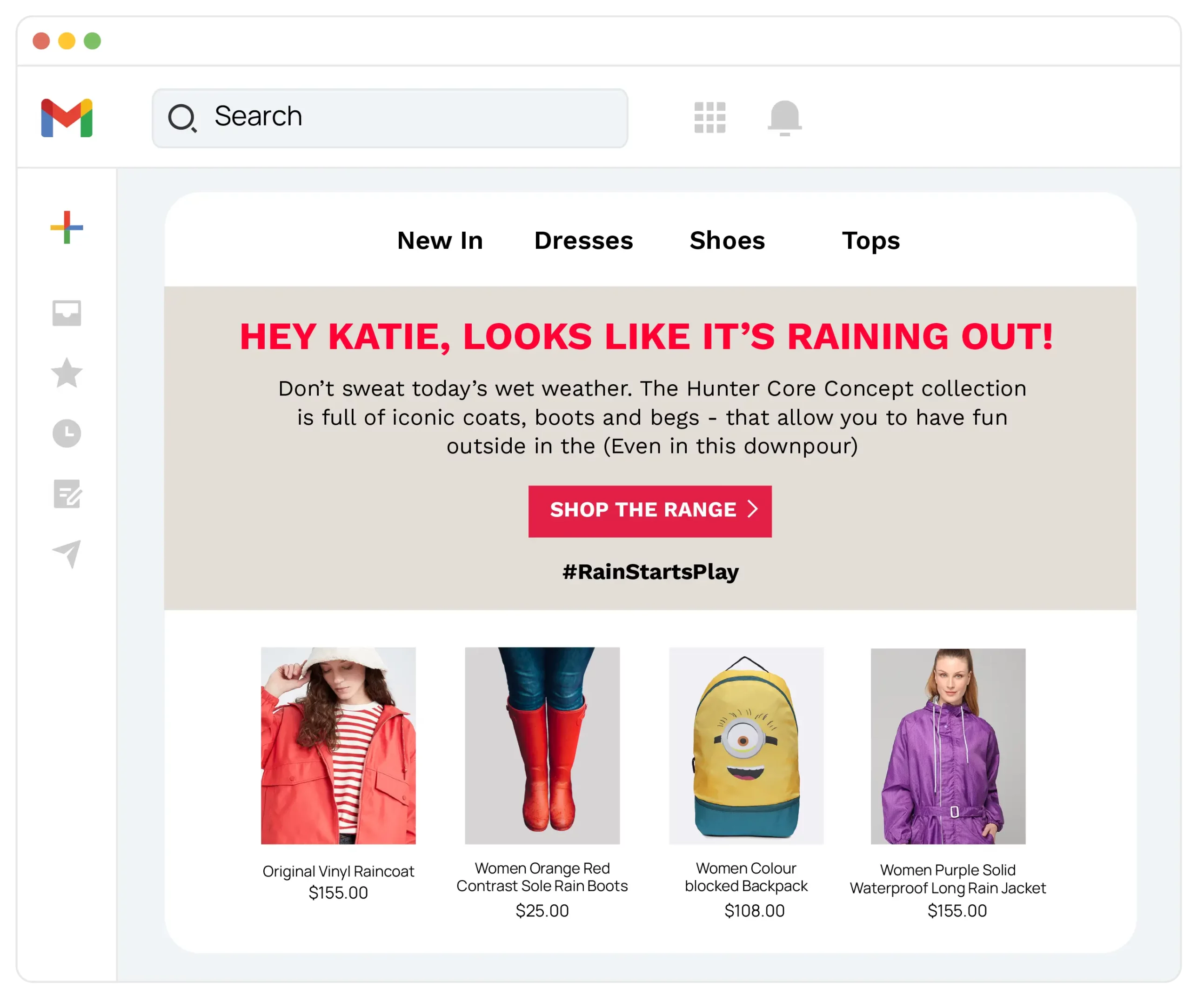 8. Sustainable Fashion Initiatives with Accordions/Carousels
The fashion Industry skillfully uses Inbox Commerce to insert enticing product carousels and accordions. Imagine displaying 20 of your most creative creations right there inside the email. Plus ensure they are dynamic (different for each mail recipient, based on their specified preferences). Highlight eco-friendly and ethically produced clothing options and information about the brand's sustainability efforts. Educate customers. Offer conscious choices. Align with environmentally conscious consumers and promote positive change.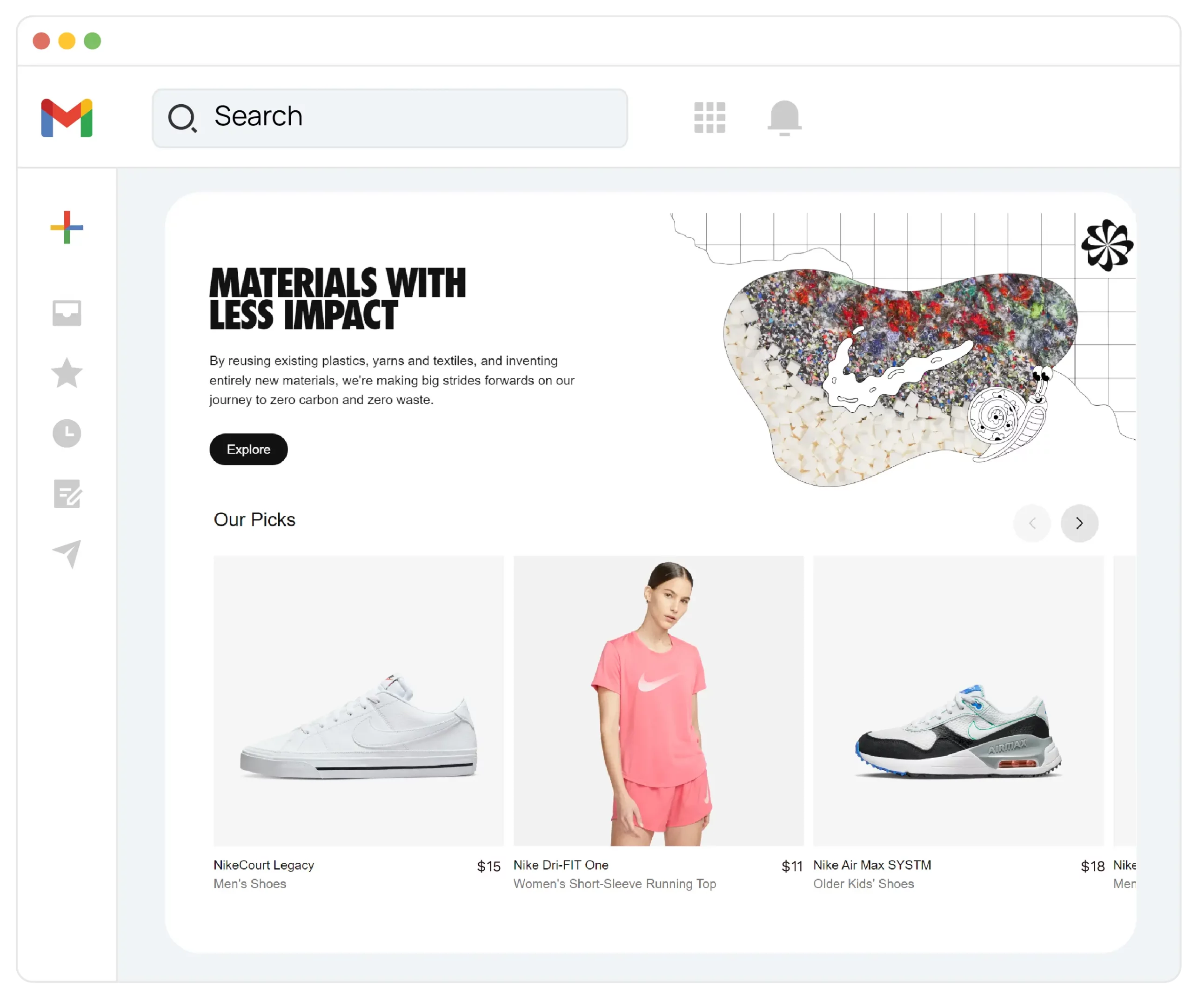 9. Product Launches
Use Inbox Commerce's dynamic capabilities to present impactful product launches inside the email. Segment subscribers, tease with previews, employ countdown timers, and offer personalized recommendations. Build anticipation and urgency for a successful campaign.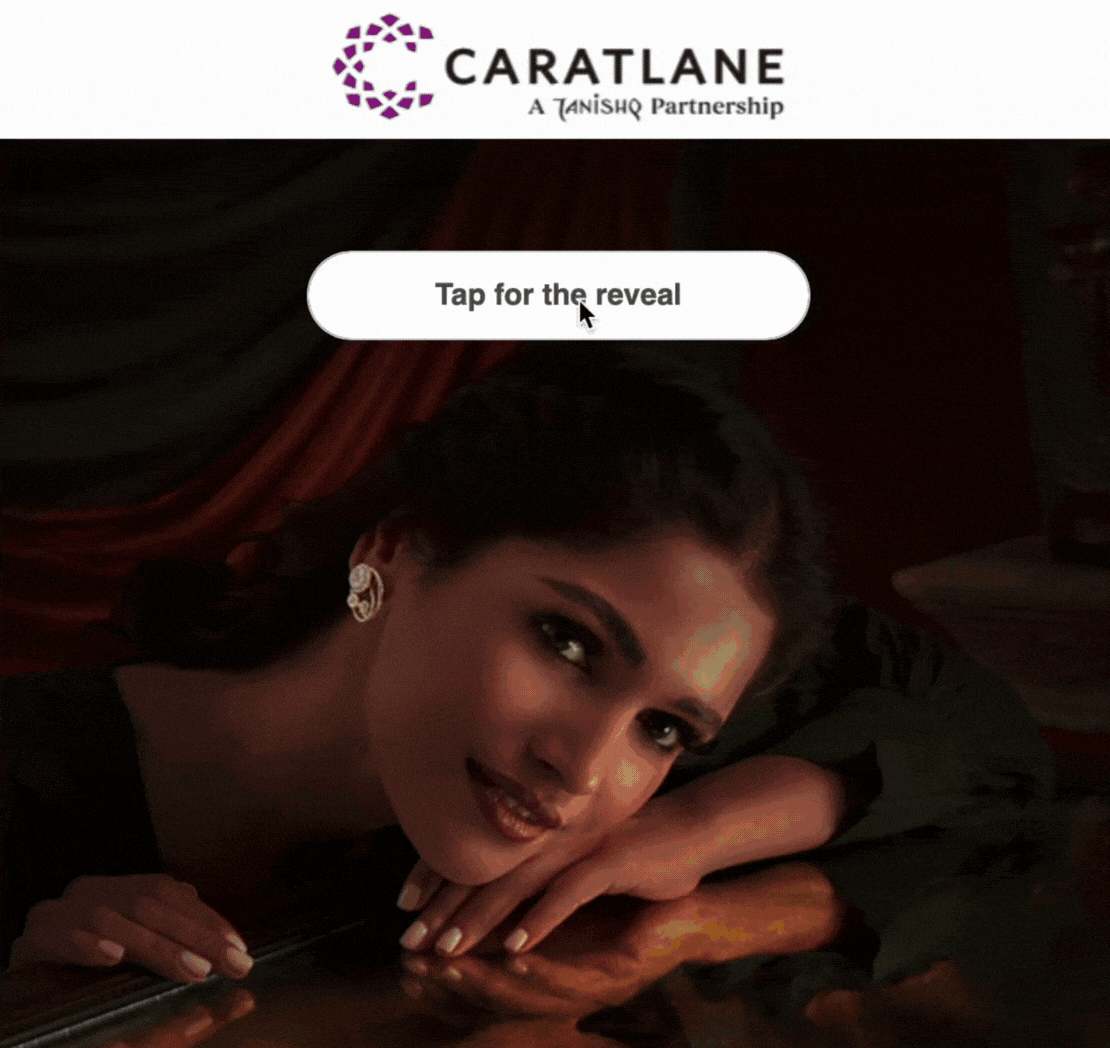 Did you know? Borla was a new product line by CaratLane that incorporated ethnic motifs into modern jewelry. They wanted email marketing to be equally unique, offering users a gratifying experience of the product and its details via compelling emails. Here's how ingeniously they tried to Increase experiential sessions and improve CTOR, create a seamless customer experience, and get maximum engagement on the product launch.
CaratLane used Inbox Commerce skilfully to transform the conventional email marketing approach, enhance conversions and improve ROI.
Gains: 300% surge in engagement
Read the entire CaratLane case study here.
These diverse use cases underscore the transformative capabilities of Inbox Commerce. With it, your brand can tailor your (AMP) email campaigns innovatively that resonate with their target audience and elevate the shopping experience.
Conclusion
Inbox Commerce has ushered in a new era of revolution for apparel brands. By marrying cutting-edge AMP technology with creative ingenuity, your brand can now connect with its customers in unimaginable ways.
From personalized product recommendations to interactive try-on experiences and localized promotions, the landscape of email communication has evolved into a dynamic platform for engagement, empowerment, and enrichment.
As the fashion industry continues to evolve, so must the methods through which brands engage with audiences. The potential of Inbox Commerce is limited only by the imagination of the marketer implementing it. As the digital landscape continues to evolve, embracing this dynamic approach to email marketing will undoubtedly set the stage for apparel brands to thrive, innovate, and truly stand out in the hearts and closets of their valued customers. So, as the fashion narrative unfolds, let Inbox Commerce be the chapter that reshapes how brands and customers engage.