Introduction
In a world where consumers are bombarded with countless shopping options and endless messages from brands, retailers may find it difficult to stand out. But here's the thing: a superior customer experience (CX) can mean the difference between success and failure. In fact, with businesses fighting tooth and nail to win customers by providing unique, personalized, and seamless experiences, this has become the holy grail of modern retail – one that keeps customers coming back for more.
Consider this: according to an IDC study, 77% of brands believe that to remain competitive in today's retail landscape, it's critical that you provide a positive customer experience. And if that's not enough to convince you, then how about this: according to Forbes, a jaw-dropping 83% of executives admit that ignoring CX improvements can put their entire business at risk. So, if you're a retailer looking to stay ahead of the curve, it's time to start taking customer experience seriously.
In this ever-evolving world of retail, technology has become a game-changer to transform the way consumers shop and interact with brands. Modern shoppers have higher expectations than ever before. They demand personalized experiences. They also demand shopping experiences that seamlessly blend the online and in-store worlds. They want to research, compare, and purchase products from their preferred devices, all at the touch of a button.
But that's not all. Thanks to technology, consumers are making more informed decisions and are more in control than ever before. This also means retailers who don't understand their customers' needs and preferences risk losing out to competitors who do.
Forbes reiterates –  a staggering 74% of consumers are likely to make purchasing decisions based on experiences alone.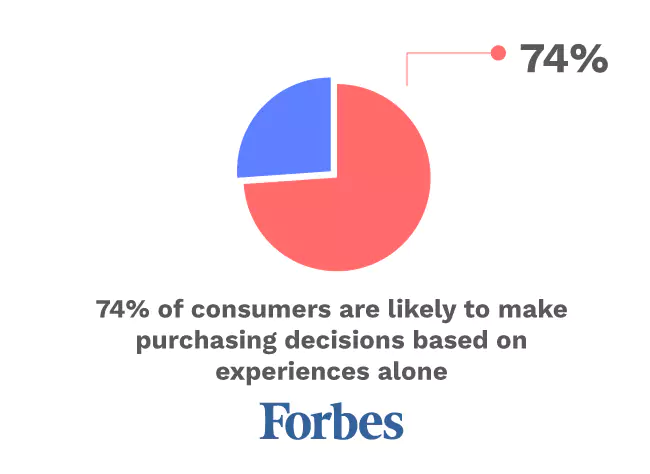 On top of that, Gartner reports: CX drives over two-thirds of customer loyalty. This represents more than brand and price combined. Companies need to invest heavily in making CX better.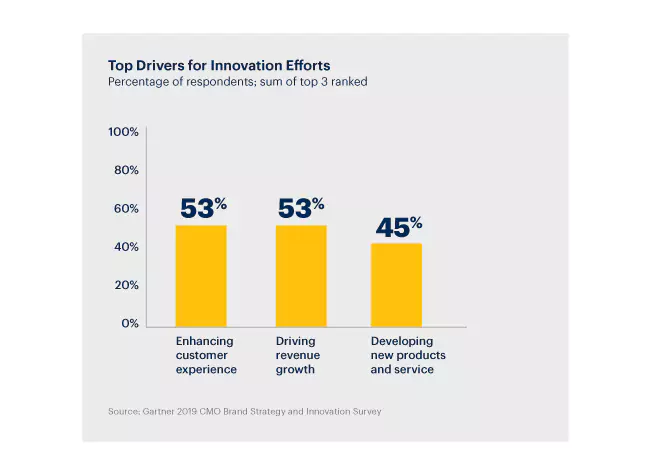 Gartner Brand Strategy and Innovation Survey
In conclusion, in today's hyper-competitive retail landscape, brands that prioritize customer experience are more likely to succeed and thrive. When you understand and anticipate your customer's needs and preferences, you can differentiate yourself from the competition and build stronger, more loyal customer relationships. Let's explore the future of retail and how you can focus on being more shopper-centric.
Current State of Retail
The current state of retail has intense competition, rising consumer expectations, changing consumer behavior, and an acute need for Omnichannel retailing and a clear understanding of needs and preferences. Retailers who adapt to these challenges are more likely to succeed and thrive in such a highly competitive environment. So what are some of the market highlights in this current state of retail?
Shifting consumer behavior is weighing heavily on retailers: Like you, all retailers are feeling the weight of shifting consumer behavior. The pandemic accelerated a trend that already had retailers offering fast, convenient services such as curbside pickup and same-day delivery, as well as fit prediction tools and flexible payment plans.
To meet consumers where they are, retailers expanded to metaverse storefronts and more. This increased customer acquisition and retention costs. According to Deloitte, acquisition costs rose by over 60% from 2013 to 2018. Retailers now need to do a balancing act between customer expectations and external investment pressures – it's an incredibly challenging situation.
As we have already mentioned, consumers have become significantly more price-conscious and more likely to shift from source to source. This swift shift is powered by peer recommendations and price comparison shopping. Now, couple this with two-thirds of surveyed executives expecting the price to be more important than brand or retailer loyalty – a potentially troubling predicament, especially when investors press retailers to push for more and more price increases.
The gap between spenders is widening: The distribution of wealth in the United States has changed significantly over the years. There's a widening income gap between those who can spend and those who cannot. This shift in wealth distribution has important implications for the retail landscape and marketing strategies.
In the past, the middle class made up a significant portion of the population, and retailers could rely on their spending power to drive sales. However, with the rise of income inequality, retailers now face a more divided consumer base. On one end of the spectrum, the wealthy continue to have significant purchasing power and are a crucial target for luxury brands and high-end retailers. On the other end, low-income consumers need help to make ends meet, and value-oriented retailers are targeting this segment with low-priced goods. The following is a graphic embodying what we are talking about:

The distribution of wealth in the US: Deloitte
Six Reasons Why Being Shopper-Centric is Absolutely Necessary
Being shopper-centric means putting the customer at the center of everything retailers do. It involves understanding customer needs and preferences and tailoring the shopping experience to meet those needs. Companies that have already embraced a shopper-centric approach are succeeding. The following is a detailed explanation of why being shopper-centric is crucial :
Increases profitability: According to a study by McKinsey, retailers that prioritize customer experience achieve higher revenue growth and generate more profits than their competitors. Ultimately, being shopper-centric can lead to increased profitability.
Boosts customer loyalty and retention: When you prioritize the needs and desires of customers you'll be able to offer a more personalized and more positive shopping experience. Ultimately, being shopper-centric also leads to enhanced customer loyalty and retention.
Increases customer satisfaction: Prioritize your customers' needs and wants. This significantly impacts customer satisfaction. Meet and exceed their expectations. Provide a more personalized and positive shopping experience. All of this ultimately increases customer satisfaction.
Allows for better data collection and analysis: Understand customer needs and preferences. Collect valuable data to enhance your marketing and merchandising strategies. This creates targeted and relevant promotions and product offerings.
Drives sales growth: By catering to customers' preferences and needs, you can drive sales growth. Such personalization leads to higher conversion rates, as customers are more likely to purchase products tailored to their interests and preferences.
Enhances brand image and reputation: When you prioritize customer needs and satisfaction you improve your brand image and reputation. Such a positive shopping experience leads to word-of-mouth recommendations and positive online reviews, which can, in turn, attract new customers.
Now that we have comprehended the significance of being shopper-centric and analyzed the current state of the retail landscape, it's time to delve deeper and explore the essential strategies to achieve shopper-centricity in retail.
Key Strategies for Shopper-Centric Retail
To become more shopper-centric, use these key strategies – personalize, use Omnichannel marketing, and provide shoppers with a frictionless shopping experience. When you implement these strategies successfully, you'll see a significant improvement in customer engagement and loyalty. Let's take a closer look at each of these strategies.
Personalize
To personalize, tailor the shopping experience to the individual customer. This way, you'll improve customer engagement and loyalty because you'll make your customers feel valued and understood. Netflix, Amazon, and Spotify. have mastered this art.
According to a McKinsey study, 76% of consumers say they're more likely to purchase from brands that personalize, and 78% say they're more likely to make repeated purchases and recommend these brands to others. Shoppers now expect brands to remember who they are, where they came from, and what they liked, regardless of what channel they came from.
Did you know? Netcore Cloud can help you personalize the shopper experience across the shopper lifecycle and virtually all channels, including app, web, search, and email. Here's precisely what Netcore can help you do now:
Create customizable email triggers: Send personalized bestseller emails, abandoned cart emails, abandoned browse, and out-of-stock emails with dynamic content and recommendations that convert.

Read about how Netcore helped everyone's favorite casual footwear retailer Croc's, enhance their CTR by 100% and increase their marketing ROI by 42X with the same functionalities.

Read the full case study here: Link

Tailor unique web/app experiences: With Netcore, you can now utilize push notifications, or make a strong first impression, or showcase products that are recommended for shoppers on a 1:1 basis on your ecommerce website or application.

Read about how Netcore helped fashion retail giant Vero Moda increase their marketing ROI by 18X and increase their add-to-cart rate on PLP by 159% utilizing these features.

Read the full case study now: Link

Showcase hyper-personalized search recommendations: With Netcore, you can tailor search results for individual shoppers to improve product discovery and increase engagement and conversions. You can even leverage AI models that can learn from 200+ real-time signals… to create personalized search experiences.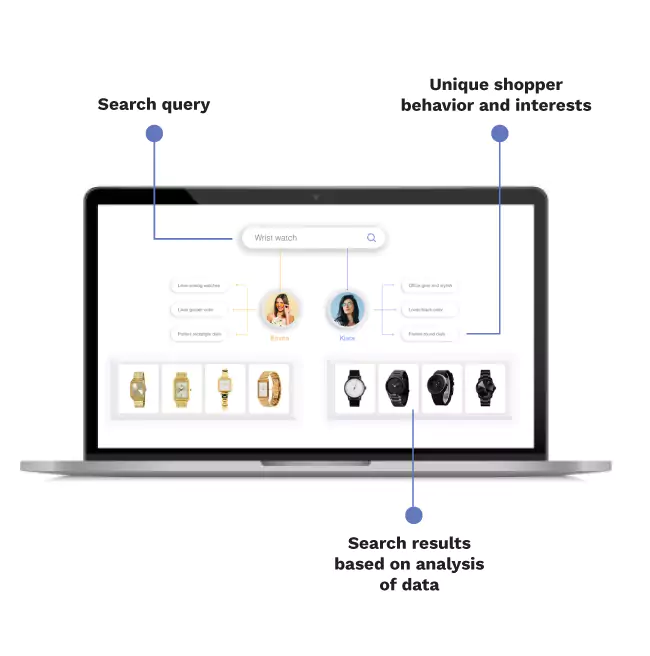 Jerome's Furniture, one of the largest furniture retailers from the US, utilized Netcore UNBXD's search to enhance their KPIs – a 67% increase in per session value, and a 25% increase in site search conversions, 20% increase in revenue from site search, and more!
Omnichannel Marketing
Omnichannel marketing involves creating a seamless shopping experience across all channels, including online and offline. Starbucks, Disney, and Sephora have implemented omnichannel strategies very successfully. According to some reports, brands that utilize an Omnichannel strategy are 300% more likely to see a significant rise in revenue in 2023. Moreover, McKinsey states, "Offering a compelling Omnichannel experience used to be the cutting edge of retail. It is now a requirement for survival." 
Here are a few reasons why going Omnichannel is critical for marketers and businesses worldwide:
Modern shopping is Omnichannel: Consumers can make online purchases anytime. Thanks to technological advances, they can add products on their phones and complete purchases on their laptops. Get this: the average person in North America will use almost 14 devices in 2023.
Blurs the line between online and offline: Omnichannel stores can promote their products and attach a reward system, which, till now, was only available through specific channels like brick-and-mortar stores. This capitalizes on the users' desire for value and also makes the rewards system available across multiple channels.
Gives marketers actionable insights: The days of manually analyzing a single channel's performance are long gone. Omnichannel marketing campaigns primarily use advanced data and analytics tools to provide a 360-degree view of campaign performance and user activity. With these tools, you can create and modify highly interactive marketing campaigns to increase sales.
Omnichannel is cost-effective: You need dependable data to implement an Omnichannel marketing strategy correctly. The data takes the guesswork out of your content placement strategies and reduces acquisition costs. You can now cost-effectively continue meaningful conversations with your existing customers on the customers' preferred channels. This improves retention and increases long-term brand advocacy.
In-Channel Conversions
In-Channel conversions refer to when consumers complete a purchase within the same channel where they initially discovered a product or service. For example, if a customer finds a product on email and makes the purchase directly through the same without being redirected to an external website, this would be considered an in-channel conversion. The following are a few examples of where in-channel conversions can be achieved:
1. AMP for Email
With Accelerated Mobile Pages (AMP), you can help shoppers search, add products to their cart, select options, and complete purchases, without any external landing pages or complicated redirects. This leads to a frictionless shopping experience and enhances sales during the back-to-school shopping season.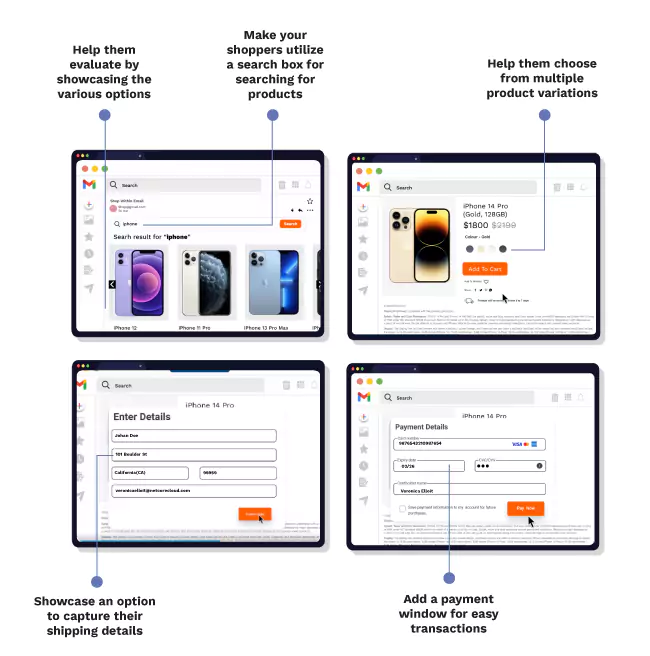 2. WhatsApp
Use WhatsApp's messaging platform to communicate directly and conveniently and to make the whole experience a very personalized one. There's so much you can do with WhatsApp. For example, you can use it to offer product recommendations, to get shoppers to ask whether that particular product is available and at what price, and even to actually complete the ecommerce purchase transaction. In the hands of a skilled marketer, WhatsApp can be very versatile.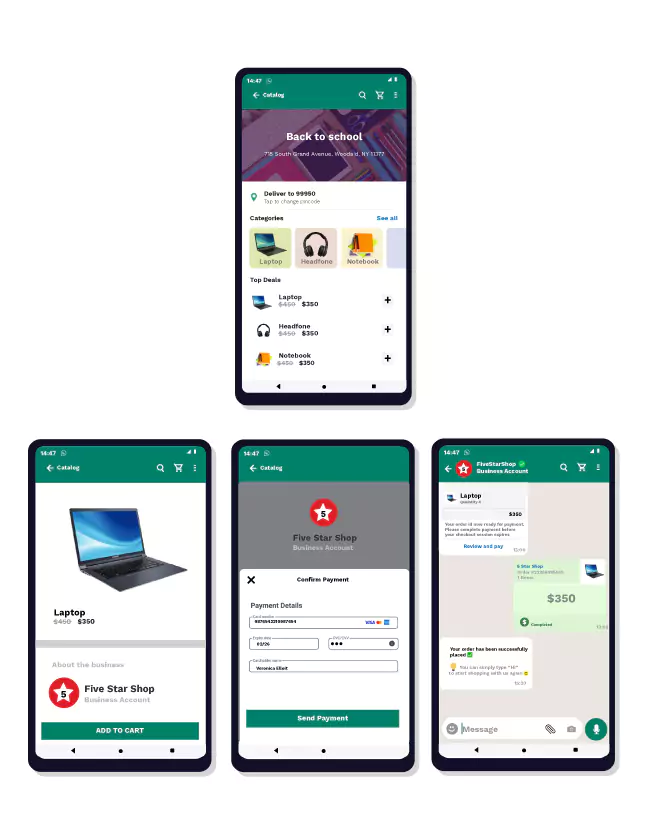 Conclusion
As the retail industry evolves, voice commerce and social commerce are the emerging trends that are shaping its future. With voice assistants such as Amazon's Alexa and Apple's Siri, customers now do 'hands-free' shopping. Retailers now use Social Media platforms such as Facebook and Instagram to reach their target audience directly. To succeed in such a severely competitive landscape, invest in exceptional customer service. Train and empower your employees to leverage new technologies such as chatbots and virtual assistants. Ultimately, being shopper-centric is critical for success. Personalization, Omnichannel marketing, and in-channel conversions can achieve this success.
For further knowledge on lifecycle marketing strategies, download our Solutions Guide. It's a valuable resource for a shopper-focused lifecycle approach; it will help increase product discovery and boost conversions.