In the time of artificial intelligence and personalization, sending a generic email to your customers and hoping that they find your content useful would be a shot in the dark. Your email marketing ROI can't depend on such risky assumptions.
Along with providing an end-to-end personalized shopping experience to their customers, the most progressive ecommerce brands and online retailers have now adopted hyper-personalization for their email marketing strategy to stay relevant to their customers. And of course to win their loyalty too.
By personalizing their customers' email experience they are making sure that their customers continue to open their emails and engage with their brand in the coming future. We have gathered some of the most clever email examples or techniques from the brands who have nailed email personalization like a boss.
1. Tell a personalized story as EasyJet did
Everyone loves to hear stories and nobody knows it better than EasyJet. It's a British low-cost airline which celebrated its 20th birthday by sharing their customers' personalized travel stories with them.
Each customer received an email that highlighted the trips they had taken with easyJet in the last 20 years. They used dynamic content, links, and images in the email to tell a personal story.
This is one of the most innovative and creative personalization-led campaigns I have ever come across. Let's take a look at the email which one of their customers had received on their 20th anniversary. That's a great example of using customer data to tell them their own story.
2. Make cart-based recommendations
Now, this is the lowest hanging fruit and every e-commerce email marketer should make the most of it. According to Moosend,
45% of all cart abandonment emails are opened
21% of all cart abandonment emails are clicked
50% of those clicks lead to a recovered purchase back on site
Give a tempting offer on the product in the cart and make your copy as creative and crisp as possible.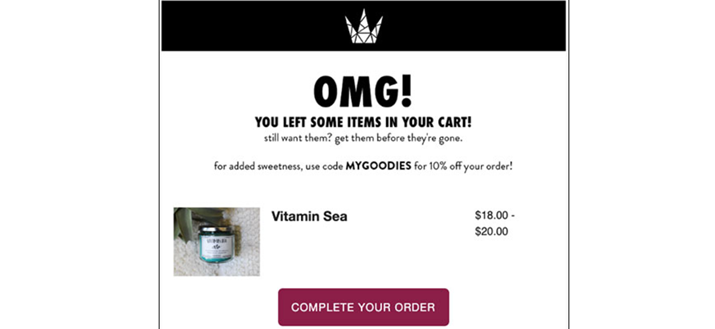 Create a sense of urgency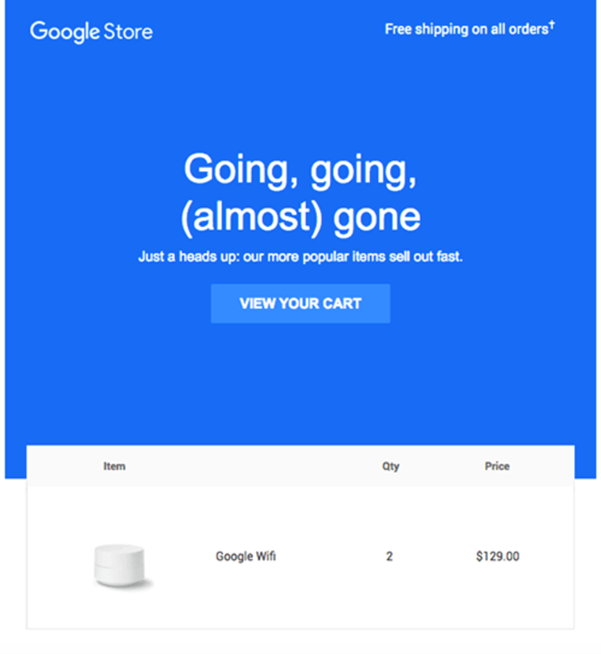 Offer alternatives or similar items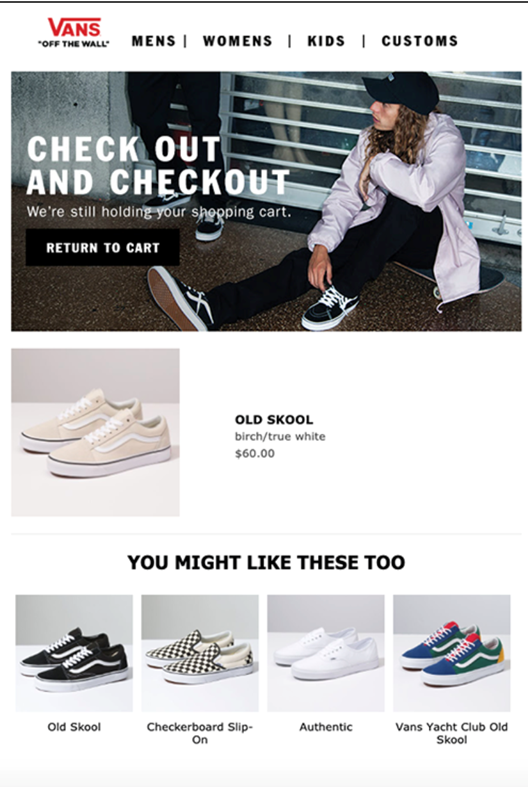 3. Maximize relevance with Personalized images like Monica Vinader
Monica Vinader, the famous British jewelry brand, goes beyond personalizing the subject line and the email copy. They personalized the images in the email with their subscribers' initial. The jewelry pieces shown in the image had their customers' initial on them. This can easily be done by leveraging the first name data of users but hats off to the wonderful idea and creativity. And the subject line which was used with the email was "This season it's personal". Such hyper-personalized emails can take your email personalization game to another level.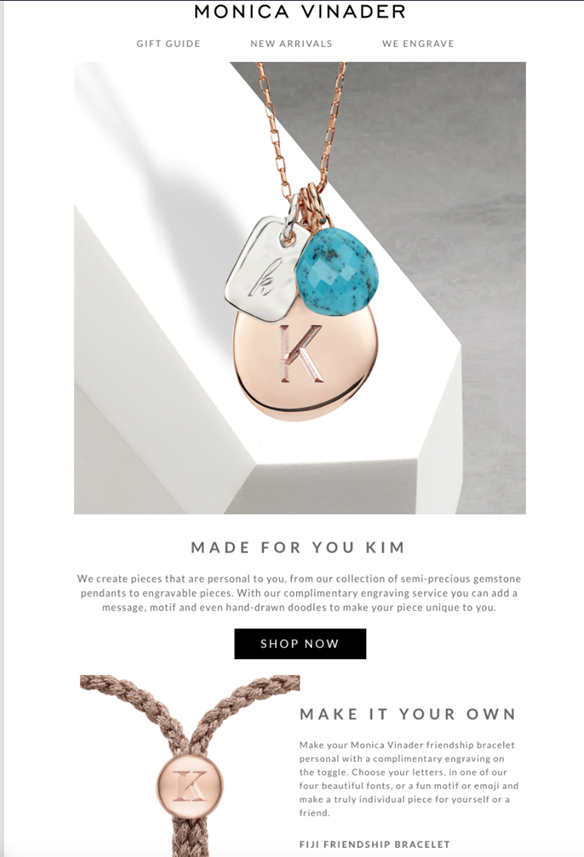 4. Stir a sense of nostalgia like Spotify
Spotify is known for providing customized music listening experience to its customers based on their preferences. But do you know they also create a time capsule music collection for its listeners? This collection typically has tracks from a person's teen years, when music makes an indelible mark on a person's life.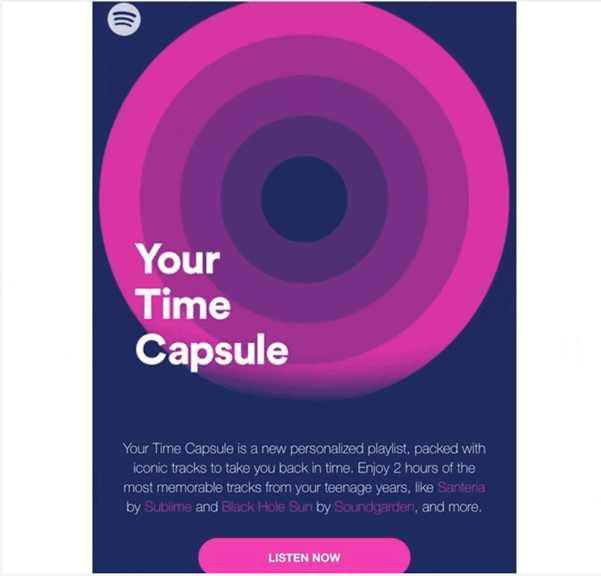 I would say Spotify has set quite a benchmark with this level of personalization. It's an incredible idea not only to just get your customers' attention but also to touch their hearts. When your customers relate to your content, they are more likely to engage with future content and buy your products and services. If you create nostalgic email content that evokes a warm and fuzzy feeling, your customers can't resist it, and they will stay tuned to you.
5. Personalized discounts on birthdays
Quick Fact!
Research by Experian found that birthday emails have a 481% higher transaction rate and 342% higher revenue rate compared to other promotional emails.
As simple as it may sound, there can't be anything more personalized than sending a gift to your customers on their birthday. Offering a discount as a birthday present is always more special than a general discount coupon. And Kiehl's knows how to do that pretty well. Not just Kiehl's, a lot of other online brands are giving away enticing birthday discounts and making the most of it.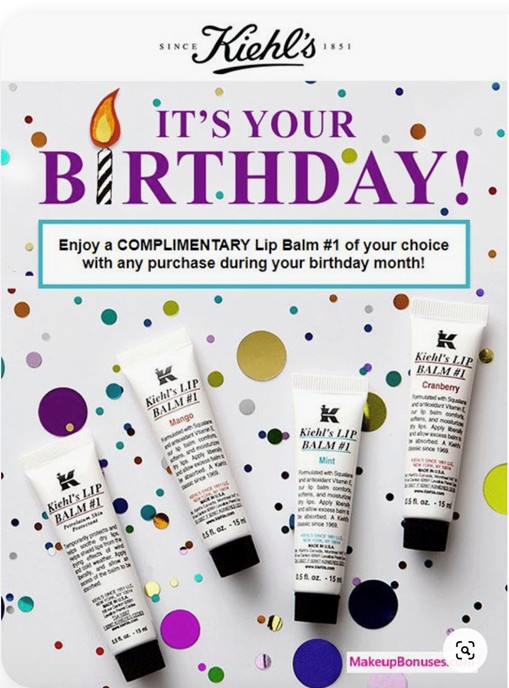 Image source – makeupbonuses.com
P.S – I feel that brands can even send a personalized email which consists OF a higher or better discount on something their customers are really interested in. For example, offering a 20% discount on everything on birthdays is pretty great but how about a little extra discount on a product which is in the customers' cart. Maybe 30%? I couldn't find a similar example anywhere but as a customer, I would love it! Wouldn't you?
6. Personalized emails based on customer behavior
Another clever way to send personalized emails is to trigger emails based on your customers' actions or behavior. A trigger-based email is an email that hits your customer's inbox when they take a specific action. There is ample number of trigger-based events that you can use to your advantage. And also, there are quite a lot of creative ways to trigger emails. For example, you can trigger an email when someone
Views a specific product
Abandons a shopping cart
Signs up for your mailing list
Doesn't log in for a long time
Here's is one such clever example of a trigger-based email from Black Milk Clothing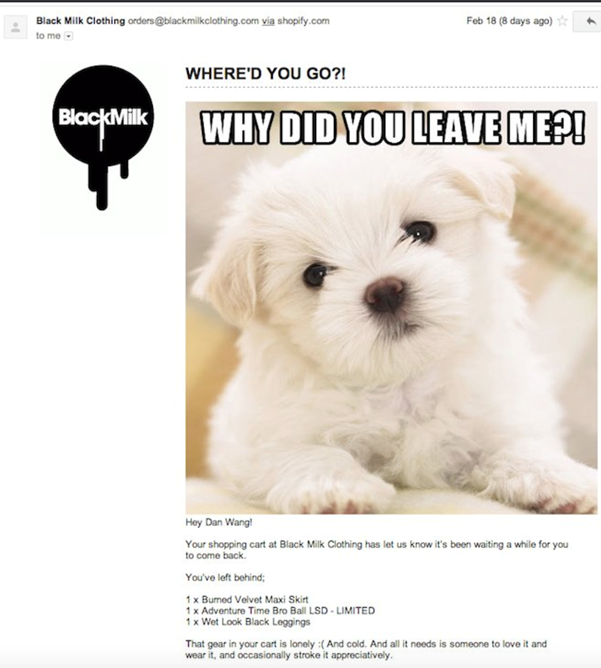 This is not only a great example of a personalized email but also a strategic email where a cute dog's picture with a mushy text is used to add a little more persuasion.
7. Reminder email – what your customers have checked out
Your customers are most likely to appreciate it if you remind them what they have been checking out on your website. However, it's always better to give your customers a breather between their visit to your website and an email about what they have been checking out on your website. I came across this website called Society6 that sells art pieces from various artists.
I loved their subtle and impactful personalization technique. They send a certain set of art pieces that their customers might have checked out or might have added to their gallery wall in the last couple of weeks. The best part is each image of each art piece is linked to the exact art piece shown in the email, and not the homepage. It's a great way to remind your customers what they have been checking out or if they still want it.
Parting thoughts
So before we wrap up, here are some quick important facts about email personalization worth knowing
The meticulous personalization examples and the stats above more or less conclude that email personalization is imperative. However, it's incomplete without website personalization. It's difficult to fully understand customer behavior and create highly-targeted segments without implementing personalization across the website. The real-time insight that personalization offers about customer behavior has everything to do with email personalization. So having a powerful personalization strategy in place is now more important than ever.