Zoom, Slack, DropBox, SurveyMonkey – what do these incredible brands have in common? Well, all four of them rely on the efficiency of their products to attract active users who then become loyal and paying customers. This strategy is termed Product-Led growth (PLG).
How does product experience influence PLG?
Today, most customers like to learn and navigate the app on their own. They prefer to research and self-educate themselves about the products. In this scenario, lengthy sales-like product calls are swapped with direct exposure to the product. Hence, product experience has rightly become an essential part of PLG.
However, your app needs to be competent enough to deliver a seamless user experience without undermining the mental agency of the consumer.
An all-encompassing product experience entails guiding your users through the app to the sections that tend to retain users and walking them through with strategic nudges that match the user's journey. You then boost the adoption of new features and ensure hyper-personalization based on data and analytics. And finally, understanding the impact of nudges on user metrics and running rapid experiments to identify the best user experience.
Once the customer is hooked with the product experience, they will return for more and bring in more potential customers through word-of-mouth marketing. And that's where you begin building your subscription-based business model welcoming active, freemium, and premium customers.
In the PLG strategy, you focus on the end-user instead of the ROI. You intently listen to the user and welcome hyper-personalization at scale, all the while building a culture of quick and continuous improvement. As you focus on product experience, you put forth your product as an acquisition, conversion, and retention driver, plus deliver value before capturing the returns (that's being customer-obsessed instead of sales obsessed).
How do you implement PLG?
You do this by investing in product data to leverage (track, measure, and analyze) user behavior and building a product that distributes and markets itself while capturing value—all the while running rapid experiments that lead to continuous improvements.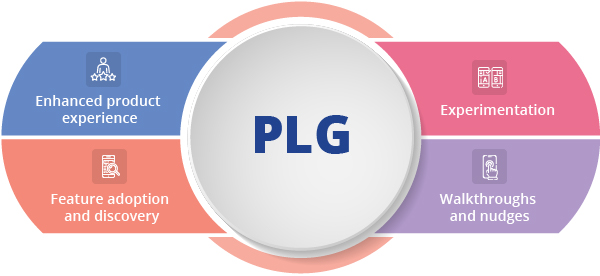 PLG is known to fuel the fastest-growing businesses. Zoom's rapid expansion is a stellar example of PLG. The company solely focussed on its end-user (via product experience) to drive acquisition, adoption, conversion, revenue at an unmatched pace. With a 39.8% share in the video conferencing market, it's leveraging PLG strategy the right way that helped Zoom compete against Google, Microsoft, and Adobe.
What's the key, you ask? The frictionless product experience – the ease with which you click on the link, type in your code, and get free 40 minutes of video conferencing. Why wouldn't someone who's navigating the challenging newness of WFH tech not recommend the ease of Zoom? When you focus on the product experience, your product markets itself, and your customers bring in new customers – that's how you build a product-led business.
Understanding PLG for mobile apps
The first step in achieving product-led growth is identifying and understanding the growth metrics, measuring them right, and finally maximizing them.
Speaking of mobile apps, know that the download numbers don't reveal the complete picture as within 72 hours of install, on average, 77% of the daily active users are lost. Statistics show that apps witness 75% uninstalls on Day 0.
What are the indicators of growth?
The number of retained users that keep coming back to your app
The number of freemium to premium conversions
The degree of monetization of your app (your active paying customers)
The number of referrals your app earns – that's your existing customers bringing in new customers
The number of users who discovered and activated a feature, the time taken to do both, and the repetition of the same (feature adoption)
Enhanced product experience to achieve PLG
Here are a few points that can be put to practice, to improve the product experience of your app, and hence boost PLG.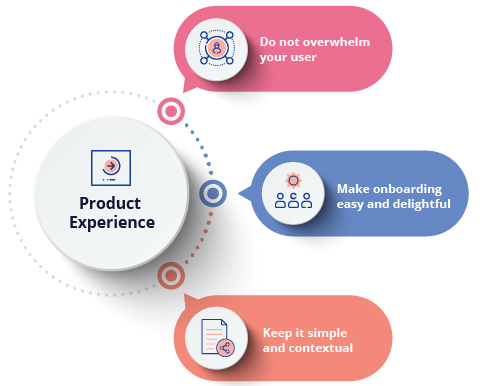 Around 75% of the users uninstall their apps within the first week itself. This stat helps us identify your first hurdle- the customer onboarding process. When your customer is exposed to your app, they immediately start evaluating based on the first impressions of the user experience. If they are dissatisfied, they will uninstall the app right away. Therefore, first, you must understand that there is much more to the onboarding process than just activating the user account through the confirmation email.
Yes, the only goal of your onboarding process should be user activation (when the customers start using your products to get things done), but you must understand that user activation is not a one-time thing. For example, Zerodha doesn't complete its user activation process once the customer opens its account. Instead, their user activation process is complete only when the user places their first order.
Here are few things you can do to create a better onboarding process for your potential customer –
Do not overwhelm your customer with hundreds of choices when they initially start using your product. Try to limit their choices to only a few of your best things. For this, send strategic nudges to lead users to the most critical sections that tend to retain users on Day 0. Netflix uses this technique by providing a top ten list on the home page.
You can also make the onboarding process easier by reducing the time taken by the user to perform the critical task. Use soft nudges and walkthroughs to guide the users in the right direction.
Do not overwhelm your customers by exposing them to the complex functions of your apps from the get-go. Use the progressive disclosure technique to get your users acquainted with your app's interface and slowly lead them onto the more complicated features. Tinder uses this technique while onboarding new users.
Refer to our existing blog for a deep dive into effective onboarding.
Simplified feature discovery and adoption
To begin with, feature discovery is a way of alerting your user to a specific feature or to a feature that would be beneficial to them. This sounds simple, yet most SaaS companies overlook this while rolling out new features in their apps. You can use feature discovery to promote a function of your app that is underused and needs more engagement. Because it can be a punch in the gut when you release a new feature and it goes under the radar.
Feature discovery can be broken down into two parts. First, it makes the user aware of the existence of the feature. Followed by that, it displays how it can benefit the user. Understand that showing all the features on the home screen is not the solution. Hence, smart walkthroughs to contextually guide the users based on their user journey are the key.
Instagram is well-versed in using this feature. When they released their reel feature for the first time, they used highlighted stories to let users know about the feature, followed by the benefits of posting a reel. This highlighted story led to a higher rate of feature adoption.
Feature adoption is a product management metric that shows how many users are currently interacting with any particular feature of your application. As you may have already experienced, reels have entirely taken over our Instagram feed and are now one of the app's most used features.
Are you looking to boost your app's feature adoption? Here's how you can. Feature flags are another quick fix to increase your feature adoption.
Feature flags make feature discovery and adoption way easier! Feature flags or feature toggles allow you to switch off and switch on the feature according to your needs. The lack of deployment of code also makes it easier to operate and measure their accessibility. Using the feature flag technique, you can also release the new features to a limited number of users before exposing them to your entire customer base. Essentially, you can fine-tune your user experience to suit the masses.
Intensive experimentation
PLG would not be possible without intensive experimentation with the user experience and finally providing the highest results. Experimentation allows you to create different product experiences for different groups of people based on their user journey and figure out what works best. You can then select the preferred one to enhance the user experience of the rest of your database. This eliminates the guesswork from your decision-making process.
A/B testing or split testing is one of the more essential elements of product experience experimentation. A/B testing allows you to make two versions of your apps available to different user segments. You can make more than two variables available to your segmented users.
You will need to continuously test the effectiveness and make the required changes to keep it functional. While conducting the A/B testing rounds, you should do so with a generous sample size. It will make the decision-making process more manageable. Finally, you should only test a few variables at times. Using too many variables, and giving too little time to sample users, will provide inaccurate results. Using the feature flag feature will come in handy here as you easily toggle between the features and measure the metrics.
Brands can experiment with various product experience elements to deliver a winning experience. Right from the layouts, features, onboarding flows, the home screen of your app to the payment gateway page, and the color of the CTA – leave nothing to guesswork. Flowchart-based A/B testing will also help you map and test every use case across a user's journey in the app. Testing for each segment will enable you to deliver the best experiences.
Effective nudges and walkthroughs
As mentioned earlier, users prefer to learn to use the app independently compared to a salesperson guiding them. The customer might find it challenging to understand the more complex aspects of your app. Hence, you should leave no stone unturned while creating the walkthrough for your apps during the onboarding process.
Walkthroughs essentially allow you to provide a hand-holding guidance approach for your new customers. For the walkthrough to be effective, it needs to be interactive while addressing all the concerns of your users. While doing so, remember onboarding is a great time to value-sell your features – as you walk learners through specific features, rope in your USPs as well.
The walkthrough during the onboarding process encourages the user to explore the app more so that the user extensively accepts the app in their daily lives. Similarly, you can use nudges in conjunction with the walkthrough process to prompt customers to use the app's new and underused features.
Nudges ensure smoother onboarding and faster activations as you walk your customers to the sections that tend to retain users as per data and analytics and prove to be more beneficial to the user. As you contextually guide the users to new and underused features, keeping their user journey in focus, you'll also experience a boost in feature adoption. Note that contextual guidance through the critical decision-making stages when the intent is significantly high is known to enhance retention (right nudges at the right time) rates.
For instance, when you install FITTR, you will notice that they use nudges in their walkthrough process. In its walkthrough process, they highlight the things which the user needs to do first. They then continue the walkthrough by highlighting other essential features such as their notification button, the discovery page, and workout plans. At the end of their walkthrough, they highlight the tools which are comparatively more difficult to handle.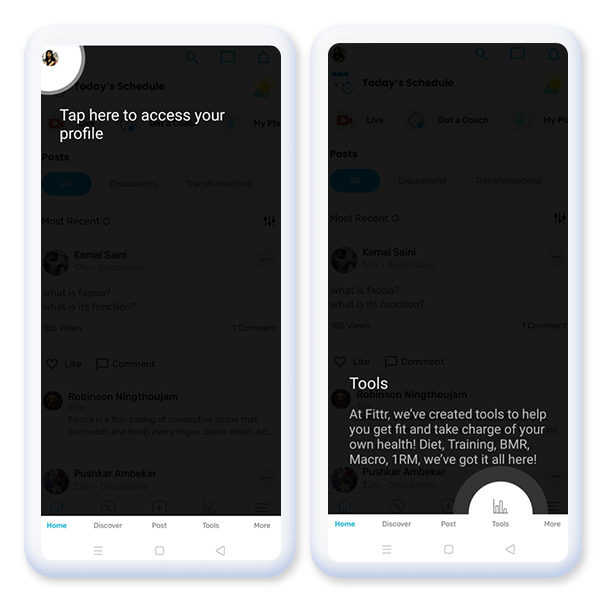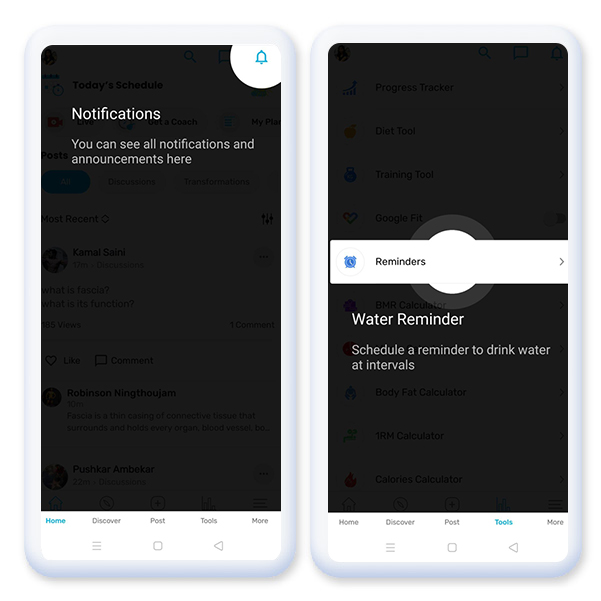 You can't measure growth without appropriate analytic tools and data. PLG strategy heavily relies on creating the best possible product experience for your users. This can only be possible through the insights collected from analyzing the data.
You cannot rely on guesswork to ensure maximum conversions and retention. Tools like Raman AI Engine help you understand WHAT'S happening, WHY it's happening, and WHAT to do next.
Free trial conversion rate, churn rate, activation rate, user path analysis, behavioral analysis, and daily user metrics are some of the more critical data needed for creating a compelling user experience. Engagement rate with the underused feature of the application also allows you to promote it through push notifications. Based on your finding of product experience, you will be able to create a winning PLG strategy.
Change the game by digging deeper into churn prediction and knowing the WHY behind falling Daily Active Users and decreasing app installs.
Parting thoughts
For scaling app growth using a product-led approach, it's critical to have the right tools to drive a superior product experience. And, delivering the right value to the right users at the right time is the secret weapon to win the product experience game! Netcore's No-code Product Experience platform helps you formulate a winning growth strategy by deploying no-code contextual nudges & walkthroughs that help create a seamless experience from user acquisition to user retention. To know more about our no-code platform, connect with us now!