When Google launched Accelerated Mobile Pages (AMP) powered emails in 2019, the email industry got a huge jumpstart! AMP for emails has revolutionized email marketing.
Let's dive into understanding how AMP-powered emails can impact the deliverability of your email campaigns and your email marketing strategy.
What is AMP Technology ?
AMP is a technology to create faster and more interactive web pages on mobile devices. AMP for email, an expansion of the AMP project, supports useful, interactive, and dynamic content within emails to provide a compelling experience.
AMP for emails allows rich, engaging emails, making an app-like functionality available within the email.
Index:
The history behind AMP for emails
Eights benefits of sending AMP-enabled emails
Two AMP email examples
How to send AMP-powered email campaigns
The history behind AMP for emails
Web technologies have significantly evolved in the last two decades. Communication channels like app push notifications and web push notifications have become popular in marketing channels. Email design, on the other hand, has crept behind at a sluggish pace.
The developers who design beautiful templates for email campaigns have been doing it the old-fashioned way since its inception. GIFs, videos in email, and other techniques to get engaging content within the email have evolved only in the last five years.
How will AMP change the way users interact with emails?
Currently, most promotional email campaigns follow a path like this one :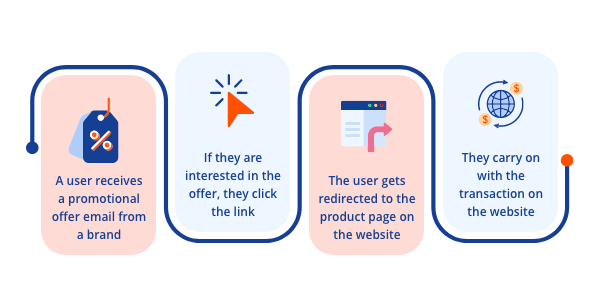 The problem with regular emails
The chances of the user clicking the link and continuing with the transaction on the website are not high, thanks to the short attention spans.
With AMP for emails, there is a change in the way users engage with brands, as all the interactions happen within the email.
Here's an AMP email example:
You just used a travel portal for making your hotel booking. The portal sends you an email asking for a feedback survey. With AMP-powered emails, you can fill out the survey within your email instead of getting redirected to the travel site.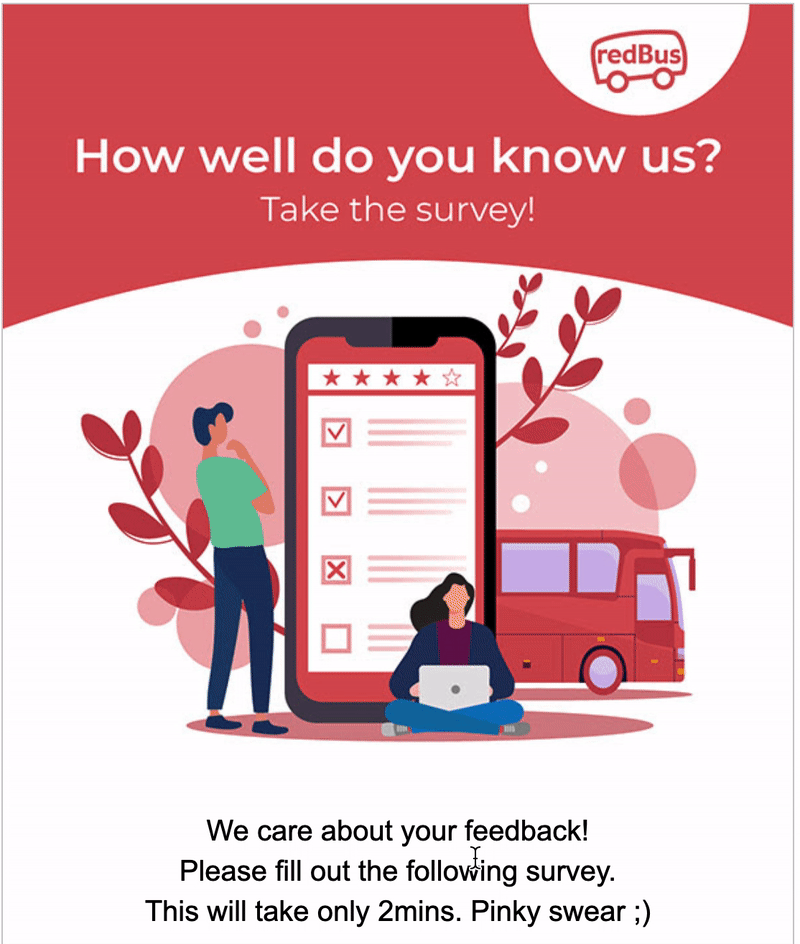 Here's what your users would be able to do with AMP-powered emails:
Scroll through multiple images in carousels
Add items to the shopping cart
Fill up a form or a questionnaire
Open a product card, choose, and buy
Participate in surveys or polls
Make comments or reply to them
The benefits of sending AMP-enabled emails
1. Better engaging emails
Until now, the content of emails has stayed static. Changes like introducing GIFs or videos inside the content have been limited. AMP raises the bar in terms of the aesthetic value of the email. Brands must feature more dynamic and visually actionable content to tempt users to engage.
2. Improved security of user data
There are no third-party ad features included inside the AMP emails; it helps ensure the safety and security of the user data. Browsing the AMP email will be safe without any privacy breaches or safety concerns.
3. Increased time spent on email
The more time users spend browsing and interacting with your email, the higher the chances of responding to the offer. This will, in turn, help you achieve your conversion goals and brand engagement.
4. Dynamic and up-to-date automated content
With instant call-to-actions (CTAs) now feasible on AMP, you can get more creative with email triggers that fit your users as per their lifecycle stage. For example, AMP emails can help reduce cart abandonment activity by nudging users to transact from their email.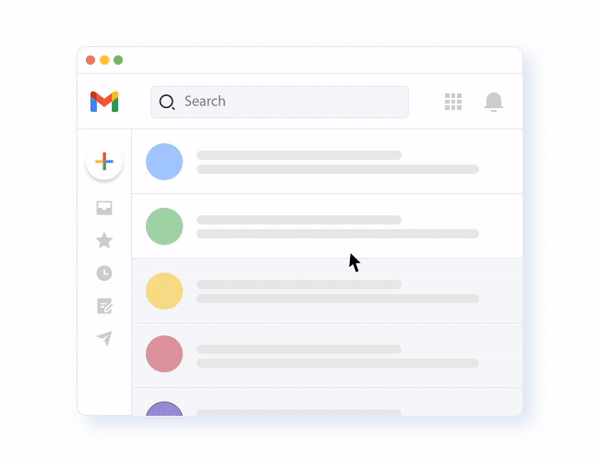 5. Better customer experience
When the web page content is dynamic and interactive, it can encourage users to act. The improved user experience would lead to better brand affinity. Also, AMP for email reduces the number of steps as the users do not need to visit your website or app for transactions or signups; users can perform all actions quickly within the email.
After implementing AMP, YourStory, a renowned media platform that reports about India's startups and entrepreneurs, reached an impressive milestone: 5.5X uplift in registrations of an event, an 85% contribution to the overall registrations.
You can read more success stories here.
6. Hyper-personalization of content
AMP for email helps meet users' choices within the email: subscribing to a service, agreeing to be a part of an event, choosing a product from catalogs, transacting to secure the delivery, and more. Email marketers can also design more personalized creatives with AMP, where users can get everything done easily and quickly.
7. Drive higher ROI
AMP is a huge leap for email marketers looking to create attractive email designs to wow their customers. AMP email replaces static pages for emails and web pages with useful and actionable content, which will amplify the experience offered. It will also prompt email marketers to design more appealing and business-wise emails that help drive the brand's popularity and ROIs.
8. Better email deliverability and inboxing
Apart from domain and IP reputation, sending the relevant content at the perfect time plays a significant role in inboxing. If the engagement quotient of your emails is high, which is true for the interactive content and components in AMP emails, the deliverability rises automatically. Also, AMP emails require all authentication settings to be passed and therefore are high on compliance from all ISPs.
Some examples of AMP emails
Here are a few AMP email examples of how brands have developed new customer experiences.
Booking.com: Search and find your choice of top hotels from a catalog on Booking.com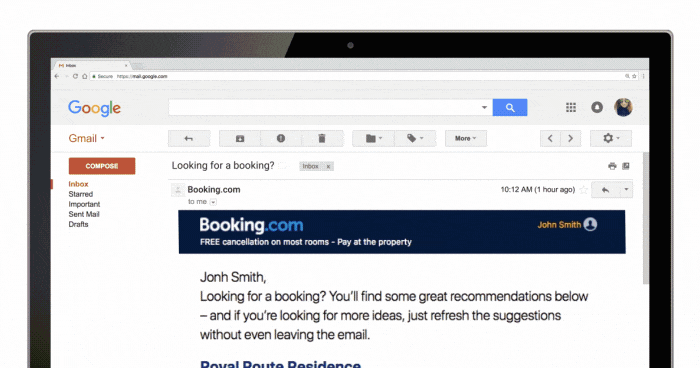 Doodle: Share your availability with others on Doodle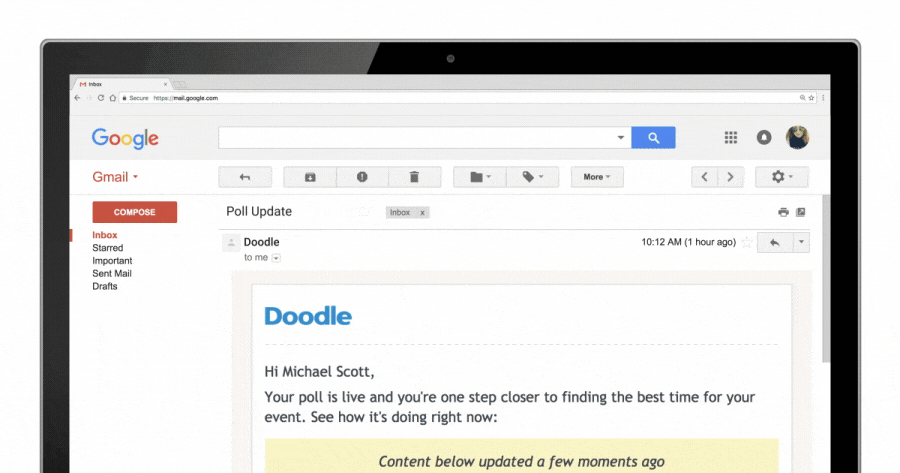 The prerequisites to send AMP-powered email campaigns
1. AMP works if the webpage content sent across email is created with an additional MIME type HTML format – text-x-amp HTML. This format will be required to create engaging, interactive, and actionable email experiences.
2. To send AMP-powered emails, you must get your domain whitelisted with Gmail. Also, you can send the emails through supported ESPs only as they have to process the emails in the new HTML format at the time of email generation.
3. For sending AMP emails to your users, your settings need to be proper:
Your emails should pass SPF, DKIM, and DMARC authentication.
Your email settings need to have a dedicated envelope.
Your sending domain reputation with Gmail should preferably be medium to high.
So, are you looking to implement interactive emails?
Netcore Cloud's AMP-powered email campaign can uplift your email program and boost your ROI. Our email wizards can help you assess, analyze, strategize, and achieve email marketing goals. Connect with us to understand how you can benefit from our expertise and experience in implementing AMP for email – we send over 17 billion emails a month to businesses across 18 countries.