We know that e-mail serves your customers reliably, cheaply, and directly. E-mail marketing has been around for decades and may easily increase your customer commitment, convert and create a loyal customer base.
In this guide, we describe the different kinds of email solutions that companies can use to start their email marketing.
Let us examine the advantages and disadvantages of employing the cloud model against the on-premise model and help you assess essential elements in order to guarantee the best selection.
A few months back, a friend of mine who owns a Saas company, wanted my opinion on ways to set up his email marketing software. His company was growing so was his user base and he wanted to start sending email newsletters to them. He was inclined to develop the email infrastructure in-house.

We discussed the upfront costs, technology, and expertise required for someone to set up their email marketing infrastructure. Our discussion soon turned to on-premises vs cloud or SaaS (Software as a Service) solutions. After a few days of giving it a thought, he opted for the in-house solution.

In a few months, I decided to check in on his email marketing program.

What I saw was a distraught figure. He looked overworked, sleepless, and low on enthusiasm for his business success. He had miscalculated the security threats and maintenance required to keep the email servers running for up-time.

Their email servers and solution were hacked multiple times by intruders as security was not top-tier. This had cost the company in customer relationships. On top of that, their servers simply didn't have the bandwidth to handle the increased volumes, resulting in severe downtime and revenue loss. These are the kind of serious issues I have seen business owners get into over their email marketing deployment.,

We know that email is a reliable, cheap, and direct marketing channel to reach your customers. Email marketing has survived for decades and when done efficiently can boost your customer engagement, conversions and build a loyal customer base.

We offered to consult my friend on their email problem and in the process learned some lessons on on-premises/in-house and cloud solutions. We believe that the benefits of a cloud solution outweigh those of building an on-premise infrastructure.

In this post, we lay out the various types of email solutions that are available to businesses when starting their email marketing. We also provide recommendations for marketers and business owners who wish to dabble into these solutions.

Let's have an in-depth look into the pros and cons of using one model over another and help you to evaluate important factors to ensure the best decision.

There are primarily three types of email marketing deployment models:
On-cloud or SaaS email solution
On-cloud email marketing solutions are cloud software entirely available on the web. These are provided by ESPs (Email service providers) that have cloud technology for accessing their applications. You have to pay a subscription fee to the marketing service according to the plans based on email volume. The email delivery is also taken care of by the ESPs with a similar cloud infrastructure for MTAs (Mail transfer agent).
On-premise or in-house solution
On-premises solution is a model where the email software is bought from the ESP to be installed on the company premises. On-premises solutions have a built-in email server infrastructure that uses tools like Postfix, Sendmail, EXIM to deliver the emails.
In-house email solutions are completely developed within the company. The tools for sending emails along with the mail servers to deliver them are developed by the business itself.

Hybrid MTA solution
This is a combined solution where the marketing software is installed on-premises but the email delivery is done through the ESP cloud MTAs. The hybrid solution is adopted by companies who wish to have full control over their marketing application and its security but lack the server infrastructure to deliver the emails. Financial institutions and other security cautious companies opt for this solution since their customer data remains with their application protected with firewalls.
Features of on-premise deployment
1. Complete internal control
Your customer data, server infrastructure, and software platform are all under your control. The on-premises software can be maintained by your IT staff. You can decide on the software upgrades, security of your customer data, and hardware configurations. But if your solution is deployed on-premises from an ESP then, they can charge you an extra fee every time they upgrade the software. Hence, it could end up costing you both time and money.

Some companies like banks, fintech brands maintain sensitive data like customer healthcare records or credit card account details. As such if the customer policies demand that you retain complete control of your data, an on-premise solution should be preferred. You will be safer with the notion that the customer data sits behind an internal firewall allowing you to put disaster recovery, troubleshooting into place.
2. Adaptable integration and compliance
Good on-premises software can be easily integrated into your organization's infrastructure. They are generally able to work on all operating systems and offer a variety of delivery models. They work on dedicated servers as well as virtual environments. They are made adaptable to integrate quicker with your CRM system.

When it comes to email marketing, there are several anti-spam, privacy laws from certain regions like CCPA, GDPR, CASL that need to be complied with before sending emails to consumers in those regions. With an in-house solution, it becomes easier to host the data locally in your servers complying with the laws.

3. Low total cost of ownership
On-premise solutions come with a low start-up cost as there is no need to buy email hardware. You only have to pay the platform subscription fees along with any up-gradation fee if required. With a solid email program, one can cover these costs during the first year of ownership itself.

Once you pay the platform fee, you own the marketing solution on your premises. You can pay the email volume fee according to the ESPs flexible plans which makes it cost-effective. The drawback of In-house solutions is that the company builds the hardware as well which leads to an increase in expenditure. On-premises solutions are thus preferred by high volume senders that expect to grow their list by thousands each month.
Drawbacks of on-premise/in-house solution
If you decide to build and install an email marketing solution on your office premises, here are some challenges you might face:
1. Large upfront cost
– Requires large capital expenditure for up-front purchasing. You would also spend considerably on software and hardware maintenance. This type of solution will not be worth it if you are a low-volume sender.

– With an on-premise option, data backups and disaster recovery solutions have to be created in-house. These would cost your organization technical resources and additional staffing.

– Downtimes will cost heavily, along with revenue loss. Implementation time for software/hardware upgrades will affect your business time.

2. Lack of required features
– Building every new generation email marketing feature in-house is like making an internal roadmap for items that are not your core product offering. A lot of great marketing ideas might take a backseat because of the lack of required features in the in-house tool.

– If you're using an in-house version of a third-party email marketing software, then you have to rely on them for new software upgrades.

– There can be cases where it is impossible to offer every new feature in an in-house version. AI in email is a good example, where a lot of processing requires association with other technology providers.

– Marketing expertise is required to use these tools; you would need customer success staffing, and it comes expensive.
3. Absence of email consulting and expertise
– An on-premise solution will generally lack deliverability expertise. In that case, you might have to hire external consultants or deliverability experts just for your email program. That could result in overheads.

– If you don't consider deliverability consulting, you may end up sending emails that are increasingly landing in spam or generating lower engagement rates. The more your emails will land in spam, the more you will lose on a potential business opportunity.
– If you have poor deliverability and you continue to email your audience, it could get your delivery IPs and domain blocklisted, leading to a shut-down of your email program.
4. Lack of clarity of performance metrics
– On-premises solutions are built in-house; the absence of detailed reporting dashboards would leave a marketer in the dark about how their program is performing.
– On-premise solutions lack the clarity required to inform a marketer of their email campaigns. Results could be long-term issues like customer churn, IP blocking, a rise in inactive subscribers, bad list hygiene, and more.
– Without any advanced filtering of data, a marketer is left to guess the performance of their email program and deliverability, which could be unreliable.
– Basic metrics provided by on-premise solutions usually include opens, clicks, and unsubscribes; such rudimentary data is not enough to determine future email strategies.
– You will require the insights of advanced metrics like feedback loops, abuse complaints, sender reputation, DMARC reports, and more.
5. Missing intelligent insights
– On-premise solutions might lack such AI/ML features resulting in mediocre email performance. Our 2020 benchmark report showed that the use of AI in email delivery increased engagement up to 50%.

– Lack of smart segmentation will lead to a lower engagement; such inactivity from subscribers will eventually amount to a higher churn rate.

– Below-average customer response results in low deliverability and performance that lead to revenue loss.

– Absence of intelligent insights will translate to time wasted in manual churning of the data, thereby reducing team productivity.

– Inability to match your competition with superior email programs and smart tools might reduce brand presence and affinity.

6. Responsibility for server maintenance
– Server maintenance is your responsibility; you need to add technical upgrades to scale your current infrastructure. Such requirements call for dedicated time and effort from your existing team.

– You need to have the bandwidth and efficiency to have an up-time of 99.9%. You can run into server outages and issues that could be detrimental to your business revenue.

– As your business crosses international borders, you need to stay on top of other countries' data privacy and anti-spam laws like CCPA, GDPR, CASL. Your email program needs to meet its legal compliance requirements, failing which you would pay heavy fines for breaking agreements.
7. Leaving the door open to attacks
– You may probably be unable to put in different levels of user access to the email platform, leaving it open to intrusion and possible hacking.

– The emails will have to be encrypted at rest and in transition, which will require advanced security software to be installed in the platform.

– Financial institutions have a lot of customer data that needs to be kept private and confidential. Sending emails from an in-house infrastructure is like opening more doors for hackers to access your internal system. Any potential breach could cost the brand potentially millions of dollars and the trust of their customers.

Besides accessibility and delivery, there are many factors like operational costs, software updates, support services, and more that differ between the two solutions.
We believe that cloud solutions offer all the features and benefits of on-premise and hybrid solutions. Not only that but they also offer extra advantages.

Let's look at why marketers generally prefer their email marketing solutions on the cloud.
1. No operational costs
– Purchasing a cloud email solution allows you to pay a predictable monthly fee, and use the service to send your emails.

– Benefit from automatic software upgrades, support, and backup for a monthly payment.

– Use the easily scalable ESP mail infrastructure for sending a high volume of emails. No need to buy email server infrastructure, thereby saving capital expenditure.

– 99.9% uptime and 24X7 support from the email provider at no added costs.
– No need to staff domain experts and technical support as the ESP ideally provides such consulting services.
2. Opportunity to use smart tools and journey creation
– On-cloud email platforms have smart tools for user segmentation and personalization. These are crucial to select the right audience for your emails.

– You can also create personalized journeys for regularly nudging the customers. Whether it be welcome emails, abandoned cart, auto-reminder emails you need to send these automated emails to move the customer in the lifecycle journey. 

– Finance institutions can cross-sell or up-sell products in their automation journeys. You can do all of these customizations easily on an upgraded cloud solution rather than a basic version that you would use on-premises.
3. Deliverability expertise and consulting
– If your emails reach the inboxes of your intended recipients, you have good deliverability.
Having high email deliverability is crucial for your emails to be read by the customers.

– Transactional emails by finance institutions need to have above-average deliverability to ensure that none of your customers miss out on important messages.

– It can seem complicated to maintain successful deliverability without expert consulting. Email experts help you strategize with best practices to warm up your IPs, authenticate your emails, and maintain good content practices.

– Deliverability consulting will lead to improved inboxing rates, positive signals to MSPs (Mailbox providers) to maintain a good reputation, and compliance with data privacy laws and anti-spam authorities.

– Expertise and consulting in these areas are a must to maintain an email program that gives the best results. An on-cloud ESP can provide you with a rich consulting service that gets you improved returns and increased brand equity.
4. Reporting and analytics
– On-cloud email platforms have an advanced reporting and analytics dashboard.
It visualizes complex data and generates actionable insights that matter to an email marketer. Marketing analytics and reports fuel your customer engagement strategy.

– The reports dashboard provides advanced engagement and conversion metrics that give the complete picture of your campaign performance.

– The detailed dashboards help you to set KPIs, track them, and scale up your email ROI.
5. Ability to leverage AI features
– Artificial intelligence (AI) and machine learning (ML) algorithms have ushered in an era of big data in email marketing.

– AI features make time-consuming tasks of list segmentation, personalization, and automation quicker and easier. AI/ML algorithms work on the customer data to reveal actionable insights for targeting them in the future in a smarter way.

– On-cloud solutions have the advantage of providing these AI-powered features to brand marketers to increase their conversions, perfect their targeted audience, and improve email delivery times.

– AI/ML features have influenced customer engagement, email ROI, and brand affinity. They make email marketing more powerful than ever.

– Features like Send Time Optimization, Subject Line Optimization, and Predictive Segmentation ensure that you can target the right customer at the right time with the right content.
6. Auto-scaling of infrastructure
– If you wish to send millions of emails every day, it requires your mailing infrastructure to be highly scalable and robust. If you have a growing business, your email program will also need to be scaled up to support more customers.

– Cloud solutions are capable of delivering billions of emails per day. They can auto-scale according to larger than normal requirements.

– Cloud email solutions provide greater flexibility as you only pay for the volume you use. They can also easily scale to meet demand if your volumes fluctuate.
Example: You could be sending up to 50k emails per day, but you may have to raise the volume to a 100k+ audience during special sale periods. Or, if you're a financial institution, you might want to send credit card statements to all your customers on a specific date. This sudden surge in email traffic requires both a scalable infrastructure and robust software to process these requests.
In reality, not every financial institution is delivering statements on the same date of generation. Emails get queued up on the server and keep delivering up to 2-3 days.
Flexible scaling of email volumes makes cloud solutions the first choice for high-volume senders.
– Cloud ESP vendors need to stay compliant with different international data privacy and anti-spam laws (CAN-SPAM, GDPR, CASL). That ensures that the sender needs to follow permission guidelines to comply with these laws when sending their marketing emails to subscribers.
7. Security
– On-cloud email solutions have their servers residing in big data centers. These centers have top-tier security that ensures your customer data is safer than in your offices.

– With an on-cloud email platform, you can always decide the level of access you choose to provide to the users.

– You can also restrict the ESP vendor from checking your metrics or engagement data if you wish to keep it private.

– Cloud ESP vendors have 2FA (2-Factor Authentication) enabled on their platform to reduce the risk of malicious hacking and keep your account safe from intrusion.
Drawbacks of on-cloud deployment
1. Increased total cost
Along with business growth, if your email volumes grow over time, you will have to end up paying more to your ESP.

Cloud solutions generally offer flexible subscription plans, but if your email volume growth is exponential, it will cost more for running your program. This can happen for high-volume senders who send millions of emails daily.

The platform fee will also have to be paid along with a consulting service fee. Some advanced features like AI insights could also cost you extra fees. If you avail of all of these services you might have to reserve a considerable budget for your email marketing strategy.

The costs might increase if you're a high volume sender, but still the performance and better ROI will make up for the increased budget.
2. Lack of customization
Cloud solutions are built with complex development. They are easily configurable but not customizable to your needs. They will not cater to demands on tweaking or the addition of new features.
On-premises vs Cloud
Which is the best for your email marketing?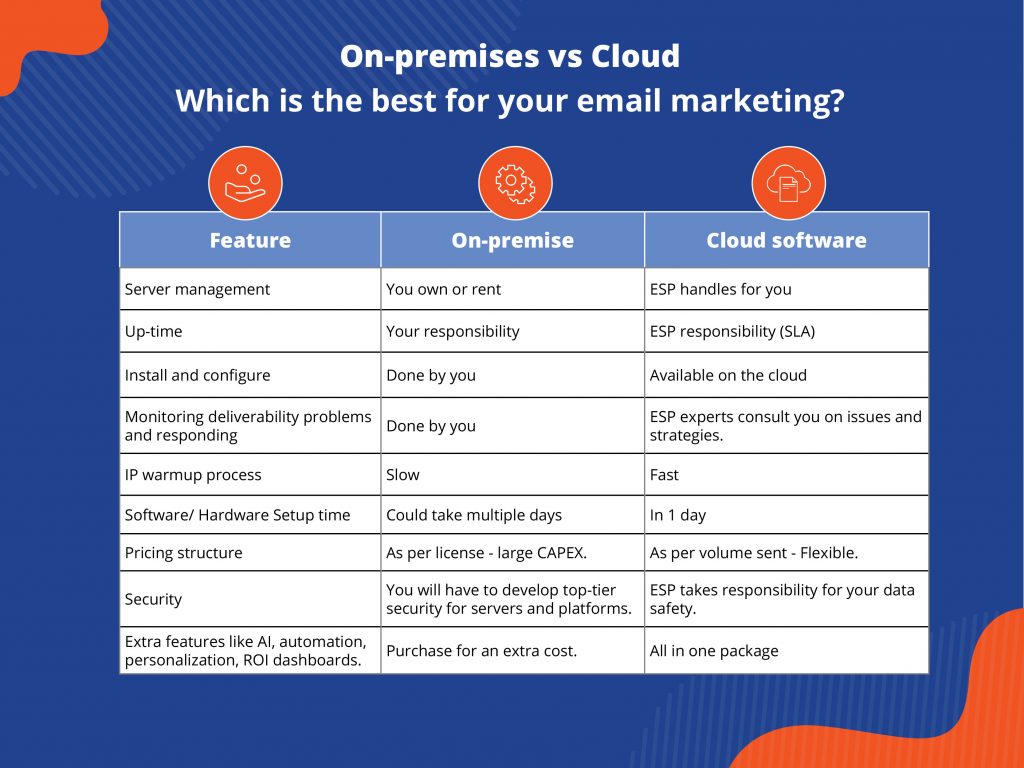 What does Netcore Cloud offer you?
Netcore Cloud offers an AI-powered email delivery platform where marketers can craft beautiful email campaigns, choose the right people to send them at the right time.
We have a dedicated mailing infrastructure that can trigger transactional and promotional emails to millions of customers within seconds. Being robust, scalable, and cost-effective makes it the ideal email cloud solution for an enterprise messaging and collaboration.
With Netcore's customer engagement platform, you can automate diverse customer journeys. Our visual tool lets you confidently engage with relevant customer segments; you will be sending them personalized campaigns on the right channel at the right time. Our best-in-class CRED consulting team provides managed consulting services to improve your program's deliverability.
Our AI assistant Raman humanizes AI for marketers. It provides game-changing insights on personalized engagement so that you can make better decisions. At Netcore, we have specialized teams to build, scale, and maintain email infrastructure. Keeping our customer data safe is our top priority and is part of our values and culture.
Conclusion
There are a lot of critical factors that marketers need to consider before deciding between on-cloud and on-premise software. On-cloud email solutions are reliable, flexible, and more secure. Having your ESP handle the infrastructure and software requirements leaves you to focus exclusively on your email program and marketing analytics to get the most out of them. They also keep your customer data safe from attacks and intrusions.

Deliverability consulting is a major bonus with cloud solutions where ESP experts provide strategies for getting all your emails inboxed. Suggestions to keep a high inbox placement is a crucial feature as it's difficult for marketers to keep in touch with changes in spam filter algorithms.

There are several factors to consider when you are deciding on the deployment strategy of an email solution.On-premise/in-house solutions give you complete ownership of the software but pose long-term challenges regarding up-time, software/hardware upgrades, and consulting.

Analyzing the pros and cons of both of these solutions, we find that cloud or Saas solutions have some extra advantages over other models. Therefore we see on-cloud Saas (Software as a service) solutions preferred by marketers from small business to medium enterprise companies.