The National Retailers Federation report states, "Retail sales during 2020's November-December holiday season grew an unexpectedly high 8.3 per cent over the same period in 2019 to $789.4 billion."
And we are confident that this year, the only way the numbers would be going is up!
The holiday season may not be seeing much shopping activity yet; it would be too soon for the consumers. However, for brands and retailers, planning should start right now. They would need to do much of the spadework in advance – as much with marketing as with logistics.
The past:
In this guide, we deconstruct some less-talked-about campaign strategies, their content, and frequency.

COVID-19 changed the way consumers shopped, discovered, and purchased products.

The 2020 holiday season in the US witnessed record-breaking online retail growth; the eCommerce industry's phenomenal growth saw new highs in customer engagement, conversion, and of course, profits. According to Adobe, US online purchases over the 2020 holidays grew by 32.2% from 2019, recording $188.2 bn as shoppers preferred to stay home and shop.
Experts and visionaries agree on one thing: preference for online shopping is here to stay as a permanent change in lifestyle habits. It was not just a passing anomaly created by the pandemic situation.
The present:

The global pandemic continues to cast a gloom of uncertainty on people's socializing plans this year as well. Contactless shopping will be the norm, as the fear around the delta variant of the virus will continue to limit in-store crowds.

According to Emarketer, the 2020 trend will continue this year too, with US holiday retail sales rising 2.7% to $1.09 trillion, while the season's e-commerce sales expected to grow 11.3% to $206.88bn. E-commerce is estimated to account for 18.9% of the total holiday season's retail.

The future:

Marketers should expect increased competition and prepare for a struggling economy still recovering from the pandemic. Massive disruptions in global supply chains mean that marketers need to stock up their inventory early to satisfy holiday customers. Pent-up demands could see people trying to shop well in advance for their holiday gifts; hence email marketers need to start drawing up strategies right now.
The new reality of 2021 has its own trends, demands, and challenges. eCommerce players should leverage the full potential of email marketing to up their game. They should complement it with omnichannel offerings to make the most of the holiday season opportunities.
The success of email marketing during the 2021 holiday season will come down to:
– Understanding your audience and their behavior in depth
– Monitoring the customer engagement data closely
– Segmenting your list smartly to warm up loyal users
– Analyzing what worked in the past to inform future campaigns

In this guide, we deconstruct some less-talked-about campaign strategies, their content, and frequency. There's a lot of valuable learning in them to help you ace your holiday email program.
Let's get rolling! The festive time coming up has the most amazing shopping holidays of the year: Halloween, Thanksgiving, Black Friday, Cyber Monday, Christmas, and New Year!
The below graph shows the holiday shopping pattern for the US in 2020.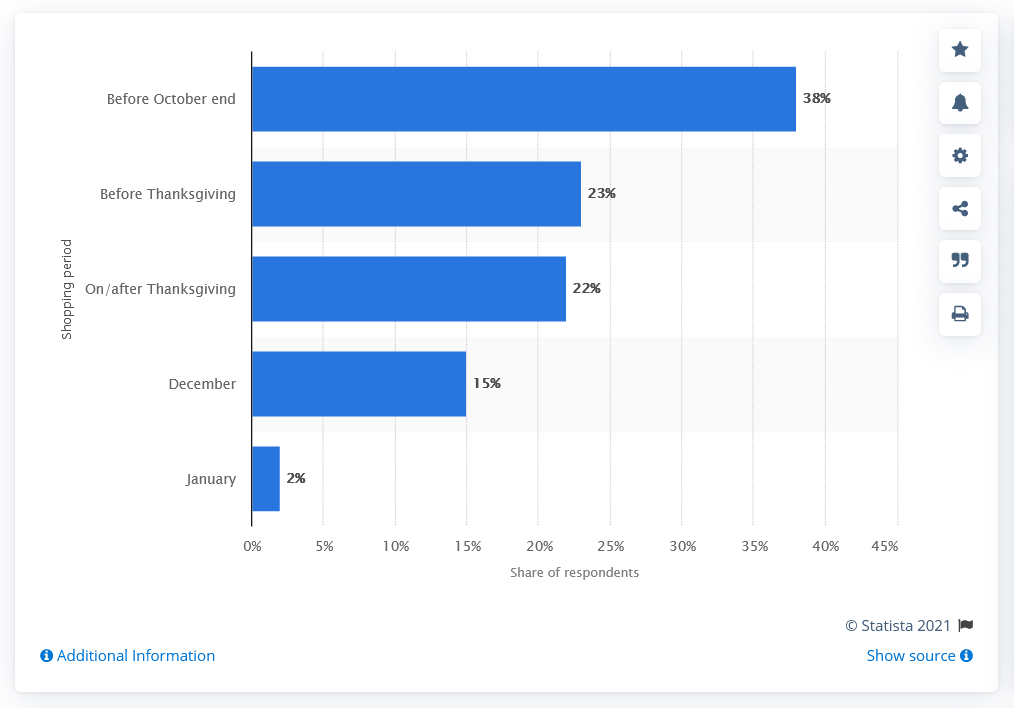 1. Segment your audience according to past year performance
Segment your email list based on historical data on purchase habits, preferences; create different offers for different segments with specific relevance. Proper segmentation ensures that the right message is sent to the right audience for maximum engagement.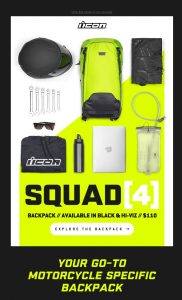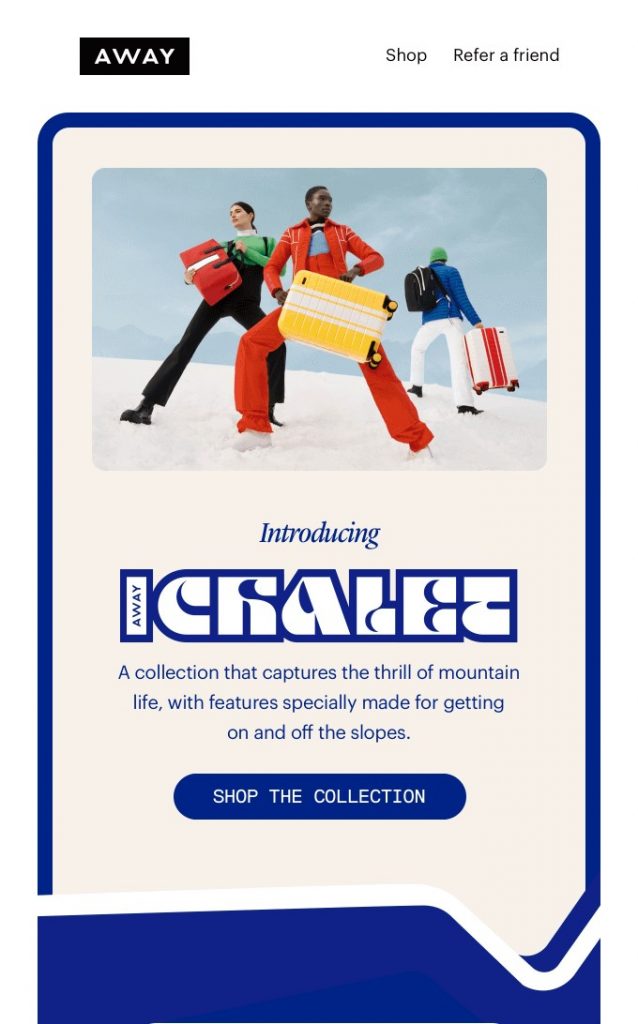 2. Treat VIP customers early and differently
Provide loyalty program points/discounts/early bird offers to a select set of regulars; roll out the red carpet for them early on in the holiday season. Treating your regular and loyal customers in a special way will make them stay on with you for longer and purchase often.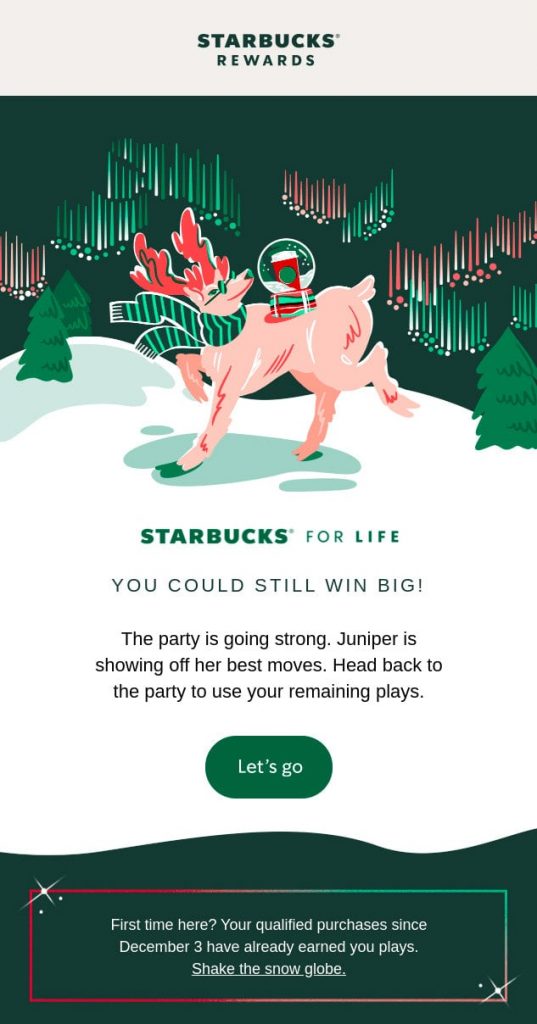 3. Consider a personal appeal to strengthen branding
Amplify brand strengths in your customer communications: what makes your brand unique and why customers should shop from you. Brand loyalty is a strong pull force, especially when evoked with a personalized touch. When you customize your messages for each recipient type, your brand establishes a one-on-one, two-way engagement with the customer.
4. Give a festive touch to your regular offers
Bring out the exuberance and the festive cheer even in regular offer emails; use rich media and AMP in your emails to keep your customers in high spirits. Optimism is a great facilitator, and it nudges the customers' instincts to shop and feel good about it.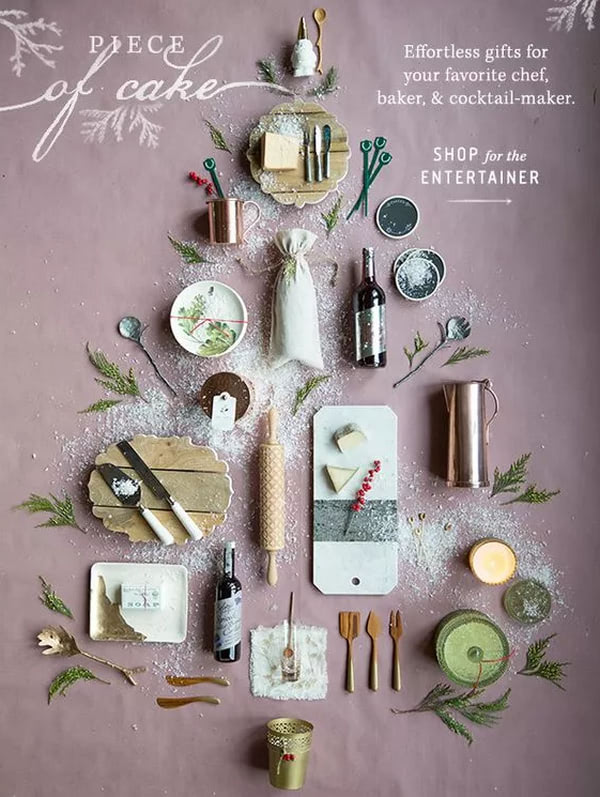 5. Create bold subject lines and clear CTAs
With Apple's new privacy policy for its devices, you would no longer get the true signal for "mail opened." Accurate tracking of "Opens" going away for 40% of the email population will pose a challenge to marketers: they will not know if their list is engaged or not. You will need other signals within your mail to know if the customer interacted with it or not. An incentivized CTA in your email could be a far more effective replacement for open tracking.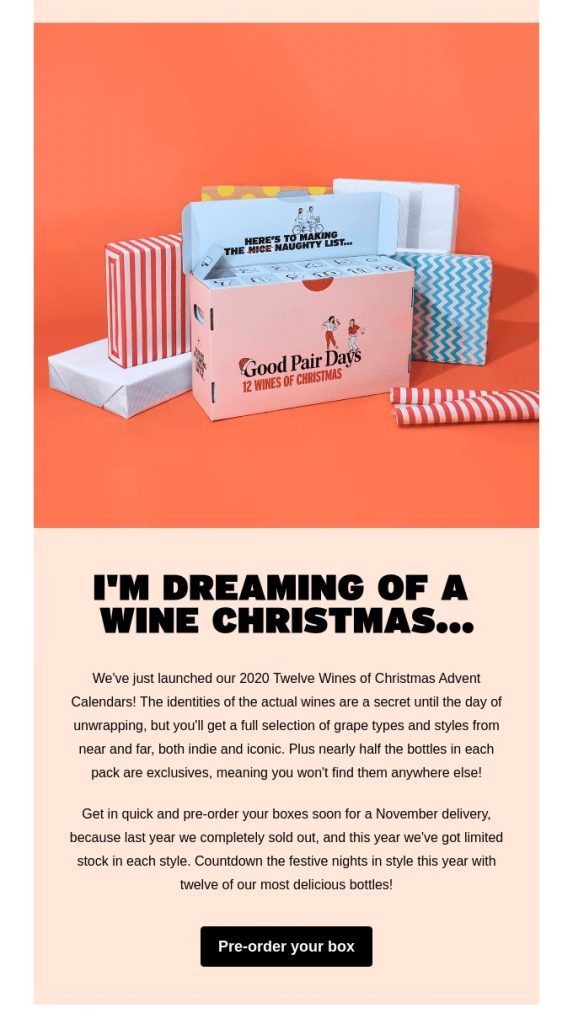 6. Create FOMO by providing last-minute deals
Amplify brand strengths in your customer communications: what makes your brand unique and why customers should shop from you. Brand loyalty is a strong pull force, especially when evoked with a personalized touch. When you customize your messages for each recipient type, your brand establishes a one-on-one, two-way engagement with the customer.

7. Use marketing automation workflows for email success
Send seasonal welcome email for new members; nudge existing members to convert their cart abandonments. Use automated predictive engagement to know which users to engage with first. Deploy send-time optimization to deliver mails when the customers have the right disposition. Bringing in intelligent automation will help you scale up quickly and meet the festive season's demand most efficiently.

8. Refer a friend or share the email
"Refer within your circle" has always been a powerful option for word-of-mouth marketing. In the post-apple-privacy era, where senders will not truly know when customers open their emails, referrals and email forwards will be good indicators of customer engagement. Besides, individual references always have a high degree of credibility attached to them.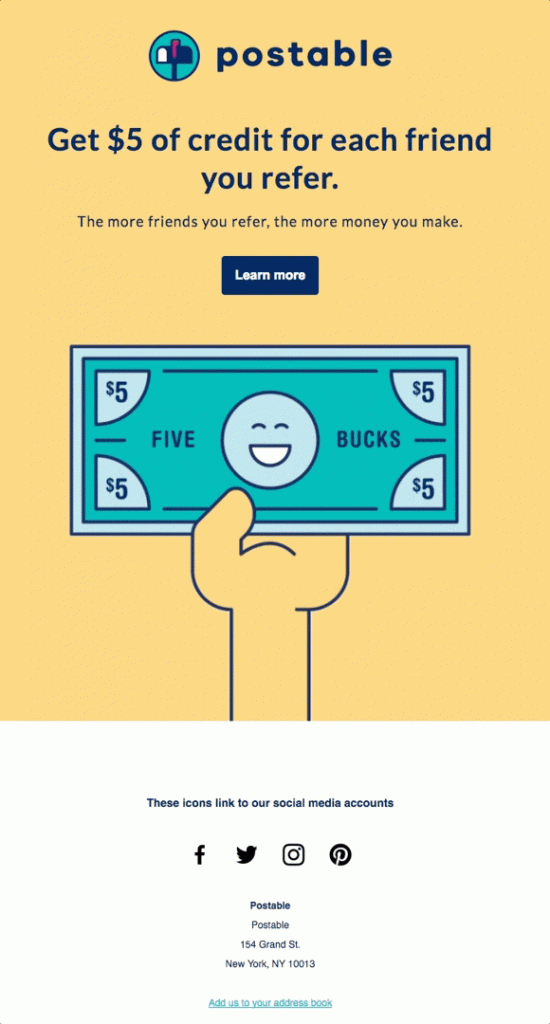 9. Follow through with a post-holiday plan
Sales don't end with the holiday season: post-holiday shopping for lower prices gains traction and continues after December, often well into the new year. Apart from those who wish to save on money, there would also be a good proportion of buyers that would not have been able to shop during the peak season.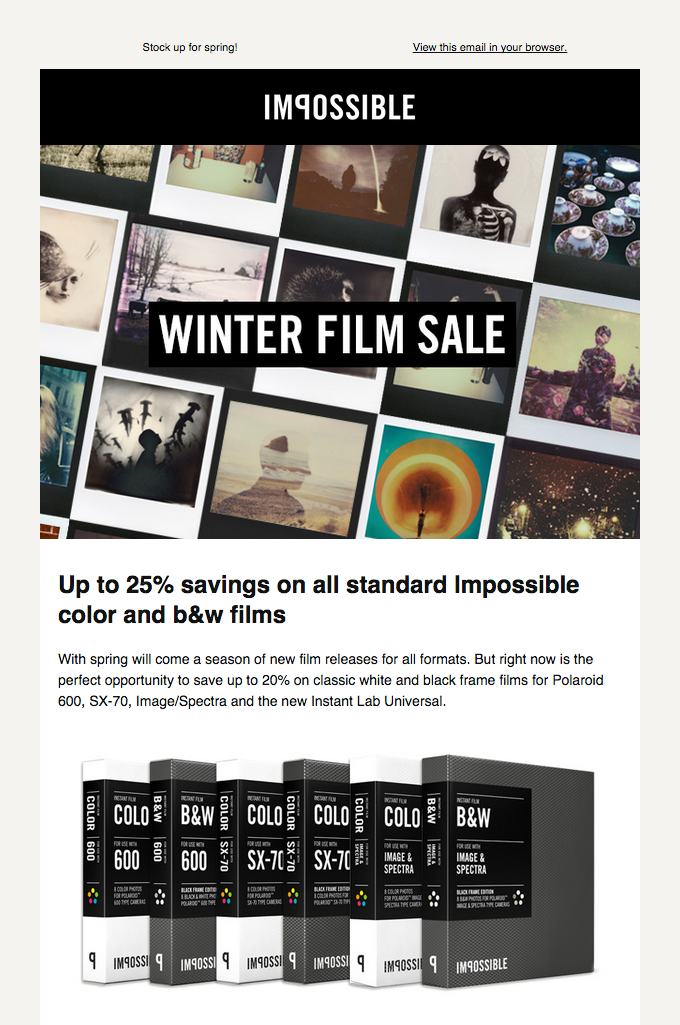 10. Monitor and maintain your deliverability KPIs
With the deluge of marketing emails that happen during the holiday season, keep an alert eye for changes in blocklist inclusions, authentications, and sender reputation scores. Closely track your email metrics and make adjustments on the go to ensure that your holiday emails reach the customers the way you would like them to. You can use a one-stop solution like grademyemail to check your emails for various critical parameters.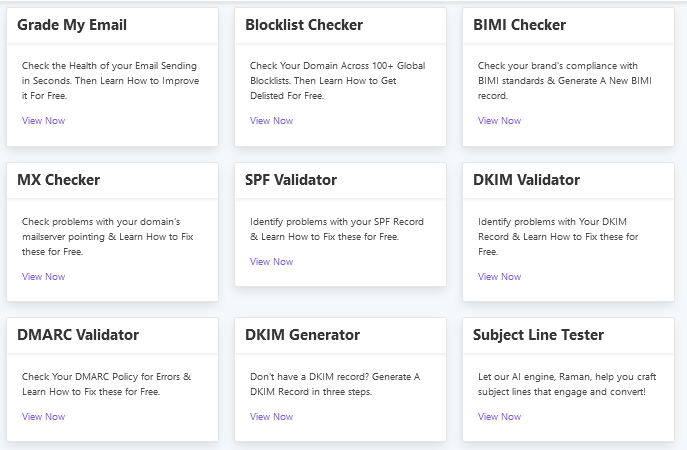 Bonus tip: Guard against shipping delays for fuller inventories and successful last-mile delivery
Supply chain challenges are not new for retailers, but they have recently been in the spotlight a lot, due to shipping congestion and transportation delays due to COVID-19. Recent vessel tracking data from project 44 reveals significant delays in shipment times year-on-year connecting major manufacturing hubs like China with the rest of the global economy. This explains the ongoing supply chain disruptions across Europe and America, in the pre-holiday season of 2021.
As CNBC forecasts, "Many phases of the manufacturing and delivery processes are taking longer than normal. Consumers can expect packages to take more time to get to their doorsteps, as delivery carriers including UPS and FedEx work through their own bottlenecks. Industry-wide supply chain challenges that include factory shutdowns, chip shortages, and port congestion are expected to last through the holidays and well into next year."

Marketers need to be aware of these bottlenecks and stock up their inventories early to meet pent-up customer demand. They should take early stock, place their orders well in advance, and track their logistics to avoid disruptions during the peak of the holiday season.
It is about time now
The holiday season is almost upon us and it's never too early to reach out to the shoppers. Now that you have a guide of the best marketing email strategies for the festive season, it's time to design and execute your strategy. The good news, you can completely focus on your holiday season marketing strategy and leave the emailing responsibility to us.
Netcore's AI-driven email solution is a powerful arsenal that includes predictive data segmentation, send-time optimization, delivery optimization, detailed email metrics, real-time dashboards, and actionable insights from deep data analysis.
Our email technologies help you to anticipate the customers' behaviour, adopt a proactive strategy, and utilize your customer data for maximum conversions during the festive season.
If you are looking to tap into the advantages of email with a fresh holiday season campaign or improve your existing email strategy, do connect with us. Our Netcore experts' team would be happy to share their experience and expertise as world leaders in email campaigns.
Happy Holidays!