Are you exploring a push notification platform for your venture?
With push notifications, you can shoot relevant messages their way about your cool products, irresistible services, and jaw-dropping offers.
And the best part?
You can do it anytime, anywhere on the web & mobile app.
But hang on, we've got something even better.
We've got this super-detailed guide lined up just for you.
It's all about the crème de la crème of push notification platforms that are totally designed to rev up your business growth. It's like your roadmap to success, and we're here to share it with you.
What Exactly are Push Notifications?
In essence, push notifications are compact alerts that appear on your device, keeping you updated and engaged.
Whether you're using a smartphone, tablet, or desktop, these notifications keep you in the loop from any platform where the relevant app or site is installed.
The beauty of push notifications lies in their promptness and direct nature. Be it a fresh message from your preferred social media platform, an online store's sale announcement, or a news update, push notifications to furnish real-time information without the need for an active app or site engagement.
Here's a glimpse of how a push notification looks: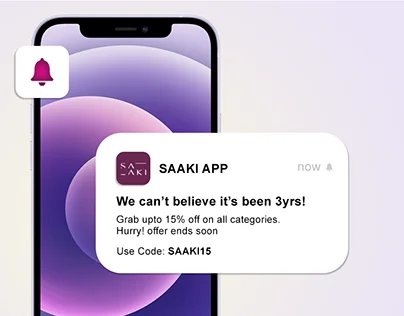 How To Optimize Push Notifications?
Many businesses employ push notifications to foster user loyalty, elevate customer retention, and boost engagement. The trick is to strike a balance: deliver enough value to assist without bombarding users with constant alerts.
When done right, a push notification platform can work wonders for your business.
1. Understand your audience:
Know who you're talking to. Are they night owls or early birds? Tech-savvy or traditionalist? Chocoholics or fitness fanatics? Dive into your data to get the answers.
So, why is this important? 
Well, imagine sending a promo for an all-you-can-eat ice cream sundae buffet to someone who's lactose intolerant. Yeah, not the best move, right? That's why understanding your audience is key. The better you know them, the more targeted your notifications can be on your push notifications platform.
2. Timing is everything:
You might have the most enticing message, but if it pops up at 2 a.m., it's not going to make your subscriber very happy.
Finding the sweet spot when your users are most active can be the difference between 'swipe to clear' and 'tap to engage.' So, play around with your send times and see what gets the best results.
3. Personalization is the name of the game:
Nobody likes feeling like they're just another number, right? So, personalize your notifications to make your users feel like VIPs.
From including their name to tailoring the message based on their interests, there are tons of ways to make each notification feel like it's been crafted just for them. It can make a world of difference.
4. Test, test, and test again:
Lastly, don't forget to put on your lab coat and do some experimenting! A/B testing different headlines, images, messages, or send times can reveal what really resonates with your audience.
This way, you'll get valuable insights and can make sure your push notification platform is working its hardest for you. You'd be surprised at what a small tweak can do for your engagement rates.
Be strategic and thoughtful about your notification timing and purpose. Customizing notifications in line with user behavior, interests, and location can significantly enhance engagement rates. Timing also plays a crucial role – leverage analytics to understand when your users are most active.
Above all, ensure your notifications offer authentic value, whether it's an exclusive offer, a timely reminder, or useful information.
How to Choose the Best Push Notification Platform?
Choosing the ideal push notification platform is like shopping for the perfect pair of shoes – it needs to fit well, be comfortable, and elevate your style or, in this case, your business performance.
Here are some factors to consider:
1. User Segmentation:
Effective push notification platforms should allow you to segment your users based on attributes like behavior, location, and preferences. By personalizing your messages to cater to specific groups, you enhance their relevance, leading to higher engagement.
2. Automation:
In today's fast-paced world, automation is no longer a luxury but a necessity. Your Push notification platform should facilitate automated messaging based on pre-set triggers or schedules. This saves time and ensures consistency in your communication strategy.
3. Analytics:
Just as a ship needs a compass, a business needs analytics. Your chosen push notification platform should offer robust analytical tools to track key metrics such as open rates, click-through rates, and conversions. This will help you measure the effectiveness of your campaigns and adjust your strategies accordingly.
4. Integrations:
Seamless integration with your existing systems like CRM, email marketing software, and analytics tools is crucial for a cohesive marketing strategy. Make sure your push notification platform supports these integrations.
5. Reliability & Scalability:
Your chosen platform should be reliable, with minimal downtime. Furthermore, as your business grows, the platform should scale with you, accommodating an increasing volume of notifications without performance issues.
6. Pricing:
Last but not least, the platform should offer good value for money. While it's important not to compromise on key features, ensure the pricing aligns with your budget.
Top 10 Push Notification Platform and Tools
Now that we've covered the basics, let's delve into the best push notification platforms and tools to amplify your digital marketing efforts.
1. Netcore Cloud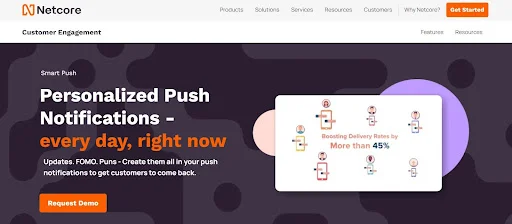 Netcore is a leading global martech platform that offers various solutions, including push notifications. It's a perfect fit for businesses of all sizes, marketers, and product owners seeking to enhance customer engagement across multiple channels such as email, SMS, in-app messages, and, of course, push notifications.
Netcore's push notification services are designed to be both powerful and user-friendly. They offer highly customizable notifications that can be triggered by user behavior, giving you the ability to send the right message at the right time.
Also, their platform is built for scale, supporting large businesses with significant user bases. With a focus on AI and machine learning, Netcore helps you to personalize and optimize your messages based on deep data insights.
Key Features
Comprehensive multichannel marketing platform
Advanced segmentation and personalization
AI-driven send-time optimization
Automated push notifications based on user behavior
Robust analytics and reporting
Scalable for large businesses
Dedicated customer success support
Price: Netcore offers a flexible pricing model that adapts to the size and needs of your business, starting with a free demo to get a taste of what we can offer. For detailed pricing, it's best to get in touch with our team directly.
2. PushEngage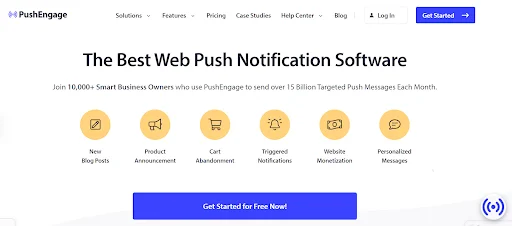 PushEngage, a well-regarded push notification platform, is trusted by thousands of users who send over 15 billion messages every month. It's a robust, feature-rich platform for mobile and web push notifications with an intuitive interface that makes setup a breeze, no coding needed.
This platform shines with its marketing automation features, allowing automatic notifications for new blog posts. With audience segmentation and dynamic notifications, you can also set up push messages for abandoned carts, price drop alerts, and scheduled messages.
Additionally, PushEngage includes marketer-loved features like A/B testing, drip campaigns, opt-in reminders, interactive messages, and more.
You can deploy campaigns on all major web browsers, including Firefox, Chrome, and Safari. The platform is also compatible with mobile devices, including Android and iOS, facilitating the sending of push notifications on mobile and desktop devices without the need for separate mobile apps installation.
Key Features
Unlimited push notifications
Customizable opt-ins
eCommerce cart abandonment campaigns
Personalized notifications
Custom timezone sending options
Robust targeting and segmentation
Real-time analytics
CRM integration
API for omnichannel customer lifecycle campaigns
GDPR compliant
Price: Starts at $8/month for 50,000 subscribers and unlimited notifications. Push Engage also has a free plan for up to 200 subscribers and 30 campaigns per month.
3. OneSignal

OneSignal, a significant player in the push notification field, offers a free plan, making it a preferred choice for startups and small businesses.
This tool lets you create automatic push notifications, abandoned cart notifications, announcements, and more. It also offers rich analytics metrics, A/B testing, segmentation, and automation tools.
Furthermore, OneSignal's SDK integrates seamlessly with mobile apps and web platforms, rendering it an incredibly versatile tool. You can also send email marketing campaigns, in-app push notifications, and SMS messages for mobile marketing.
Key Features
Mobile and web push notifications
Drag-and-drop email composer
In-app messages
Automation and segmentation
SMS messaging
Messaging workflow builder
Open source SDK
A/B Testing
Price: Starts from $9/month for up to 1,000 subscribers. The free plan allows up to 5,000 email sends.
4. VWO Engage (PushCrew)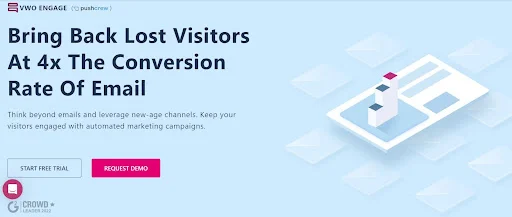 VWO Engage is a reliable push notification platform, particularly strong in marketing applications. It offers a suite of features that function on both desktop and mobile devices, including audience segmentation and scheduling.
With this push marketing tool, you can craft push campaigns with entry and exit triggers. This implies campaigns can commence based on user engagement, such as clicking a specific link.
Along with A/B testing and click-through analytics, VWO Engage offers a sturdy platform to bolster conversion rates. However, its segmentation and engagement tools are relatively limited compared to other tools.
Key Features
Web and mobile app notifications
Server-side testing
Segmentation and personalization
Behavior analytics
Customer data platform
API for app developers
Price: Starts from $99/month
5. SendPulse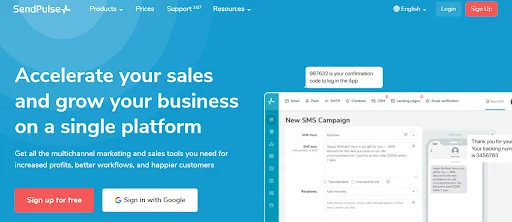 SendPulse is an all-in-one communication platform that supports multiple marketing channels, including push notifications. It's suitable for SMBs and marketers who want to manage email, SMS, chatbot, and push notification campaigns from one interface.
SendPulse's push notification services are customizable and automated, enabling you to send push notifications triggered by users' actions. It also offers robust A/B testing capabilities, enabling you to test different versions of your push notifications to determine what resonates best with your audience.
Key Features
Multi-channel marketing platform
Segmentation and personalization
A/B testing
Automated push notifications
Advanced analytics
Price: Free for up to 500 subscribers, with prices starting at $6.40/month as your subscriber base grows.
6. Airship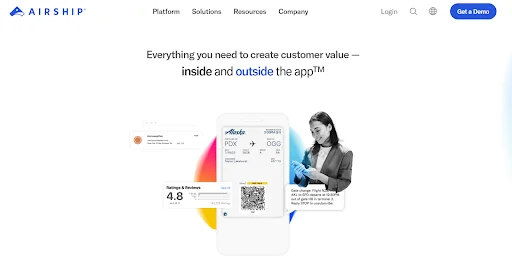 Airship is a comprehensive customer engagement platform that offers mobile and web push notification services. It supports personalized notifications based on user behavior, location, and preference. The platform also supports A/B testing, allowing you to optimize your push notifications for the best possible engagement.
With Airship, you can send out targeted, event-triggered notifications to help improve customer engagement. You can also create personalized push notifications that display customer-specific information, such as account balance or renewal reminders.
Key Features
Personalization and segmentation
Event-triggered notifications
A/B testing
Advanced analytics
Price: Airship offers custom pricing based on individual business requirements.
7. Braze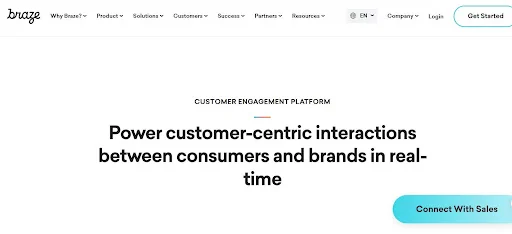 Braze is another top-tier customer engagement platform that supports push notifications among a host of other marketing channels. With Braze, you can create personalized push notifications that are triggered based on real-time user behavior.
Braze also offers robust A/B testing and analytics, allowing you to optimize your push notifications for the best possible results. Moreover, Braze supports rich push notifications that can include images, videos, and other interactive elements to make your messages more engaging.
Key Features
Real-time behavior-triggered notifications
Personalization and segmentation
Rich push notifications
A/B testing
Advanced analytics
Price: Braze also offers custom pricing based on individual business requirements.
8. Firebase Cloud Messaging (FCM)

Firebase Cloud Messaging is a free platform for sending push notifications to iOS, Android, and web applications. It is ideal for developers and businesses who need a free, reliable solution for delivering push notifications.
With FCM, you can send notifications to single devices, groups of devices, or devices subscribed to topics. It also supports rich notifications with images, sounds, and other interactive elements. However, it doesn't offer as many user-friendly marketing features as the other tools listed here, such as A/B testing, automation, or advanced analytics.
Key Features
Supports iOS, Android, and web applications
Topic subscription
Rich notifications
Price: Firebase Cloud Messaging is free to use.
9. MoEngage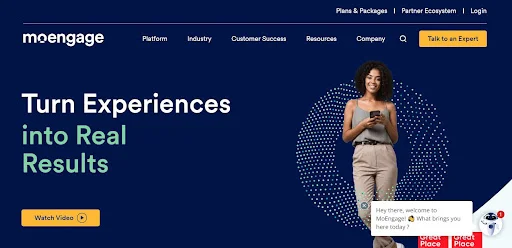 MoEngage is a customer engagement platform with a robust push notification service. It allows you to create highly personalized push notifications based on user behavior, preferences, and location.
MoEngage also offers automation, A/B testing, and advanced analytics to help optimize your push notification campaigns. In addition, MoEngage supports rich notifications that include images, videos, and other interactive elements.
Key Features
Behavior-triggered notifications
Personalization and segmentation
Automation
A/B testing
Rich notifications
Advanced analytics
Price: MoEngage offers custom pricing based on individual business requirements.
10. PushBots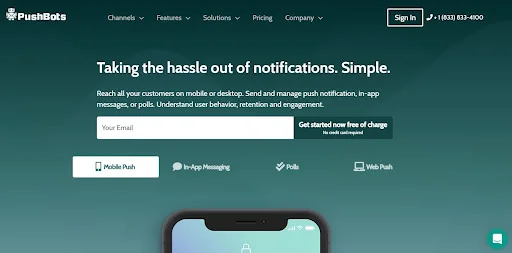 PushBots offers a reliable, user-friendly push notification service that works with iOS, Android, and web applications. You can use PushBots to send notifications to individual users, segments, or your entire subscriber base.
PushBots also offers features such as scheduling, automation, and real-time analytics to help optimize your push notification campaigns. Plus, it supports rich notifications with images, sounds, and other interactive elements.
Key Features
User segmentation
Scheduling and automation
Real-time analytics
Rich notifications
Price: PushBots offers a free plan with limited features, with premium plans starting at $49/month.
Choosing the Right Push Notification Platform: Beyond Just Sending Messages
Choosing the right push notification platform is a strategic decision that requires careful consideration. But remember, a good push notification platform isn't just about sending messages—it's about building strong, lasting relationships with your customers.
Whether you're a fledgling startup or an established enterprise, Netcore offers a comprehensive push notification platform that empowers you to create dynamic, personalized, and automated push campaigns that resonate with your audience.
Don't just take our word for it – book a demo with Netcore today and discover how our platform can help propel your business to new heights.