A high customer retention rate means more loyal customers, a competitive edge, earning more referrals, and access to more feedback. There's no reason for a brand not to want a robust customer engagement platform to achieve that. And, of course, retaining existing customers with a powerful customer engagement tool is much cheaper than acquiring new ones.
We understand that increasing your customer retention rate through a comprehensive customer engagement solution is the gold standard way to grow, but how do you achieve that? This guide answers that question.
Here we'll discuss eight actionable ways to increase your customer retention rate with examples of global brands, leveraging the potential of a top-notch customer engagement platform.
What does customer retention rate mean?
Customer retention rate is the percentage of repeat customers your business maintains out of all the acquired customers. A high retention rate means high profits; your product gains users when your retention rate is higher than the acquisition rate. Contrarily, you lose customers when the retention rate is lower than the acquisition rate.
Customer retention rates also indicate customer loyalty, customer satisfaction, and product value. The higher the retention rate, the better these related metrics.
How to calculate the retention rate with the formula?
You need three data points to calculate the customer retention rate:
1. Number of customers at the beginning of the period (S)
2. Number of customers at the end of the period (E)
3. Number of new customers gained during the period (N)
The formula to find the customer retention rate is:
(E-N)/S x 100
Suppose you had 100 customers at the beginning of the period (S), gained 10 new customers (N), and had 95 customers at the end of the period (E). So, your customer retention rate = (95-10)/100 x 100 = 85%
8 ways to optimize customer engagement and increase customer retention rate
Stellar products and services are apparent but overlooked prerequisites to increasing your customer retention rate, complemented by a cutting-edge customer engagement platform. Apart from that, here are eight marketing methods to keep your customers returning, with the support of a robust customer engagement tool.
1. Measure customer value
The first step to retaining customers is to measure your existing customers' value using a versatile customer engagement solution This includes measuring and improving customer lifetime value and tracking and reducing churn rate.
Customer lifetime value
Setting a specific activity like "Product Purchase" in RFM analysis allows you to save these customers as a segment or download them in an excel file. To find long-term value, simply change the interval to a longer one.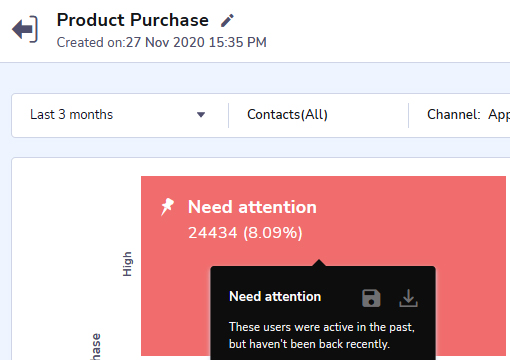 Customer lifetime value doesn't just measure the lifetime sales generated by an average customer but also indicates the customer's relationship with your brand. The better the relationship, the higher the retention.
From increasing average order value via cross-selling and upselling to offering personalized discounts, there are many more ways to increase CLV.
Churn rate
The churn rate is when your customers stop doing business with you or stop using your company's products. The lower the churn rate, the higher the retention, so you want to track it.
Churn can simply be users who did not purchase from your app/website in the last 90 days. Of course, you can drill down by setting more advanced filters to segment customers even better. Importing data from these segments and all contacts into data tools gives a complete picture of churn.

2. Retain dormant customers with campaigns
Dormant customers are those who haven't purchased in a while and are at the initial stages of churn and are at risk. For example, customers who haven't purchased from you in the last 90 days.

To re-engage them, create reengagement campaigns through one or across multiple channels like email, SMS, push notifications, etc. Here, we're building a journey to reengage at-risk customers with a journey goal that the customer adds products to the cart in the next 24 hours: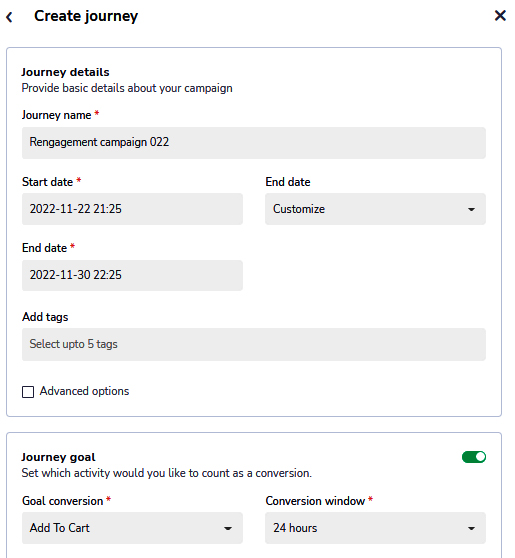 For example, Yoox, a fashion brand, sends Another reason to come back to us re-engagement email to its dormant customers offering a time-sensitive discount.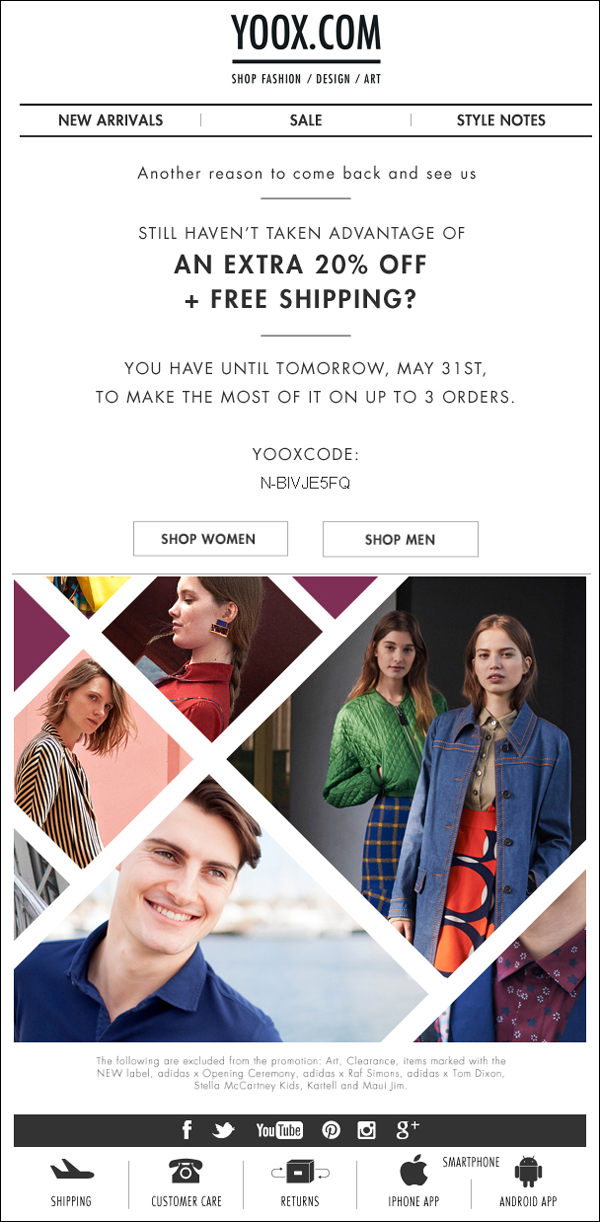 Some best practices to create re-engagement campaigns for customer retention are:
Offer personalized recommendations, offers, and discounts.
Offer incentives to gather feedback from such customers. While the incentive alone might bring them back, feedback will clarify what caused them to go silent.
Reinforce your app's core value, highlight new updates and features that might benefit them.
3. Segment and target at-risk customers with relevant campaigns
Create different segments for at-risk customers depending on their CLV and approach them with targeted campaigns to arrest churn.
You must align your efforts to retain at-risk customers with their CLV—the higher the CLV, the more the effort. Use RFM to gain such insights:

With such micro-segmentation strategies, you can invest more resources to retain high CLV customers.
For example, Myntra offers personalized discounts (based on users' behavior) to re-engages its at-risk customers.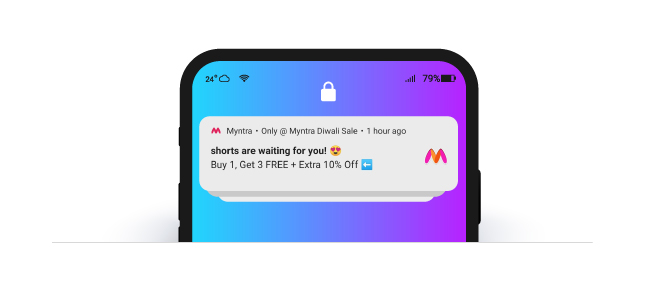 You don't have to send them a mass segmentation email either. Use Personalization and email automation to schedule and send emails on specific dates. For example, send birthday emails with a special discount coupon.
With Netcore and Amplitude integration, you can feed Amplitude's advanced customer data analytics into Netcore to create campaigns that target at-risk customers.
4. Retaining users on your app
There are many ways to increase user retention on your app. Let's take a look at some of them:
App churn management for retention
Leverage cohort analysis to reduce churn—create cohorts as per when users joined your app.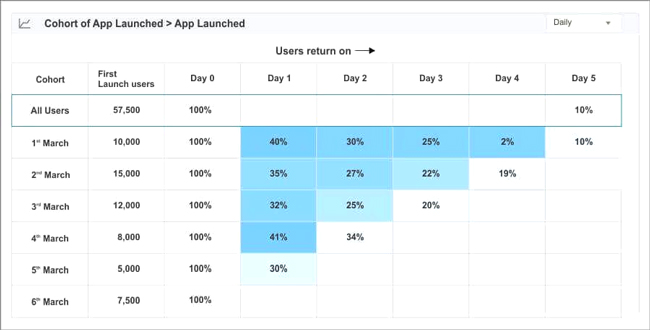 Then analyze when users churned and create behavior, demographics, or acquisition channel cohorts to understand why users churned and improve upon the issues.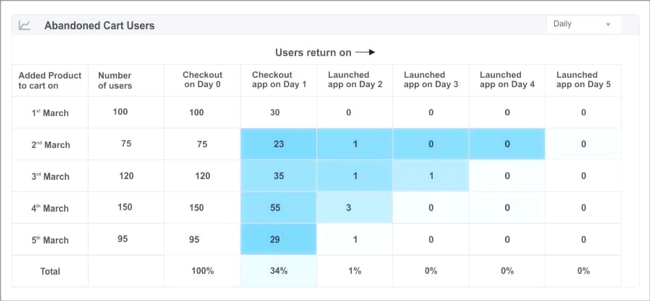 Predictive segments to retain users
Get accurate predictive insights on users most likely to churn. Use these insights to deliver relevant and personalized re-engagement campaigns just in time to arrest churn. For example, Netcore's Raman AI engine helps you with app churn management. It creates predicted segments—most likely to churn, moderately likely to churn, and least likely to churn in the next 7/14/28 days.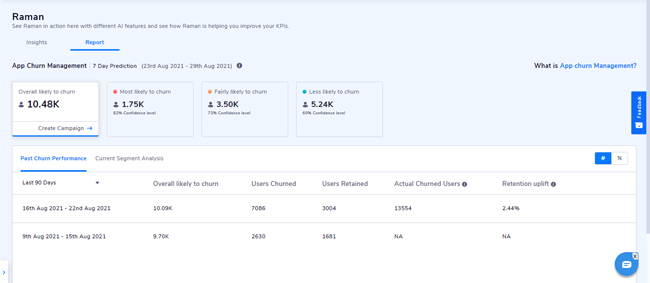 With this information, target your desired segment using actionable and personalized re-engagement campaigns to arrest churn: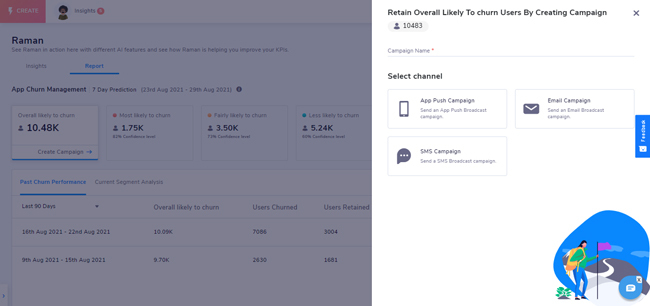 Studying user paths and real-time predictive segmentation is also effective.
Check out this blog to learn more ways to reduce customer churn.
5. Personalized experiences help retain more customers
According to an Epsilon research, 80% of consumers were more likely to purchase brands offering personalized experiences. And in another study, by Mckinsey, 71% of consumers expect companies to deliver personalized interactions; and 76% get frustrated when this doesn't happen.
Consider data points such as customer's purchase history, region, age, gender, personal preferences, product interaction, etc., to recommend contextual and personalized products and offers. Choose the right audience: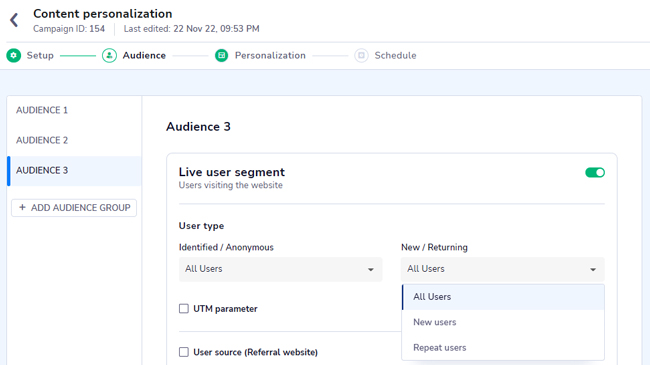 For example, Nike personalized its products and product recommendations based on customer interests.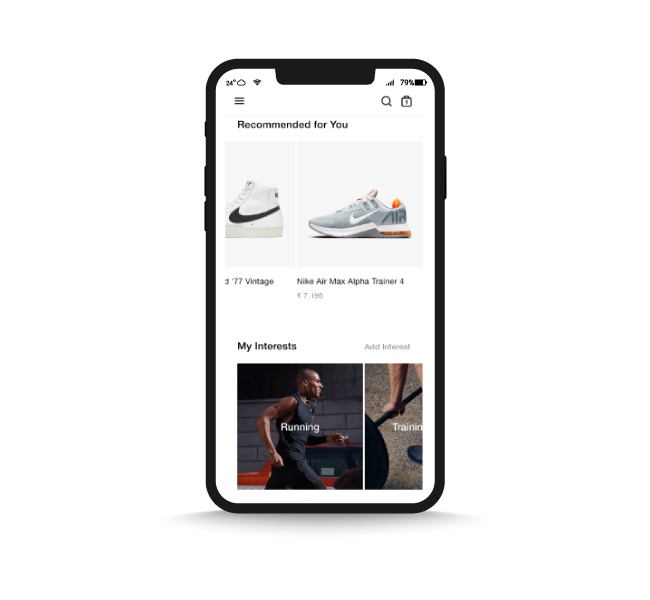 Remember personalization is not limited to one point but is applicable across the customer's journey. Personalized experiences can be implemented across on-site and off-site web, and app channels.
With an AI-powered personalization platform, you can offer accurate, personalized recommendations and consider thousands of data points without any manual effort.
6. Introduce loyalty programs
58% of customers who belong to a brand's loyalty program buy from that brand at least once per month. And 83% reveal they'll keep purchasing from a business if they join its loyalty program. As customers keep coming back for more, the retention rate goes up.
For example, DSW VIP, a designer shoe brand's loyalty program, gives additional points for donating nearly-new shoes to someone in need. Most successful loyalty programs tie into a community cause.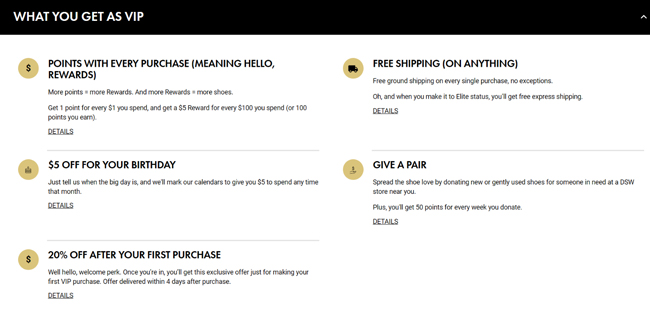 Here are the top three loyalty programs' best practices:
The best loyalty programs are personalized, meet customers' needs, and are data-oriented.
57% of customers participate in a loyalty program to save money. Exclusive discounts and custom products encourage customers to engage frequently.
Also, consider rewarding non-monetary activities like writing reviews, watching videos, and following your social media accounts.
7. Upsell valuable subscriptions
Subscriptions are an excellent way to keep customers paying and returning to the product, just like B2B and OTT brands offer. But retaining customers isn't as straightforward for consumer brands where individual purchases happen.
E-commerce, edtech, and fintech brands can offer additional value with subscriptions. Offerings include additional discounts, faster delivery, free shipping, exclusive offers, early access to new features, early access to sales, and so on.

For example, Amazon subtly upsells its Prime membership at checkout. The multiple compelling benefits it offers makes the subscription a considerable success.
8. Pay attention to customer support
89% of consumers are more likely to purchase after positive customer service experiences. Stellar customer support significantly increases retention rates. Conversely, 58% of American consumers switch companies due to poor customer service.
When we look beyond marketing, customer support emerges as essential in your retention strategy.
For example, Amazon categorizes its customer support section as per common issues so users can get quick assistance via an existing knowledge base or live chat.

Providing prompt assistance, eliminating recurring issues, gathering and addressing feedback, communicating clearly, and acknowledging and compensating when things go wrong—all add to great customer support.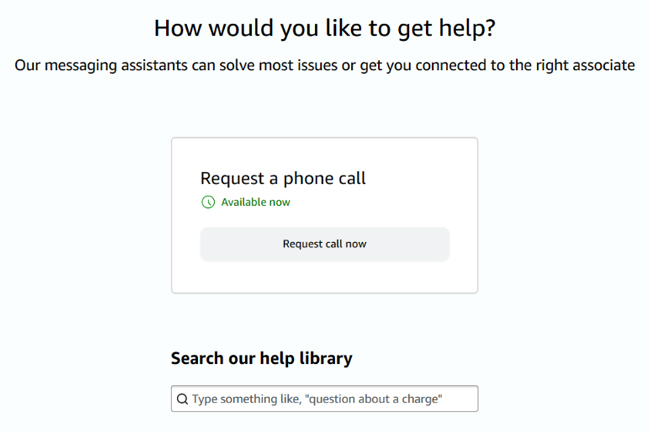 For example, Amazon has an astonishing retention rate of 91%. Besides other strategies, Amazon being a leader in customer service is a significant contributor.
Hassle-free delivery, returns, and refunds significantly enhance Amazon's customer service.
Conclusion
It's no surprise that retaining customers has become more challenging in recent years. Customers tend to sway as more companies start offering more services and get competitive with discounts. But you can still retain a large chunk of your customers—actively implement their feedback, provide an unmatchable app experience, and take all the right steps mentioned above with the integration of a comprehensive customer engagement solution.
To know more about how Netcore Cloud can help you with this, visit our customer engagement page.