NPS or Net Promoter Score survey helps the organization accurately quantify its customer satisfaction level at any given point.
While that sounds easy, many companies are not able to leverage Net Promoter Score data to fuel their product development, marketing strategies or customer success practices.
Do you know why?
That's because there's so much more to NPS surveys than the final scores that you see.
The best NPS surveys help you understand the why behind the final scores with elaborate qualitative feedback.
But for that to happen, you need to design the questions to get the most value from your customer's feedback—the tone, phrasing and choice of words massively influence the quality of the feedback. Of course, you don't have to spend hours designing them from scratch.
This compact guide highlights the importance of leveraging NPS templates, their benefits and how you can automate your NPS surveys.
What is a Net Promoter Score Survey?
An NPS survey majorly measures how likely your customers are to promote your products to their friends and family. e.g., On a scale of 0-10, how likely are you to recommend X Company to a friend?
The most common NPS surveys have a rating scale and a single question. They aim to determine customer satisfaction levels and sneaky issues.
You can modify these surveys to measure different aspects of your business — customer experience, loyalty, customer satisfaction and more.
The rating scale is from 0 to 10. Depending on the score, the customers are divided into detractors (6-0), passives (8-7), and promoters (10-9).
Promoters are most likely to refer your products to their close friends and family. Passives like using your product but aren't fully satisfied with the features. Meanwhile, detractors are at risk of churn.
What are the benefits of using the NPS Survey template?
Instead of reinventing the wheel, utilize NPS survey templates and leverage designs and questions proven to work time and again.
Here are the top benefits of using NPS survey templates:
Monitor improvements in a product, service or organization
The first and most straightforward benefit of NPS survey templates is that you can improve your product, service or organization on the basis of qualitative feedback from your customers.
Comparing your current NPS surveys with previous ones will reveal how much your product, service or organization has improved based on the feedback and how your customers perceive those improvements.
This creates a cycle of understanding customer feedback and introducing changes, upgrades or improvements to cater to their interests.
Let's understand how Detractors, Passives, and Promoters help you improve when you ask them the reason for their NPS scores.
Detractors provide constructive criticism that you can directly leverage to improve.
Passives' responses will help you understand the improvements you need to make to convert passives into promoters.
Promoters will help you know your strengths so you can double up on them.
For example, Instagram conducted an emergency NPS after it noticed that some of its users were complaining about a feed. After the survey, Instagram immediately acted upon the feedback and made improvements by reversing some changes and providing information about future updates.
Segment your customers according to loyalty
Measure customer loyalty by comparing customers' NPS scores and customer life cycle. Usually, loyal customers will have higher satisfaction scores and a longer consumer life span.
Traditionally, customers are segmented into detractors, passives and promoters based on their NPS scores. However, that's not enough to offer valuable insights.
For example, detractors who rated a 6 might be more prone to churn than those who rated a 3. Similarly, passives who rated an 8 may be more likely to promote your services than those who scored a 10.
Understanding and segmenting customers as per their level of loyalty will help you reduce churn and improve satisfaction and retention. After this segmentation, you can reward and retain your most loyal customers, devise personalized experiences and messaging to convert more customers into loyal ones, and take emergency steps to arrest customers likely to churn.
Identify customers at risk of churn so you can take steps to win them back
NPS surveys also help you identify customers who are at risk of churn. The risk usually lies in the detractor or passive segment. The highest risk lies at the lowest detractor levels.
Once you've identified customers likely to churn, it's time to win them back.
Leverage NPS surveys to understand what went (and is continuing to go) wrong. For instance, customers might have had a bad experience with your customer support or be looking for a feature or a better plan. Knowing the issue will put you one step ahead.
Reach out to them with personalized messaging, affirm that their issue will be taken care of, and make improvements to eliminate such issues. Solving their issues will significantly reduce their likelihood of churning.
You must also craft personalized, actionable re-engagement campaigns to re-engage and reach out to at-risk customers through the right channel (SMS, e-mail, push notifications) at the right time (when they are most likely to engage) and with the right subject lines (that are proven to work).
A comprehensive product experience platform combined with an AI engine can automate this with predictive instead of reactive churn management for better survey results and reduced efforts.
Close the loop with a dissatisfied customer, turning poor experiences into great ones
The loop begins with the customer having an experience with your brand and leads on to the NPS survey, where they rate their experience, but that's not where it ends. The next step is for you to follow through on this feedback, especially with dissatisfied customers, and turn poor experiences into great ones.
Closing the feedback loop is different for different customers.
For example, if passives express dissatisfaction, you can't leave it at that as they are likely to switch brands on finding a better offer. Reach out to them with personalized messaging, educate them regarding unused benefits or better-suited plans subtly showing why you are better than your competitors, and delight them by offering discounted services or free upgrades to access some exclusive features.
Similarly, it's critical to close the loop with detractors as they are likely to give bad ratings, reviews, and word of mouth. Ask them questions about their problems and offer solutions, ask for solutions they want to see implemented, offer sincere apologies and tokens of apology like compensatory discounts and share updates, so they stick around for the upgrades.
Automating NPS surveys with no-code survey templates from Netcore Cloud
To make the most of NPS surveys:
Use proven designs and questions (NPS survey templates) to trigger quality responses from your customers.
Measure your product experience as per the qualitative feedback.
Take relevant actions to offer a greater product experience.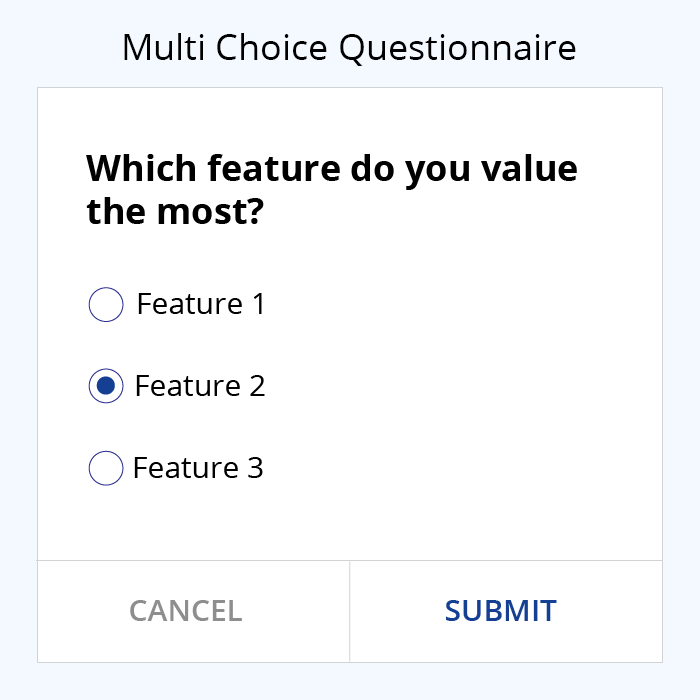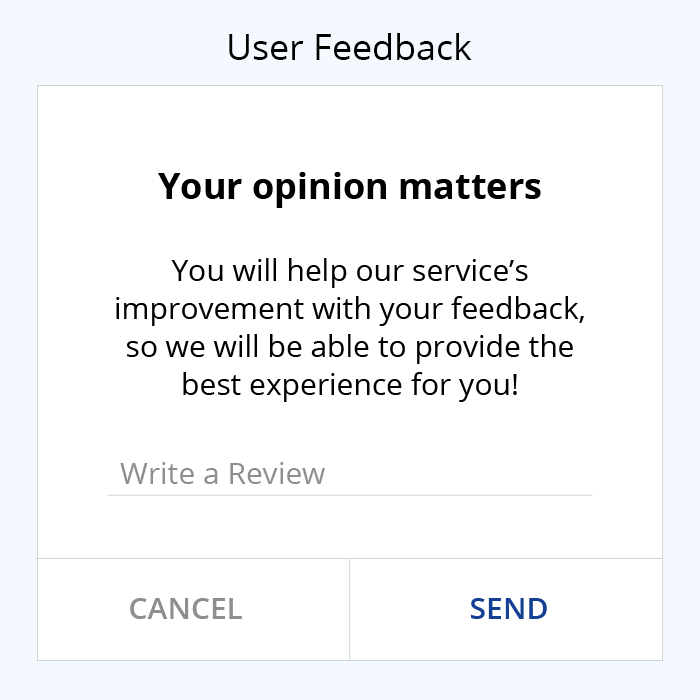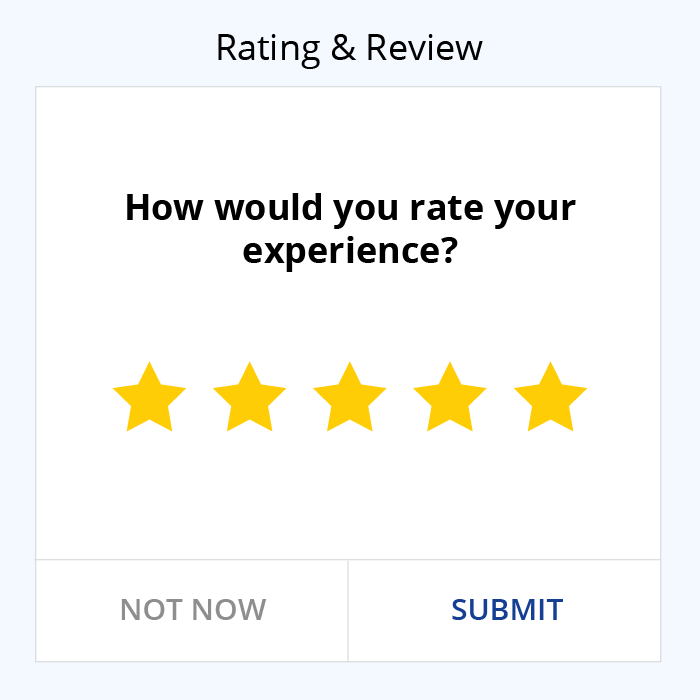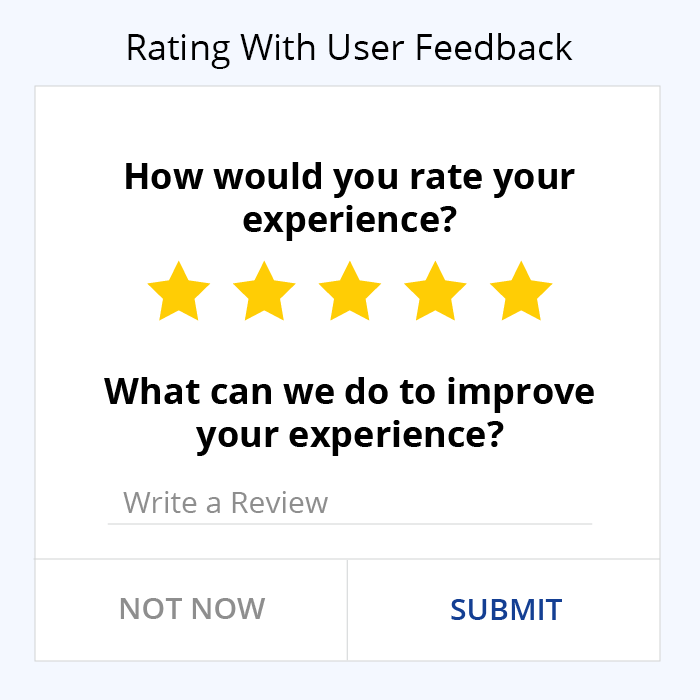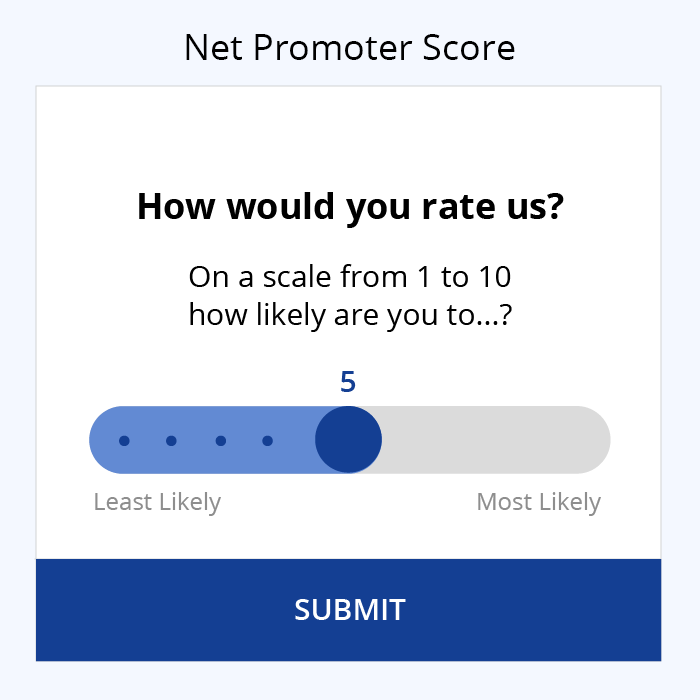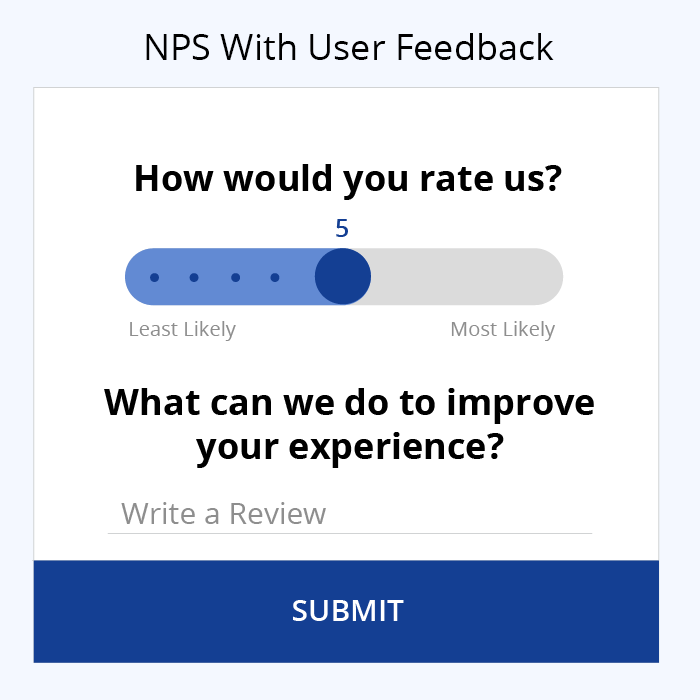 The Netcore Product Experience platform helps you achieve all three. The platform enables you to automate your NPS surveys via no-code survey templates to measure your product experience and deploys contextual nudges to improve it.
Getting qualitative feedback is cumbersome. The Netcore Product Experience platform recognizes this and deploys open-text feedback nudges across the user journey to contextualize the feedback. For times when qualitative feedback is too open-ended or you fear survey fatigue, Netcore helps you deploy a no-code survey with a few options or a simple yes/no survey nudge to make it precise.
Nudging such contextual surveys at the right time across the user journey will also help you identify the friction points you can improve to reduce churn. The Netcore Product Experience platform automates the entire process for you; for example, it addresses users who have had a bad experience (low NPS scorers) by triggering an open text feedback nudge or offering discounts via a message nudge.
FAQs
1. What does an NPS survey look like?
An NPS survey can be divided into two parts. The first part of the NPS survey contains an indispensable rating scale (0 to 10) with colored numbers for better understanding. The second part of the NPS survey is optional and asks an open-ended NPS question to the customer about their issues.
2. How many questions should the NPS survey have?
Any NPS survey must have two questions—a rating/score and the reason for the customer's score.
3. How do I create an NPS?
You can ask your in-house developers to create an NPS survey for your app/website. But why do that when you can automate NPS surveys with a no-code NPS survey template using the Netcore Product Experience platform?