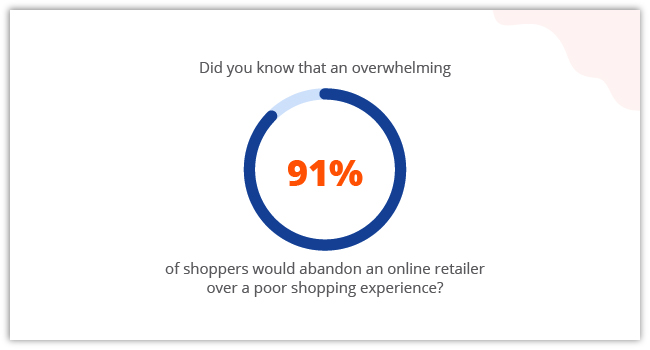 The importance of personalization in online retail has never been greater than in 2022. While the pandemic may have driven customers to shop online, that behavior has become ingrained. Even with the markets opening up, a majority of the shoppers today prefer shopping online to in-store.
With the market already cluttered with multiple options, the onus is now on each retailer to ensure that they can curate experiences that can turn users into repeat customers.
How do retail brands go about achieving this? The answer lies in effective customer engagement solutions. According to a survey by Netcore, nearly 3 out of 4 shoppers expressed a desire for a more personalized shopping experience.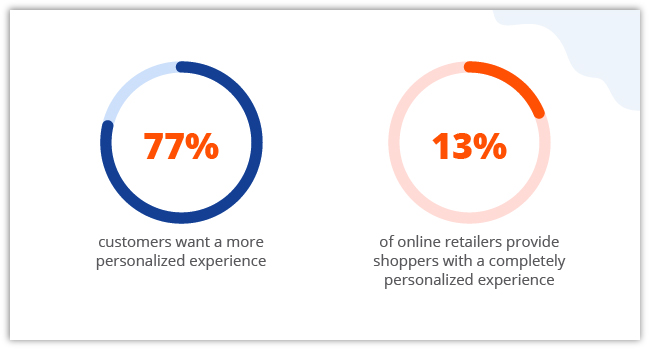 The fact that only 41% of the retail executives said that their platforms were somewhat personalized further emphasizes the importance that brands should place on optimizing their customer journeys to meet each unique shopper's requirements.
The impact of personalization on retail performance
In a survey conducted amongst 200 retailers, we saw that 7 in 10 retailers who invested in personalizing their customer engagement & experience strategy saw an ROI of at least 4X.
Furthermore, the use of a customer engagement tool for personalization led to improvements in key metrics such as conversion rates, cart abandonment rates, average revenue per user, and average order value.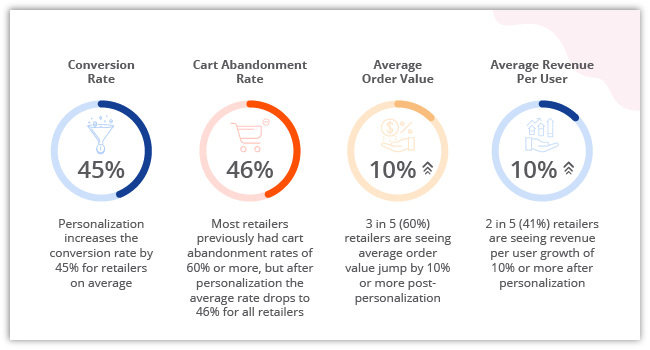 On average, a shopper visits at least eight pages before making a purchase decision. Using personalization helped 75% of the retailers achieve an average of 10+ page views per customer. Thus, retailers can ensure that shoppers see more pages and products before purchasing.
Personalization, a critical component of any customer engagement solution, plays a pivotal role in up-selling and cross-selling. Close to 30% of shoppers said they are more likely to purchase a product they did not initially intend to buy if they got relevant recommendations. Another 26% say a personalized experience can drive them to buy something more expensive than initially planned.
Does personalization have a direct correlation with customer retention and loyalty?
Of course, it does. 44% of surveyed shoppers said they become more loyal to a retailer that provides personalization. In fact, the 90-day retention rate increased by over 70% when applying the same.
Wondering the impact personalization can have on your category?
Our benchmark report provides you with in-depth insights from across all the retail categories and the kind of improvements that you can see in each benchmark on the application of personalization. From conversion rates to retention rates to cart abandonment, this report is your one-stop shop for all insights related to online retail.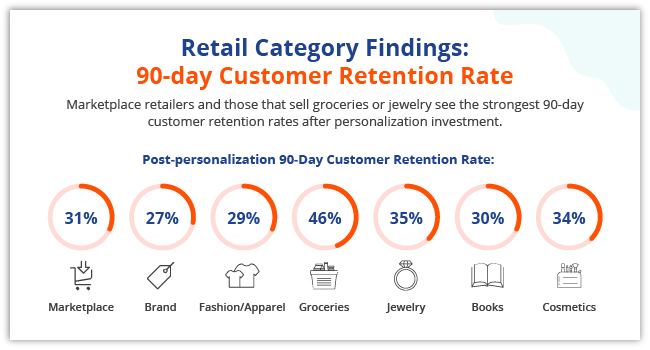 Retail personalization success stories
Crocs achieved 42X marketing ROI
The major challenge for Crocs India was low customer engagement and retention. The lack of personalized experiences meant customers left the website making a purchase. With a catalog of over ten thousand products, generating accurate product recommendations was a challenge as well. However, by leveraging Netcore's customer engagement platform, Crocs successfully personalized product recommendations and messaging across various channels, including their website, emails, and web push notifications, resulting in a staggering 42x marketing ROI!
The Body Shop achieved a 13.2% increase in website revenue
With their customers unable to find the right products, the Body Shop was seeing customers drop-off without purchase. The absence of a robust customer engagement tool for tailored recommendations further impacted retention. However, with the integration of Netcore's customer engagement solutions, they witnessed a 13.2% surge in eCommerce revenue and a 13.4% boost in engagement!
Online retail personalization challenges
Modern retail businesses face numerous obstacles in their personalization endeavors, highlighting the growing necessity to employ reliable customer engagement software to refine the shopping experience. This is further testified by the fact that while 62% of retailers claim to have improved their personalized shopping experience, a worrying 45% of shoppers believe they have not seen any improvement.
So what is keeping brands from personalizing the customer journey?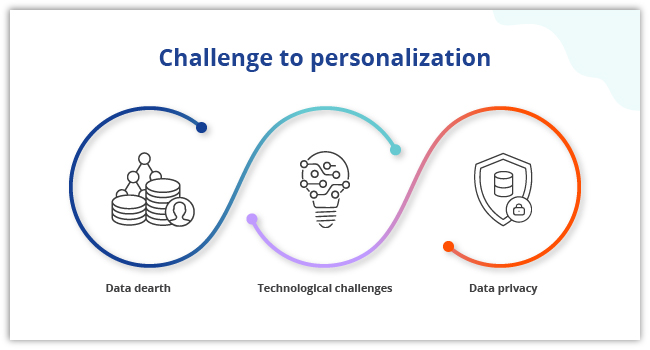 Data dearth
50% of the retailers surveyed say that gathering customer data is the biggest challenge to personalization. Only a slim majority can use real-time customer data to personalize their customer journeys. Cross-device and offline data, real-time behavioral data, cookie-based historical data, or users' location and device information are some forms of data that retailers say they have trouble incorporating in their processes.
Technological challenges
While the opportunities with personalization are exciting, most marketers feel under-equipped to deliver. A recent McKinsey survey of senior marketing leaders finds that only 15% of CMOs believe their companies are on track with personalization.
Other issues that retailers cite as challenges include a lack of IT bandwidth, difficulties in selecting the right customer engagement solution partner, and insufficient internal resources to craft a personalized strategy.
Data privacy
According to a report released by KPMG, a complete 86% of the respondents said they feel a growing concern about data privacy. In contrast, 78% expressed fears about the amount of data being collected.
Consumers today want to know how their data is being utilized. More than a third of shoppers (35%) would be more willing to share data if they were granted more transparency about how retailers will use the information.
Encouragingly, consumers are willing to share their data in exchange for an enhanced shopping experience, underscoring the potential of a well-executed customer engagement solution.
What is the impact of non-personalized experiences?
For shoppers, meaningful personalization means sticking with a retailer—but when implemented poorly, it will drive them away.
If you are not reaching out to your customers with relevant communications, there is a good chance they won't respond. There is a 24% chance of abandoning their cart if they do not receive personalized offers.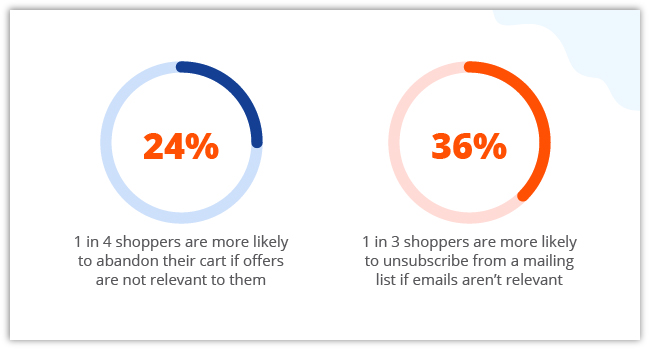 Personalization reduces acquisition costs by 50% and improves marketing efficiency by 30%. Retail brands that are not investing in it are losing out to the competition and potential revenue.
Conclusion
Your customers have made it clear. They want a personalized shopping experience across the entire customer journey. With the majority of retailers facing personalization challenges, there's a pressing need to embrace trusted third-party customer engagement solutions to enhance the shopping experience.
With experience and expertise in this space, third-party solutions are convenient for getting started on your personalization journey. They will keep you updated with the latest trends and innovations in the eCommerce personalization space.
With the intense competition, the onus is on you to build personalized customer journeys at scale. Netcore's omnichannel personalization stack can help you develop that.
All the stats presented here can be found in our report.