As a marketer, you aim not only to sell but also to make your customers feel seen and heard. Interestingly, the more you convince them that you're listening, the higher the chances they'll like your brand enough to purchase from it.
The welcome email is an excellent way to establish an affable relationship with customers. We'll take you through the definition, nuances, best practices, and a few examples of top-notch welcome emails – everything you can use to get started on the right foot with every new signup.
What is a welcome email?
A welcome email is the first email a brand sends to a customer after they sign up for the newsletter or subscriber email list. The welcome email helps the brand introduce itself to the customer and create the first positive impression.
The welcome email's goal is to connect with each subscriber, familiarize them with your brand and its offerings, establish credibility, and get them curious about exploring more.
Why send welcome emails?
The welcome email creates the foundation for a brand's communication with a new customer or subscriber. Think of it as your first "hello" and handshake. This is your perfect chance to set the tone for all future interactions and expectations.
Welcome emails also have the highest open rates among all marketing emails, around 91%. Use the opportunity to the fullest. It's the ideal space to resonate with the customer in the best possible manner and set the stage for converting them into brand loyalists.
Elements of a great welcome email
Personalization: At the very least, use customers' first name to connect with them. If possible, share a relevant story (like a similar customer's testimonial) to communicate better with them.

A person's name as the sender: Customers are likely to respond better if they find an email sent by "Jennifer from Netcore" rather than "Netcore Customer Onboarding." Make people feel as if a person, rather than an organization, is speaking to them.

A compelling subject line: The subject line is the only thing that stands between your email getting opened or ignored. It must have the perfect combination of a relevant hook, personalization, sentiment, and incentive (like a welcome gift) to interest users. However, since users' preferences tend to vary, it would be advisable to use Subject Line Optimization (SLO) techniques.

A clear CTA: What do you want people to do once they read your welcome email: Explore the product catalog? Avail a discount and make a purchase? Let you know what kind of content they wish to receive from you?
Whatever your intention, ensure that the in-email Call to Action (CTA) reflects it. Analyze the engagement and interaction metrics post-email. Gain clarity on whether your CTA in the welcome emails resonate with user preferences and steer them to the right user journey funnel.
Examples of great welcome emails
Check out a few examples of exceptional welcome emails that didn't just delight the recipients but also achieved the desired results in terms of ROI:
Adobe Lightroom
Subject Line: Welcome to the Lightroom community

The email subject line is simple. Lightroom has such immense brand recognition that they don't need to say more. Since it is the most preferred tool for photographers, the recipient knows what exactly they are getting with that subject line.
The email content is more visual than textual, with concise text that talks about benefits, "Learn new techniques," and "Share your edits." Phrases like "safe, inclusive and supportive" community and "photographic expression" move away from marketing jargon and assure users that they are in an artistic space, which, as photographers, they are more likely to want.
YNAB
Subject Line: Let's talk grocery budget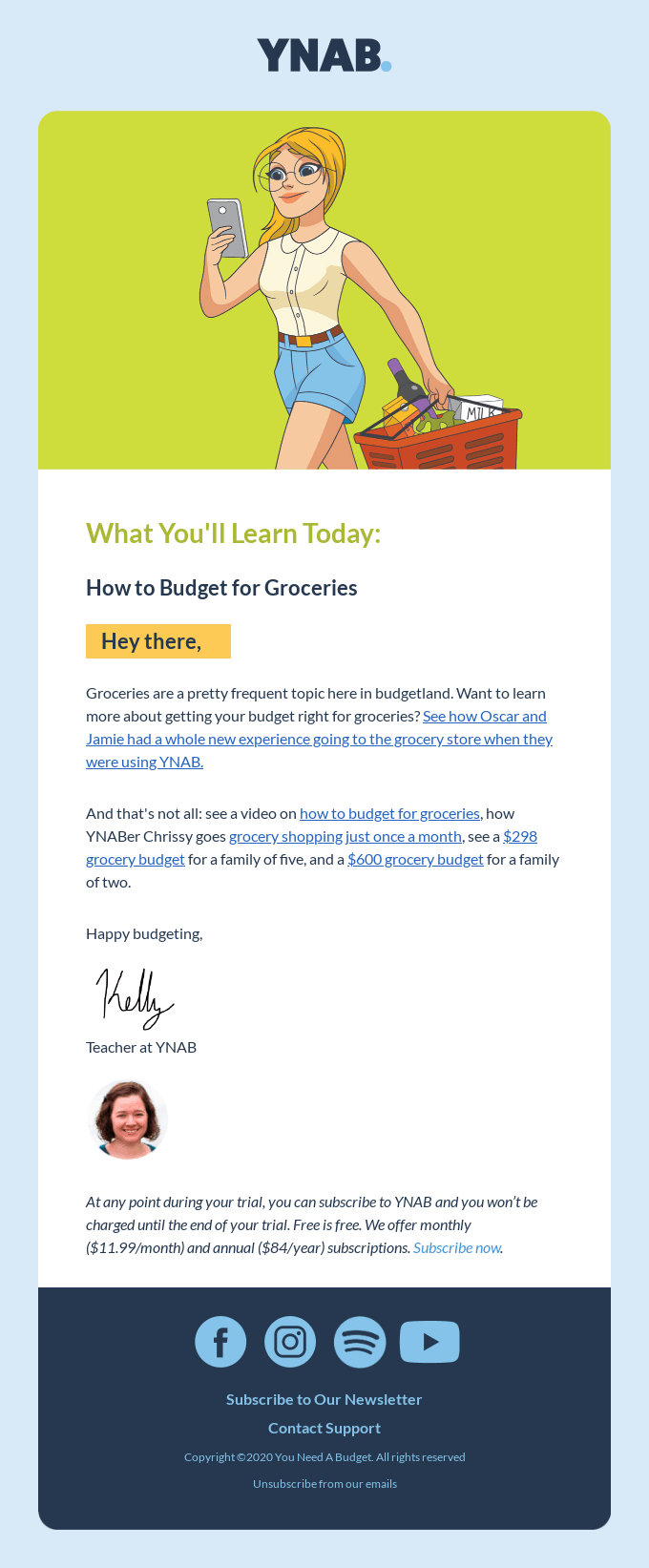 YNAB has a really interesting approach to the welcome email. Instead of the "welcome to our community" message, they go straight to offering actionable information – how to create and maintain grocery budgets.
Notice how they present solid, clickable user examples that also act as social proof. If you're looking to manage your grocery expenses better, you are almost guaranteed to click on one or all of those links.
Heroku
Subject Line: Git your deploy on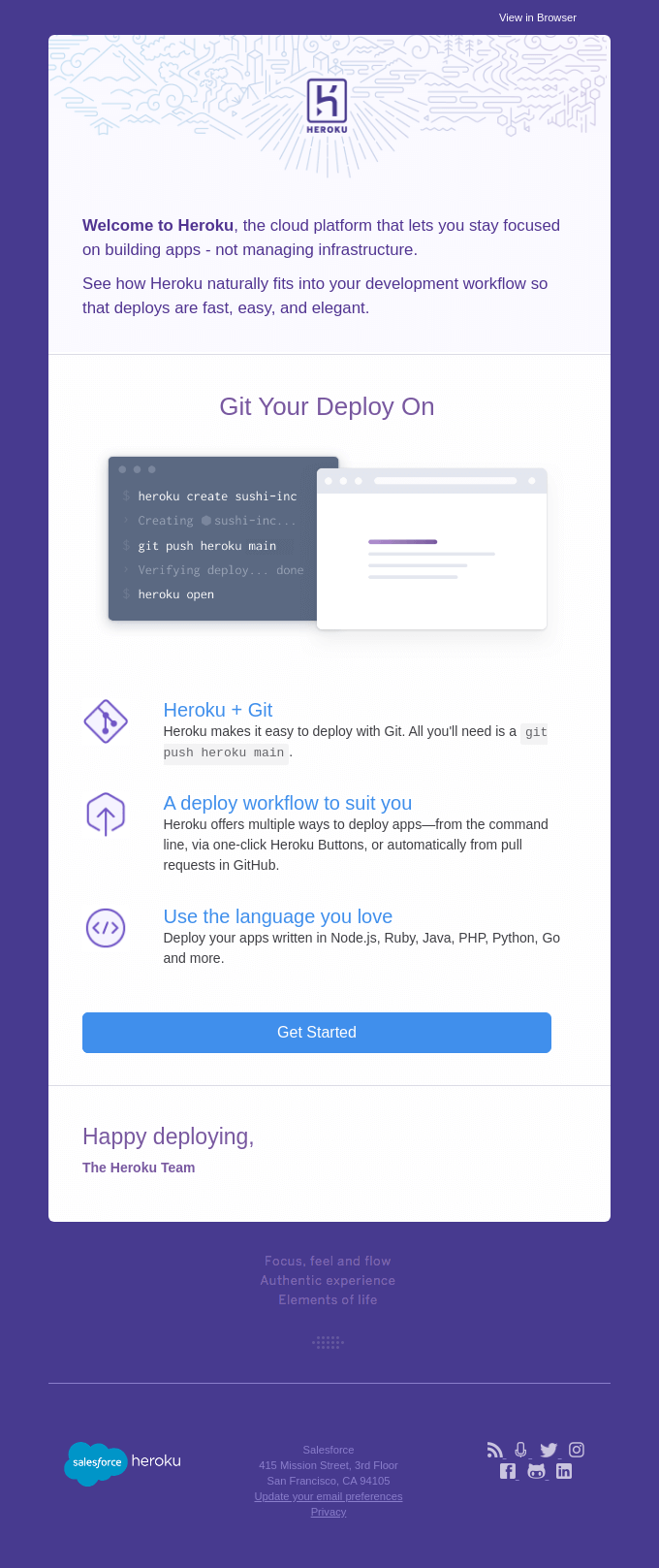 The "developer humor" in the subject line is a lighthearted way to get acquainted with the recipient, while the email content is minimal, immediately helpful, and highlights what's important. Devs are known for being uninterested in anything that is not directly relevant (especially when it comes to their work tools), so the synergy between the "what" and "how" text and the CTA works perfectly for a developer audience.
Otherland
Subject Line: Greetings from otherland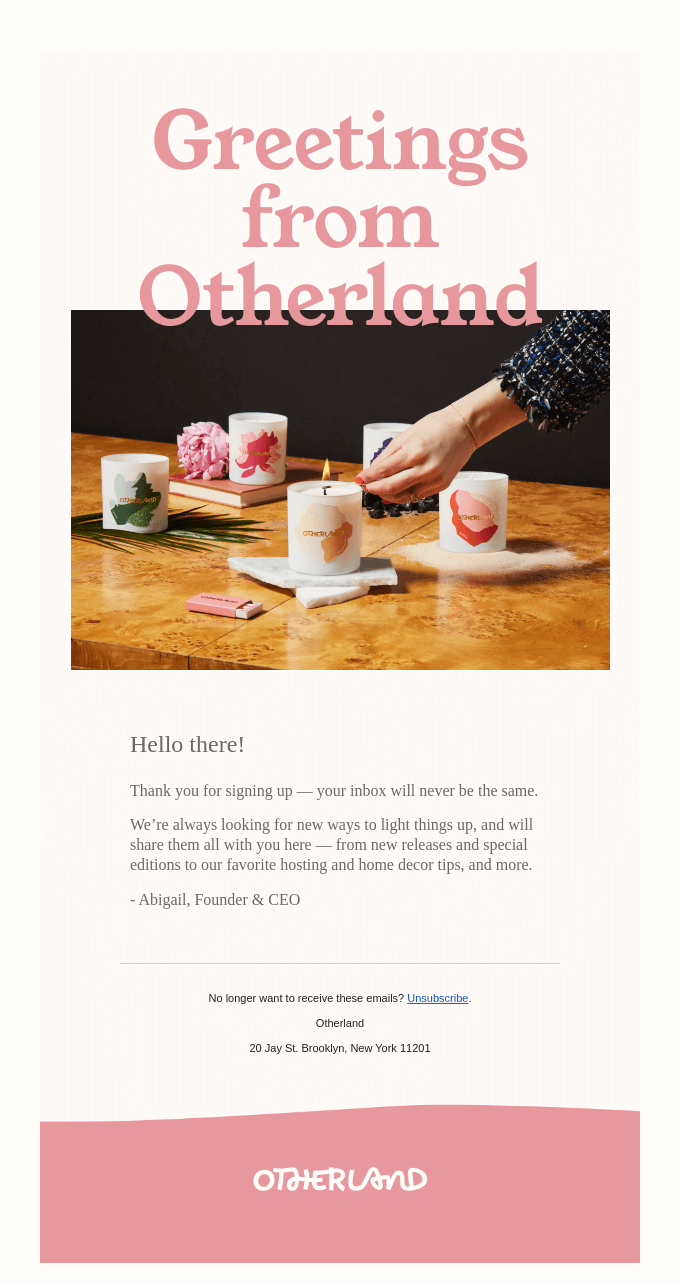 One wouldn't have thought a pastel-on-cream color scheme would work, but this one does. The subject line/email text isn't super creative, but the soothing image and reassuring visual do enough to strike a positive impression and appeal to the user.
Jira
Subject Line: Join the Atlassian Community to find help and support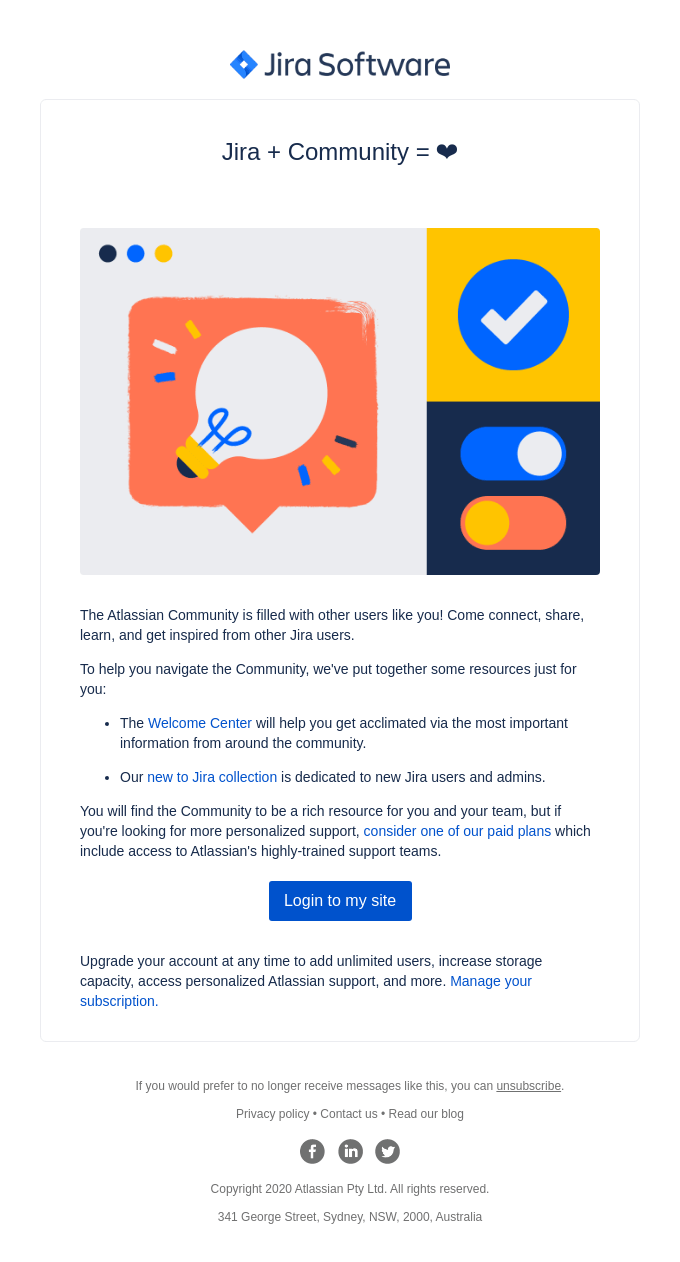 The images in this email are so simplistic (and their subject so obvious) that most recipients would be enchanted by those alone. But the writing is helpful, enriched with valuable information, and like every good developer product, it cuts straight to the chase.
Loftie
Subject Line: Welcome to Loftie

Look at the first line in the text: "You're on your way to sleep and happier starts to your days." The email hits it off immediately by emphasizing the user's benefit, rather than the product's offering. This is a smart way of making the user feel that the brand cares for its audience, rather than seeing them as mere buyers.
Domestika
Subject Line: We'd like to welcome you to Domestika

In another blog on email design trends for 2023, we've mentioned that using images of human faces works wonders in getting emails noticed by users. Humans are wired to notice faces and respond to the emotions we read on them.
This email shares recommended courses with faces in the video thumbnails. 10/10. The content also includes fundamental questions aimed at getting to know the user needs better.
Birchbox
Subject Line: Consider This Our Welcome Gift To You

A perfect example of how a GIF can liven up welcome emails and get users excited about what they're getting with their Birchbox subscription. The subject line gets straight to the point and the CTA comes in early, right after a short and compelling text. Users also get a discount code for their first box, so they're bound to be extra happy on receiving this welcome mail.
MFMG
Subject Line: Welcome to the club
A brand for women of color should feature women of color on their emails. And MFMG does it with panache. This has the instant effect of resonating with their target audience. The MFMG welcome mail opens with a powerful brand introduction that makes users feel seen and heard – an invaluable asset that attracts new customers and retains existing ones in the long run.
Partake Foods
Subject Line: Welcome to Partake

So much text usually fails to work in our attention-strapped digital ecosystems. But this one does…because the narrative makes a successful attempt at sounding authentic.
The founder is a mom who realized the necessity for her products when she had to deal with her daughter's food allergies. For mothers across the world, and especially in the US, this is a common, relatable story. Users (if they are moms or are in any caretaking role) will connect with the founder's story, and be more likely to view the brand in a positive light.
Ace the Welcome Emails with Netcore
With decades of experience at establishing better customer relationships and accelerating engagement, the experts at Netcore know precisely how to craft a welcome email that will get users to engage and interact. We know the right mix of AI-powered personalization and human interest content that keeps customers hooked and delivers the best possible outcome from each email.
Take a look at the many success stories we've brought to life with customers like MoneyTap, Axis Securities, Thomas Cook, BigBasket, airasia, and more, and you'll know we walk the talk at Netcore.