Mobile marketing is critical to your brand's overall growth. With users spending five to six hours on their phones daily, the average time spent on mobile phones is steadily increasing. Consumers have few reasons to turn to their desktops with social media platforms, emails, and communication channels, to apps catering to varying needs present on mobile devices. This makes mobile a platform like no other in gaining and retaining users' attention. Mobile marketing is more effective than desktop channels, whether you're facing cart abandonment or low conversions despite high traffic.
We'll discuss the importance of mobile marketing and seven examples to help you bring your mobile marketing strategy into action and drive sustainable growth.
Why is mobile marketing important?
There are around 6.6 billion mobile phone users worldwide. Furthermore, 50% of the people who see a mobile ad immediately perform a google search for the company or directly visit the website to buy the product. Such stats are proof of the changing mobile-first consumer behavior. Mobile marketing is no longer an afterthought, especially at a time when 56.7% of web traffic comes from mobile devices.
Marketing on mobile as a platform is:
More accessible as it's available immediately—anytime, anywhere.
Highly personalized, given that it can leverage users' mobile-specific data and features.
It is greatly impactful as it uses multiple channels like SMS, WhatsApp business, in-app, push notifications, etc. 
Cost-effective as ad clicks from mobile is 24% cheaper than desktop clicks.
What makes good mobile marketing?
Mobile marketing requires significant effort to yield good results. Good mobile marketing has a few things in common.
Optimized mobile sites
Mobile-friendly sites have become a necessity. Especially when mobile devices drive most of the web traffic and visitors are 5x more likely to leave if your site isn't optimized to mobile devices.
Mobile optimized sites drastically improve user experience by adding ease of navigation, resulting in high average time on site, engagement, and retention.
Promotions on SMS
SMS marketing has an average opening rate of 98%—higher than emails. Marketing via SMS is cost-effective, boosts customer engagement by making your brand more accessible, reaches a wider demographic given the widespread phone usage, and is easily integrated with other channels (social media or emails, for example).
Intuitive mobile apps
Your mobile app must be intuitive—user-friendly, and easy to use. You want to incentivize your customers to download the app by introducing app-only offers and features. This exclusivity is required to draw the users away from your mobile websites and towards your app.
A comprehensive marketing stack
Even after having all of the above, apps might struggle to drive high conversions. That's because you need a mature martech solution with customer engagement channels, user journeys, segmentation, notification delivery, and more.
7 mobile marketing examples
You need to implement a comprehensive and result-oriented mobile marketing strategy for growth. Brands have been successfully leveraging mobile marketing in a variety of ways. Let's see what they are doing right.
1. SMS marketing: Starbucks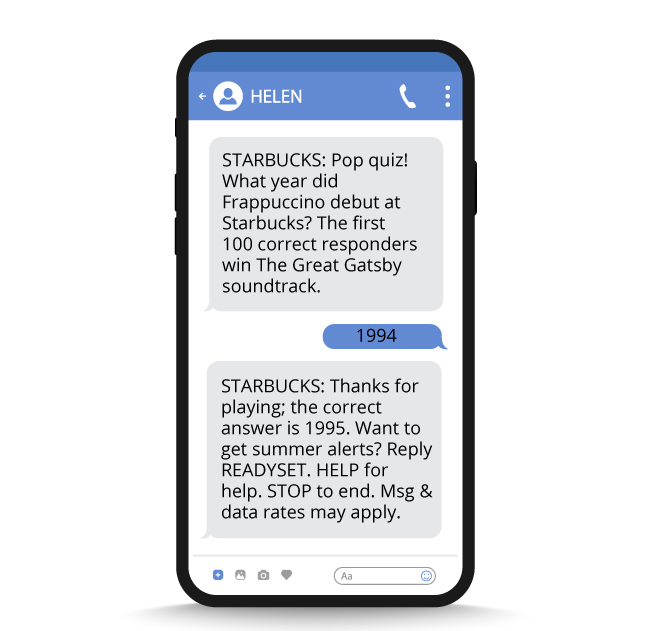 While most marketers have discounted SMS marketing, Starbucks has heavily relied on the SMS channel to increase its sales and customer engagement.
After downloading the app, users are asked to opt-in for its SMS marketing list. Following this, users receive personalized messages about their orders, ongoing deals and offers, bill receipts, and reward point notifications via this channel.
Starbucks also ran interactive SMS campaigns for their SMS list subscribers, using trivia contests and other similar games, and offered free drinks to winners.
Besides the order and receipt notifications, Starbucks only sends six SMS per month.
That's how Starbucks uses incentives via SMS to boost engagement, loyalty, and retention.
2. Location-based mobile marketing: Sephora

Sephora uses location-based mobile marketing to augment its omnichannel marketing capabilities and increase customer traffic in its brick-and-mortar stores. Users who enter a specific radius around the physical stores receive an app push notification with a discount code or an offer incentivizing them to visit the store. The notification copy is simple, concise, and engaging, directly highlighting the convenience and benefits of the in-person shopping experience.
Sephora doesn't stop there. The mobile app leverages beacon technology to recognize when a customer enters the store and sends relevant information via app push notifications to improve their shopping experience. Sometimes, it even includes a store map to make it easier for customers to locate their favorite products easily. This adds to a more personalized and engaging shopping experience, compelling users to return.
3. Geofencing: Burger King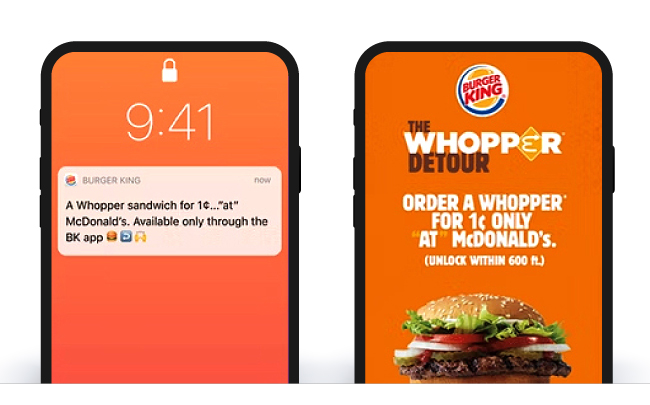 Geofencing, a subset of location-based mobile marketing, uses GPS data to draw a virtual fence around a place and prompts users on their mobile devices whenever they enter such regions. Burger King heavily leveraged geofencing to compete against its biggest rival at the time—Mcdonald's.
Burger King erected geofences around McDonald's franchises close to its store. Now, anytime a customer was close to one of those McDonald's, they received a notification on the Burger King app offering a signature whopper burger at just a cent and guiding the customer to the nearest BK franchise to redeem the offer.
They used #WhopperDetour to promote this feature on all social media platforms and encouraged users to download their mobile apps. During the social media campaigns, Burger King became the most downloaded app (previously 9th) in the iTunes App Store's F&B category.
4. In-app marketing: Amazon
Amazon uses in-app marketing to engage, convert, and retain users. The app has an easy login feature—one of the top reasons why 51% of users prefer mobile apps to browsers.
Amazon uses in-app tiles and banners to promote personalized deals and discounts based on users' interests and behaviors, so they keep coming back for more. It uses full-page banners to highlight the deals during larger events like the Black Friday sale. The app also provides guided navigation, displays time-sensitive discounts and offers, and reminds users to finish a pending task.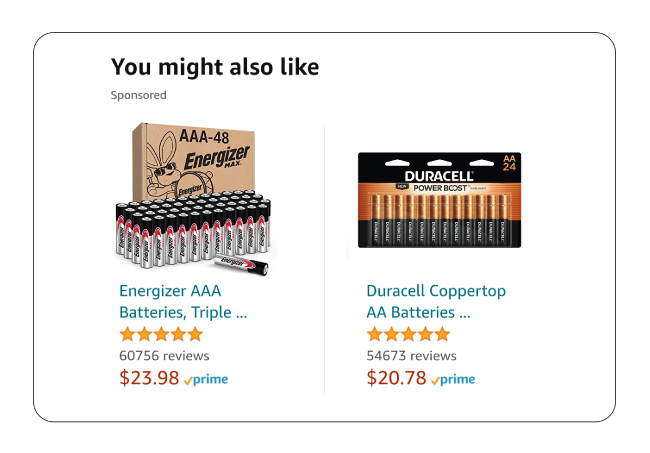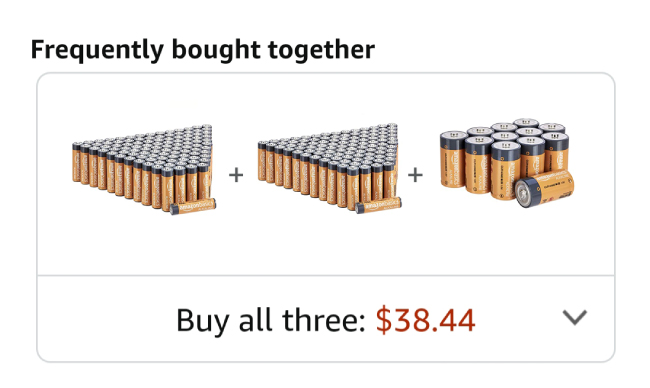 Additionally, it upsells and cross-sells using relevant and personalized recommendations to increase AOV, strengthen customer relationships, and boost loyalty. In fact, Amazon's recommendation engine drives 35% of its revenue.
5. App push notifications: Netflix

Netflix does a brilliant job of sending engaging and personalized push notifications based on users' behavior to encourage them to continue watching (pick up where you left) or update them about new arrivals, so they keep returning to the app. App push notifications increase retention rates from 3x to 10x, and these engaging notifications add to it.
What exactly makes app push notifications engaging?
Personalizing app push notifications using users' data and activity to send relevant content, offers, discounts, and recommendations.
Crafting rich push notifications with media, GIFs, emojis, etc.
Tracking conversions to see what's working.
And leveraging AI to optimize send times and titles.
Indodana, a leading Indonesian financial technology company, too utilized app push notifications to improve engagement rates. The brand also sent targeted discount notifications with A/B tests to Indodana app users. All of this resulted in a 20% increase in monthly active users.
6. WhatsApp business: Adidas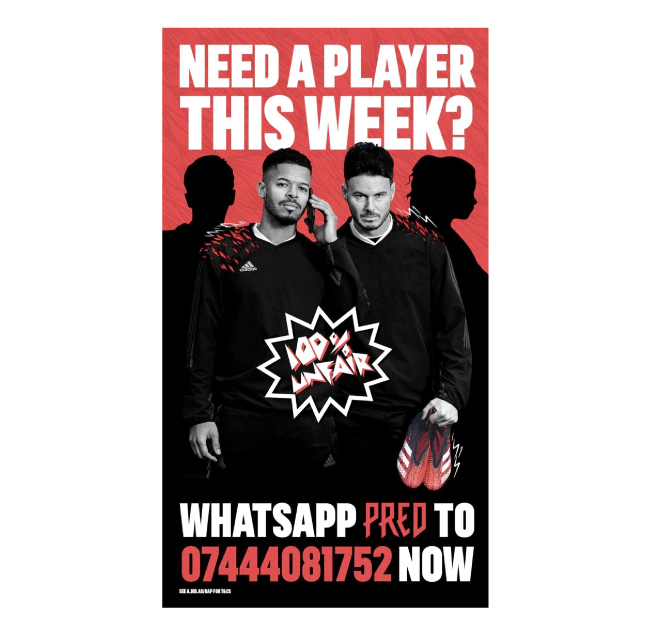 WhatsApp business mobile marketing is currently one of the trending marketing channels. Addidas has been using WhatsApp business since 2015 and did a brilliant job with its Rent-a-Pred campaign, which allowed recreational athletes and sports teams to borrow professional players to win a game.
The recreational players had to send a WhatsApp message to Adidas about their upcoming game and why they needed to rent a professional player. After the winning recreational athlete was chosen, Adidas sent a predator, or 'pred', dressed in the brand's sportswear to help the team improve their game.
Adidas capitalized on the end-to-end encryption of WhatsApp to better engage the audience as users could share private information one-to-one and directly address their sports concerns to the brand for review under this campaign.
Overall, this campaign highlights and criticizes 'unfairness', which often results in losing the game. Addidas injected a comic effect by calling out its boots, the unfair advantage that the pro players came wearing. Through this campaign, teams saw Addidas boots in action with pro players endorsing them. A 92% win rate of Rent-a-Pred players emphasized the product's quality and desirability.
7. Onboarding: Pagarkhata
Mobile marketing strategies become fruitless if your onboarding process is complex. That's what Pagarkhata wanted to improve. The prospects were downloading the app but, given the absence of guidance (contextual walkthroughs and nudges), weren't completing the onboarding process.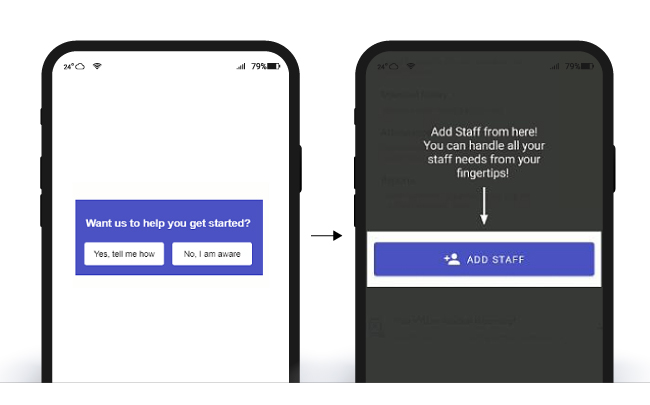 Pagarkhata eventually optimized its onboarding journey to make the app easy to navigate for users. It did so by running rapid multivariate A/B tests—variant 1 included a series of tool-tip nudges targeting users who decided to get a walkthrough and variant 2 started with a spotlight nudge followed by a series of tool-tip nudges guiding users at each step. These no-code walkthroughs decreased the time to value, encouraged users to complete the onboarding steps with full support, and resulted in a 3.5X increase in user activation.
8. QR Code Marketing – Beaconstac

Beaconstac is a powerful QR Code generator solution that enables brands to take their marketing efforts a level up using QR Code technology. Brands can create and manage QR Codes for a variety of needs, including billboard ads, digital business cards, jumbotron marketing, and many more. The sky's the limit! To understand and improve the performance of your QR Code marketing campaigns, the platform also offers analytics to track your scans with real-time scannability scores and scan locations.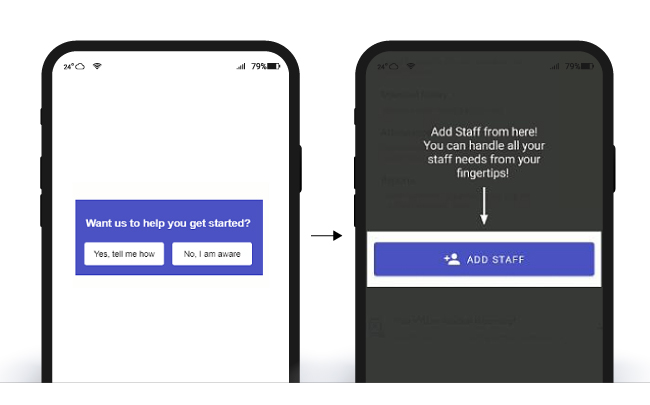 The usage of mobile QR Code scanners is expected to hit 100 million users in the U.S. by 2025, and leveraging a QR Code maker like Beaconstac will amplify the results of your marketing.
The convenience and ease of use of this technology have made it the most approachable technology among people. And with Beaconstac, you can exploit this technology to its fullest. It is the safest QR Code solution out there, meaning businesses do not have to worry about QR Code security or misuse of information at any point. With the 5000+ app integrations it offers, both small and large businesses can seamlessly integrate QR Codes into their existing marketing stack.
Mobiles marketing automation
While mobile is a great platform, you need automation to scale campaigns to your consumers effectively.
Step 1: Using Segmentation and Journeys
Using multiple layers of segmentation creates targeted pools of audience you can use in your campaigns. And in signup flows, you can set up journeys to guide your customers through various stages of your website or app towards the right actions. For example, here's a journey to prevent churn where app push notifications and SMS are used to maximize mobile reach.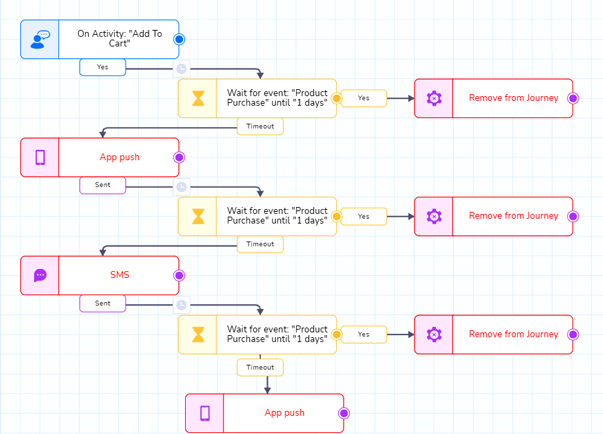 By using segmentation, journeys, and more, Wakanow increased its monthly revenue by 200%.
Step 2: sending cart abandonment notifications and SMS
Regardless of whether the user added the item on the web or mobile app, you can reach them via mobile for better chances of opens, assuming that people use their mobile phones more. (you can use Raman's preferred channels to take out the guesswork)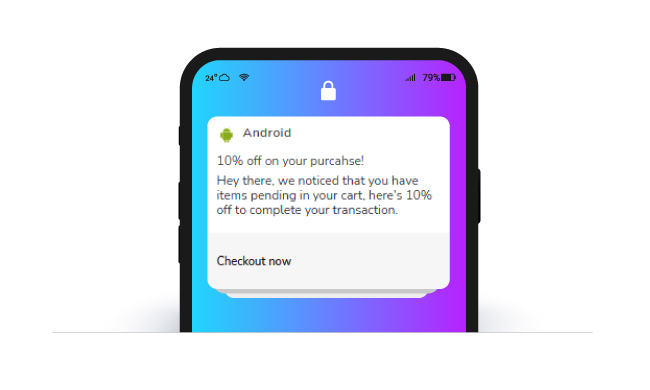 Learn how IGP used push notifications to uplift their campaign click rates and showcase their catalog.
Step 3: Predict and prevent churn
Taking automation to the next level, you can use AI to predict what actions a customer will do or not do in a given time interval. Especially useful to identify users who are likely to uninstall your app or are at risk of churn.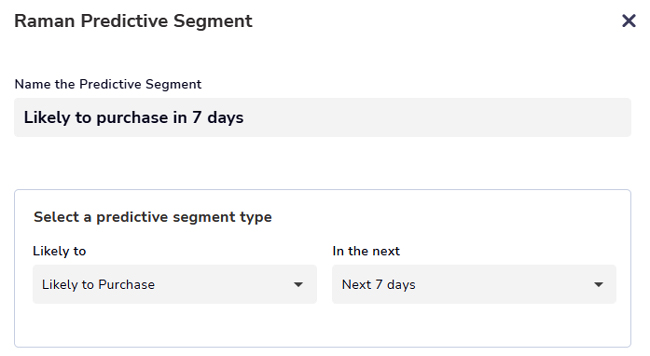 By using these predictive segments, you can segment them into buckets based on the actions they're likely or unlikely to take.
Conclusion
Mobile marketing is slowly becoming primary, and as we see, the companies that leaped are now ahead of their competitors. Mobile marketing leverages more channels than any other platform, and no other platform comes close. It's time brands focus on where most users are present to provide a rich, guided, and personalized user experience. Netcore Cloud's customer engagement platform and services assist brands in creating successful mobile marketing strategies that promise results. To know more, visit this page.