Today, the best retail marketing strategies don't just involve selling products; they're about creating unforgettable experiences.
This means embracing new technologies, personalizing customer interactions, and reimagining the shopping journey.
Almost one in five small businesses don't make it past their first year. To ensure your new store isn't part of this statistic, read on to discover the strategies that are reshaping the retail world and setting new benchmarks for success.
State of retail marketing in 2023
According to the National Retail Federation (NRF), the retail industry has experienced more than 30 consecutive months of year-over-year growth in sales. This growth has made the retail industry an outlier in an economy where lockdowns, supply chain issues, and inflation have strangled growth. However, the looming economic recession has raised questions about whether this trend will continue into 2024.
The demand for online shopping has survived, but consumers are now increasingly shopping in person. Forrester predicts that 75% of total US retail sales will happen offline in 2023 and emphasizes the emerging need for 'everywhere commerce' and a smooth omnichannel experience.
Trends in retail marketing to watch out for in 2024
1. Perfecting personalization
According to a McKinsey study, 76% of consumers say they're more likely to purchase from brands that personalize, and 78% say they're more likely to make repeated purchases and recommend these brands to others.
Shoppers now expect brands to remember who they are, where they came from, and what they liked, regardless of what channel they came from. They will quickly turn to other brands if this expectation is not met.
Retailers' understanding and fulfillment of personalization differ from what their shoppers expect. Shopify reports that 85% of businesses say they provide personalized experiences to consumers, but only 60% of consumers believe this is the case. This mismatch, however, is an opportunity to stand out from your competitors by perfecting your personalization capabilities and building customer loyalty.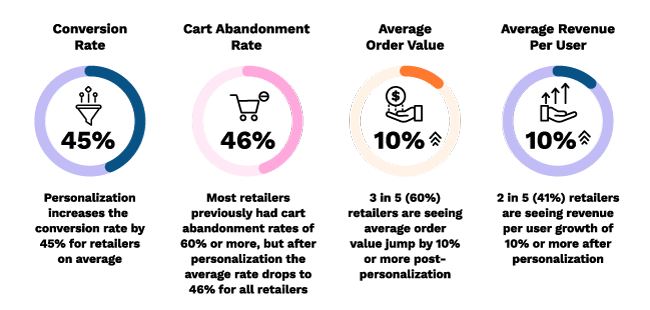 Given the economic downturn, personalization will be the key to retaining customers and growing steadily. Personalized marketing strategies are sharply focused on customer retention rather than customer acquisition – a more cost-effective way to ensure sustainable growth and build an enduring brand.
2. Shoppers demand a seamless shopping experience
Retail brands adopt omnichannel marketing as a critical strategy to increase conversions and sales. McKinsey research shows that omnichannel customers spend 1.7 times more than single-channel shoppers.
However, as a result, shoppers' interactions with brands become more complex, and a new challenge emerges – how can brands ensure consistent, frictionless experiences across channels and throughout the shopper lifecycle as shoppers freely switch between them?
It's not enough to move freely between different shopping environments. Customers also want to be recognized consistently across them.
Let's say someone makes regular purchases online—they'll expect to be treated as a loyal customer in the brick-and-mortar store too. A frictionless experience allows online and in-store retail offerings to complement rather than compete with one another, delivering a level of experience that keeps customers coming back for more.
3. Drive loyalty with shopper experience rather than product features
Shopper loyalty is at a record low, but with a standout customer experience, your brand can be the exception. A PwC study found that 73% of buyers say positive brand experiences are crucial to purchasing decisions. Nearly three-quarters say they're frustrated by impersonal shopping experiences, and about half say they'll head straight to Amazon if the brand they're shopping with does not provide personalized product suggestions.
While short-term incentives like exclusive offers and discounts might bring in one-time customers, retailers must anticipate their customers' needs and use that knowledge to build a personalized shopper experience to maintain a positive, long-term relationship.
These trends can read like opportunities or challenges, depending on how you perceive them. The key takeaway is that customers want a seamless and personalized experience as they weave through different channels throughout their shopper lifecycle.
This is where the frictionless shopping experience comes in. Frictionless shopping is easy, fast, and convenient. This is vital to winning customers and creating an army of loyal customers, especially when customer attention has become scarce. Frictionless shopping produces consistent experiences that help lower churn rates and increasing revenues.
Let's look at five strategies for a frictionless shopping experience in today's retail market.
Best retail marketing strategies to succeed in 2024
1. Invest in a Customer Data Platform (CDP)
A Customer Data Platform (CDP) is the foundation for your personalization and omnichannel efforts to ensure a high-quality shopper experience. It equips you with all the information to understand your shoppers so you can craft an effective omnichannel marketing strategy.
CDP collects and unifies first-party customer data from multiple sources to build a unified view of each customer. The data can come from attributes (transactional or behavioral data) and all the information they leave behind whenever they interact with your brand (online or offline).
Learn more about how Big Basket used Netcore's CDP to classify users into various buckets before recreating their email marketing strategy. This led to a 117% uplift in open email rates and a 157% increase in clickthrough rates.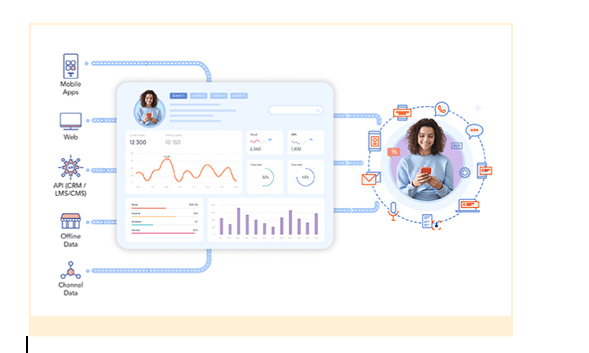 2. Perfect your omnichannel experience
Omnichannel seamlessly integrates digital and physical assets, most commonly in retail.
Mckinsey stated, "Offering a compelling omnichannel experience used to be the cutting edge of retail. It is now a requirement for survival." The idea is to provide a consistent user experience relevant to the buyer's journey across all channels.
An Omnichannel recognizes the same shopper and offers high-quality experiences across channels even when the distinctions between offline and online become increasingly blurred.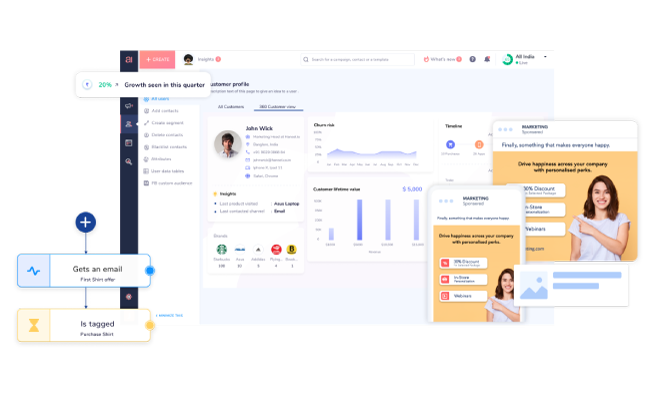 See how ONLY used our customer engagement and personalization solution to offer their shoppers an omnichannel experience across touchpoints such as website, email, web messages, and push notifications and generated 14X their marketing ROI and purchase rate on their product listing pages by 68%.
3. Personalization is the foundation
In today's digital world, shoppers have unprecedented levels of choice. If you can demonstrate your accurate understanding of each buyer's unique needs, you can stand out in a crowded retailers market.
This means personalizing experiences for your shoppers at every stage of their shopper lifecycle across channels – trigger emails, messages, or web notifications.
Provide personalized product recommendations on key touch points such as the home page, product display page, and category listing page. To stay competitive and win more customers, you require an AI-powered personalization solution – to understand your users in real-time and then personalize their shopping experience.
According to Yieldify, 76% of businesses use real-time behavioral data for personalization.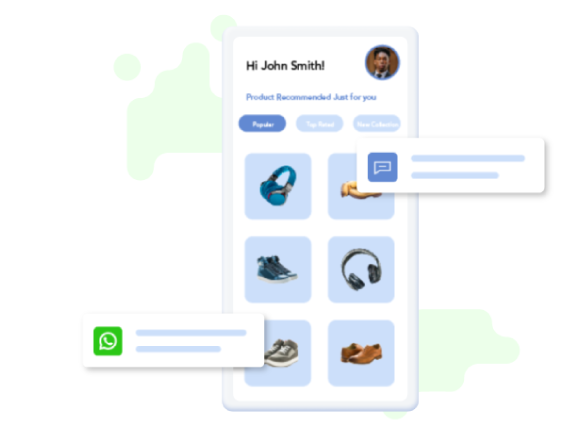 See how Crocs utilized our personalization suite solution, generated 42X their marketing ROI, and saw a 100% increase in clickthrough rate on their product listing page (PLP).
4. Leveraging AI to predict your users' actions
Retailers must utilize their customer data effectively to proactively engage customers instead of using reactive strategies. A deep understanding of shoppers in real-time enables retailers to predict their customers' future actions and catch them with the right message on the right channel at the right time. For example, retailers can arrest churn by presenting discounts via exit-intent pop-ups before the customer exits the website.
More specifically, AI-led personalization is the key to offering the kind of customer experience your shoppers desire – providing personalized product recommendations, generating content like email subject lines and push notification messages that will determine the conversion chances and ultimately achieving higher customer retention.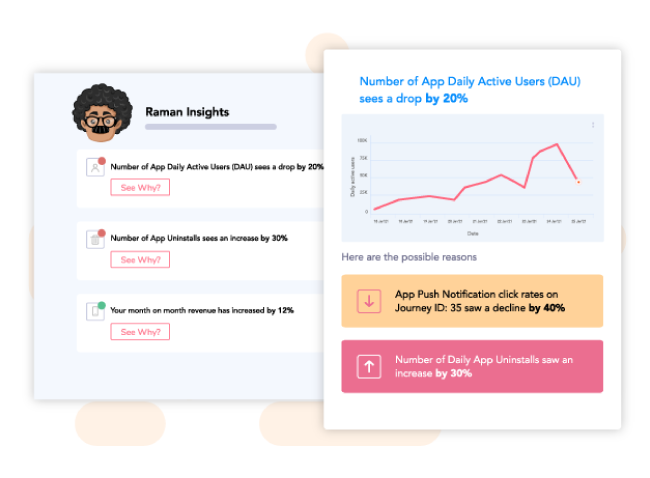 See how Vero Moda utilized our AI-powered personalization suite to achieve 18X marketing ROI and a 121% increase in purchase rate on the product listing page.
5. Make sure your onsite search is competitive
Onsite search is so much more than just the search box.
It is the voice of the customer. If you listen well, you can gain critical insights about your shoppers and translate shoppers' search queries into relevant search results.
An intelligent onsite search is crucial to provide a frictionless shopper experience. It is an essential product discovery tool that acts as a lubricant across the shopping journey. It understands shopper intent, reducing friction and drop-offs – enabling faster conversions and repeat purchases.
According to Forrester, 43% of site visitors go immediately to the search box. Then half of those people end up making a purchase. That's a 50% conversion rate amongst searchers. Yet 72% of e-commerce sites fail to deliver onsite search customer expectations. It also takes shoppers only 3 seconds to try an onsite search before leaving.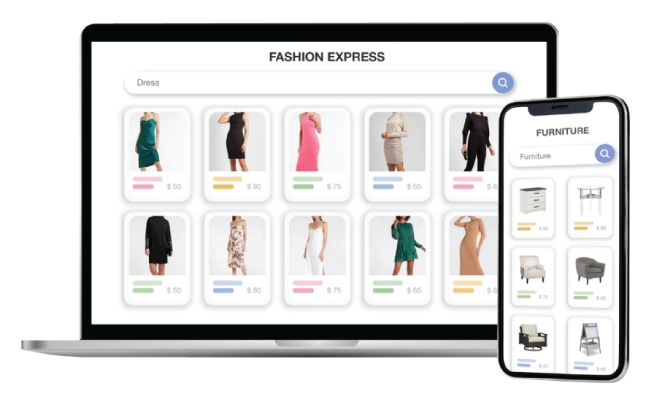 Learn how Jerome's furniture utilized our intelligent onsite search solution and increased revenue by 20% and site search conversion by 25%.
Conclusion
The best retail marketing strategies focus on the shopping experience as a whole. In today's multi-channel landscape, it's essential for products to be relevant and engaging. For ecommerce brands aiming to thrive in 2024, adopting cutting-edge technologies, crafting seamless omnichannel experiences, and personalizing their offerings are not just advantageous but crucial. The key to success lies in continuously innovating and aligning with consumer expectations to stay ahead.