In today's ever-changing marketing landscape, one channel has experienced a remarkable resurgence – email. Despite being one of the oldest forms of online communication, businesses are rediscovering the power of email to connect with audiences more personally.
Social media platforms, once hailed as the go-to for marketers, have faced a painful reality – the declining effectiveness of social channels to reach and engage consumers. Return on ad spending (ROAS) has dwindled, customer acquisition costs are soaring, and the overwhelming flood of content and ads has caused a recession in consumer attention.
CNN reported a shocking trend regarding our declining attention span – from 2½ minutes in 2004 to about 75 seconds in later years, and now, people can only pay attention to one screen for an average of 47 seconds.
Enter this blog, where we delve into the world of email marketing and explore the revolutionary concept of Inbox Commerce powered by AMP for Email. Brands have been seeking ways to break free from the constraints of traditional email campaigns and find new means of engaging their audiences. One groundbreaking method gaining momentum – is "Inbox Commerce," a term synonymous with in-channel conversions.
Inbox Commerce has transformed the email marketing landscape by turning static, one-dimensional email messages into interactive and dynamic experiences.
Steve Jobs, the legendary founder of Apple, once said, "Design is not just what it looks and feels like. Design is how it works."All thanks to the power of AMP (Accelerated Mobile Pages) for Email, marketers can now create captivating and immersive content with added key functionalities directly within the email itself, blurring the line between communication and commerce.
With this game-changing technology, users can shop, complete forms, RSVP to events, and even leave reviews without leaving their inboxes. The result? A seamless and frictionless journey that boosts user engagement and skyrockets conversion rates to unprecedented heights.
We will explore strategies employed by five pioneering brands that have successfully implemented Inbox Commerce and transformed their legacy email campaigns. Join us! But before we start, let's understand the significance of Inbox Commerce.
But before you start, do consider checking out our latest ebook on Inbox Commerce. It is a treasure trove of exciting use cases, interesting data points, and customer success stories that no marketer can ignore. Read now!
The What and Why of Inbox Commerce
We have already answered the question, "What is inbox commerce?" But humans are visual learners, so here is a graphic showing what it would look like in action – Brands can incorporate the entire shopping journey, from product discovery to making a purchase decision and fostering customer loyalty, all within an email. Furthermore, brands can customize their daily interactions to cater to each individual, using insights from the shopper's browsing habits, previous purchases, and demographic details.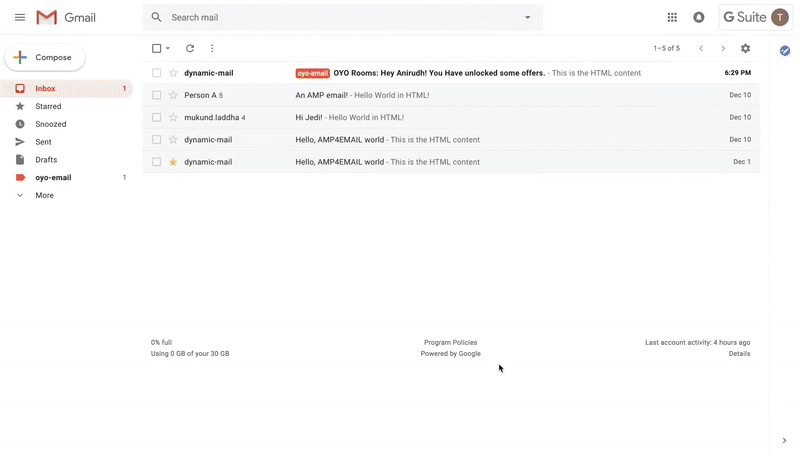 AMP has enabled emails to function like mini apps and websites. Oyo's customers can search, navigate the different accommodation offerings, compare, and even book their stays through emails.
The next question is, why do we need Inbox Commerce? How is it different from traditional emails?
Here's why we need Inbox Commerce, and here's how it differs from traditional emails:
Enhanced User Experience: Inbox Commerce creates a seamless and frictionless user experience by allowing recipients to interact with the email's content without leaving their inbox. This convenience and immediacy lead to higher user engagement and satisfaction.
Simplified Conversion Path: With traditional emails, users might be redirected to an external landing page to complete an action, which could introduce friction in the conversion path. Inbox Commerce eliminates this friction by enabling key actions directly within the email, resulting in a streamlined conversion process.
Real-Time Updates: Inbox Commerce allows marketers to deliver real-time and up-to-date information within the email. For example, users can instantly take advantage of a flash sale or limited-time offer without navigating away from the email.
Improved ROI: The seamless user experience and increased engagement offered by Inbox Commerce can lead to higher conversion rates and improved return on investment (ROI) for email campaigns. Marketers can drive conversions directly from the email, eliminating potential drop-offs caused by external landing pages.
Data Capture and Personalization: Inbox Commerce enables data capture within the email, allowing marketers to gather valuable insights about user behavior and preferences. This data can be used to personalize future email campaigns, making them more relevant and compelling.
In summary, Inbox Commerce is a robust evolution of traditional emails, providing users a more immersive and efficient experience. Now that we have grasped what
Inbox Commerce is and why it is crucial. The time has come to explore the benefits reaped by five leading brands that used this technology.
Alternatively, you can read our new ebook around Inbox Commerce if you'd like a fuller picture of some excellent use cases implemented by global brands. Read now!
Five Inbox Commerce Success Stories
Inbox Commerce stands out as a distinct approach, and the unique ways brands adopt it are fascinating. Below is a compilation of enterprises and conglomerates that have embraced Inbox Commerce, reaping remarkable outcomes that have significantly boosted their financial success. Let's explore these success stories in detail.
1. Myntra (Walmart)
Myntra, India's response to Macy's, a big box retailer, surpasses them in scale, with an impressive annual profit of $476 million. Myntra is the most profitable and highest revenue-generating player in the ecommerce fashion industry, serving a vast customer base of nearly 15 million individuals.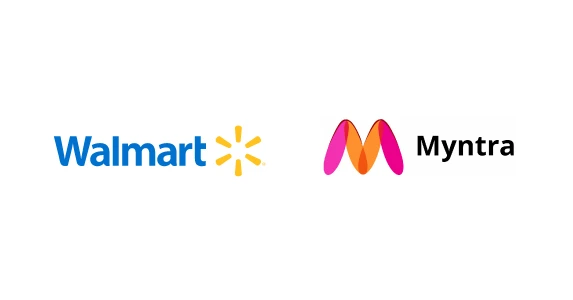 Walmart bought Myntra and Flipkart (India's largest ecommerce destination) in 2014 as a part of the world's largest ecommerce acquisition.
How did they use Inbox Commerce?
Myntra's Inbox Commerce email campaign took stylistic cues from the 2022 Grammy Awards to recommend products via email. This campaign won the 'Best Use of Interactive Emails' award at the prestigious MediaPost EIS Awards 2022.
Read the full blog here: Learn more!
Gains – 140% increase in conversions
Marketers from apparel and retail brands like Myntra take note, you can design campaigns that include recommendations in the form of product carousels and accordions for easy product discovery.
Here is a glimpse of what these campaigns might look like –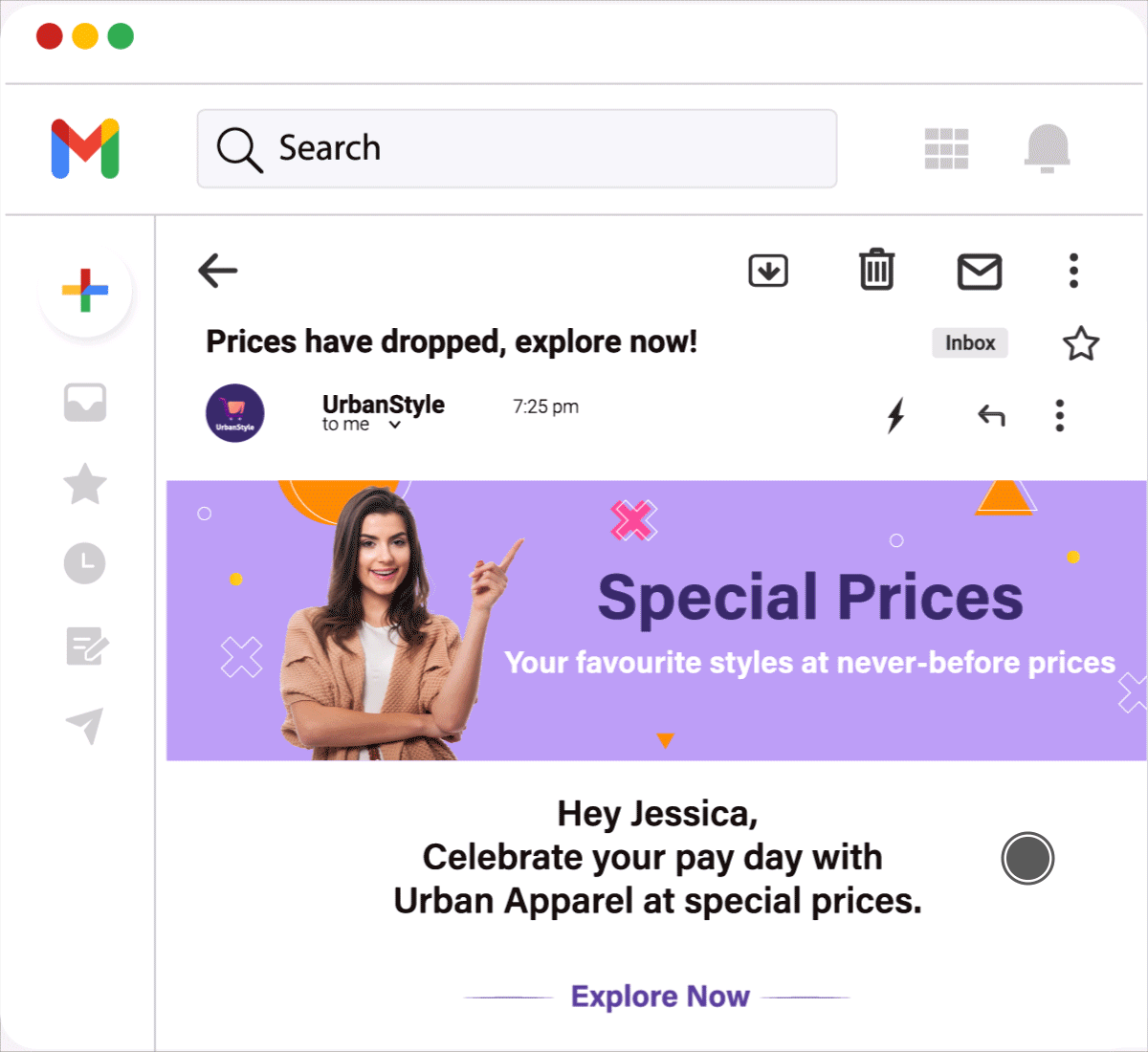 Accordions for browsing and scrolling through categories
Dynamic product carousels for intuitive browsing of SKUs
2. Woodland
Valued at almost $17 million, Woodland shoes are known for their rugged and durable designs, primarily used for outdoor activities and adventures. They provide comfort, support, and protection, making them popular among hikers, trekkers, and individuals seeking reliable footwear for various outdoor pursuits.
Why did they need Inbox Commerce?
– Customers perpetually dropping off from the sales funnel because of the reliance on website forms for data collection.
– Low customer engagement rates, interaction benchmarks, and constant friction in the email experience.
Inbox Commerce Use Case
Embedded feedback forms inside inbox commerce mailers that eliminated redirects and reliance on landing pages. This made filling post-purchase sentiment capture forms a breeze to fill out.
End-to-end email automation powered by Journey Builder meant, automatically triggered emails in case a customer made a purchase.
Gains – 325% uplift in responses captured
Read the entire case study by clicking the following link: Read now!
Did you know? You can also embed a form within the email body based on the feedback supplied by the user. For example, if a user supplies a 5-star review, send a form asking the user 'what they like,' whereas for negative reviews, 'what they don't like.'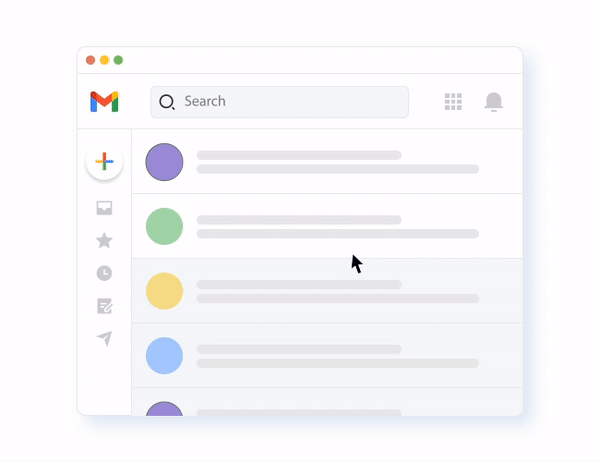 A typical conditional feedback form powered by Inbox Commerce
3. StarQuik (TATA)
StarQuik, a TATA enterprise, is a one-stop destination that aims to make grocery shopping fun, easy, and convenient for customers. They offer a range of over 10,000 items across grocery, fruits, vegetables, meat, chicken, fish, and organic products. StarQuik also sells personal care products and household essentials.
Why did they need Inbox Commerce?
Minimize drop-offs from CTAs, and external linking on emails, and break free from complicated redirects for simple tasks.
Take advantage of form feedback submissions to improve engagement and streamline the data collection process.
Inbox Commerce Use Case –
They incorporated fun spin-the-wheel games inside their emails for reward distribution; this was a quantum leap forward from traditional email campaigns with little to no interactive components present.
Gains – 700% uplift in responses and 700% increase in engagement
Read the entire case study by clicking the following link: Read now!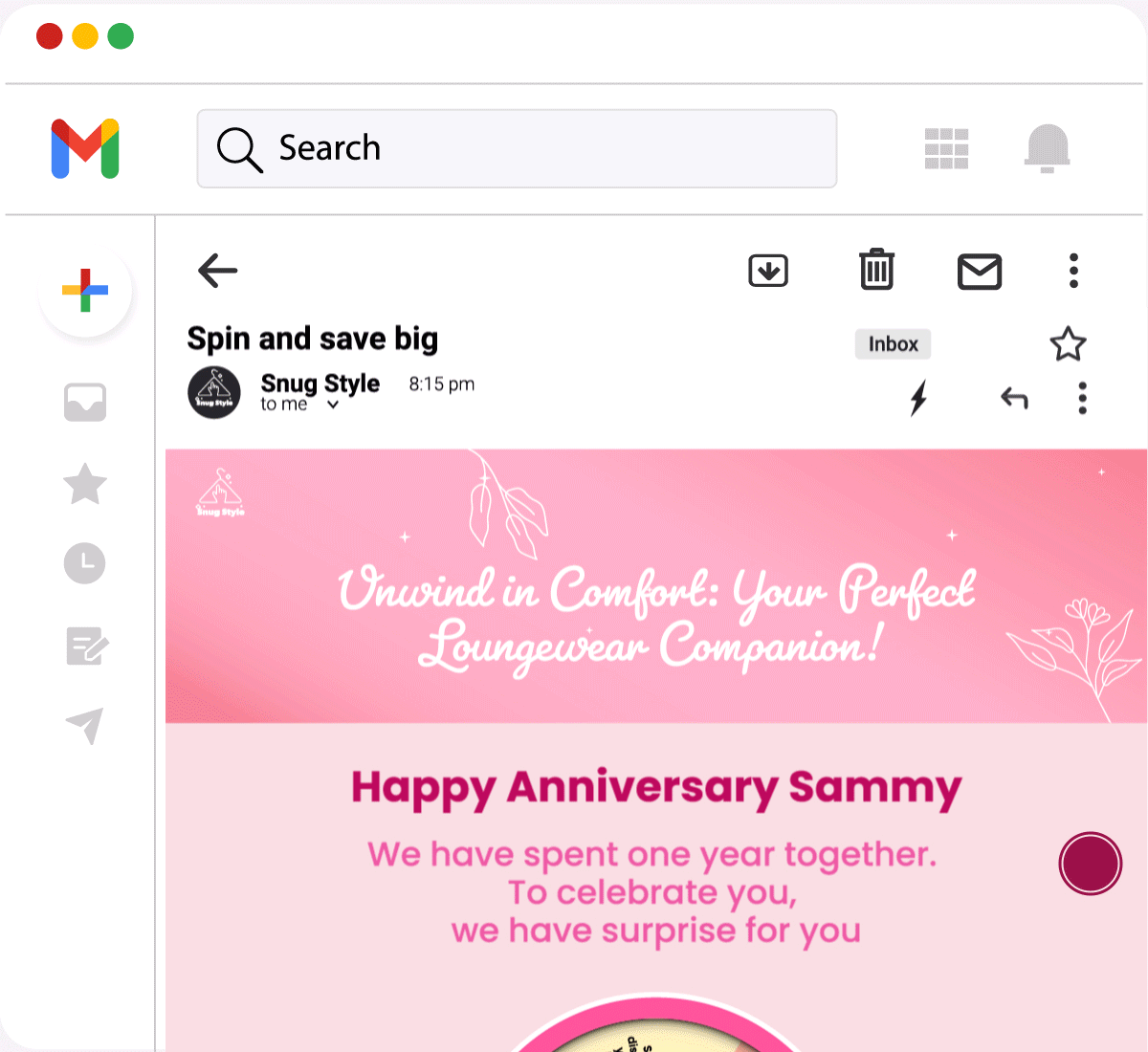 This is what a typical Inbox Commerce email with a spin-the-wheel component looks like
4. Asian Paints
Asian Paints is a leading paint manufacturer and supplier that offers a wide range of decorative and industrial paints. They cater to residential, commercial, and industrial sectors, providing high-quality, innovative, and sustainable painting solutions for walls, surfaces, and structures.
Why did they need inbox commerce?
Drive bookings for their flagship home makeover services
Prevent the leakage of leads in the conversion phase of the shopper journey
Inbox Commerce Use Case –
Interactive AMP templates with "Book an Appointment" CTAs directly embedded inside the email body
Prefilled data present inside the emails to make form fills breezy
Gains – 400% uplift in appointment bookings
Read the entire case study by clicking the following link: Read now!
Did you know? Embedded forms are used for demographic data collection or user sentiment collation and can also capture critical information about bookings, reservations, and more! The following is an exciting Inbox Commerce use case –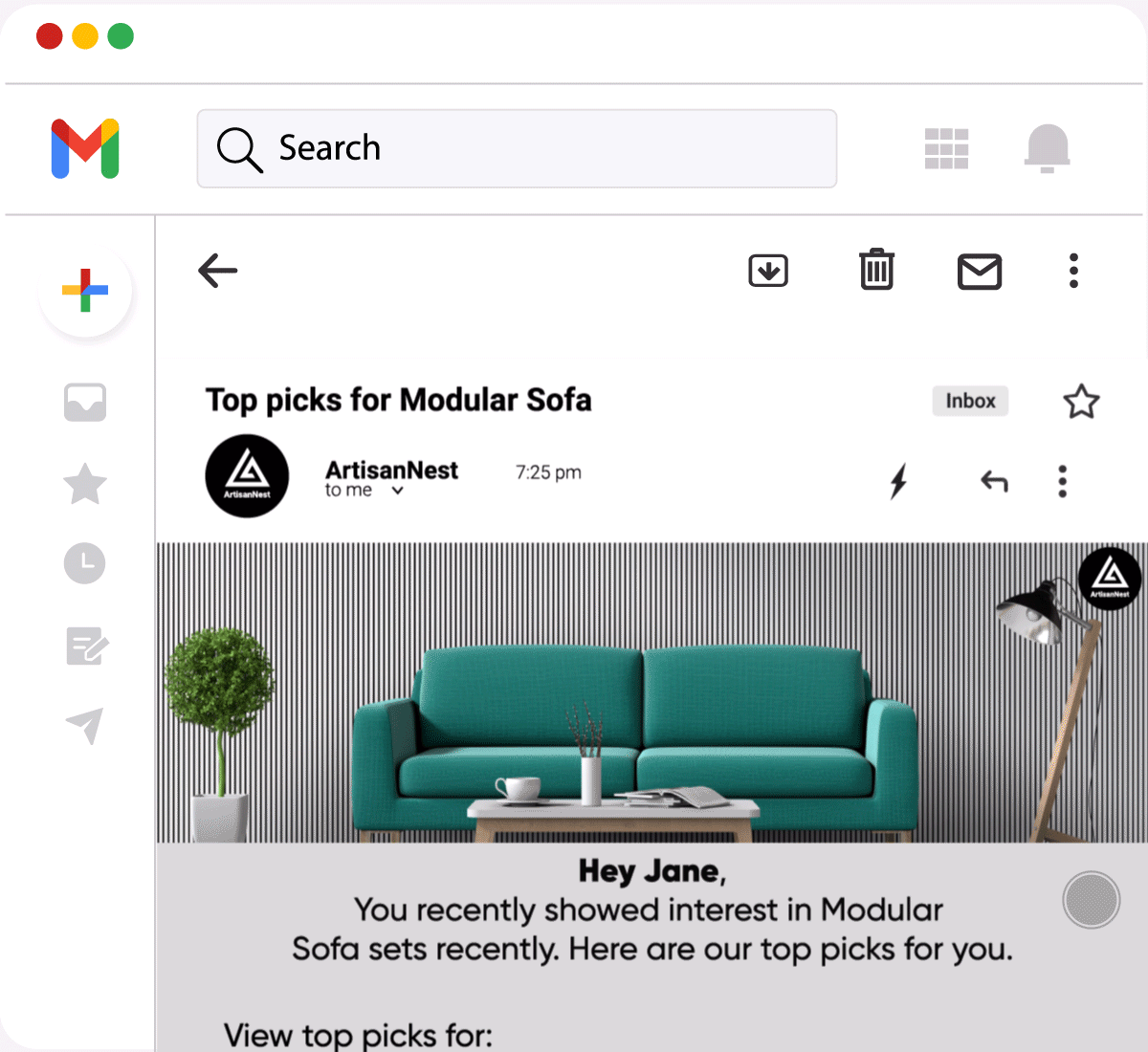 Recipients can now book an appointment, schedule installments, or reserve a table using forms with prefilled information and options within emails that are just like modern Android and iOS apps.
5. Caratlane (TATA)
A TATA brand with annual revenue of $78 million, India's premier destination for rarbuying exquisite jewellery online. Caratlane offers a wide selection of high-quality and certified diamonds, gemstones, and gold jewellery, providing a convenient and trusted platform for customers to purchase jewellery.
Why did they need inbox commerce?
They wanted to increase the number of experiential sessions and improve CTOR.
Enhance customer engagement during product launches by providing a frictionless email experience.
Inbox Commerce Use Case –
Inbox commerce was incorporated into their product launch marketing strategy, transforming the conventional email marketing approach and incorporating rich, dynamic elements.
Gains – 300% uplift in CTORs
Read the entire Caratlane case study here – Link
Did you know? A typical add-to-cart experience on Inbox Commerce needs zero redirects to external landing pages, you get the trigger automatically in case you need reactivation or you've shown intent for a product or category. All you need to do is simply open the email, and voila! No need to hop on to external pages.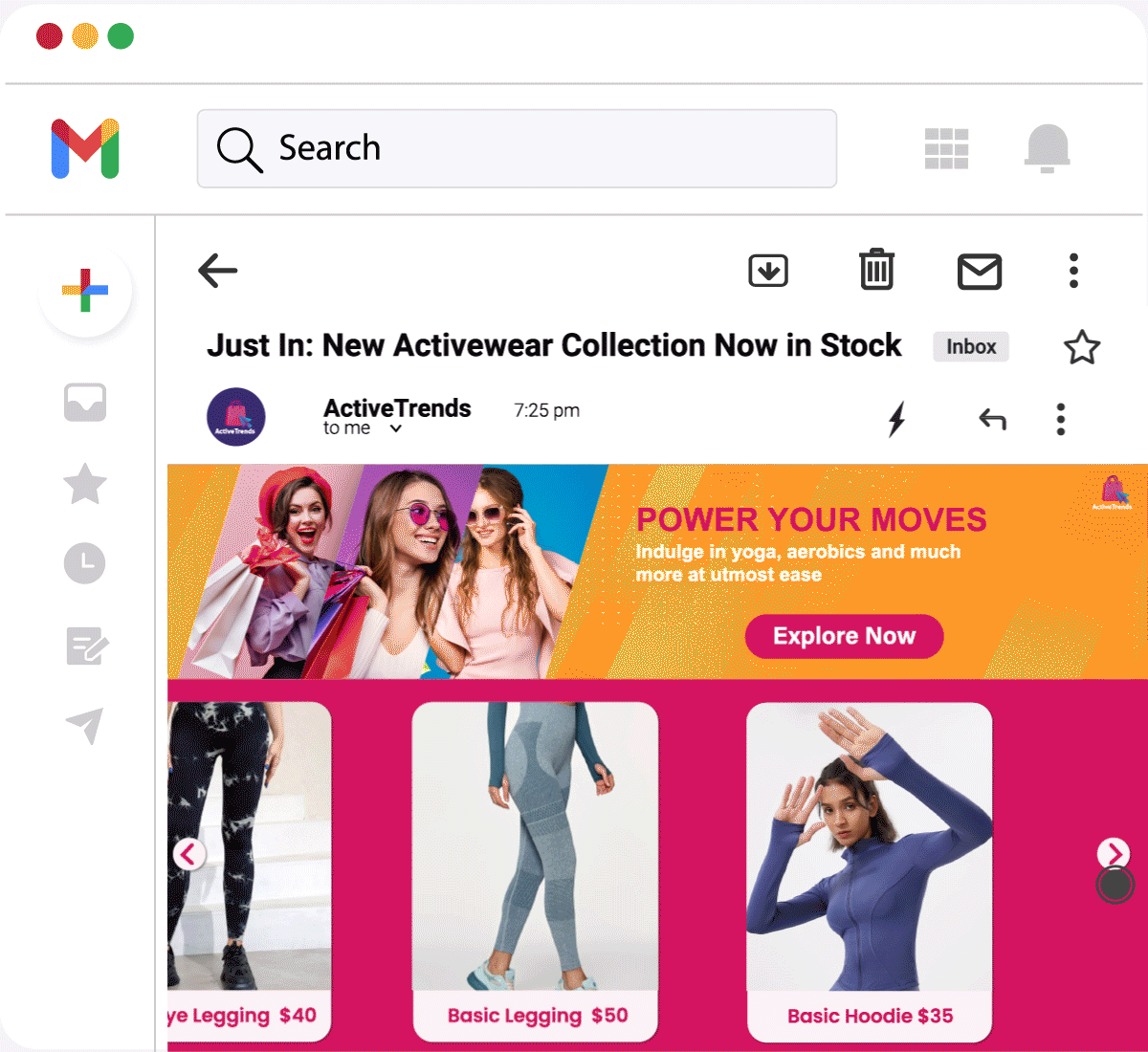 A typical add-to-cart trigger via inbox commerce
Conclusion
Inbox Commerce has ushered in a new era of email marketing, revolutionizing how brands engage with their audiences. By leveraging the power of AMP for Email, brands can now create dynamic and interactive experiences directly within the inbox, breaking free from the limitations of traditional email campaigns.
This blog has explored the significance of Inbox Commerce in today's marketing landscape. The myiad of use-cases displayed here offer enhanced user experiences, simplified conversion paths, real-time updates, improved ROI, and valuable data capture and personalization opportunities. Five pioneering brands – Myntra, Woodland, StarQuik, Asian Paints, and Caratlane – have showcased the unparalleled success of implementing Inbox Commerce strategies.
If you want to elevate your email campaigns and achieve unprecedented success, it's time to embrace the power of Inbox Commerce. To get started, consider leveraging the capabilities of Netcore Cloud and Inbox Commerce. With Netcore Cloud's cutting-edge technology and expertise in email marketing, you can unlock the full potential of Inbox Commerce and create personalized and engaging experiences for your customers.
Embrace Inbox Commerce, and redefine your email campaigns by reading our latest ebook. Furthermore, Connect with Netcore Cloud today and embark on a journey of transforming your email marketing into a dynamic and immersive experience that delights your customers and drives unprecedented success. Let's revolutionize your email campaigns together!