If you work in eCommerce, you know you'll have to deal with it sooner or later. Usually sooner.
Cart abandonment.
A customer has added items to their online cart and left it mid-way. They haven't made a purchase, even though their behavior reflects purchase intent.
Why? That is a deep discussion topic for another time. Today, we'll focus on the solution – examples of emails that address the issue of cart abandonment.
We'll give you eight great cart recovery ideas implemented well in real-life marketing campaigns.
Ray-Ban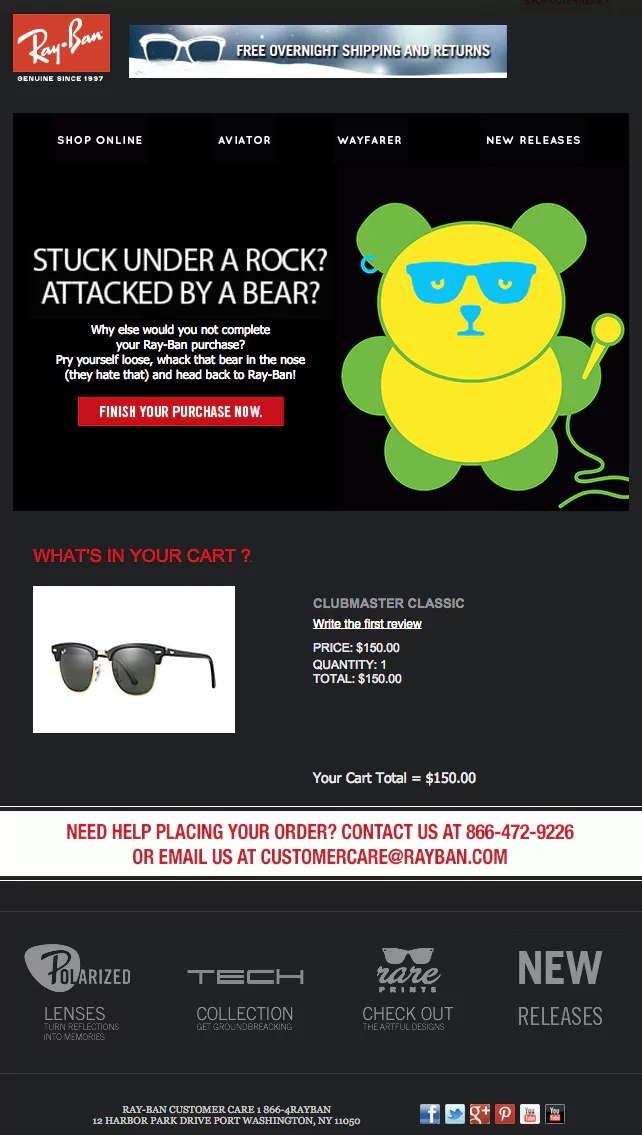 At Netcore, we're big fans of great copy. This one certainly goes into the great copy "Hall of Fame." Unless you are actually stuck under a rock or are fighting off a bear (then you're not reading this), this email has a good chance of getting a chuckle and nudging you to click the CTA.
If you or your team comes up with something as cool as a bear wearing an earring and sunglasses while carrying a mic, you should immediately put it in your email campaigns.
asos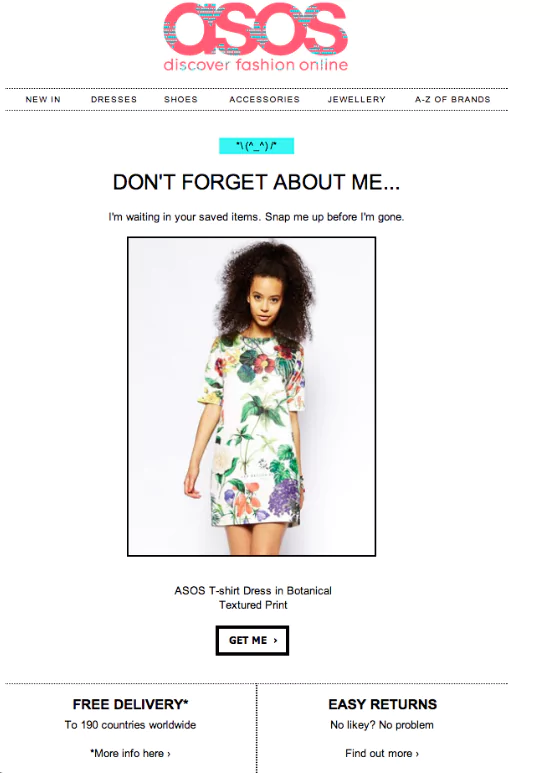 If you see what exactly you're missing out on, wouldn't you reconsider buying it? At least for a moment? That's the idea asos went with.
Look at the negative space in the email design: mostly white with meticulously arranged colors and a single image.
It needs only one line of tight body copy to worry you that your desired item is in scarce supply and may sell out. It's elegant, visually appealing, and, most importantly, includes shopping links that will take you back to different areas of the store—just in case you no longer want the specific item. Real persuasive!
Don't miss the fact that the email needs only a single line of copy to pop. It's elegant, easy on the eye, and provides links in the header so you can explore other products if you need a little retail therapy at the moment. Remember one stone, two birds, etc.?
This is a perfect example of how you implement minimalism in a cart recovery email.
BONOBOS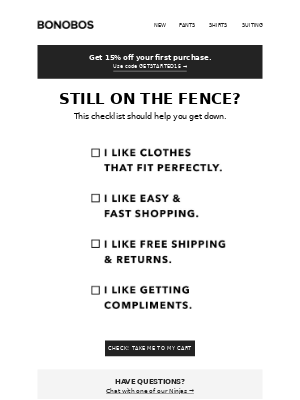 We don't usually recommend sending emails with zero images, but this one just works. It's smart, a little quirky, and effectively lays out the top benefits of clicking the CTA and making a purchase. No one will miss reading that checklist.
Levi's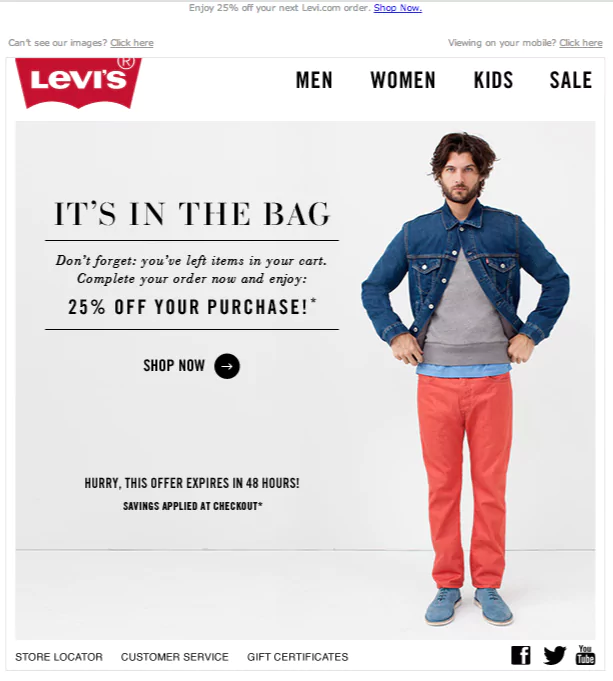 If someone has abandoned their cart, give them a compelling incentive to come back. Levi's keeps it straightforward – buy now and get 20% off. Unless they are seriously strapped for cash (or they are super-rich), an online shopper is very unlikely to look at this email and go, "20% discount? Meh, I can live without it."
Prose

Prose is all about giving every customer a special experience. Look how the copy emphasizes this vision – difference between "one-of-a-kind" and "off-the-shelf." Don't miss the unique, catchy CTA – "Ready When You Are." This email is also a great example of how to engage customer attention, even when your email is a bit text-oriented. People like to read something witty, but it has to be genuinely witty and not the "try-hard" kind.
Ugmonk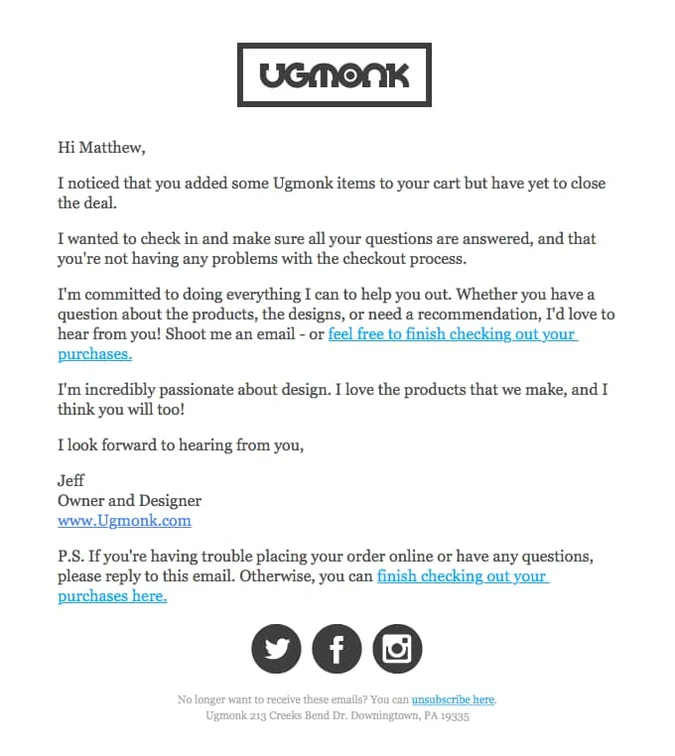 This is an excellent example of personalization. Choosing to avoid images or the lure of rewards, Ugamonk speaks directly to the customer. If the person who happens to be the owner and designer is reaching out to you, you are sure to feel assured that the company cares about making you heard.
And that creates affinity among most people, something rare in these days of mass marketing.
Shinesty
If your team or one of the interns is this naturally funny, you don't need anyone's help with emails. Look at that graphic, comparing the abandonment email to a Trojan Horse. Funny thing, it's not a Trojan Horse if someone tells you it is. And that's the kicker.
Also, the confidence with which the email admits "this is an abandoned cart email" shows that the creators are aware of how customers think. Everyone knows you're trying to get them to buy things. Instead of wasting time and pretending to conceal what is obvious, accept it, and use it to get what you want.
Whoever created this email is probably a marketing Jedi or studied a little psychology back in the day.
ThinkGeek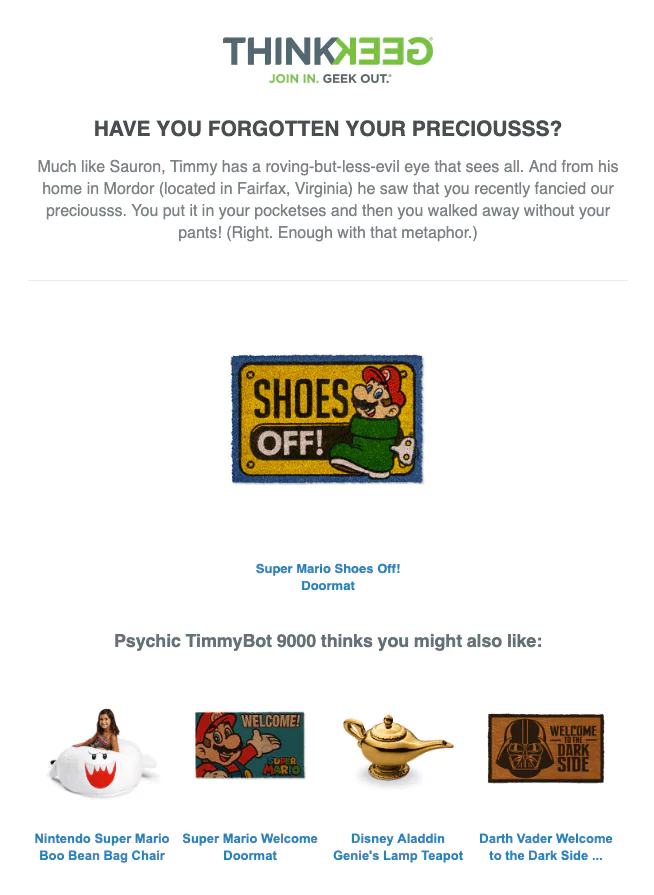 Most of us here at Netcore are also big LOTR buffs, so this one won us over in seconds. Not only is it extremely context-driven (geeks love Tolkien, ok?) it's written by someone who knows the world. That's Gollum's voice we are reading in the email, folks.
Timmy, you've got our vote.
Summing Up
There's no way to know which abandoned cart recovery email template will work best for your customer base. So try different approaches – fun, clever text, role play, minimalism, straight talk, etc. You would do well to make some interesting guesses based on user demographic – gender, location, browsing habits, browsing/purchase history, and more.
If that seems a bit overwhelming, we are here to help. We send over 20 billion emails a month on behalf of 6500+ businesses across 40 countries. Our world revolves around assisting brands in creating email campaigns that raise the bar for conversion and skyrocket the ROI.
We are leaders in email deliverability and transactional email space and the world's most recommended ESP as acknowledged by G2.com. For the second year in a row, Netcore received the highest overall customer rating as a customers' choice in the 2022 Gartner Peer Insights 'Voice of the Customer' Report.
We were also recognized as "Ahead of the curve at applying AI to marketer workflow" as per The Forrester Wave™: Email Marketing Service Providers Report 2022.
Connect with us to understand how you can benefit from our expertise and experience.