Customer engagement is a buzzword everyone talks about, but only a few get it right. Because for most organizations, it is almost always about high-quality customer service. However, in reality, it is much more than that. So, what is customer engagement? How can brands create an effective customer engagement strategy that improves retention and boosts conversion? What makes it the secret sauce that drives growth for D2C brands? This article will reveal seven effective customer engagement strategies and provide a few examples of brands that have nailed them.
What is customer engagement?
Hubspot's CRM Expert Paul Greenberg defines customer engagement as "the ongoing interactions between company and customer, offered by the company, chosen by the customer." It improves the customer's experience with the brand by anticipating their needs. After all, 91% of shoppers abandon an online retailer over a poor shopping experience.
How can customer engagement help your brand?
Customer engagement includes messages that educate, interest, and motivate users and can happen over several channels, including email, website, digital ad copies, social media, or even physical stores. When done correctly, customer engagement can:
Help gain trust, breed loyalty, and create brand evangelists
Improve customer retention and churn
Create upsell and cross-sell offers by collecting and analyzing data from customer engagement campaigns and sending personalized product recommendations
Despite so many advantages, customer engagement is challenging to execute. Therefore, we've listed seven proven customer engagement strategies that foster loyalty and increase revenue.
Make smarter decisions with a customer data platform.
The customer's path to purchase has changed significantly, often involving online and offline channels. Your potential customer may click on the email you send, browse your web pages, and engage with digital ads before finally buying the product from a physical store. Tracking such a complex buyer's journey with multiple platforms creates data silos, distorting your understanding of customer preferences and behavior. Today, customer-first brands adopt Customer Data Platforms to combat this and create a unified view of their customers.
A customer data platform (CDP) relies on advanced technologies such as artificial intelligence (AI) and machine learning (ML) to continuously analyze and learn data trends. It is the bedrock of any marketing strategy and allows you to see which marketing channels work. A CDP unifies all customer data to create an accurate customer profile, providing a single data source for accurately measuring channel attribution.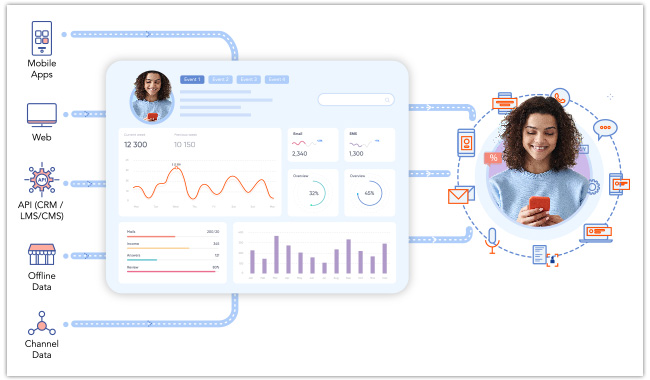 By its very nature, a CDP replaces the siloed view of the customer journey and offers channel-specific attribution. It provides a 360-degree view of the customer journey by centralizing various data sources and turning information overload and trends into actionable insights.
With all the data harmonized, you can see all user activity, regardless of the channel, on a single dashboard. The CDP acts as your single source of truth. It helps you make better decisions by better understanding your user and attribution channels.
Personalize your promotions
More than 3 in 4 shoppers want a more personalized customer experience—across all channels. A great customer engagement strategy involves a deep personalization element that includes personalized product recommendations, website or app communications, exclusive offers, and push notifications. The more relevant the content is, the more your customers will feel connected to your brand. Make your products more discoverable by personalizing widgets across your home, product display, and product listing pages that display 'Recommended for you', 'Bestsellers', and many more. Nudge your users to take high-value actions by sending personalized in-app and web push notifications and emails.

These strategies were used by Crocs India, which reported a 42X ROI from using Netcore Cloud's Customer Engagement and Personalization solution. The company ramped up customer engagement by sending automated yet personalized campaigns across multiple channels, including its website, emails, and web messages. That's not all. It went a step further to understand customers in real-time and displayed personalized products based on what customers are likely to buy. Crocs India placed widgets on multiple website pages like the home page, product listing pages, and product display page to increase the chances of conversion.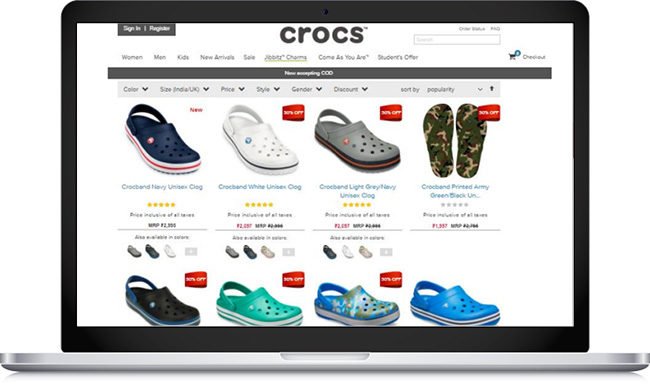 The result was a massive 100% increase in click-through rate on product listing pages and a 100% jump in the purchase rate on product display pages.
Identify the right channels and communication
Customer engagement happens on different channels—email, social media, mobile apps, websites, and so on. Each channel contributes to their overall experience, making it critical to understand what channels to use and when to use them. When customers interact with your campaigns, they leave a trail of data behind, which needs to be analyzed to identify their channels from where they are most likely to engage.
AI engines such as Netcore's Raman ensure that you reach out to your customers optimally. It identifies the right time to send messages for maximum user engagement and the most preferred channel and helps create relevant customer segments based on hidden patterns in the data. Empowered with such knowledge, you can integrate AI/ML in your customer engagement strategy to forge a stronger relationship with your users with improved efficiency and lesser effort.
Be proactive with predictive analytics
Collecting and collating customer information in the CRM is not enough. In today's digital age, organizations need to make sense of the data to predict their users' actions accurately, including buying behavior. Since the user engages on multiple channels before making a purchase, it is vital to use a combination of customer engagement analytics to get a well-rounded understanding of how your customers interact with your brand.
Having predictive analytics as part of your marketing strategy lets you:
Predict which user is likely to churn or purchase. Predictive customer segmentation also allows you to identify users who are likely to engage or re-engage, thus increasing customer retention, CLTV, and marketing ROI.
Use product performance data analytics to analyze your online store's performance, get granular insights, and take data-backed actions in real-time. Such insights help in better managing inventory and actioning product promotions.
Build personalized rewards and loyalty programs and reduce user acquisition costs by re-engaging at-risk users with targeted marketing campaigns at the right time. With send time optimization, you can understand the perfect time to send an email for maximum engagement. It accurately predicts the best time to connect with users, which results in higher open rates and eventually higher conversions.
Drive retention with customized marketing campaigns
Optimizing retention or reducing churn is a driver of business growth; only a 5% increase in customer retention can lead to a 25% increase in profits! Spotify Discover Weekly is an excellent example of how brands should campaign with a one-to-one mindset. The audio streaming company creates curated playlists every week for each customer based on their songs history to keep them coming back for more.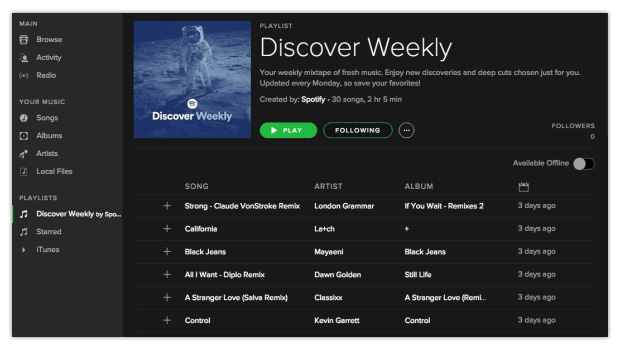 Spotify shows how a personalized marketing strategy can help engage customers.
By collecting data from multiple sources and consolidating it into a holistic view, brands can create unique customer journeys.
Retailers can create contextual conversations by going beyond basic attributes such as gender and location. Segmenting users based on their behavior, such as the products they have viewed or clicked, allows you to create. Based on the different user segments, such as lifecycle stage and behavior, brands can orchestrate a customer journey across channels that leads to hyper-focused marketing campaigns and creates integrated omnichannel messaging.
It differentiates your brand by triggering contextual messages via app notifications, email, or website based on each customer's behavior. This can help them send time-bound flash sales or daily deals via push notifications to boost sales or send VIP passes or early bird discounts to loyal customers.
Deliver superior experiences with nudges and walkthroughs
Around one in five users quit using a mobile app after engaging with it once, underscoring the need to deliver an excellent app experience.
Contextual nudges and interactive product walkthroughs are integral to any app-first customer engagement strategy. They reduce the activation time by helping first-time users set up their account, use promo codes, add wallet money, set location, and much more. For instance, nudging customers with tooltips helps deliver a seamless onboarding experience by introducing relevant features, explaining its main benefits, and suggesting the next steps.
Fitness and health apps have mastered using nudges and product walkthroughs for seamless onboarding experiences. Once the user signs up, they introduce vital features to quickly activate customers and trigger a series of guided messages showing users how to book appointments, avail discounts, among other things.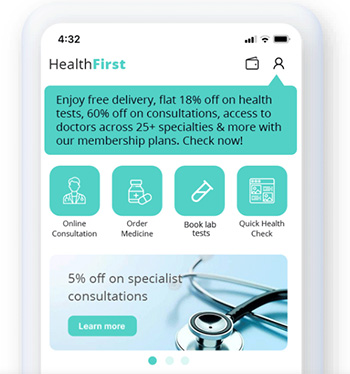 After users complete their first consultation, the app nudges them to book a lab test or order medicines.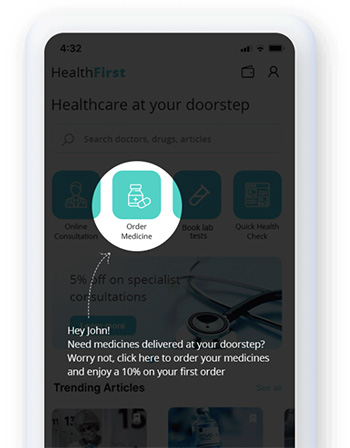 Similarly, nudges are used to ask users to purchase medical items, buy supplements based on the consultation, and book check-ups for family members. These nudges keep users engaged with the app and encourage them to refer it to their friends and family, ultimately driving acquisition at a much lower cost.
Re-engage customers at risk of dropping off
Your customer engagement strategy is incomplete without re-engaging with customers who have lost, or are losing, interest in your brand. You can re-engage "at-risk" customers with cart-abandonment emails, a mainstay of ecommerce. Integrating emails with other channels such as web and app push notifications to notify your customers of flash sales, price drops, and customized discounts are vital to driving conversions. The idea is to optimize your message based on your user's preference for how they like to hear from your brand.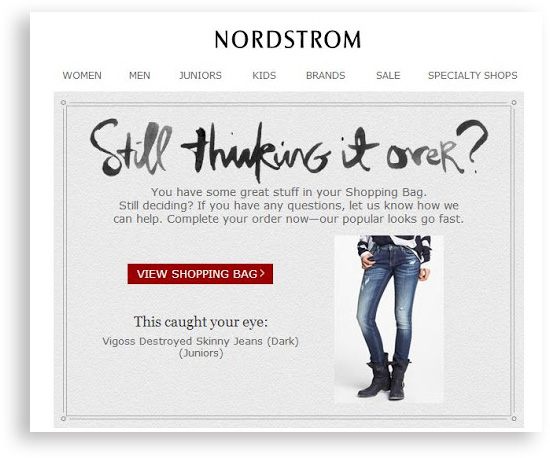 Nordstrom does this well on its website. They remind each customer of what is in their cart, while their messaging creates a sense of FOMO, both of which are essential in ensuring a sale.
Personalization becomes key in re-engaging customers likely to drop off. It can reduce cart abandonment rates by 27%. Personalized product recommendations across channels are the most effective methods to re-engage customers based on their behavior. Having been known to improve click-through rates by up to 20%, they need to be a part of how customer-first brands re-engage their customers.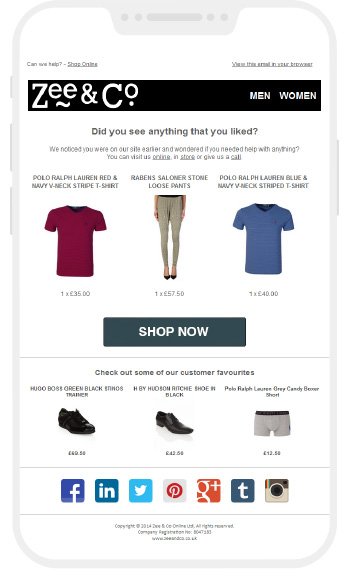 Exit-intent pop-ups need to be a mainstay in any customer engagement strategy. They are a last-ditch effort to engage the visitor on your webpage but have known to improve bounce rates by 10-15%. Before your customers exit the site, give them an exclusive offer, a free download, demonstrate benefits, or something else that adds value.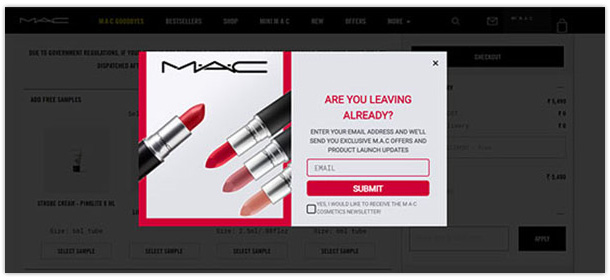 Nailing your customer engagement strategy
To sum up, a successful customer engagement strategy is an ongoing process that begins from making users aware of the brand, engaging them with personalized content, and getting them to care about your products. At its peak, customer engagement is about making loyal customers and brand evangelists. To reach that level, businesses need to embrace AI and other digital transformation technologies to understand their customers better and maximize the impact of each touchpoint throughout the process.
Personalization and engagement platforms such as Netcore Cloud let you combine all the above strategies to create a rewarding experience for customers along their journey with your brand. It collects and analyzes customer data to unlock a new user experience based on their intent, engagement levels, and brand affinity.
Netcore Cloud provides a single source of truth for user data. It lets you leverage data-driven personalization, identifies the proper channels, and drives retention, creating a more focused customer experience and increasing revenue.
Want to know to ramp up your customer engagement strategy? Click here to learn more about our Customer engagement platform.