Monthly active users (MAU) actively use your product in a given month. Ever wondered why some YouTube channels with over 10 million subscribers get only a couple of million views on their videos? It is because some subscribers are not active anymore. The same is also relevant to your app.
Keeping your customers engaged is more challenging than getting them to download the app. So don't let download numbers trick you into believing how successful your product is. Users who've signed up for your app don't necessarily bring revenue; your (monthly) active users do.
Below you will find everything about MAU, including monthly active users of famous brands and the steps to increase them for your product.
What are monthly active users?
Monthly Active Users (MAU) is a key performance indicator of the number of unique users who have taken action on your app during a given month (30 days). You can track monthly active users using unique identifiers such as user ID, email address, or username. There's no standard definition of "active users". But launching the app is commonly considered a qualifying action.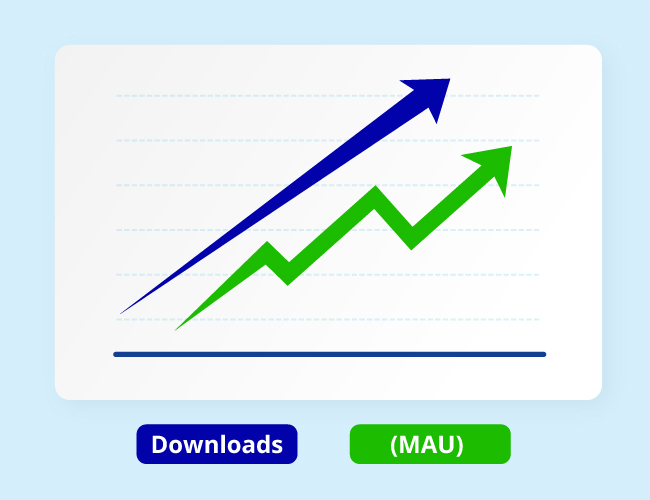 How to calculate monthly active users with the formula?
Monthly active users are the total number of unique users who have engaged with your app within a month. You can set up trackers to calculate the MAU for your app.
MAU = Number of active users in a month
Calculating MAU begins with defining "active users" (those who launch the app or take a specific predefined action) and leads to measuring users who fit the definition over a given month.
Monthly active users of famous brands
We'll look at the MAUs of some top brands and see why users keep returning to these apps.
1. Amazon monthly active users
Amazon has around 197 million monthly active users. Their number has tripled from about 70 million monthly active users in 2017.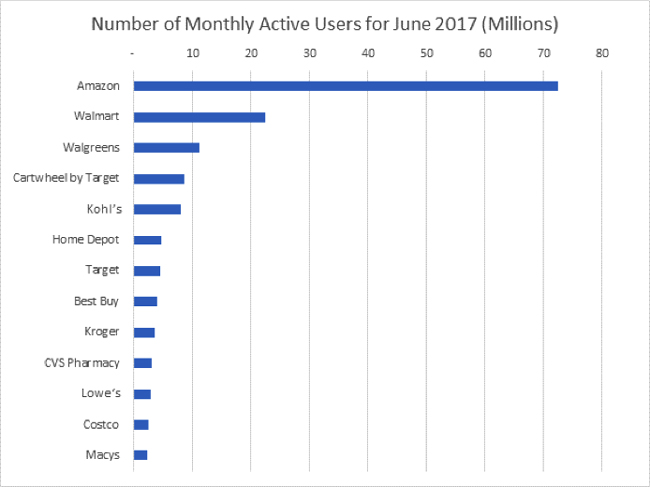 The Amazon app's interface has improved over the years, leading to a better user experience. By tracking how users behave with their app, they improved the app to be intuitive and easy to use. You can also study these behaviors using our behavioral analysis features.
Besides, Amazon's no-questions-asked return policy, hassle-free delivery, and focused customer support are other reasons customers keep returning.
2. Zomato monthly active users
Zomato had around 32.1 million average monthly active users in 2021.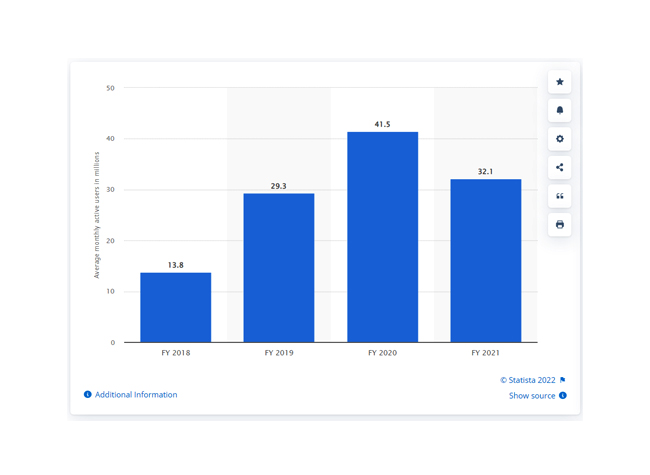 The lockdowns during the first half of 2021 led to a rise in their MAU. Zomato has also improved its app with easy-to-navigate menus, customization options, and reviews that help customers pick the best restaurants. Good customer support, competitive discounts, and creative mobile marketing strategies are other significant contributors to their high MAU.
3. Hotstar monthly active users
Hotstar has a staggering 300 million MAU. That's almost double of Netflix, which is at 182 million MAU.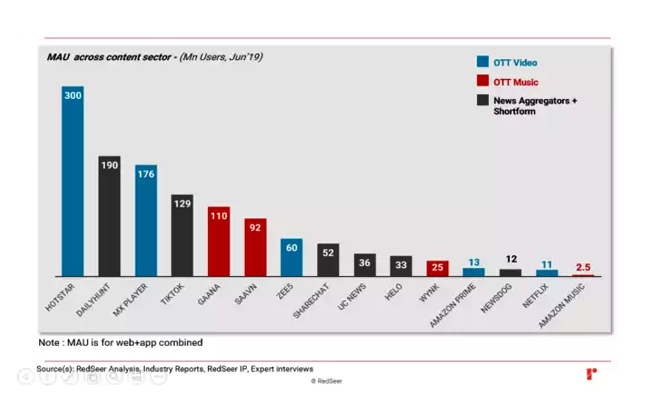 By improving their app's UI, delivering TV shows the target geographies would enjoy, and offering competitive subscription prices, they've increased their MAU. And exclusive rights to stream IPL is a huge contributor.
4. Google Pay monthly active users
Google Pay has 150 Million MAU in India.
Google Pay's familiar UI settings, ease of use in scan and pay, gamification, plus rewards and referrals helped it reach the top of all transaction apps.
5. Twitter monthly active users
Twitter has one of the highest monthly active users in this list, at around 330 million users per month.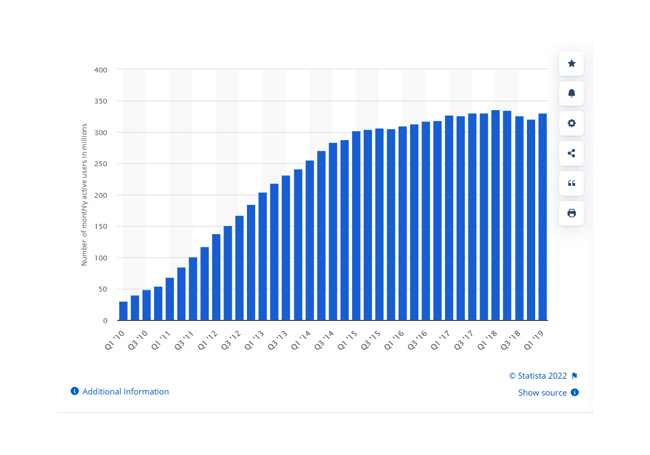 The reason is simple—no other platform offers micro-blogging capabilities like Twitter. Also, Twitter provides easy access to hard-to-reach individuals, never-ending digestible information, and real-time updates about the latest news and trends, which makes it stand out.
How to increase monthly active users?
Now that you're inspired by the growth in MAU achieved by these large brands, let's see how you can increase your monthly active users.
1. Understand user behavior
By setting the frequency to "Last 30 Days" on the dashboard, you see user activity for the last 30 days. Moreover, you can also choose and view conversion activities or events on your app.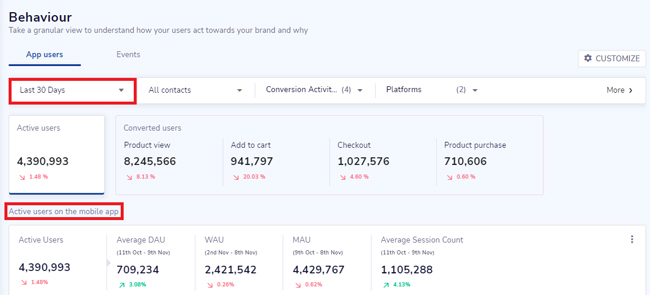 For further analysis, the DAU/MAU ratio is a useful tool. You also have options to view active users by platform, app versions, device model, and more.

2. Remind to use your app via push notifications
Let's say you identified a customer segment who haven't been launching your app recently. First, create a relevant push notification template like this one: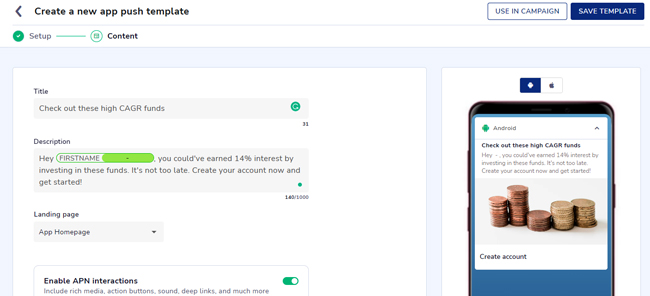 Create a campaign with the relevant segment: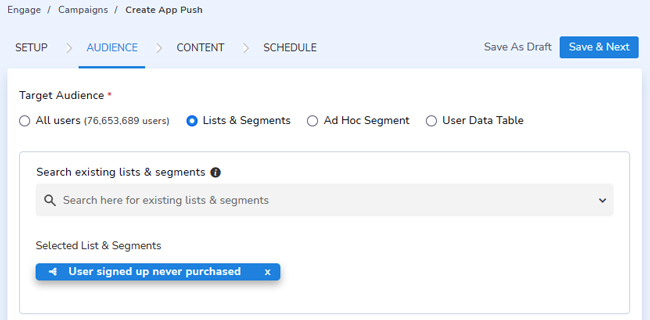 Optionally, optimize the content for every notification and schedule the campaign to reach your user segments that installed the app but didn't perform the desired actions.
Push notifications effectively bring users back to the app; here are some ways:
Personalized and contextual offers: 10% off on your favorite books (or a specific book they recently browsed)
Increase customer engagement: Leverage interactive elements like images, videos, GIFs, emojis, carousels, and audio to send rich notifications like New product arrivals for Kate.
Direct users to make a purchase: Insert a link that directly takes users to the item page, like 60% off on your favorite burgers. Tap to buy.
Send informative content: Remind users to take urgent action on the app, like Add money to the app wallet to make quick purchases and earn 10% cashback.
eCommerce companies could entice users with offers to purchase or at least open the app:

Individuals spend over 4 hours on their phones, but their attention is divided. With push notifications, you subtly redirect some of that attention toward your app. Push notifications sent during the first week of app installation increase the retention rate by 71%.
Know more ways how push notifications can increase your monthly active users.
3. Direct users to the right page via in-app messages
With push notifications, you get a few thousand users in your app. And let's say many of them created an account or performed other actions but haven't made a purchase.
This is where in-app messages are effective in increasing your monthly active users. Users need to perform valuable actions to keep returning to your app. Let's say someone viewed the price or visited a mutual fund's page in your app. You want to trigger an in-app message showing a discount if they step back from that page.
You can narrow the audience and capture their interest with relevant in-app messages by specifying parameters and adding more conditions.
Then, make the in-app message relevant and persuasive to perform the transaction, and schedule it: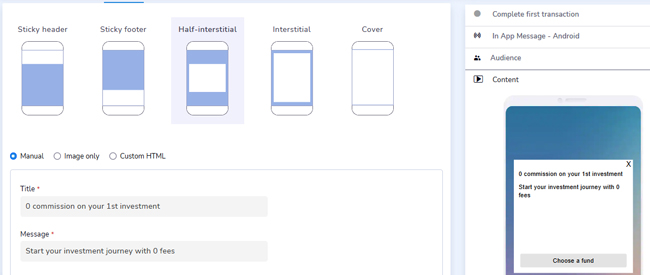 In-app messages enable communicating with the customer immediately in the app's context. And it's a must to tailor these messages according to users' real-time behavior and preferences. Here's an eCommerce store where in-app messages are used to upsell and increase user activity.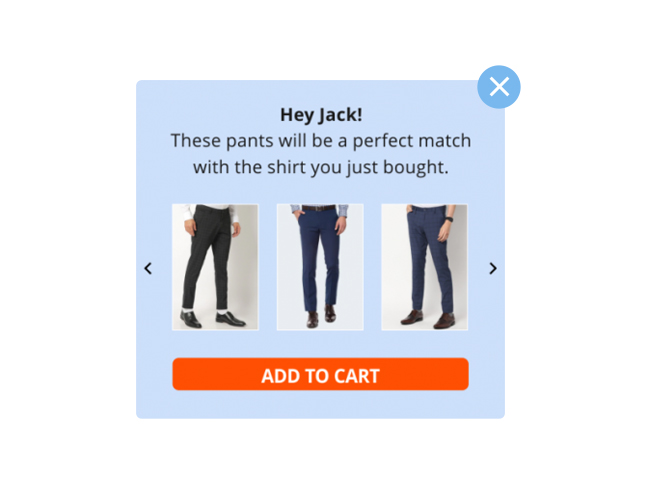 Remember to embed the link that takes them to the right page to minimize friction and take instant action.
As a side note, in-app messages work best when integrated into the app experience. Ensure that these messages are relevant and do not ruin the aesthetics of your app's UI. The message content should be valuable and timed to feel non-intrusive.
4. Email a monthly summary
But let's say the above channels didn't activate your users. Create an email campaign. First, get insights on the best times to send one by looking at the stats: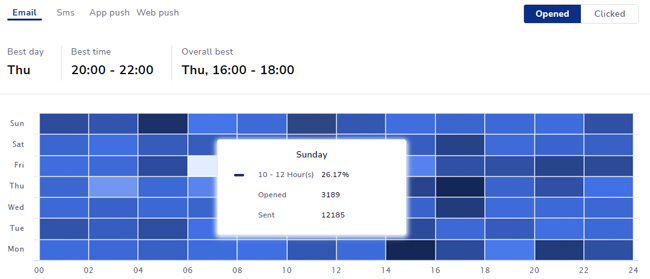 Then, create an email campaign. Our goal here is to prompt users to open the app, so we'll go with a regular campaign, with maybe some A/B tests to see what kind of emails succeed more. We'll set the goal as app launch: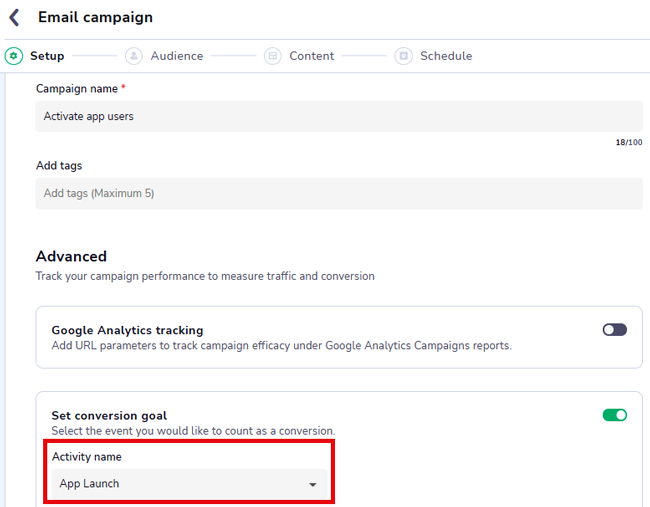 Then, the standard steps proceed to where you pick the audience, maybe users who haven't launched the app since installation even after you sent push notifications. Finalize the content and schedule the campaign.
But what if users disengage after using the app a little? A great way to keep bringing users back to your app is by showing them what's new and what they are missing by not engaging with it. Email them a personalized monthly summary of everything they can access using the app.
Tell them about new products, special sales, popular products running out of stock, favorite products back in stock, improvements you've made or are looking to make, added features, and more.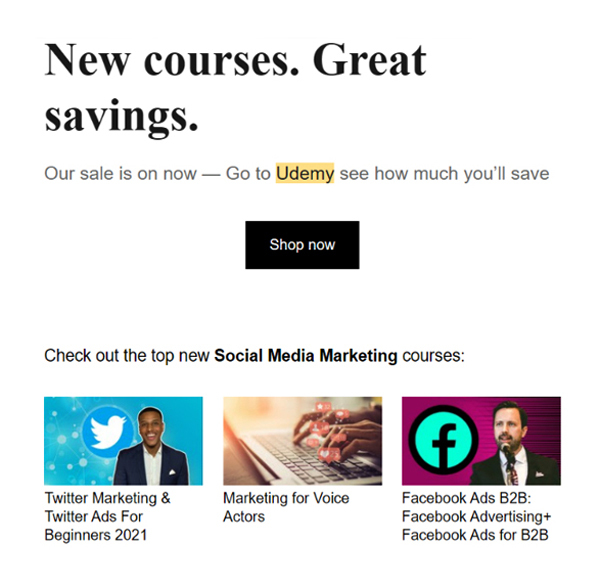 For example, an EdTech brand can show newly added courses and the latest student results of best-selling courses in the email summary. Then, add a CTA prompting you to check out the new courses offered at a 10% discount, valid for three days. The caveat is to ensure that the recommendations are personalized and relevant to the users.
Don't forget to optimize your email for mobile viewing.
5. SMS special offers or sales
Now, let's talk about offline channels. You can also uplift mobile engagement via SMS. SMS has a 94% open rate. Reserve this channel for special offers and sales as regularly receiving promotional SMS numbs consumers to it.
Create one similar to email where the goal is "App Launch". Create and choose the segment relevant to your goals. For example, users that didn't open the app after communication was sent from other channels.

Then, optimize the content and schedule the campaign.
You can use SMS to engage customers with time-sensitive messages like Never seen before—buy 3, get 1 free on the last day of the season sale, etc. All of these messages must be personalized and relevant to the user. They should also link to the right page on the app.
Here's an example of what an eCommerce store would send: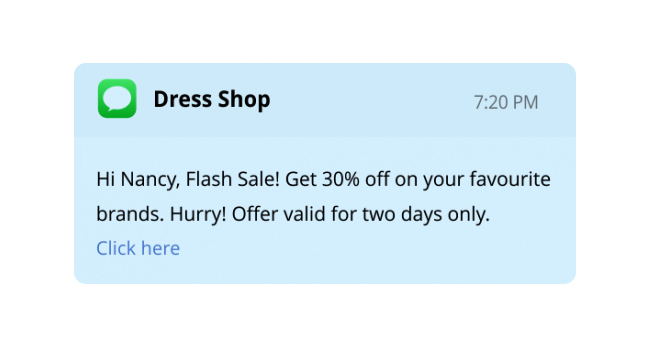 You can also create data-driven segments by creating customer segments for different objectives and use cases. Use templates such as "Hi___, your free trial of ___ days ends today, join the ___ membership at 60% off, valid only till ____" to activate users that aren't using your app.
6. Leverage cohorts to extend similar actions
Cohorts are a group of customers that show similar behavior.
For example, a behavioral cohort may contain a group of users who abandon the cart. Less than 60% users return to the cart once abandoned; they can be persuaded back, let's say, by engaging them with a combination of push notifications and SMS.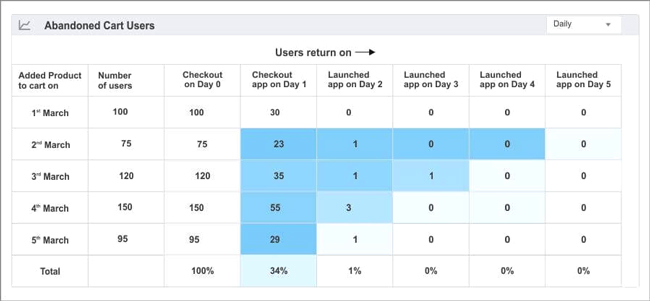 This data reveals that you must retarget these users on the day they abandon the cart so that they end up checking out. Extend similar actions to other users in cohorts by sending discount coupons or limited-time offers via one or more channels shown above to bring them back on the app. That's how you leverage cohorts.
MAU vs. DAU
The number of users who actively interact with your app can be calculated daily/weekly/monthly.
DAU is the total number of users that engage with the app on any given day, whereas MAU stands for the number of individuals interacting with the app during a specific month.
Ideally, calculating DAU is great for apps that require customers to engage with it daily—fitness, or certain social media apps, for instance. In contrast, MAU is suited for apps that require frequent but not daily engagement—banking or eCommerce apps, for example.
The DAU/MAU ratio is also a widely used KPI to measure the engagement rate of the app.
Conclusion
There are multiple variants of the MAU metrics. Consequently, some suggest that it cannot give hard proof of the viability of the app. However, it still provides crucial insights into app usage and engagement. MAU also reflects the change in customer behavior due to tweaks in the app's functionality. When you focus on your monthly active users instead of download numbers, you shift your focus from just acquisition to acquisition, engagement, and retention. And that significantly drives your growth.
Netcore Cloud has helped increase monthly active users for education and gaming brands like TopKarir and Itemku.To know more about how Netcore Cloud can help you with your MAU metrics, visit our customer engagement page.