In the first part of my article on the future of Martech in 2023, I discussed the significant changes taking place in the industry. As rising Customer Acquisition Costs (CAC) and attention recession continue to impact businesses, marketers are being forced to offer discounts and coupons to attract customers back. In this second part of the series, we will explore the 4POs, which are set to play a critical role in helping businesses succeed and establish themselves in the minds of their customers.
Profitability
With easy financing drying, profitability is now the key driver for businesses. Marketers have so far not been burdened with driving profitable growth – their task has been to grow the topline. Most have taken the easy path of pouring money on new customer acquisition via Big Adtech.
As consumer spending slows in 2023 due to the twin effects of rising inflation and interest rates, CEOs will expect their CMOs to think and act like CPOs (chief profitability officers). The solution is not only optimizing ad spending or trying and improving the customer experience on the brand's owned properties (website and app); they will need to look at the elephant room in the room – the 50% AdWaste in their marketing budgets, which is the root cause of diminished profitability or rising losses.
The top imperative for marketers in 2023 will be to identify this wasted spending and eliminate it – without impacting revenue growth.
There are two tracks marketers need to follow to push profitability: build hotlines using Email 2.0 and Loyalty 2.0, improve experiences on their digital properties with a unified Martech 2.0 stack, and create differentiation for Best customers with Velvet Rope Marketing.
Start by addressing the crux of the brand-customer relationship with Email 2.0 hotlines and move the conversion ever closer to customers. Loyalty 2.0 gamification tokens give marketers the ability to engineer shifts in user behavior by redirecting the AdWaste spending towards Atomic Rewards.
Martech 2.0's unified stack ensures that the incoming traffic to the brand's properties has a personalized experience high on relevance. Focusing on the Best Customers (for acquisition and retention) reduces AdWaste and increases revenues. Together, these innovations can double brand profits without an increase in marketing expenses.
A more in-depth analysis of digital marketing disruption is covered in my blog.
The solution lies in looking onward to the AdWaste and then using obliquity to solve the problem by focusing not just at the extreme ends (ad spending optimization and martech consolidation) but in the middle – converting 1-way push channels into 2-way hotlines.
Personalization
In today's world, customers crave personalized content and experiences. Yet, many brands fall short of offering this to their audience. What's lacking is access to data and analytics that allow for the creation of tailored experiences for each individual customer.
Marketers are now focusing on leveraging data to improve operational efficiency, as well as analyzing customer life cycles and micro-segments to identify areas where they can add value. In addition, technology and AI are being used to automate certain parts of the customer experience while still increasing personalization efforts. Brands that succeed in personalization will be rewarded with greater customer loyalty and revenue.
Investing in customer data and analytics is crucial for businesses to cleanse, collect, and unify data from various touchpoints. Having the resources to quickly process this data and extract actionable insights is also essential for making real-time decisions. One major shift in the focus of marketers is toward zero-party data, which is information willingly shared by customers with brands. This type of data allows for the explicit creation and delivery of personalized experiences without sacrificing privacy.
Using zero-party data for hyper-personalization can positively impact businesses by reducing customer acquisition cost, increasing average order value, and improving customer lifetime value. Customers build trust with brands by directly supplying zero-party data and eliminating the risk of receiving irrelevant information. To establish customer personalization, brands must focus on Email 2.0 and Loyalty 2.0, which involve leveraging data to deliver tailored content and experiences to customers.
"Every customer is different. While segmentation is better than mass communication, what's even better is hyper-personalization. Data today is collected from actions done by customers on the brand's communications (push messages) and properties (website and app).
A trick that marketers have missed is the simplest one: asking customers directly. To make the collection of zero-party data, two building blocks are needed: a hotline to ensure customers are paying attention and not ignoring incoming brand messages and incentives that reward them for their data.
We want to be shown opportunities that interest us, and that speak to us. Revealing ourselves is both an opportunity to earn points and to ensure future communications are targeted for our particular tastes."
2023 will be the year when personalization fulfils its true promise and potential – powered by zero-party data collection in interactive and incentivized emails.
Predictions
Though AI existed in bits, their rise was certainly expected, and 2022 saw AI coming to the fore. In marketing, AI is already making its impact – creating segments, predicting churns, the next best action customers should take, optimizing content, and lots more. Generative AI is already aiding marketers in creating text and images.
With zero-party data, AI can create stronger data models and give deeper insights into customer behavior and suggest the next best actions for customers. Marketers have so far relied on signals from user actions (search terms, links clicked).
Once this can be augmented by zero-party data where customers can tell them what they are looking for in natural language or even interactively via a chatbot conversation, the accuracy of predictions can be multiplied – thus creating more transactions and loyalty.
Predictions follow naturally from implementing a Martech 2.0 unified stack and aggregating zero and first-party data in a single customer data platform. Think of the memorable experiences we have had where an intelligent salesperson in a store guides us to exactly the product we want.
Tomorrow's AI-powered virtual agents will have a "digital twin" for each of us, and software agents will engage us in conversation, predict our next actions, and end us with just-in-time alerts. Powered by rapidly improving AI engines, 2023 will be the year this new customer-centric world will start coming to life all around us.
Progency
Even as AI transforms marketing and martech products become even more all-encompassing, the need for humans will not go away. Professionals will augment the power Martech 2.0 stacks bring to the table.
This will require a new generation agency – what I have termed as "Progency" (product-led agency).
This product-led agency will combine content and creative skill sets with number-crunching and software capabilities to build on top of a proprietary full-stack martech platform to deliver the outcomes marketers want with a performance (success-based) model.
The progency will be different because, for the first time, an agency will build solutions on top of its own product. The progency will be tech-first, owning a martech platform.
Its pitch is simple: We will deliver the outcomes you need, and we will get the job done for you. We have the machine and the operators. No one knows the machine better than we do. We constantly make the machine better. You don't need to worry about how it works.
India can be the progency operator for the world. There are many India-domiciled martech companies, with Netcore being one of them. There are very few martech services companies – the focus is almost entirely on adtech, given the huge spending. A progency with its own product can deliver efficiencies and margins like software product companies.
The future of marketing will be about one marketer, one stack, and one progency.
Omnichannel
Omnichannel is the future of marketing. Omnichannel is a powerful way to meet customers where they are and provide them with good services in line with what they need. More and more customers are moving across channels to get what they want. Not every customer is looking for the same thing, and omnichannel marketing is aware of this.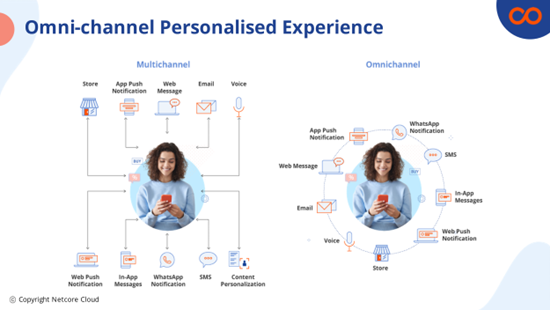 Shifting from multichannel to omnichannel
This is a compelling way to nurture customers across different channels and create an excellent customer experience instead of showing the same messaging via different channels and leaving it to the users to define their journey. This kind of content builds a strong personal relationship with the prospects and eventually increases customer loyalty.
Among the new channels which will come to the fore in 2023 are Email 2.0 and WhatsApp. Both can serve as alternatives to the brand's website and app and bring the conversion funnel closer to the user.
For the marketer, the advantage of these two push channels is that marketers can now get greater control over initiating customer journeys in an extremely customer-friendly way.
Summing up
Omnichannel, combined with profitability, personalization, predictions and progency, completes the 4PO framework – giving marketers the right saber to win the Customer Wars!
As an aside, here is my take on new titles for the Star Wars movies to bring to life the marketer's new universe:
The Phantom AdWaste Menace
Attack of the Clones Martech
Revenge of the Sith Big Adtech
A New Hope Stack
The Empire Marketer Strikes Back
Return of the Jedi Profits
The Force Loyalty Awakens
The Last Jedi Marketer
The Rise of Skywalker Profipoly
May the Force Customer (always) be with you!