As someone who was always aware of the popularity and devoted following of the Star Wars franchise, I recently decided to watch the entire series in the order of the story and sequence. It was only then that I fully appreciated the alluring and mesmerizing sci-fi story and understood why the series has such a high following.
Reflecting on the enduring and endearing character of the humanoid robot C-3PO, who brought comic relief and served as a foil in the narrative, I began to think about the future of Martech in 2023.
This inspired me to develop the concept of 4PO, which focuses on profitability, personalization, predictions, progeny, and omnichannel. As technology continues to evolve and shape the marketing landscape, these factors will be crucial for businesses to succeed and stand out in the minds of customers.
Transformation of Martech
Consolidation has never gone down well in the Martech space. For every acquisition or merger that has happened in the past decade, a myriad of new and fresh players have sprung up, bringing in must-have Martech categories with them.
However, the Martech bloat, dissatisfaction with the status quo, a strong desire for simplification, and ongoing economic conditions are now pricking brands to relook at their tech stack and rationalize. Problems of integration are also making brands hesitate in buying the products.
It would not be surprising to go into a company and find 60 apps in their stack. So now, part of the consolidation is the burning desire to simplify operations. Even if the apps and platforms are cut by half, it's very unlikely to find a platform or product that covers everything for them. There are going to be multiple products, each having a data layer that needs integration.
This is where talks on integration are emanating. Consolidating down to what is essential, removing redundancy, and then with what's left, ensure the choices made are really going to integrate. Today, how well these products integrate has become a strong consideration in the buying criteria.
Rightly articulated by Scott Brinker, "The 2nd Age of Martech is bringing significant improvements to marketing technology and operations on all three of these dimensions — commercial software, professional services, and custom software. The industry is converging around platform ecosystems, where the lines between services and software, custom and commercial are blurring into the cloud. This convergence is much more transformative than consolidation ever could be."
On these lines, here are the top trends that marketers must focus on going into 2023 to keep customers in their ecosystem:
Gathering and managing zero-party/first-party data
Rethink marketing attribution and budgets
Flexible tech stacks with easy integrations
No-code as the go-to for digital marketers
The need to become video-first
Rising CAC and the role of 4PO
Digital marketing is facing a threat from two sides: new customer acquisition and existing customer retention. Customer Acquisition Cost (CAC) is rising while competition for a brand's existing customers combined with attention recession is forcing marketers to offer discounts and coupons to lure them back.
Both sides are hurting profitability and creating angst amongst business leaders: How can brands ensure continuing growth amidst these twin challenges of increasing costs and decreasing loyalty?
Digital marketing needs a disruption.
Earned Growth (a metric based on revenue growth from existing customers and new customers coming in via referrals) should be the North Star Metric for marketers and Email 2.0, Loyalty 2.0, Martech, and Velvet Rope Marketing 2.0 are the four horsemen to lead marketers into this new world of exponential, forever profitable growth.
Even as marketers need to shift spending from adtech to martech, they also need to migrate from Martech 1.0 and Martech 2.0. Here is a chart that outlines the transition they need to make: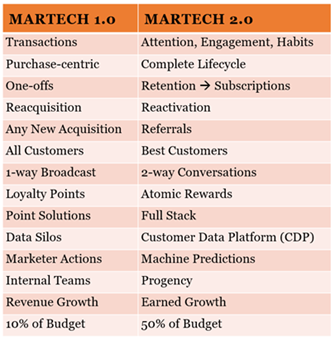 It is with this background that I think of 4PO – profitability, personalization, predictions, progency, and omnichannel – as the defining trend for martech in 2023.
Profitability can only come about with the elimination of AdWaste, Personalization needs data, Predictions will be driven by AI, Progency combines products with agency-like services, and omnichannel is the hallmark of today's customer.
In the next part of this article, I will be speaking about the these 4POs in detail.