In a world of constant change, numbers and statistics are the only practical pointers. Therefore, let's start by looking at how interactive content impacts email campaigns:
88% of marketers consider interactive content effective in differentiating them.
85% of readers turn into leads thanks to the power of interactive newsletters.
91% of B2B buyers choose interactive visual content in emails over static content.
Interactive email content works, and a newsletter is the perfect medium to deliver it to customers. In this article, we discuss how interactive email newsletters work and what makes them click. Read on to understand how you can offer customers a fully website- or app-like experience right inside your newsletters.
Generate more interest
Interactive email newsletters, created in the form of AMP emails, include dynamic elements that give an edge over HTML emails. Instead of a standard, plain-text-and-images style, you can use several amp components to embed dynamic forms, calendars, calculators, accordions, visual galleries, and more to catch the eye and hold attention.
Create stronger engagement
Interactive content opens up a two-way channel for customer engagement. Users can search for products and services, add to wish lists, compare similar options, and make purchases directly within the AMP interactive newsletters. They can also offer valuable feedback via text, stars, checkboxes, etc.
Understand user behavior better
What are users clicking on in your interactive email newsletters? On which element/component of the newsletter are they spending more time? Interactive newsletters contain AMP components that bring the action into the inbox (as opposed to asking users to visit websites for action). They yield more focused info on user engagement activities. Such data on behavioral patterns is invaluable for marketers.
Reduce acquisition and reactivation costs
Once you've activated AMP interactive newsletters, the results are way cheaper than other marketing channels: banner advertising, Google AdWords, Facebook and Instagram ads, affiliate marketing, etc. You also don't have to bear the intermediary costs charged by search engines, social media platforms, influencers, third-party review sites, etc. You have a direct and open channel that you control.
Stand out from your competition
Interactive, AMP-powered newsletters impress users, distinguish your brand from competitors, fascinate users, and make your communications more memorable. AMP for emails has 16 components that you can use singly or combine them to create outstanding newsletters every time, each looking refreshingly different. You are limited only by your imagination.
Reduce friction caused by redirections
With AMP-powered interactive email newsletters, users no longer have to jump from email to a website, form, or action page to heed your call to action (CTA). The more you cut down on the steps users have to take, the less the friction the more people will complete the desired user journey.
For example, if you send a list of new products within an AMP email, you can also include elements allowing users to purchase directly from the email. They can choose items, enter their address, make payments, and track their package without ever leaving their inbox. Such convenience is sure to ensure higher conversions.
Minimize annoyance and offer greater security
Interactive email newsletters are free of ads, and they can pack in a lot of information (text and images) without cluttering up the space. Incorporate multiple amp components to make your newsletter appear clean and minimalistic, yet offer rich and valuable content. Interactive email newsletters are also more secure because all user data is called/routed through your brand's secure database.
Here are some great examples of interactive newsletters
Burberry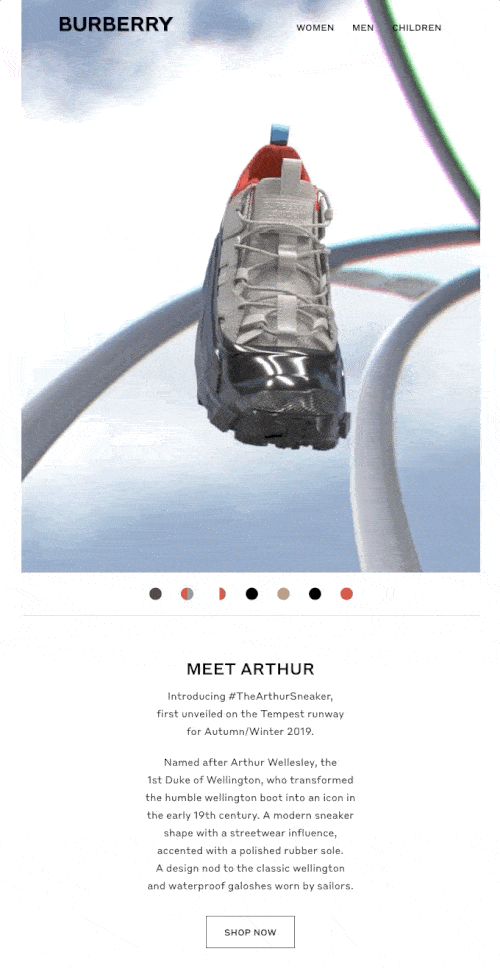 Notice how the sneaker gets a personality. You get a bit of history, and a connection to aristocracy, which is bound to interest the "Royal Wedding" enthusiasts among us.
Harry's

Harry's turns the act of picking your fragrance into a ritual. The scent is based on not just what you want to smell like, but who you are. Don't miss the entertaining images in the quiz.
Pretty Little Thing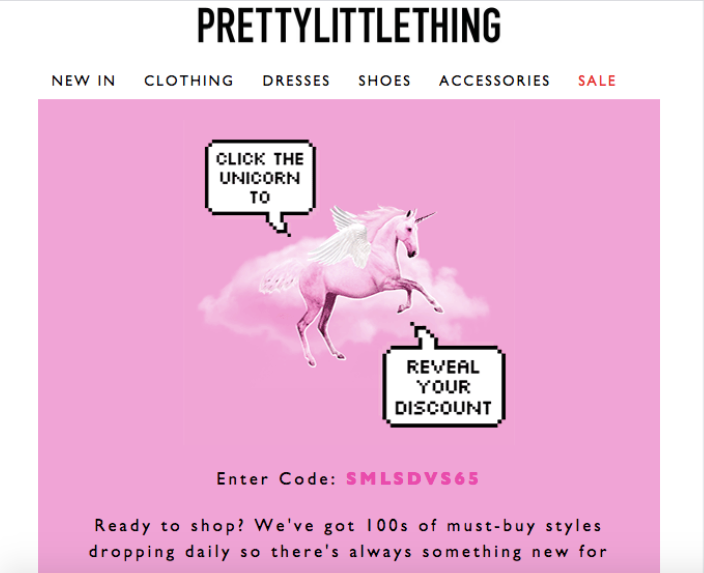 Offering a discount is one of the most common tactics in any marketing handbook, but when was the last time you clicked on a unicorn to get a great deal?
Better Brand

Coffee connoisseurs will fall in love with the way Cometeer's frozen coffee is described, and that image helps quite a bit, doesn't it?
HeyDay

A skincare routine you can perform from bed on those sniffly days? Not only is that a unique angle for advertising the products, but it also helps dispel the thought that skincare is only for those with way too much time.
At the end of the day…
Interactive email newsletters give you a definite edge over every competitor who doesn't use them. You're bringing a website/app experience to your customers' email inboxes. You're reducing their effort to get what they exactly want. You are, without doubt, making their life easier.
What's not to like?
Netcore has helped 50+ global brands roll out interactive emails powered by AMP and achieve their goals. A few of our standout success stories are:
MoneyTap leveraged AMP emails with Netcore and achieved a 13X uplift in customer engagement and a 63% interaction on CTA.
MakeMyTrip drove up customer responses by 600% with the help of Netcore's AMP-powered emails.
Astro-Vision increases opportunity revenue and engagement by 2.5X with Netcore's AMP emails.
We supercharge your email newsletters with AMP to drive unprecedented outcomes in the coming quarter and beyond. After all, we have sent more than a billion AMP emails across 200+ highly successful campaigns and we are still counting.
Netcore makes creating AMP interactive newsletters easy. You can design your own creative emails using the Netcore no-code, drag-and-drop editor in just three clicks. If you need further help, our AMP wizards will consult to help you achieve your specific KPIs from newsletters.
Connect with us to understand how you can benefit from our expertise and experience – we send over 20 billion emails a month on behalf of 6500+ businesses across 20 countries.