You know that sweet, heady anticipation that wells up in your stomach when you see your favorite food at a restaurant, but it's not yours (yet)? That's the power of a great teaser.
Whether a donut or Dolce, it's good marketing practice to pique interest before the big unveiling.
In a hyper-competitive business landscape, launching a product can make or break a company. With customers bombarded by countless marketing messages every day, generating excitement about the new product is the name of the game. That's where teaser emails come into play.
But what makes a teaser email a powerful tool for generating anticipation and driving engagement before a product launch?
That's the question we'll answer in this article.
Harry's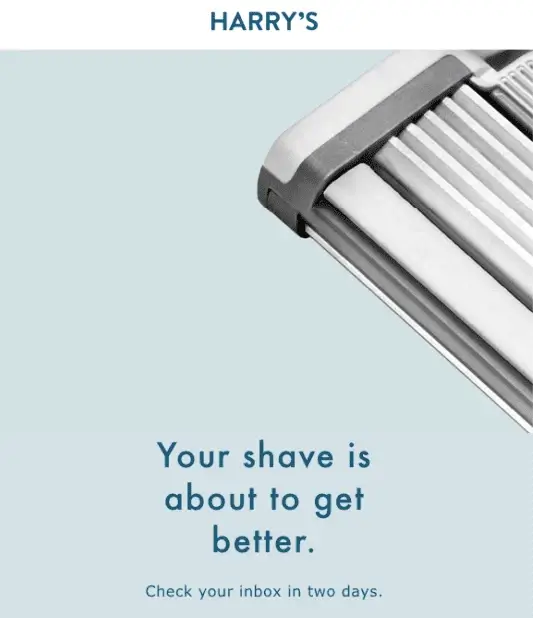 When you know your product is good, you lead with it. This suave bit of confidence does wonders to assure customers that they're in good hands with your product. That copy is the very definition of being 'on point.'
Don't miss the minimal design. It presents the bare essentials while saying it all – definitely not easy to pull off.
Westerly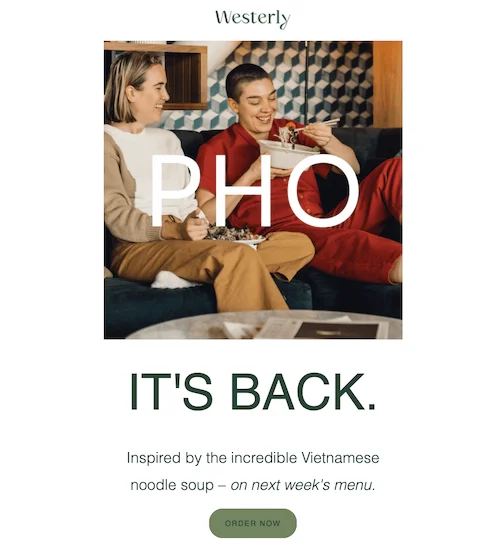 Since Westerly's menu changes weekly, they send out teasers for the next week's menu. Since this email caters to a foodie demographic, it's the food they lead with.
In this case, you don't need more than PHO. Every foodie knows what it is, knows how delicious it is, and will have their fingers set to click "Order Now" as soon as it becomes available.
Once again, our salute to the "only what you need" design elements. No need to say or show any more than what is already there.
Sigfus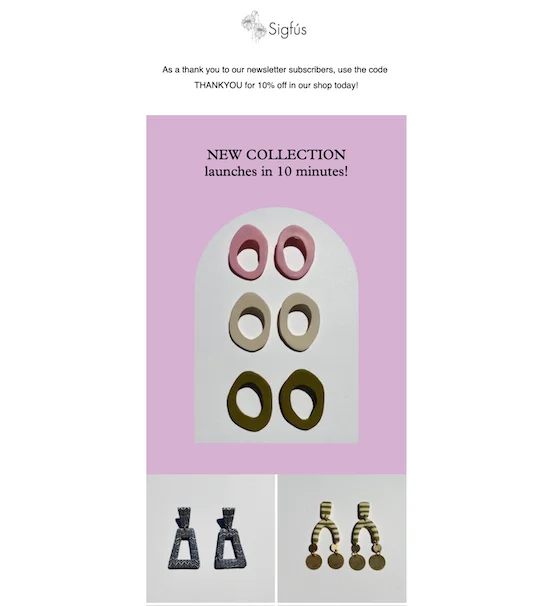 A picture is worth a thousand words. Sigfus took this adage to heart and went with a teaser email design that emphasizes the uniqueness of its quirky hoops. These clunky, retro-adjacent designs are crafted by Sigfus owner and designer Lauren Valenzuela. Lauren lives and works in the Sonoran Desert in Arizona and gets inspired by the natural landscape.
Notice how they don't mention any of this in the email. All they say is that the new collections drop in 10 minutes. This is another instance of product confidence. Even though Sigfus & Laura's cool origin story would have grabbed some eyeballs, the team's decision to go image-first is the right call.
Birchbox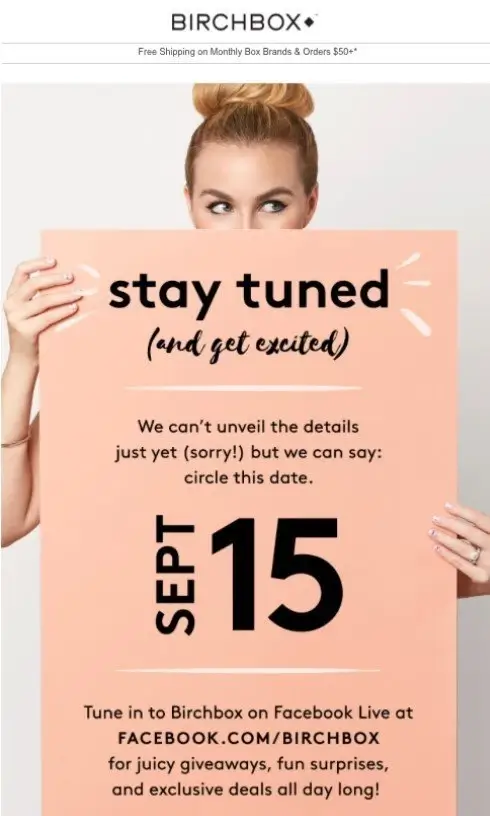 We're big fans of those pastels. Birchbox keeps the copy pretty straightforward, and mentioning rewards usually catches the eCommerce customer's eye.
This email has a certain visual symmetry and pleasantness that goes perfectly with Birchbox's vibe. The imagery may seem uncomplicated, but it exudes charm and playful curiosity – precisely what you want your customers to feel about your upcoming surprise.
EM Cosmetics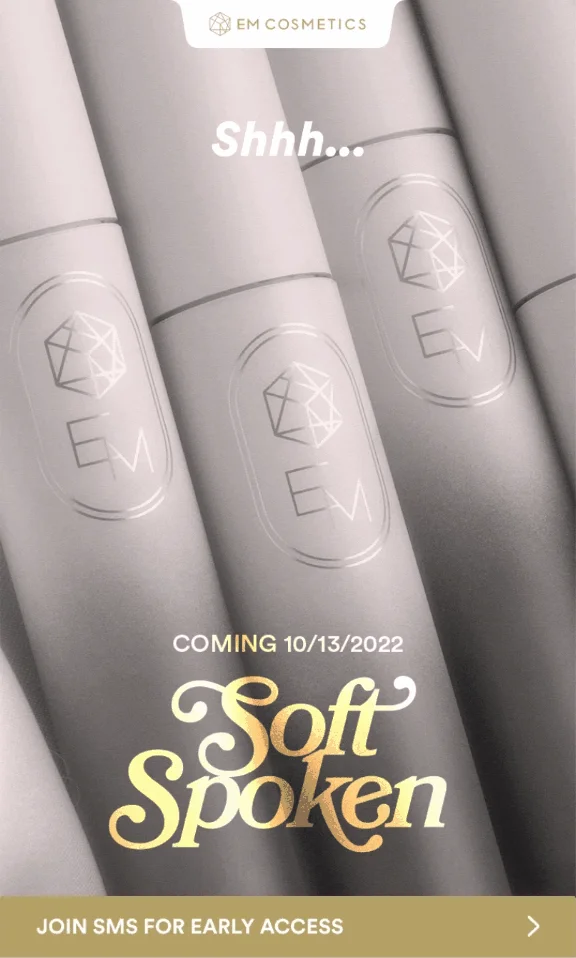 Gentle, silken luxury. That's what this EM Cosmetics teaser achieves with a GIF. You don't get the whole picture, but a two-second shot is enough to needle the curiosity.
The colors, too, are unobtrusive yet glamorous. The brand isn't trying to grab attention in gouache colors. Instead, it exudes the quiet elegance of the genuinely classy style-setter (think true blood princesses, not influencers).
Guess

Clean. Elegant. It tells you what you can expect.
Guess really gets the fashion teaser email right. Eye-grabbing colors, a stunning model showcasing a gorgeous outfit, and the famous name to go with it. All you need to get customers' attention.
Once again, we see minimal copy that fits the job perfectly. But notice how Guess also uses the teaser to promote its existing catalog and entice users with a reward (free shipping extended for 60 days).
Litmus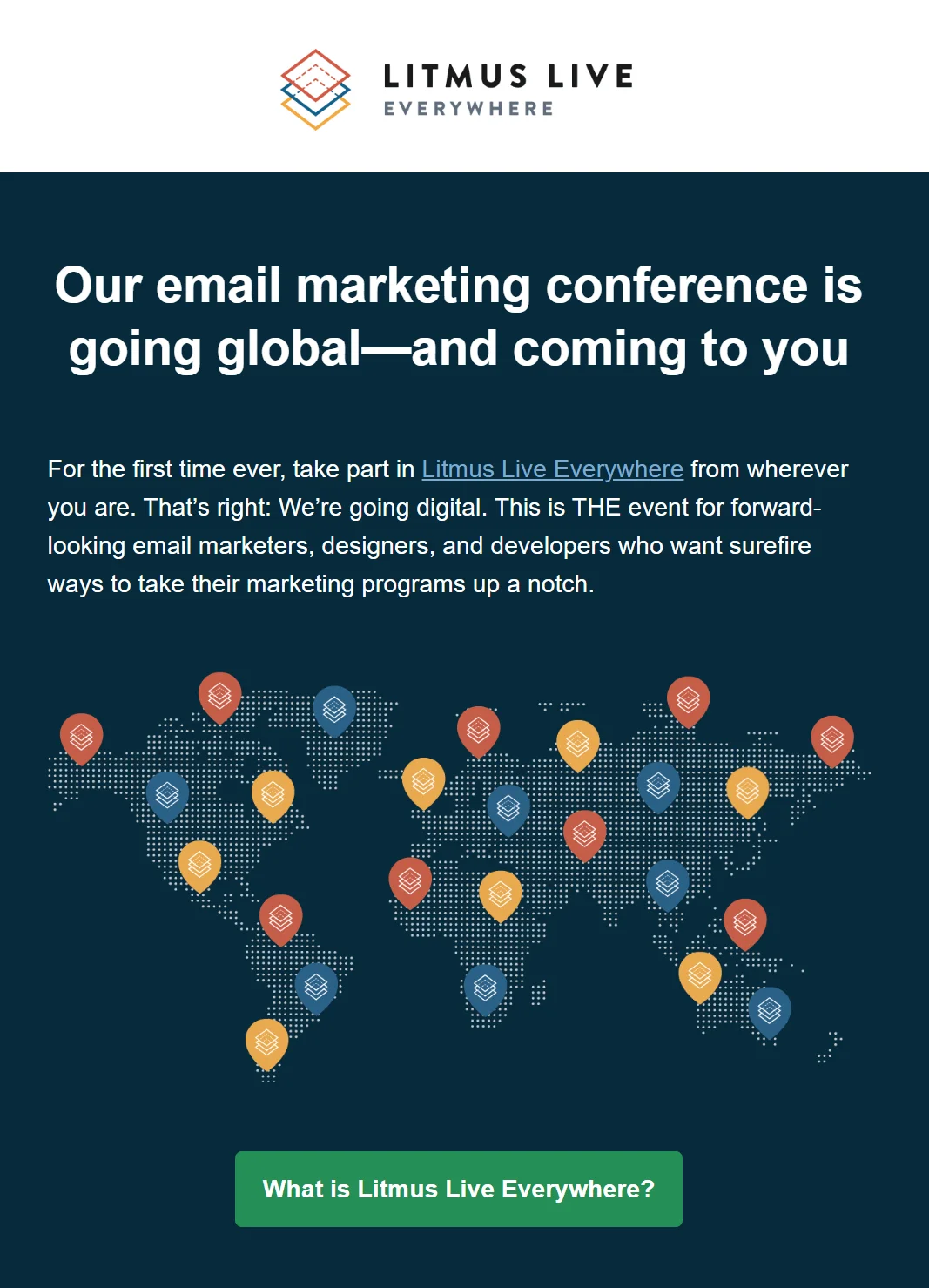 Given that the Litmus platform is meant to make email campaigns look good in every user's inbox, it'd be strange if their own email teaser didn't look sharp.
We're fans of the global map, the dark backdrop, and the creatively shaped GPS pins. There's not much to say about the copy — it's a pretty regular B2B SaaS copy. However, we do like the CTA text – "What is Litmus Live Everywhere?" Simple, obvious, no-nonsense.
Tom Raffield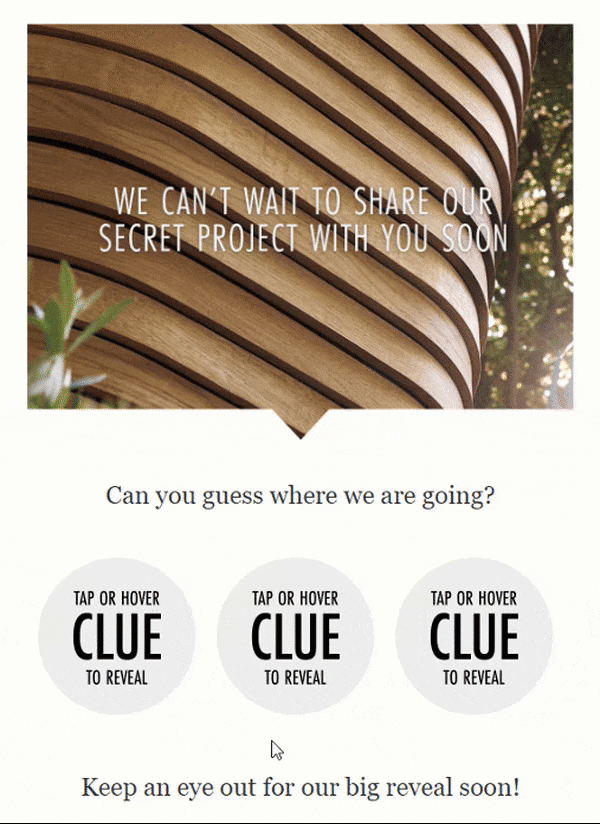 An interactive product launch teaser on email? Yes, please.
Tom Raffield's email teaser ramps up the game by letting folks hover over clues and guessing what's coming up. This gets the user more interested because once they've made a guess, they're invested. It is a pretty solid tactic, but it's essential to use only when you have something exquisite to offer at the other end of the 'guess.'
Find the right mix of anticipation for your teaser emails with Netcore
By leveraging the power of anticipation and curiosity, these short and targeted Teaser emails enable businesses to create buzz, engage their audience, and build excitement before a product hits the market. From developing a sense of exclusivity to offering sneak peeks and compelling incentives, teaser emails can effectively capture the interest of potential customers, increasing the chances of a successful launch.
Getting the perfect cocktail of copy and design to make a teaser email stand out is a tough challenge, especially since all of us are attention-strapped these days. Your competition is just as dedicated to delighting users, so a simple bit of text and pretty colors won't cut it.
Let Netcore help you tap into the full potential of teaser emails, harness their power, and watch your product make waves even before the launch. And it is not just teaser emails – Netcore is a pioneer and leader in every aspect of email marketing.
We have been recognized as "Ahead of the curve at applying AI to marketer workflow" in The Forrester Wave™: Email Marketing Service Providers Report 2022. For the second year in a row, we received the "Highest overall customer rating" as a Customers' Choice, in the 2022 Gartner Peer Insights "Voice of the Customer" Report.
Connect with us to understand how you can benefit from our expertise and experience – we send over 20 billion emails a month on behalf of 6500+ businesses across 40 countries. We're constantly analyzing results, gathering insights, optimizing at different levels, and pushing for the highest achievable ROI in email ecosystems.