Email is considered the top channel for customer engagement; 77% of the users prefer email as the communication channel, as per the Email Benchmark Report. For every $1 spent on email marketing, brands can expect an ROI of $42.
However, conventional email marketing has limitations in the banking industry. Standard email marketing campaigns for banks feature a CTA button to herd customers onto a lead form on a landing page. The likelihood of the customers exiting a bank's email and clicking through to a web page is always low, resulting in drop-offs and lead leakages.
Can we transform the way bank customers interact with emails? The answer is yes, and AMP in emails is the solution.
What is AMP in email?
Conventional emails contain static content, and users cannot interact with elements in them.
With the AMP framework, emails can become interactive, dynamic, and more engaging:
Get survey answers, ratings, or signups within the email
Showcase information through product cards, carousels, or accordions
Create in-email gamification to make the user interaction more exciting
Present real-time data that updates whenever users open the email
AMP in email offers many benefits, such as rich elements inside emails, hyper-personal interaction, and heightened security and safety.
How does this translate into creating email marketing campaigns for banks? Let us look at some targeted use cases.
Use-case #1: Fillable forms
A customer needs to take four or five steps with a conventional email.
Step 1: Open email and scroll to the CTA.
Step 2: Click on the link.
Step 3: Visit the website page.
Step 4: Fill out a lead form.
Step 5: Wait for a representative to contact.
At every step, the user can lose patience and decide to drop off.
AMP in email lets you minimize the steps as much as possible. Instead of an external website loading the lead form, you can embed it in your emails. You reduce customers' effort by delivering the entire experience on the email platform.
AMP emails also considerably reduce the user's time spent on the form-filling process, improving conversions.
Here are some of the ways you can use this feature of AMP in an email:
1. Improve onboarding experience
You can take drip marketing to a whole new level with AMP emails. You can onboard the customer within the email ecosystem instead of multiple channels. For example, you can use a sequence of forms that offer information in a split manner to avoid overload in one go. Such an experience would be more user-friendly for the customers than a single, long, cumbersome form on a website page.
2. Collect more customer data
Long lead forms with too many data points to fill result in poor conversion rates. Reduce your lead form data points to the bare minimum. Follow up the lead form submission with an AMP email to collect the rest of the data in small, incremental steps.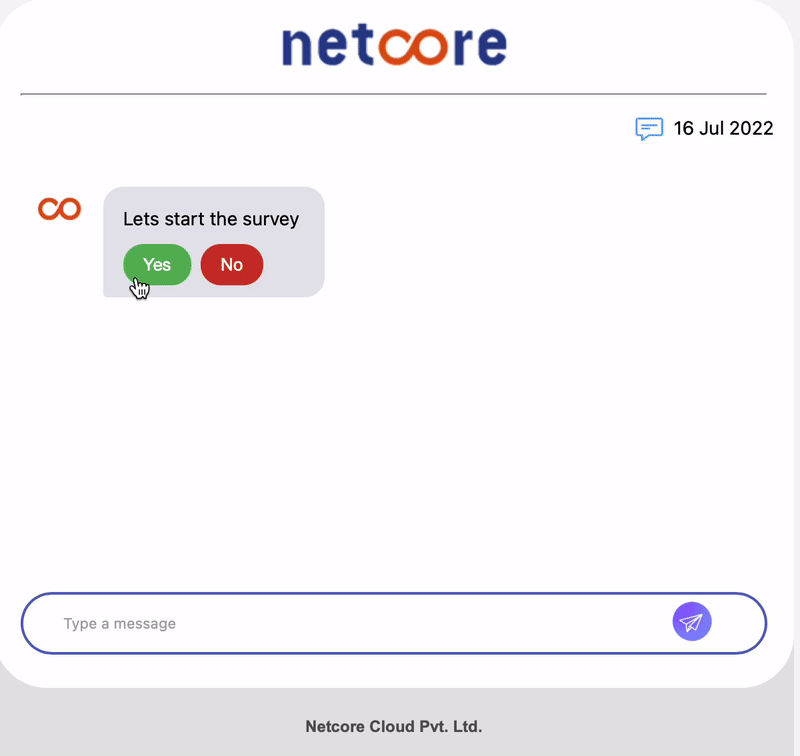 3. Conduct surveys to gather feedback
You no longer need to host surveys and feedback comment sections on a landing page. With the AMP framework, you can get users to respond within emails. This can help save time and effort and improve your understanding and expectations of the customers to engage them better.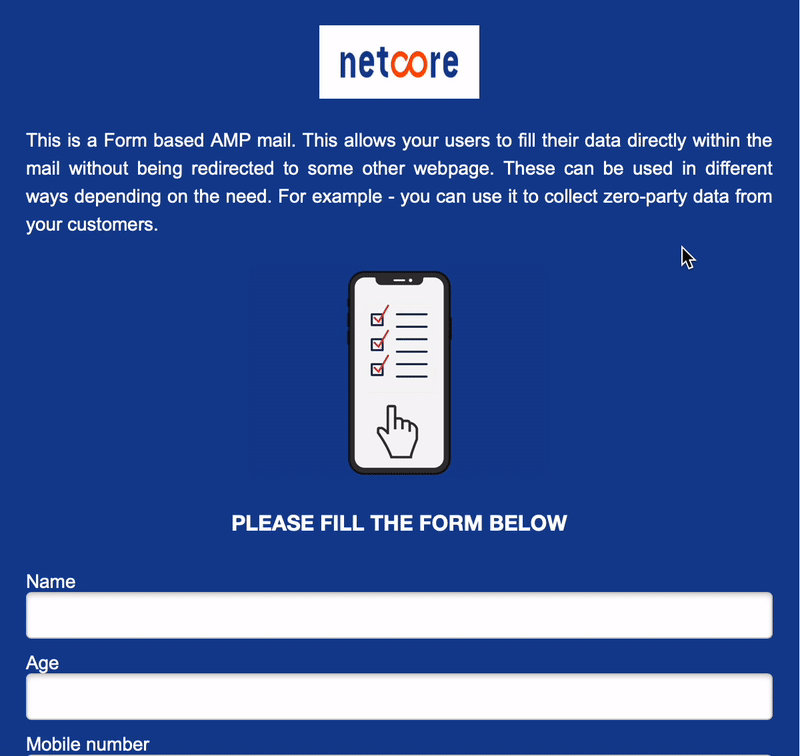 4. Drive sign-ups for personalized offers
Personalization offers the best results for users and brands. Users get the most from a tailor-made offer that is relevant. Brands win by seeing better sales and engagement. With AMP for email, you can improve sign-ups by making them more accessible and faster. You can leverage sign-up information to personalize your email marketing campaigns better.
5. Get referrals
AMP for email can help you simplify the whole referral process. On a landing page, you need to ask for the customer's unique ID and the referral details. This increases the friction for customers, potentially leading to higher drop-offs. With AMP in email, you can get the referral details within emails quickly and easily.
Use-case #2: A website experience in email
AMP emails lead to interactions within the email ecosystem—there is no moving out to a website or a landing page.
This is possible because the technology behind AMP allows you to build a website-like experience within emails using elements like:
Product cards
Carousels
Accordions
Amp sidebars
When designing the content and information, you need to avoid overcrowding. Displaying too much information can overwhelm the customer and lead to drop-offs.
Using AMP in email, you can effectively showcase information in a sleek layout with snippets that allow customers to choose and go deeper into the information they want. You can make your newsletters and educational content more concise with dropdowns and accordions.
You can also use such interactive elements to manage email subscriptions or any use case where the customer has to select and choose from multiple content options. This can help you increase your email campaigns' click rates and ROI.
Use-case #3: Dynamic, real-time data
Calculators
Offers
Credit Scores
Investment values
Interest rate changes
Stock market data
Eligibility checks
An AMP email can contain any of these ever-changing data points. The latest data points will automatically update whenever the user opens the email.
One of the biggest applications of this for banks and financial companies is in the form of interactive calculators. You can create an AMP-based email that shows offers for different products while also allowing customers to calculate different factors like interest costs or returns. The same email also allows customers to check their eligibility. This allows the customer to perform a lot of actions without leaving the email ecosystem, eliminating lags or delays.
You can also add a time-stamp/countdown timer to an AMP email. It creates a sense of urgency that can help increase conversions. Time-stamps inform the customer about the offer expiry and make the communication more action-oriented.
Here is an example of how customers can engage and calculate their EMI within the email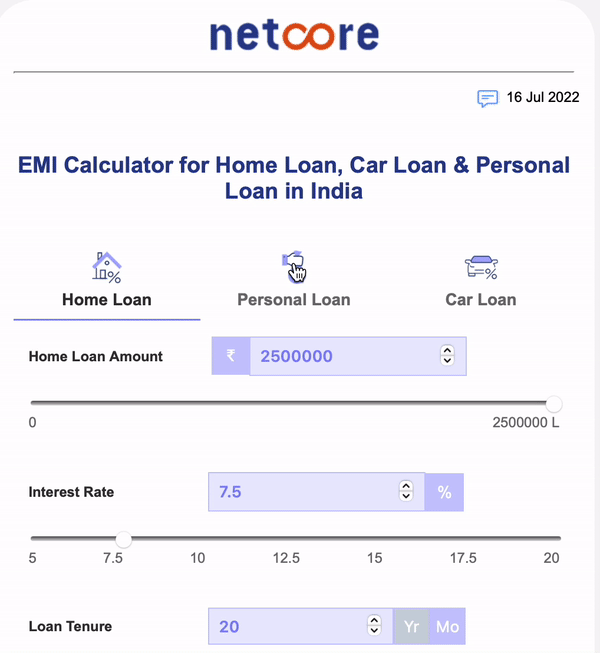 Use-case #4: Calendar bookings
AMP for email's 'amp-form' and 'amp-selector' components help customers sign up for new products, services, or offers within emails. These components also enable customers to schedule a meeting and store it in their device's calendar immediately. You can club this with API-led dynamic elements to improve your brand's and customers' communications. This can also help avoid missing calls, lack of attribution, and mismanagement by on-ground personnel.
Use-case #5: Quizzes and gamification
Quizzes and gamification are two of the most exciting use-cases of the interactive elements of AMP emails.
The BFSI industry often comes across as serious and formal in its educational content. AMP in email can make learning about financial products and services enjoyable for the customers.
You can make educational content more interesting by adding quizzes at the end of different sections. It will also enable you to interact and engage with customers in a non-transactional manner. This can help improve engagement rates and activity levels for your domain.
Offers can be gamified to make the emails come across as more exciting.
In conclusion
AMP for email's capabilities has three huge advantages: interactive, dynamic, and secure. The creative possibilities are endless when you mix AMP for email's interactivity and dynamic nature. At the same time, AMP emails are safer and more secure—two must-have features in the BFSI industry.
As immediate benefits, AMP emails can help improve your engagement rates and increase your ROI. In the long run, a better-engaged audience will keep your domain reputation healthy, improve inboxing, and strengthen relationships with your customers.
AMP for email is relatively new and needs more learning. Netcore Cloud has experts to support the conceptualization, design, and execution of your AMP email campaigns. You can focus on your customers and business targets. With Netcore Cloud, you get end-to-end support for AMP email creation, integration, and customization of specific use cases to grow your business. We have already helped roll out AMP emails successfully for over 50 brands.
Here are some success stories of AMP for email:
Yourstory, a media and publications company, enjoyed 5.5x uplift in registrations using AMP email. Read the case study here.


Axis Securities, a part of the Axis Group and a subsidiary of India's third-largest private bank, increased its open rate by 27% and click rate by 24% with AMP emails and other actions. Read the case study here.
Click here to request a demo to get started with AMP for emails.