According to the global education market intelligence firm, HolonIQ, global investments in EdTech are estimated to touch $8 Trillion in the next four years, leading to the rise of even more EdTech companies that will want to be bigger, faster, and more aggressive. Our post talks about how EdTech marketers can tap into the power of emails to drive engagement, encourage existing learners to take up other courses, sign up new subscribers, and boost their growth. 

In the last decade or so, the demand for online education had started growing, and the COVID-19 pandemic skyrocketed it to unprecedented heights. Schools closed, daily routines upended, and traditional classroom education became non-existent. Billions of learners and teachers shifted to online education and digital resources. Many were testing the waters for the first time, and EdTech companies were quick to respond with their products and services.
Even before the fallout of the pandemic, future forecasts of a paradigm shift in the job market were the primary reason for the boom in EdTech. Several analytical reports predicted that about 40% of the jobs in some occupational sectors would be entirely lost by 2030 due to automation technologies. Then came the COVID-19 pandemic and the lockdowns; hordes of working people started looking for alternative career pathways and opportunities to upskill. And the EdTech industry really took off!
EdTech players made exciting and innovative platforms; several startups joined the fray with personalized products that could be fully customized for the individual end-users. In the early months of 2020, a few EdTech brands came to be valued at over a billion dollars each. According to the global education market intelligence firm, HolonIQ, global investments in EdTech are estimated to touch $8 Trillion in the next four years, leading to the rise of even more EdTech companies that will go "Citius, Altius, Fortius."
As technology applications and education theories fuse to create numerous products and services in EdTech, customers will look for ease of use, tangible benefits, learning experience, staying on top of their progress, and more ways to upskill.
During these challenging times, it pays to engage your existing learners as well as potential subscribers through a set of well-planned and executed email campaigns. While several communication channels are available to you, the most engaging of them is undoubtedly the email – equally effective as a standalone or complementary medium to your website and app.
Here are 15 focal points that your emails should focus on when talking to your subscribers
1. Start off with a great welcome series
Start your communication with a warm and friendly welcome email that creates a feel-good disposition for the learner right from the beginning. It would be a good idea to use the opportunity to let the learner know what they can expect from the course.
In the below email, edX welcomes the learner with an impressive number of 16 million peers and establishes a confident rapport. Apart from showcasing prestigious names to learn from, it also makes a discount offer for certifications.

Source: Inbox
2. Share resources that make it easy for learners to get started
Soon after the student has signed up and you have welcomed them, present a round-up of resources that they need to look at first. Help them become aware of your learners' community and connect. It makes for an excellent start when the first-time users begin perceiving the value of your course with the proper guidance: after all, well-begun is half-done.
In the below email, Sitepoint shares quite a few informative resources for the learner: a way to map the journey and mark the goals, a virtual library of eBooks, quizzes and samples, and a feature that enables discussions with a community of experts.

Source: reallygoodemails
3. Share testimonials on what other learners are saying
Testimonials, combined with social proofing, can go a long way in increasing conversions. Such mails build on the human need for peer endorsements and are pretty compelling. When appropriately segmented, they can definitely evoke the desire to explore more of your course offerings.
In the below email, Udemy presents benefits enjoyed by real-life people after taking the courses. It appeals to the learners from various angles like careers, promotions, professional certifications, and even hobbies.
Source: reallygoodemails
4. Announce product updates to provide value
Whenever you have a product update, new feature, or new learning interaction for the student, send out an exciting email. Apart from showcasing what's new, the email gives a lot of positive affirmation for the learner on their choice of signing up with you.
In the below email, treehouse (an online tech education portal) announces a new element introduced in progress tracking: hierarchy cards that enable the learners to see how their learning track fits into the overall scheme of all other courses. The email also presents the new time tracking format to set deadlines and the hours needed each day to complete the course.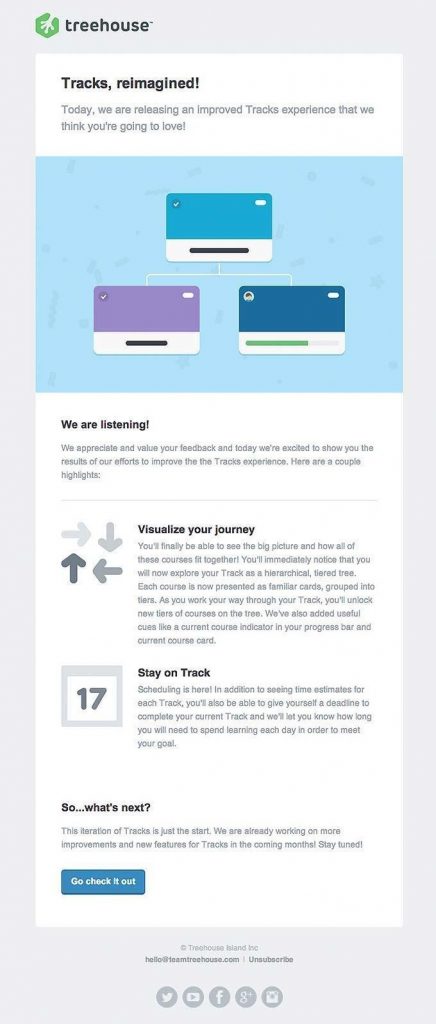 Source: reallygoodemails
5. Stress on real-world applicability to improve course sign ups
Professionals are currently looking to upskill themselves due to the uncertain economic environment. Your coursework needs to fill their professional skill gaps; ensure that the certificates you issue are applicable in the real world.

Certifications provide a moral lift and an ego boost for the learners, and add to a strong resume. They motivate learners to build up their skill sets by taking relevant courses.
A course taker needs to know if your certificate can:
Improve resume by adding a tangible value
Add a skill that they cannot acquire at work,
Be considered relevant by the employer/industry.
Use your content to address such questions by emphasizing the professional applicability of your courses. It will reassure users to choose your course from the plethora of options available. It also helps a lot to have tie-ups with top-rated universities and colleges to provide their merit certification to your students.
EDX provides verified certificates from recognized universities on your course completion. Brands should find ways to tell users how to use the certifications on resumes and their value in the job market.
Source: reallygoodemails
6. Recommend relevant courses to boost course sign ups
Curate additional courses for the learners (especially those about to complete their current course) and send recommendation emails. Here's an excellent opportunity to tap into emails' powerful segmentation capability and send the most relevant recommendations for the learners.
In the below email, Webflow (responsive web designing tools) sends an interesting announcer for its new course on interactions and animations. The two-part emails present the learning opportunity with an exciting message and design that reflects the training course.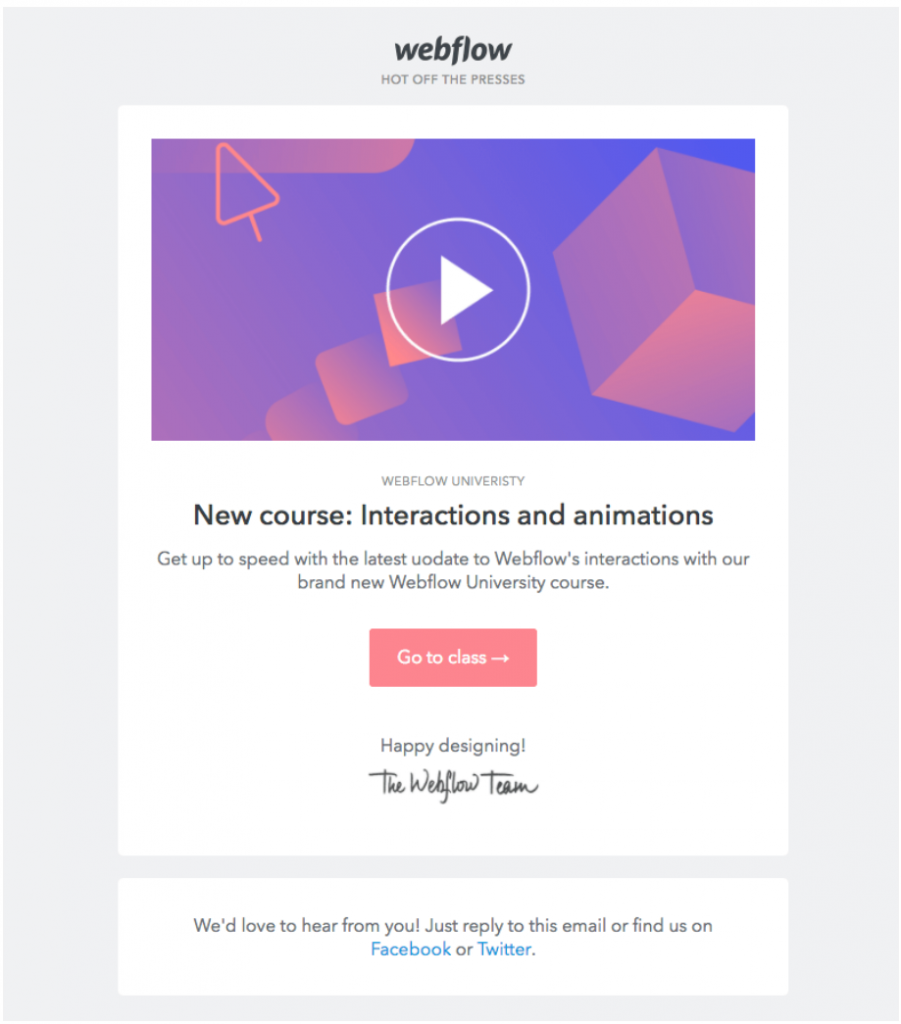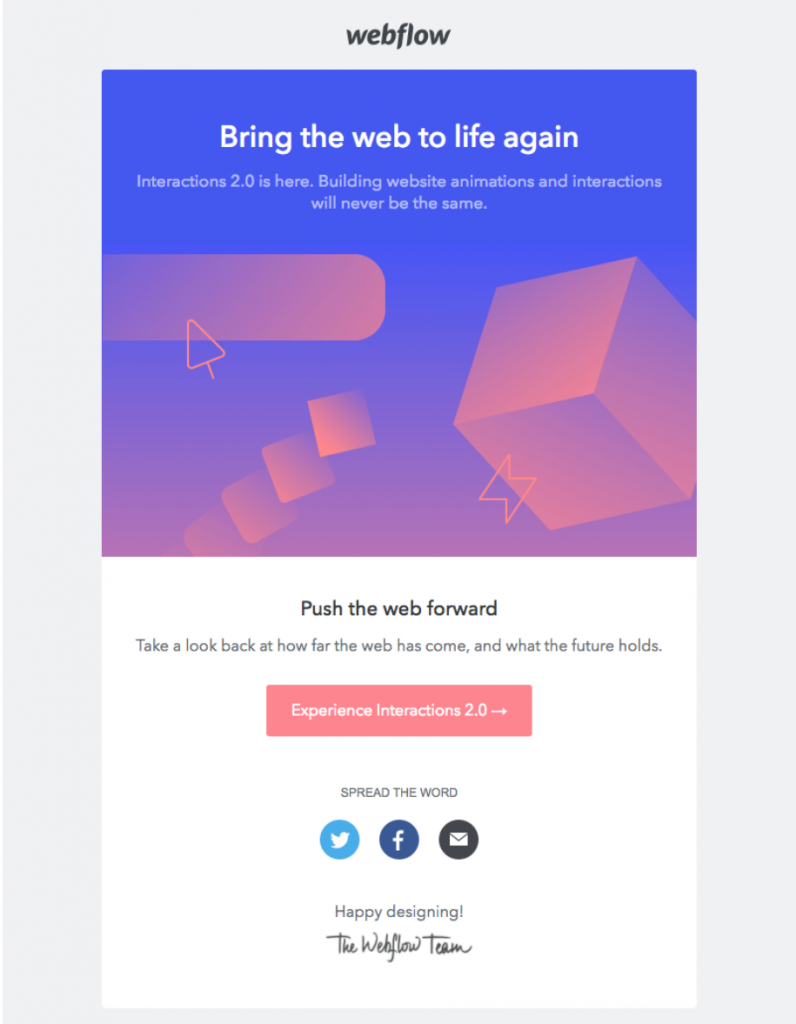 Source: emaildesign beefree
7. Present variety of courses to learners to encourage repeat purchases
When a student is about to finish their course with you, send a focused email communication that will make them want to explore other learning opportunities with you. Use the power of segmentation to curate and present courses that would be most relevant to their interests and needs.
In the below email, Highbrow (a knowledge-building EdTech company) uses a rhetorical approach to stir up a response with the "Are you done learning?" opening line. It makes the opportunity more enticing by putting across topics that cut through a wide spectrum of interests such as science, technology, history, and visual arts.
Source: reallygoodemails
8.Personalize course recommendations to increase second purchases
We all live in the era of hyper-personalization in marketing products. If a brand considers the subscriber preference, past history and interests while targeting them for a course, then it will be well-received. As long as you are catering to your customer expectations individually, they will be delighted with your attention to their needs

For instance, if a subscriber has taken a copywriting course on your platform, target them with personalized content on other relevant courses. This will not only increase your engaged audience but also your conversions will go up.

Udemy sends this cool campaign on personalized course recommendations chosen based on subscriber interests. The course options piques the interests of the reader and they can choose to explore a new one based on the suggestions. It's a win win!
Source: Inbox
9. Encourage learners to keep making progress
More often than not, some learners might fall behind in the regular completion and submission. Send a softly-worded email to nudge such users to catch up with the stipulated progress plan. Informing the learners of the next milestone coming up would also push them to close the gap.
In the below email, Coursera reminds the student about the backlog: how things get easier as they progress. It also draws attention to the cutoff date for finishing the course and gives a glimpse of the upcoming topic and a few book recommendations.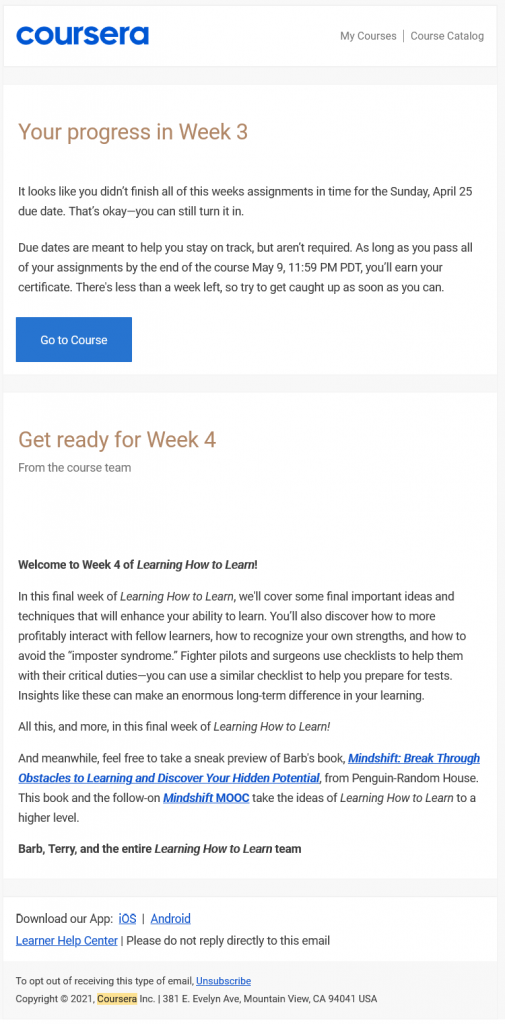 Source: Coursera
10. Update learners regularly on their milestones
Send regular emails that update the student on the extent of their course completion and the remaining lessons or modules. Your mail provides value when you cue in how far they have come and also encourages them to keep up their progress.
In the below email, Pluralsight offers its learners a digest with monthly stats. The communication facilitates at-a-glance understanding of the time spent, videos watched, course completion percentage, and cross-refers new courses.

Source: Pluralsight
11. Bring back dormant learners to discover new courses
Leverage email's capability to segment based on interest and profession: collate a list of courses that would be most relevant to your present learners and send an engaging communication. If you have any 'sold out' courses, include them as well to show their popularity; remember to list other closest courses beside them.
In the below email, Atlas Obscura presents a varied list of lectures, seminars, and workshops across a range of topics. While casting the net wide, the email also urges the reader to act quickly by informing the limitations on the number of signups and displaying the sold-out courses.

Source: reallygoodemails
Converting your email subscribers into regular subscribers
You would also want to increase your new acquisitions from the pool of interested learners who signed up to receive your communications. Thoughtfully crafted emails, about the opportunity to learn in-demand skills, can drive conversions as no other channel can. Follow a simple rule for acquisition:
Empathize with what your users are looking for while joining a course. Always tell your would-be subscribers what they want to hear. It works!
Let's now look at a couple of proven email messages that veer the learners towards joining your courses.
12. Offer inactive subscribers free trials to explore favorite topics
Offer a free, limited-period trial via an email that also lists all the top courses that you have. Focus on talking about what the student will be able to do after completing the course. Mention the extent of resources that the course offers – thousands of hours of videos, online classes, offline viewing, community webinars, live sessions, and the like.
In the below email, Skillshare (an online learning community) showcases six courses and four projects that are currently popular and trending fast. Apart from offering a free 14-day trial, the email also brings in the low-cost perspective by mentioning the $8 per month number.

Source: reallygoodemails
13. Create a sense of urgency to join the courses
When you have new courses ready to go, create a FOMO moment by bringing in the "time running out" angle in your email subject. Mention the start dates of the courses and excite the learners into starting something new. You can also point out that a lot can be learned in a short time with your courses.
In the below email, Udemy (a massive open online learning programs portal) nudges the potential learners by sharing the starting date, time duration, and the application-closes-by dates. The email subject line reinforces the call for action with, "You can still join your favorite courses."

Source: reallygoodemails
14. Follow up with inactive learners with last day reminders
You can use the "last day" email as a standalone announcer or as an emphatic follow-up to the above "You can still join" email. The announcer/reminder mail is also a fantastic opportunity to highlight some curated courses that are the current favorites with all other learners.
In the below email, Udemy (a massive open online course provider) notifies the learners about "Today is the last day to save with the biggest sales of the year!". A dynamic countdown timer serves to prompt the immediate need for action. The email also shares the other courses that are finding favors among the learning community.

Source: reallygoodemails
15. Nudge drifted learners to return back to their courses
Send emails to your subscribers who have finished 25 – 50% of the course; talk to them about the value of completing the course, exciting topics that lie ahead, and remind them to return. This has proven to get learners to complete their courses and build a brand connect.
Udemy campaign like the below offer an update on the progress of the course. Regular drip messages like these get noticed by users and will lure them back to the platform if the course is vital for their professional development.
Source: Inbox
Wrapping up
A lot has changed in the education pedagogy for the learners, and the change has come in waves: the medium, content format, delivery, tests, evaluations, and expectations are different now. And so are the marketing directions and strategies for the EdTech companies.
Your learners need to be kept engaged and excited at different stages; you would do well to persuade them to complete their current course. Besides, they need encouragement to explore your other courses and sign up for those. To improve the student base, reach out to people that have agreed to receive emails from you and nudge them to become regular subscribers. Our examples illustrate some of the most effective email communications that cater to existing learners and potential subscribers.
Talk to us to help you assess your current EdTech email marketing program and enhance it or have a new one created. As one of the pioneers and global leaders, we at Netcore have built a team of email marketing experts focused on helping EdTech companies to excel in marketing campaigns.

You can download your email program grader containing 15 essential email campaigns that you must send to your customers. Whether you are implementing any of them, you can get your score and refine or create a result-driven email program.


Are you excited to see how your current email program scored?