What are DAU and MAU?
DAU and MAU stand for Daily Active Users and Monthly Active Users: the unique number of app users who are active within a given amount of time.
DAU measures the number of unique active users who log into your app in a single day. If 50,000 unique users open your app in 24 hours, the DAU count would be 50,000. Multiple app openings by the same user within a day count as one – a DAU of 50,000 equals 50,000 different individuals accessing the app in a single day.
MAU measures the number of unique log-ins to your app over 30 days. Like the above method, if 900,000 unique users logged into the app over one month, the MAU would be 900,000. For MAU calculation, multiple app openings by the same individual within a month count as one. An app with an MAU of 900,000 means 900,000 different individuals access it in a single month.
However, the "user logged in" metric is not enough to define a customer as a "real" active user.
Who are the "real" active users?
The "real" active users are users that engage and realize value from your app. After signing into your app, they take valuable actions like doing a transaction, carrying out an update, sharing something, inviting collaborators, reading content, listening to music, holding a meeting, or doing anything else that is of intrinsic value for them. In other words, "real" active users properly utilize the capability of your app as intended to meet their needs.
By running a campaign of carefully crafted emails, you can increase the number of "real" active users. The first visit to your app and the first few days of use thereafter are the most critical for connecting with the active users to make them "real." Such users develop very strong loyalty and stay on with you for a long time. You can even project them as advocates of your app for the less active users.
With the inherent ability to segment and target, email campaigns can present and emphasize the most appealing aspects of your app according to different demographics. Apart from increasing the app's engagement levels and retention rates, such emails can also address issues, garner insights, and help improve the overall app experience.
Here are 8 email ideas that will help you boost your DAUs and MAUs.
1. Encourage users to dive deeper and discover more
There may be a couple of important aspects your app users may have overlooked or did not go deeper into. It could be a step, setting, option, feature, or functionality. Break them into one or two simple components and send them a series of illustrated emails that depict the interfaces for each of those instances. Create an email campaign to amplify your app's full potential; monitor and improve such emails to drive more frequent and meaningful engagements.
2. Make users feel good about their progress
The need for acknowledgment and appreciation applies to app users too! In a timely and regular manner, show them the progress they have made in using your app. An attractive format is to have ticked checkboxes for each of the steps/features of your app, or having a slider with a moving dot.
Having more of the boxes ticked or moving the dot towards the end gives the users a sense of accomplishment and increases their engagement. Such email communications not only encourage the user to interact more with the app but also build confidence and trust for the brand.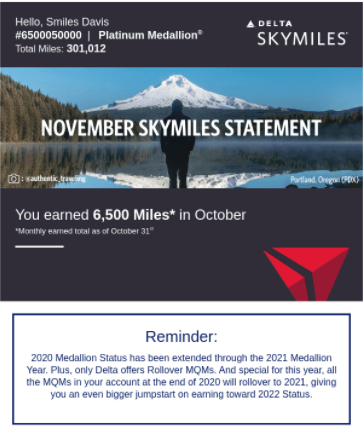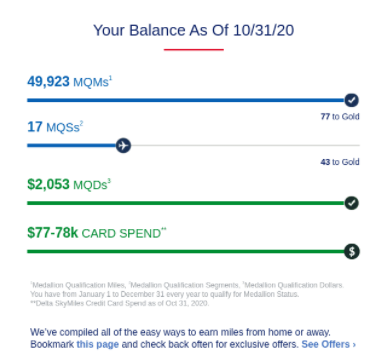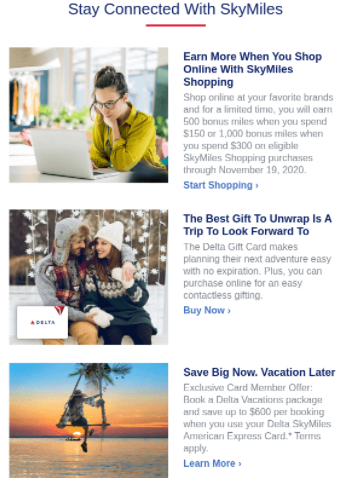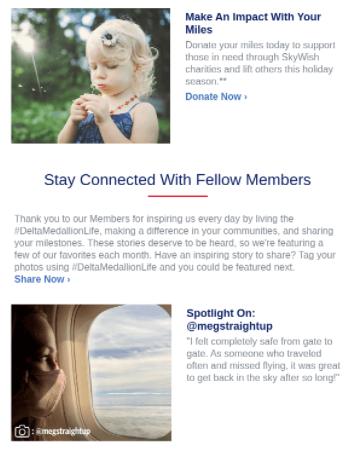 3. Draw attention to the unused and under-used features
Remember that other than the power users, most of the regular users might not be able to realize 100% functionalities of your app; they would need directions and guidance for trying out all the features in your app.
Based on your app usage data insights, select the unused features or not being used as much as they should be. Create a segmented list for each unused or less-used feature; send a personalized email highlighting the benefits of the particular feature. Make the showcasing as detailed as possible since the segmented content will be totally relevant to the recipients.
4. Reiterate the rewards, coupons, offers, and more
As a general rule, the frequency of checking emails is almost always greater than that of accessing the apps. While the in-app notifications can pop up inducements in real-time, email offers a much richer channel to talk more about them; it also serves as a backup reminder/alert as a conscious redundancy. Your email should also mention the next level/stage, or more rewards of the incentive program that the user is moving closer to.
5. Share and spread the good news for users
Did you introduce a new feature or capability in your app? Is there an upgrade coming soon? Was there a milestone crossed for your app? Has a new in-app integration or collaboration made possible recently? Send an email to inform your users and engage with them on a highly positive note. Make them feel part of the growth, and it will ensure that they keep coming back for more.
6. Appreciate loyalty with a surprise communication
When the users regularly do an interaction or transaction on your app that has intrinsic value to you or them, send a thank-you email. Surprise them with a loyalty gift, discount on cross-sell products, special price deals, extended warranty/service for a small fee, exclusive content resources, and the like. Such bounce-backs will strongly reinforce continued user engagement with your app.
7. Make it interesting to give feedback for your app
Using AMP in your email, you can offer the most engaging interaction for your users to share their thoughts, preferences, likes, etc., within the mail itself. AMP can make your email layouts enjoyable with gamification, media carousel, image and text lightboxes, accordions for show/hide, and more. AMP's dynamic content capabilities make for more versatile forms, almost like a webpage within your email.
Your rich-experience AMP email can coax out the users' desire for new features, tweaks on existing ones, obstacles, unwanted exits, and functionalities perceived to be complicated – these go a long way in improving your app.
8. Leverage the FOMO to increase app usage
FOMO, "the fear of missing out," is a great marketing technique that works on consumers' anxiety about missing a fantastic opportunity or not being a part of "happening" things. When users see other people engaging or interacting in a popular manner, they would also want in on the action.
Send an email that portrays how others are getting the most out of your app – by collaborating, sharing, accomplishing, earning rewards, reaching higher user levels, and so forth. Use the power of testimonials and social proofing to encourage more use of your app. Cues that play up the popularity always trigger the FOMO response.
Get an added benefit: improve your app's stickiness
Stickiness is generally arrived at as the ratio of Daily Active Users to Monthly Active Users. Apps with a stickiness ratio of over 20% are considered good, and apps that reach 50%+ are excellent. This simple metric is assumed good enough to predict, with a high level of probability, the success of an app.
(Note that this assumption is valid only in the case of apps meant for daily interaction. Need-based, non-daily apps like those for holiday booking, medical/healthcare interventions, cab hire, travel arrangements, maintenance services, etc., fall outside the purview.)
Here is a perfect correlation between Stickiness (x-axis) and the App Size (y-axis)
A higher number of DAUs in comparison to MAUs results in a better stickiness ratio. As a daily use app, your goal would be to encourage more MAUs to transform into DAUs.
Here's where email campaigns targeted at the MAU segment can do a great job for you. A series of emails, as listed and explained above, would give you the added benefit of nudging the MAUs to explore/engage more with your app. You can set them on their way to becoming DAUs and thus improving your app's stickiness.
Use email campaigns to proactively work for the success of your app rather than resorting to them as a reactive measure. Email is the ideal channel for consistent and empathetic communication to connect with, understand, and support the users to reach their end goal with your app.
Our team of global email experts can help you put together and run a campaign aimed to increase active users, improve the DAU/MAU stickiness, and ensure your app's success. Do reach out to us to understand more on how we can help.
#fortheloveofemails