Out of all the time users spend on mobile phones, over 80% of their time goes into using mobile apps. For this reason, the one common endeavor for all product teams is to improve the product experience.
Good product experience improves usage, builds loyalty, and dictates customer retention.
But while talking about product experience, these are some common questions we come across:
What exactly is product experience (PX)?
How does product experience contribute to an improved customer lifetime value?
What are the key drivers for improving product experience, and how to influence them?
To address these queries, we have utilized our expertise and the work we have done with leading product managers worldwide to bring you all the necessary information about creating intuitive product experiences across the customer journey.
What is product experience?
Product experience deals with the end-to-end customer journey within a product. User interactions across levels of the product, such as user onboarding, product engagement, and customer retention, fall under product experience.
Here, the users interact with several touchpoints within the app. The collective experience received from each of these touchpoints or actions contributes to the overall product experience.
Product experience impacts every stage of the customer journey within the app. So to make onboarding, engagement, and retention smoother, a product team must focus on other aspects of product experience like user segmentation, context-aware user flows, customer feedback, product-led growth, and data-driven insights.
Why does product experience matter for customer success?
Offering good design and functionality on your app is not enough to keep your users engaged. A product must educate and engage its users to boost customer satisfaction.
Product experience plays out at multiple scales throughout the customer journey and prepares your users for certain conventions, new features, and functionalities. This brings product experience to the center of the relationship between a customer and a product and every interaction between the customer and the touchpoints of that product.
These interactions build on one another and further cement the product-customer relationship.
To course-correct, product managers can build and measure the experience across four product lifecycle objectives.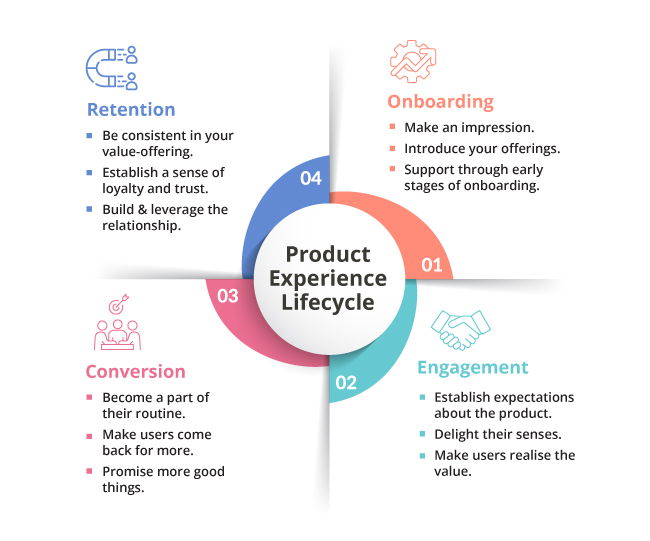 Why do product teams need to focus on improving product experience?
The power of understanding the product experience and how to improve it helps product managers and growth managers deliver a far more delightful experience, reduce customer churn, improve overall engagement, and boost customer retention for their products.
Product experience allows product managers and growth leaders to drive meaningful transformations and unlock the full potential of their web and mobile apps.
While product experience is a subset of user experience, product experience focuses on the user journey within the app.
Considering the number of alternatives and the ease of switching products, intuitive and personalized product experiences are the need of the hour.
Good product design or simply providing value isn't enough to meet the customer's expectations. Your web or mobile app must engage, educate, and adapt depending on the users' needs, thus the requirement for injecting more intuitiveness and personalization into the product.
Users interact with your brand through various touchpoints in the product lifecycle. The touchpoints contained within the product experience cycle make up an important arc in the overall customer experience framework.
The experiences provided through these touchpoints (onboarding, engagement, conversion, and retention) help build a strong relationship between your app and your users. Identify friction points with data-driven insights to improve product engagement.
Product experience is the secret to product growth. This should be reason enough for product and growth managers to focus sharply on improving the product experience. Here's how Hussle does it:
Hussle is a network of gyms, pools, spas, and fitness apps that works with the goal to give people flexible access to thousands of gyms across the UK without complicated contracts and memberships.
How Hussle offers a great product experience
Once you land on Hussle's website, you can only do the following things: enter a location to search for gyms, explore different types of passes, or fill out a 90-second quiz to find the right pass for you. Everything else is a variation of one of these three options.
Hussle's product experience is minimal and prioritizes taking action quickly.
They do this by finding points of friction, confusion, and frustration within the user experience—and almost instantly fix issues that would otherwise take weeks to track down.
Another thing Hussle's product team does well is what many businesses lack the courage to do: they survey every customer that cancels their account.
The answers are an opportunity to learn about the invisible context of churn ("Not using the pass enough due to COVID"), as well as potential product ideas ("I bought a contract directly with the gym").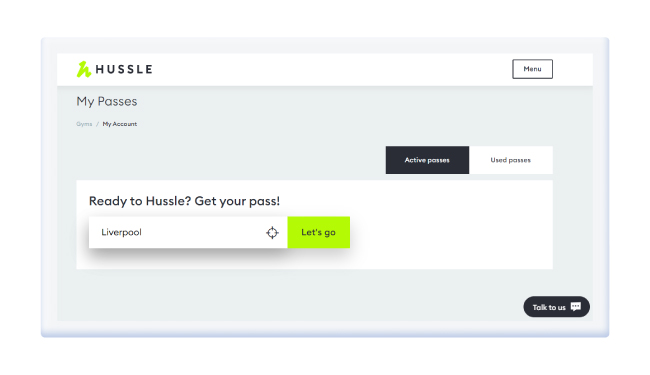 What are the metrics for measuring product experience?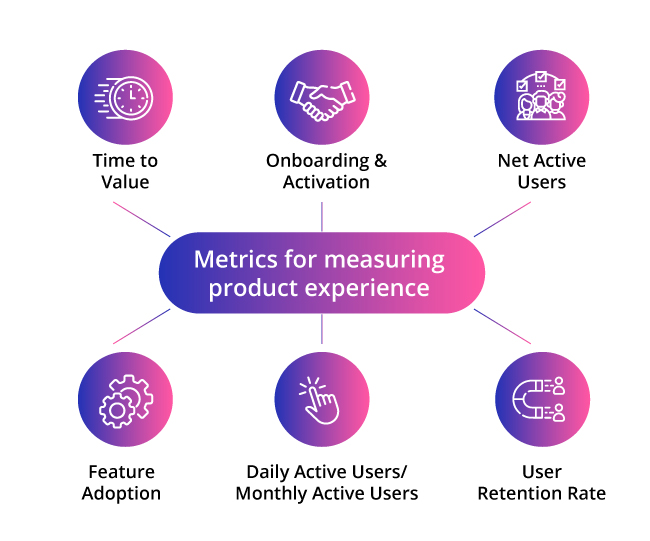 Time to Value
Time to value is the total time it takes for your users to realize value once they start using your mobile/web app. The faster your user realizes value, the better the product experience.
Tip to improve this metric: Make user onboarding easier. Implement a product experience platform.
Onboarding & Activation
Once users have been onboarded, they need to be activated. The activation rate measures the number of new users who have performed a predetermined action within a specific period to receive intrinsic value from your product. Activation Rate helps products gauge how quickly their new users achieve perceived value.
Tip to improve this metric: Simplify the activation or sign-up process for new users, highlight benefits and not features, and keep new users moving forward with tailored communication through in-app guides, in-app notifications, and other helpful resources.
Net Active Users
Net active users are the total number of customers who are actually using your product regularly and not just logging in.
Tip to improve this metric: Use contextual nudges to direct user attention toward the desired action. Also, gather feedback to know what's working for your app.
Feature Adoption
Feature adoption is when your target audience adopts a feature or new functionality of your product or app by simply using it.
Tip to improve this metric: Implement user segmentation using behavioural data to be more specific while nudging users. Make the discovery of features easier with spotlight nudges, tooltips, and beacons for varied user segments. A/B test nudges to know which approach works better for improving feature discovery and adoption.
Daily Active Users/ Monthly Active Users
Daily active users or monthly active users are the average number of active users on a given day or a month. You can also get a ratio of DAU/MAU. This ratio provides the percentage of the monthly audience you can expect to use your app on a given day.
Tip to improve this metric: Develop an efficient onboarding process by personalizing and gamifying the steps using contextual walkthroughs to help users in completing critical tasks.
Implement gaming elements into your mobile app experience to get users engaged and focused on their goals, while optimizing for critical KPIs such as retention rate, sessions, churn, return on ad spend, and improving the overall user experience.
User Retention Rate
The percentage of people that continue to use your app over a given period is the user retention rate for your product. It's the inverse of user churn, another primary metric for product experience.
Tip to improve this metric: Use no-code beacons and tool tips to make feature discovery and adoption easier and implement effective engagement techniques.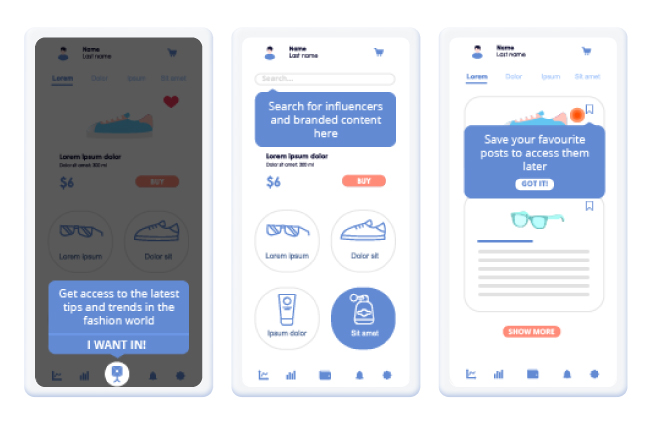 Tips on improving product experience to achieve product adoption
Enhance user stickiness and boost funnel conversion with the following tips:
Ensure smooth user onboarding
You've got a brand new board game, and you open the box to find out all the contents of the box, but there's no guide on how to play the game.
Will it not be confusing for you to figure out the game without an accompanying guide?
This is a general feeling among most first-time mobile app users. When brands release an app or website without any guidance on utilizing the platform, it can leave your users feeling stranded. A little hand-holding and walkthrough of the app or website helps users understand how it works.
Onboarding users by providing some guidance is essential to save them from feeling overwhelmed with what they see on the screen.
Good onboarding is one that:
Makes a great first impression
Gives users a guided introduction
Significantly improves user retention
A widespread and low-effort solution for smoother onboarding of users from start to end is to use contextual nudges.
Nudges are gentle interventions that help you steer your users toward the desired action. Nudges come in the form of tooltips, spotlights, and coach marks. Using these nudges, you can guide users without overloading them with too much information.
Each nudge has a unique capability depending on the intention and user segment you are trying to focus on.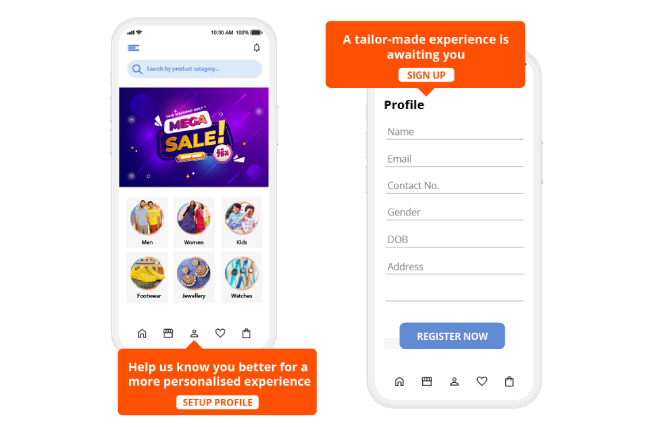 Provide consistent value and product info
If you create a particular image of your brand before or during the onboarding but don't follow it up throughout the user journey on the app, your KPIs will suffer.
The product experience will also be unsatisfactory if you don't provide the same value across all platforms or touchpoints of your app users.
Any product-specific information and value you provide to your users must be consistent and in line with user expectations.
Here's how you can create value for your users across all touchpoints:
Personalize the content and product info on your mobile/web app.
Announce features, offers, or benefits to users according to user segments.
Activate no-code beacons, tooltips, spotlight, and announcement nudges to keep your users informed about the information and value you are providing to them.
Optimize and engage based on user segmentation
Analyzing and optimizing user journeys across the product is the key to consistently improving user engagement.
Start with customer journey mapping to understand your users' actions, behavior, ease of use, and immediate value realized from the product.
Create groups or user segments according to their journeys within the app. Optimizing app flows according to user segments makes testing variants and improvements easier.
Delivering optimized app experiences becomes a breeze with context-aware user flows for each user segment.
Capture and leverage user feedback
User feedback is undoubtedly the most valuable resource for product managers. It helps them gain insights into how users are adopting your product.
The founder of Qualaroo and GrowthHackers, Sean Ellis, found that listening to your customers through qualitative data boosted conversion by 300%.
Find the right approach to capture and leverage this feedback. This can alter results for your app effectively.
There are certain things you must remember while gathering this data:
Sort users into segments.
Get the timing right.
Implement what you've learned. Capturing and leveraging user feedback can provide product managers with the necessary perspective.
To provide product managers with the necessary perspective, capture and leverage user feedback. To do this, implement in-app survey pop-ups like Net Promoter Score, qualitative review, and ratings.
Conduct rapid experimentation
The best way to find out if an idea works is by trying it out. The same applies to elements and experiences within a product.
A/B testing to test out different experiences within the mobile app is a common practice.
Rapid experimentation on different user segments provides you with relevant statistical confidence to identify the best version to offer an improved user experience.
A/B tests will give you all the necessary insights to make informed decisions.
The agile approach of A/B testing is the best way to test use cases. The agile experimentation method helps you reach conclusions up to 80% faster when compared to classical testing methods. In addition, it provides great flexibility to observe and act on the data recorded.
Scale product experience and drive adoption the no-code way
In order to make an exceptional product experience a reality, you need the right set of tools. Using no-code nudging capabilities has the following benefits:
Reduced or zero dependencies on your tech team
Easier experimentation across all elements of the app
Insights to make improvements
Also, the product experience platform must scale along with your product. Your product will demand more of that technology with additional features and developments. Thus, the technology must be scalable.
This is where Netcore's no-code product experience platform can help improve the product experience. Let us show you how it's done with a sneak peek into our platform functionalities.