As an avid online shopper, you've probably spent your fair share of time browsing D2C eCommerce websites in a tireless pursuit of the perfect product. You've probably spent less time on some websites but trudged through others even when you were ready to buy. What is the underlying difference between the two? Why are some websites so easy and intuitive to navigate while others may make you pull your hair in sheer frustration? What's an effective but underutilized solution to scale eCommerce growth? The answer lies in the product listing pages.
Before we dive deeper into product listing pages and their significance, let's turn our attention to some eye-opening statistics.
79% of B2C brands that exceeded revenue goals have a documented personalization strategy
80% of customers are more likely to purchase a product from a brand that offers them personalized experiences
90% of customers are willing to share their behavioral data to avail a more seamless brand experience
Source: 25 Personalization Statistics That Every Marketer Needs to Know!
In a day and age when customers are willing to share their data for more personalized experiences, the writing is on the wall: companies need to have a strategy that optimizes conversion and keeps customers coming back for more.
For decades, eCommerce companies have been searching for the holy grail of personalization – a cross-channel experience consistent with the brand's goals while adapting to customer needs in real-time. With the advent of digital transformation technologies, businesses have also realized the importance of personalizing product listing pages.
Product listing pages and their significance
Your customers should be able to find what they want online instantly, and you have the power to make it happen! They expect you to provide an immersive experience that makes them feel confident about their purchasing decision. After all, nobody likes spending hours on a website sifting through products that brands want them to see.
Product listing pages are, therefore, the backbone of any D2C eCommerce brand and gateway to checkouts. On the surface, the page displays a list of products, but, in reality, it is a lot more than that. Product listing pages are like the home page of similar or related products and allow visitors to select and buy from a specific catalogue. It is of utmost importance for D2C brands to effectively show their product variety and increase the likelihood of sales.
Product listing pages are critical for product discovery while proving a traffic source from search engines, or paid ads. They are important for any eCommerce business since most of the traffic coming from different campaigns is sent to these pages. Whether it is email marketing, social media, or paid advertisement, category pages must be carefully designed to increase product discovery, promote user engagement, and reduce time to purchase. Regardless of the device, channel, or touchpoint, if your online customers cannot find the product they are looking for, they will be unable to experience your brand.
However, most category pages do not cater to the demands of different audiences. Brands may feel like displaying all their new or best-selling products upfront but showing everything on top can also backfire. Visitors might not easily find what they are looking for and leave the site. Therefore, it is crucial to not only categorize products correctly but also display them based on the past interaction and browsing history of each user. After all, each customer interacts in several ways, and powerful personalization is more than just who the target audience is. True personalization lets companies provide experiences that inspire customer loyalty, long-term confidence, and growth.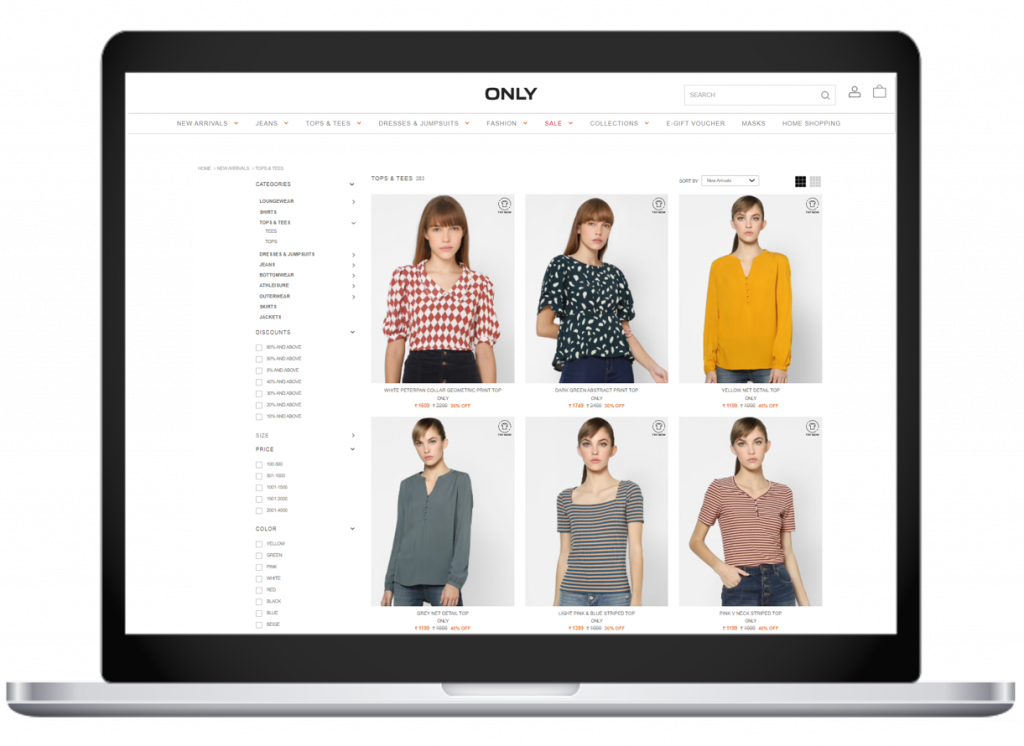 An effectively personalized and optimized product listing page:
Provides bespoke experience to each visitor by displaying content based on their intent and preferences.
Reduces time to purchase by improving the overall shopping experience.
Generates traffic from various marketing campaigns and creates a solid foundation for SEO.
Enables D2C brand visitors to narrow down their search and make their decision-making process easier.
Benefits of personalization
Reduces Bounce Rates
By personalizing product listing pages, D2C brands can lower bounce rates by showing exactly what the customers are looking for in the first scroll. With a lower bounce rate, other metrics like click-through rate and session time will go up, which will eventually increase your SEO rankings. By using technologies such as Netcore Cloud's AI engine Raman, D2C brands can increase click-through-rate by as much as 60%!
Increases Engagement
Creates an overall picture of each customer across their buying journey to increase engagement by adding more value to online searches. Offer product recommendations based on each user's search history by using data points such as browsing data and site search, in addition to other interactions.
Improves Bottom Line
91% of shoppers would abandon an online retailer over a poor shopping experience. Leverage AI-backed technologies to improve engagement and conversion rate to ultimately increase the return on investment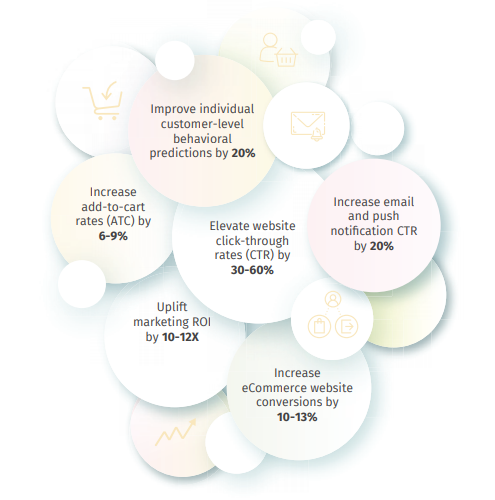 Power your D2C personalization strategy
A surprising 41% of retail executives say their eCommerce platform is somewhat personalized at best, while just 13% of online retailers provide shoppers with a completely personalized experience. It is clear that D2C companies need to close the gap between what they deliver and what their customers expect or receive.
For this, industry leaders are using machine learning and predictive analytics to curate a personalized experience that points people to things they want to buy. AI-powered personalized product recommendations are taking center stage in the D2C landscape and driving personalization by using customers' previous search data, their intent, and interest, as well as sophisticated algorithms associated with their browsing patterns.
Tech providers such as Netcore Cloud are taking the idea of product recommendations and personalization to the next level. Netcore Cloud promises an increase of conversion rate by up to 18% and add-to-cart rate by as much as 9%! It lets brands change the product orders and display the most relevant products first by tracking each customers' search history and offering the best product recommendations in real-time. In other words, instead of having all potential customers visit the same page, our AI-powered technology creates a personalized product page and helps you learn more about your visitors and enhance the overall customer experience in real-time. It helps visitors spend more money and less time on your website.Also read: Top 15 personalization examples for Apparel brands
Personalized boutique pages
There are several ways to personalize category pages, but none stand out like the personalized boutique page, a unique solution offered by Netcore Cloud. This level of customization takes landing page personalization to the next level by displaying a unique storefront based on each customer's past and real-time behavior. Brands using these pages report an increase of click-through rate by up to 150% since the products showcased on the pages closely match the taste and interest of each online shopper. So, how does it work?
A personalized boutique page creates a unique virtual storefront for the individual visitor. The powerful AI-driven technology that uses real-time learning considers each customer's like, dislike, intent, and preferences. The intelligent and intuitive technology constantly learns user behavior from real-time signals such as what the customers 'view-and-click', what they 'view-and-don't click', or 'don't-view-and-don't-click.'
The boutique page also uses image recognition technology to create a cross-category listing page of products that are most contextual and relevant. It creates a unique product listing page containing a list of products that an online shopper is likely to click, add-to-cart, and even purchase. These pages are auto-refined on every interaction of the users to further personalize the overall experience.
To influence customer's decisions, the personalized boutique page has an 'Instagram-like' UX, which has different recommendation widgets such as 'most purchased', 'most viewed', 'just for you ', 'best seller', and 'latest products.' It also provides recommendations based on real-time feedback with 'dislike' and 'like' buttons. Based on the response, the products list continuously refreshes to personalize the experience even more.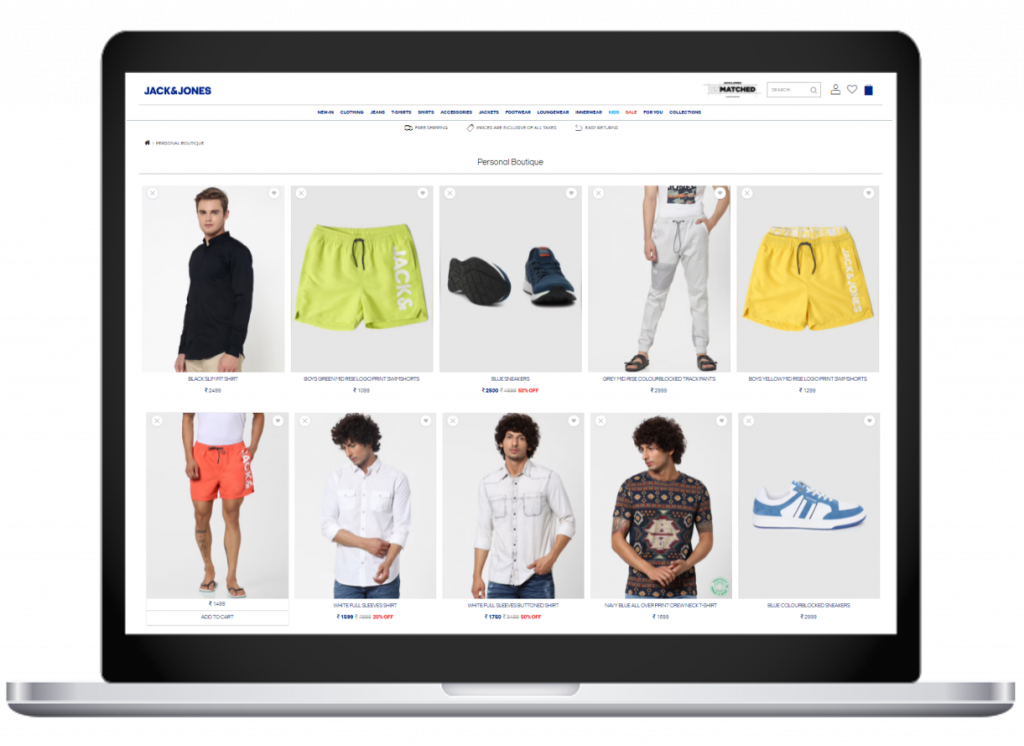 How customers personalized their product listing page
Once Upon a Trunk
Once Upon a Trunk, a leading online fashion destination for women realized that the key to their success was overcoming challenges of product discovery, lower customer engagement, and lack of personalization. To tackle these challenges and increase their revenue, the team turned to Netcore Cloud's AI-powered personalization solution.
With Netcore Cloud, Once Upon a Trunk can now understand its customer's intent in real-time and personalize product recommendations accordingly. Equipped with capabilities like A/B testing, personalized widgets, segmentation, and robust analytics, the personalization technology contributed 28% of total revenue for the company within just 90 Days!
To read more such stories of how D2C brands leverage Netcore Cloud's personalization platform, click here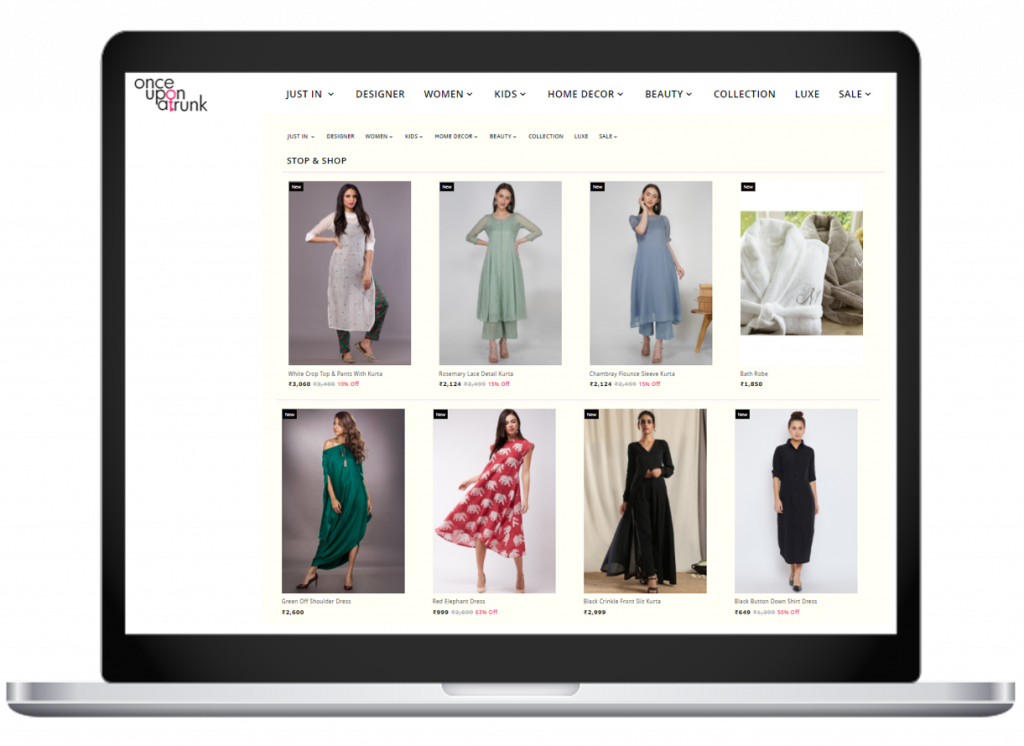 In Conclusion
As the eCommerce marketplace becomes more and more crowded, customers' expectations have touched the rooftop. D2C brands are looking for ways to provide personalized product listing pages with the help of digital transformation technologies. Personalizing category pages not only helps brands stand out from the competition but makes the entire shopping experience enjoyable and easy. Personalized product pages backed by AI technology make sure that each customer sees more relevant images at the top and reduce bounce rate while increasing click-through rate and conversions.
Netcore Cloud's AI-powered personalization platform learns from each customer's behavior to ascertain their preference and intent. It then responds to real-time interaction by showing the most relevant products in real-time across all possible digital touchpoints such as site search, landing or category pages, product recommendations, email, and push notifications. The boutique pages take personalization a notch up by creating a virtual storefront that includes curated products that your customers are bound to love. Give your customers a personalized shopping experience they always wanted and, in return, increase your bottom line.
Click here to get started.