[Blog Updated by Gautham Gopakumaran]
Netcore Smartech's Push Amplification feature gets better and stronger to turbo charge your mobile marketing strategy!
Mobile marketing can often be an uphill battle against continuously rising competition in an already cluttered app market, fluctuating brand loyalty, and diminishing returns on investment!
Set in this backdrop, push notifications constitute a major weapon in your user engagement arsenal. While this channel may have continued to serve you well, there can be situations where technological limitations and firewalls let you down.
This means that all your exceptionally crafted campaigns might not get delivered to certain segments of your user base at all, leaving you firefighting your way towards higher app monetisation and user retention, all on your own.
This undermines your effectiveness as a data-driven mobile marketing agent, significantly!
What you need is a super-agent that will help you "neutralise" the "enemies" of falling push notification delivery and save the day!
What you need is the Ethan Hunt of mobile marketing that no longer makes incredible delivery rates an impossible mission!
Enter Netcore Smartech's newest Push Amplification technology – Smart Push.
Your push notification delivery guardian angel that empowers you to boost delivery rates by more than 45% across devices.
Let's examine just how this feature can add more teeth to your mobile marketing automation at scale.
The Roadblock
Android OS: Android-powered Chinese Original Equipment Manufacturers (OEMs) such as Xiaomi, Huawei, Oppo, Vivo, Lenovo, and LeEco, amongst other smartphone companies, are optimised for functionality over and above the stock Android OS.
Despite adoption of Chinese smartphones dropping during COVID times, it still covers 72% of the Indian market. Chinese smartphones still dominate the global marketplace in spite of their YoY decline in sales.
Over a period of time, it has been observed that these OEMs restrict background processes related to certain apps so as to conserve battery life and processor bandwidth. As a result, push notifications from many apps aren't delivered at all or are delivered in extremely limited quantity, as the vital link between the push gateway (either GCM or FCM) and the smartphone device is severed.
This causes your campaigns to lose their relevance, regardless of how personalised or contextual they may be, especially if they aren't delivered in a timely fashion. Not only do these in-built restrictions adversely affect your delivery rates, but they also create gaps in your user engagement strategy, for absolutely no fault of your own!
Apple iOS: The Apple iPhone currently captures a market share of almost 14%. Closer home, in India, it accounts for around 63% of the premium smartphone market.
When it comes to mobile app engagement, there are occasions when your push notifications might not get delivered at the discretion of the gateway in question, Apple Push Notification Service (APNS).
This can majorly erode the effectiveness of your mobile marketing campaigns that depend on push notifications as a delivery channel.
The Antidote
Netcore Smartech's Smart Push, the 4 stage push amplification technology that helps you address your notification deliverability woes based on proprietary technology experienced on both Android and iOS devices.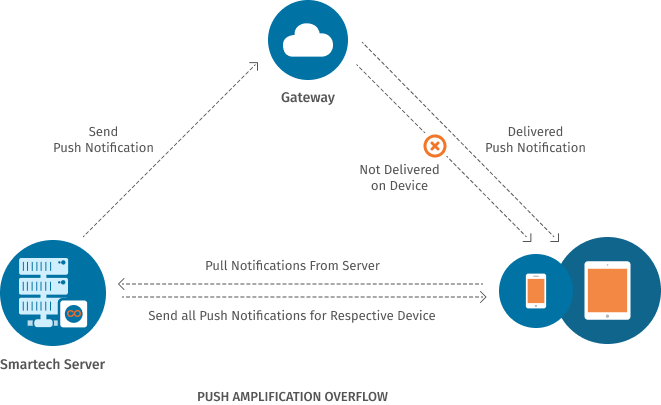 Smart Push's Stage 1 – Push Amplification
First, there is the traditional push amplification where Smart Push identifies devices that haven't received notifications and triggers a notification to them.
Android OS: After seamless integration, every elaborate push notification campaign that you run for your app is pushed to your selected audiences from Netcore Smartech's servers through either the GCM or FCM gateway.
There will be devices on which your campaign gets delivered, and there will be Chinese OEM devices on which delivery might fail. The SDK then makes a network call to a specific Smartech API that in-turn pushes all those non-delivered notifications to the user.
Apple iOS: For Apple devices, your relevant notification campaigns are pushed to your selected user segments from Netcore Smartech's servers through the APNS gateway.
In the event of non-delivery at the device level, a similar network call is made to the specific Smartech API. Based upon the response received, it renders all those undelivered push notifications for that particular user.
Stage 1 will boost your delivery rates by 10 – 15%
Learn how you can further drive higher conversions through push notifications through our free e-book, right here!
Smart Push's Stage 2 – Xiaomi Push Gateway
Second, we work on a specifically on the Chinese smartphones which restrict notification deliveries to save up on battery life. Smart Push brings the power of Xiaomi Push Gateway. With the largest market share among smartphones in India, Xiaomi becomes extremely important to your delivery capability.
Smart Push's specific focus with the Xiaomi Push Gateway makes these smartphones prioritise your app's notifications over other, and boosts your delivery rates in Xiaomi smartphones by up to 70%.
Stage 2 will boost your delivery rates by 7 – 8%.
Smart Push's Stage 3 – Delivery Boosters
Third, we've added delivery boosters which have the potential to deliver notifications to 100% of your active users. To put it simply, they fetch and schedule your push notifications ahead of time. So even if your users are offline, have network issues, or are on airplane mode, your notification will get delivered provided they've been active on your app beforehand. So for your active users, you will find it hard find anyone who hasn't gotten your notification.
Stage 3 will boost your delivery rates by 7 – 10%.
Smart Push's Stage 4 – The Secret Sauce
And finally, we've our own delivery secret sauce. Netcore's dedicated push notification deliverability experts. We've been known as the best in the email space for years. So we took that expertise and transferred it to the push notifications division. The deliverability team spent thousands of hours experimenting, innovating, and implementing ingenious hacks on every level of the push notification funnel. Their efforts have further squeezed another undeniable advantage.
Stage 4 will boost your delivery rates by 10 – 15%.
The Fallout
Android OS: Netcore's Smartech Smart Push Amplification technology will eventually help you boost campaign delivery rates by over 45% on these smartphones. Additionally, the battery life of your users' devices is not greatly affected through these protocols.
Android devices running on Marshmallow and above end up consuming less than 1% of battery life due to the high degree of device optimisation.
Apple iOS: Similarly, this feature allows you to boost push notification delivery rates by over 45%.
The battery life in question is also expended to an extent of less than 1% as the processor gets utilised only when your app is relaunched.
All in all, Smartech's Push Amplification lays the foundation for you to get the most out of your mobile user engagement strategy, one carefully created AI-powered hyper-personalised campaign at a time.
The claim to be the world's best is not one that can be easily made. This is especially so in the technology industry, where rapid changes upend the status quo almost every day. It demands a certain level of confidence; not just the distance we've traversed so far, but also the distance we're confident of going in the future. Despite everything, we aren't afraid to claim just that – we have been the World's best in Email Delivery for a long time. And now, we're also the World's best in App Push Notification Delivery.
The Smart Push technology will give you a delivery boost of at least 45%. And we've already seen successes.
"We have achieved 2.2X uplift in Delivery Rate and 1.8X uplift in Click Rate through Push Notification as a channel with Smartech." – Mr. Mukund Kulkarni, Chief Manager – Digital Marketing, TVS Credit
To top it off, combine Smart Push with our RAMAN-powered engagement mechanisms will super charge your engagement as well. Staying on brand, Smartech will help you deliver to more customers, and engage with them better than anyone else in the market.
To know more, get in touch with us today!