According to eMarketer research, 88% of mobile time is spent on apps. Wow, that's a lot. Now while the party is on, you might as well want your app to grab the biggest chunk of your user's time, and fairly so. However, to make a mark in this space, two things are required -people need to download your app, and they need to use it. Building an app is only half the job done, and dare we say, the easier one. The other half and the harder one is implementing app user engagement strategies to ensure that your users keep coming back to your app.
Keeping that in mind, we've compiled this article, where we share7 best practices that'll help your mobile app drive its user engagement metrics through the roof. Curiosity piqued? Read on to find out more!
1. Brew the perfect onboarding experience
Here's an interesting statistic- it only takes users 50 milliseconds to form an opinion about an app and the value it offers. This is why, as a product/growth owner, you should focus intensively on curating an extremely sophisticated onboarding experience. Onboarding is the first impression you leave your users with and hence is the first step to boosting user engagement.
A user onboarding process serves many critical purposes- it tells your users, what your product does, the value it provides, and how they can use it to solve major their pain points. In the process, it guides them to their "aha!" moments, helping them quickly realize your app's value. Hence, the onboarding process must be kept interactive so that the users remain engaged at all times. Equally important is to make the journey contextual by analyzing every individual user persona and crafting an onboarding journey that can address the unique user pain points with ease. This is where contextual nudges & walkthroughs help make the entire user onboarding intuitive and relevant.
More on contextual walkthroughs for delivering compelling onboarding experiences in just a click!
Remember, at the time of onboarding, user motivation is at an all-time high. And, you should capitalize on this sentiment to guide users to accomplishing meaningful actions on the app. Attempt to walk every new user through the key features of your product, and help them quickly realize the value your app offers.
2. Contextually guide users to critical app features
Suppose your app is slightly complex and feature-intensive. In that case, rather than focusing on showcasing every feature, you should directly concern yourself with bringing your users face-to-face with the most critical features the minute they launch the app. More importantly, show them how these essential features can help them attend to their immediate goals. Then, as the user proceeds to explore different functions/sections of the app, guide them contextually through features that are relevant at that particular moment.
The way you choose to introduce key features decides whether or not a user would actually engage with it. One of the best ways of guiding users is by effectively using nudges.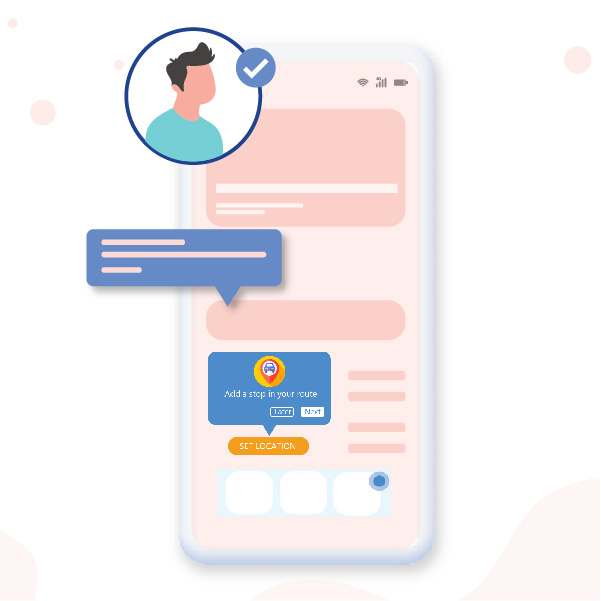 By implementing the right nudges you can not only contextually handhold users and walk them through the most critical app features but also monetize on their actions and app interactions to accentuate their navigation process. Nudges are a potent feature since they help users take decisive action in moments of high intent and thus foster higher rates of retention in the process.
3. Run rapid experiments
It goes without saying that whenever you launch a new application, not all of its features will be relevant to all the users. This is where A/B testing comes into play. It lets you compare different aspects and versions (home screen layout, types of nudges, CTA buttons, app flow & more) of your app and utilize the insights to deliver user-preferred experiences.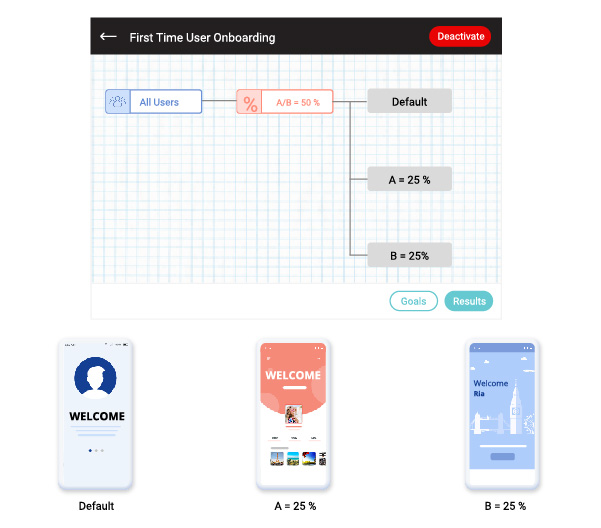 This is also the stage where you're required to be brutally honest with yourself. There will arise occasions when you might have to do away with features that you believe to be the best but which have low adoption as suggested by the test results. Removing features is never easy because a lot of time and effort goes into curating every single one of them. But, eliminating unpopular features and improving upon the ones that users love helps you cut your losses and increase user engagement by a significant margin. And that's the end goal, isn't it?
4. Run referral programs
There's perhaps not a more terrific way of creating a buzz about your app than word-of-mouth marketing. And the best course of achieving that is by running referral programs. Besides building virality and promoting growth, referral programs also double up as a highly effective re-engagement and retention channel.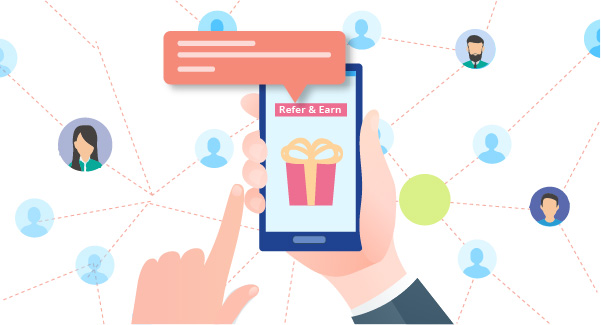 Getting your users to spread the word about the app or acquiring users through cross-promotion is an excellent means of securing more app downloads. You can either use referral features with different options for users to refer friends and contacts or display a cross-promotion engagement feature leading users to other apps you own. When implementing a referral program, include incentives when you can.
It is a proven fact that incentivized referrals perform better than non-incentivized referrals, so don't forget to include an incentive or two while implementing a referral program. Preferably these incentives should be such that they would get users back to the app and perform a critical event to avail the incentive.
5. Personalize the in-app experience
As data continues to consolidate its status as the most valuable form of currency with every passing day, delivering personalized user experiences has become rather paramount. To that extent, 91% of consumers are more likely to purchase from a brand that provides them with offers that are unique and, more importantly, relevant to their interests and preferences.
When you craft customized and personalized content, you are essentially paving the path for increased user engagement and conversion. There are a number of ways you could go about personalizing the in-app experience, tracking user behavior being the foremost of them, of course. Ask users about their preferences at the time of onboarding so that you can shoot them with product recommendations that align directly with their interests. You can also analyze their purchase history to recommend similar content or products to them. Tailoring push notification messaging based on user data, interests, behaviour, and other factors is an equally effective strategy.
6. Adopt a product-led growth strategy
A product-led growth strategy aims to give rise to delighted customers who subsequently become your products' greatest enthusiasts. In the times to follow, these are the very people who'll promote your business and all of its USPs without you needing to nudge them in the slightest. But for that to happen, your app has to be equally top-notch. Companies that adopt a product-led growth strategy do everything in their power to ensure that their product is the best out there.
They religiously factor in customer feedback and actively create new features based upon the inferences and observations of their users. To put it simply, they're entirely customer-centric. Product-led growth is about getting more out of your product builds by making sure users can uncover features and use cases that will stir their interest, keep them hooked to it for long, and at the same time empower you to identify your most profitable aspects.
Needless to say, at the heart of every PLG strategy lies product experience. The more palatable the product experience, the higher the success rate of your PLG strategy.
Related read: https://netcorecloud.com/blog/leveraging-product-led-approach/
7. Thrive on customer feedback
No mobile application think tank can aspire to brainstorm user engagement strategies by omitting customer feedback. Besides being central to the user engagement process, customer feedback also lets you eliminate features that could be bad for your business.
But that's not it. In addition to eliminating features that users don't like, it's equally if not more important to garner feedback on the overall user experience on the app. This feedback must gather suggestions on improving the app experience. But remember, in the end, implementation is the key. When you bring these changes into effect, your users will feel more valued.
Irrespective of how you process customer feedback, the end goal is to utilize it to dish out user experiences that are significantly more palatable and in line with their expectations than ever before.
Conclusion
As if developing an app wasn't a tricky affair by itself, making sure that it captures the imagination of the crowd out there makes the whole endeavor much more challenging. However, keeping the above practices in mind will help you understand customer expectations to the T and roll out experiences that perfectly align with them, thereby delivering highly effective user engagement.
And here's the best part! For implementing these engagement strategies you don't have to be heavily dependent on engineering/development efforts. With an easy SDK setup (in less than under a day), you can deploy no-code contextual nudges & walkthroughs in as little as 15 mins using Netcore's No-code Product Experience platform. Want to experience the no-code platform? We're happy to walk you through it! Schedule a demo with us!