Product recommendations aren't new. Remember the times when physical stores used human-led personal recommendations? Yes, they existed even before the internet. Personalized product recommendations try to replicate this for online stores at scale.
However, many online sites don't have an organized system to suggest multiple products. What if we tell you 91% of customers would abandon an online retailer over a poor shopping experience? That's right. With changes in digital and web experiences, customers need a personalized shopping experience to influence their buying decisions. There's a lot of potential sales to be won by adding personalized product recommendations to your online ecommerce stores.
What are product recommendations?
Product recommendations are select products users see across multiple pages on a site. These are algorithm-based relevant recommendations to craft a personalized shopping experience to influence purchasing. How? These product recommendations are powered by artificial intelligence and algorithms to predict and suggest products that will interest customers.
But creating a powerful shopping journey starts after deploying the AI that tracks data—shopper's behavior, browsing habits, and situational context.
Types of product recommendations
Before jumping into product recommendation examples, let's understand the different types of product recommendations and how AI helps shoppers by recommending products:
Collaborative filtering: It segments customers into groups based on their actions—similar purchasing or browsing patterns. The AI then analyzes the behavior of previous buyers and suggests products to the shoppers who have not completed the desired action. Usually, this includes a series of actions.
For example, if certain customers have clicked on products A, B, and C and another shopper clicks on products A and B, they will see product recommendations for C.
Content-based filtering: Uses shoppers' patterns like their profile and previous purchase history to recommend similar products matching their interests.
Hybrid recommender system: This is the combination of collaborative and content-based filtering. Both the filters are run separately and combined to find the products the shopper really wants to buy.
Benefits of product recommendations
71% of retailers who invested in personalized customer experience saw an increase in conversion rate of more than 40%. When ecommerce stores leverage personalized product recommendations, they are likely to see this spike in conversions. Here's why.
Product discovery
There are thousands and thousands of products on your web store, which means customers will not find relevant products. Moreover, shoppers won't know exactly which products from your offerings match their preferences. By suggesting products that match the shopper's preferences, they will discover more products that fit their interest, and at the same time, they can quickly navigate through the store without being distracted by multiple products in the store.
Good customer experience
Think about when a customer decided to leave the website because they couldn't find the right product, but a product recommendation influenced their decision. By recommending relevant products to your customers, you show them the products they are genuinely interested in, simplify their buying decisions and deliver a seamless shopping experience.
Boosts purchases
In online shopping, relevance equals conversion. When customers see a relevant product from the product recommendation widget, they click and purchase it. By showcasing exactly what the shopper wants, you retain the sales.
Bestseller and trending products
With the bestselling and trending product recommendations on the homepage, people can see what other customers have purchased.
Bestselling product recommendations: These products are the most sold products on your ecommerce website. These, too can be changed for different users based on their preferences.
Trending product recommendations: These products suggest the recent trends like the seasonal and festive trends to convince the shoppers to check them out.
Sephora–best selling and trending product recommendation
Here's how Sephora welcomes their new visitors by placing their bestselling products on the homepage: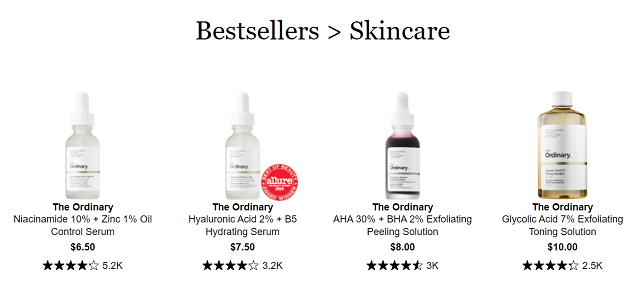 And here are trending products.

Why it works?
These product recommendations guide the visitors to learn more about the most popular and trending products in your store that are likely to drive more conversions.
New arrivals on the home page
With the new arrivals widget, new products are added to the inventory.
Reebok–New arrivals
Look how Reebok leverages the New Arrivals widget to let the customers know about the fresh designs.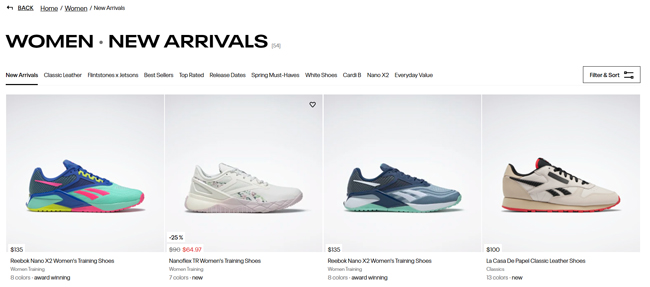 Why it works?
The homepage is the primary touchpoint for visitors to the ecommerce store. Adding the New Arrivals widget creates a buzz among the shoppers about the new product launches.
Recommendations to cross-sell products
Cross-selling is an excellent way to leverage ecommerce sales and boost customer satisfaction by recommending products that accentuate the one being purchased. Add the 'Works Well With' or 'Goes With This' widget on the product page to optimize your product recommendation strategy.
MAC–Cross-sell product recommendation
MAC offers relevant products that complement the lipstick the shopper is viewing.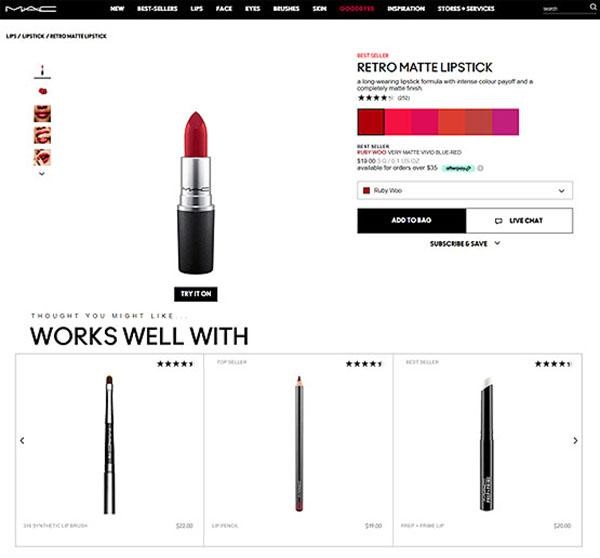 Why it works?
When the shopper is offered relevant products that complement the MAC lipstick they viewed, they can add products that match their preference into the cart and increase the order value.
Product recommendations with personalized search results
Intelligent search results are necessary for maintaining the engagement levels of visitors. To produce personalized search results, the AI collects data from various aspects of a shopper's patterns and also from the search terms the shopper uses.
Forever 21–Personalized search results
Let us look at this search personalization example by Forever 21.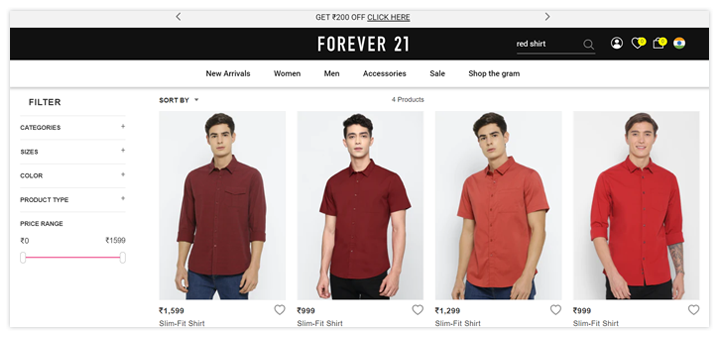 Why it works?
When a shopper searches for 'red shirt', the website will display red shirts for men. Why? Because the website has identified data about the shopper's gender which helps show more relevant search results.
Product recommendations based on behavior
When the website analyzes a shopper's behavior like their browsing, searching, and buying patterns, AI sends out personalized production recommendations.
Customer also viewed: The 'Customer Also Viewed' widget displays the most explored products by the customers.
Recommended for you: The 'Recommended For You' widget suggests products after predicting a shopper's recent search and purchase pattern.
McDonald's–Behavior-based product recommendation
Below is an example of how McDonald's recommends different burger options for the customer who frequently orders single burger patty.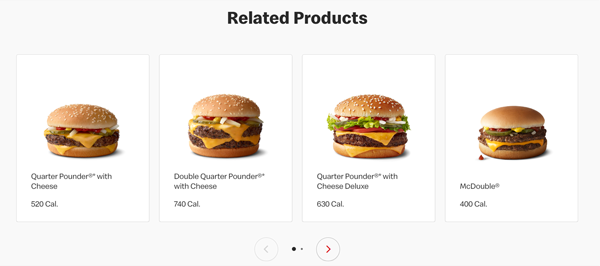 Why it works?
Since the customer's purchase history includes single patty burgers, the AI analyzed the customer's patterns and suggested more varieties of burgers in the higher price range with better offers.
Similar product recommendations
Displaying similar product recommendations suggests products based on the brands, product category, and other attributes they are currently browsing.
Shoppers will see a 'Similar Products' or 'You May Also Like' widget catalog below the products they view.
Walmart–Similar products recommendation
See how Walmart recommends similar products to the one being viewed.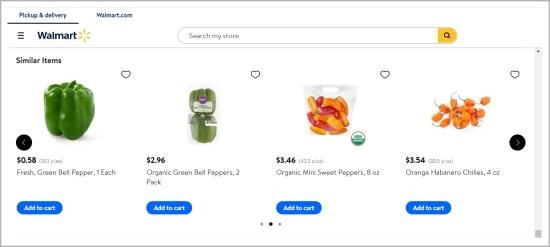 Why it works?
When visitors are not satisfied with currently viewed products, they can explore similar products to find better preferences. For example, at Walmart, a visitor looks for a certain vegetable but couldn't find a relevant match. With the Similar Products widget, they can discover more items and find the one that may better suit their preference.
Recommendations before exit
This is a last-minute approach to tempt the shoppers who decide to leave the website.
If the visitor is going to exit the website, Martech platforms are powered to display a pop-up with a list of products to tempt them.
Once Upon a Trunk–Exit intent product recommendation
Take a look at this exit-intent product recommendation by Once Upon a Trunk.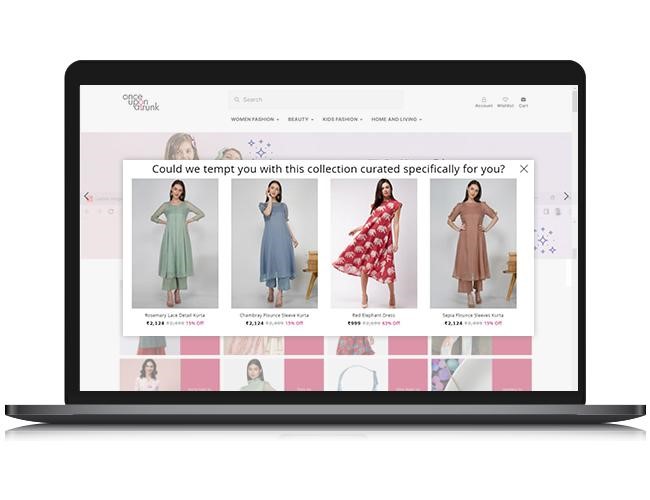 Netcore added the exit-intent popup to the brand's website, which alone contributed to 0.6% of their revenue leading to increased conversion.
Why it works?
This entices hesitant shoppers to explore the undiscovered products. Giving a discount before they exit is also a great way to retain shoppers who were price sensitive.
Product recommendations on email
Send product recommendations on email to nurture your customers and drive them to your website. Instead of sending bulk recommendations, study the customer's behavior and send them personalized product recommendations.
Croc's India–Personalised email recommendations
Here's how Crocs India sends its customers a personalized email product recommendation.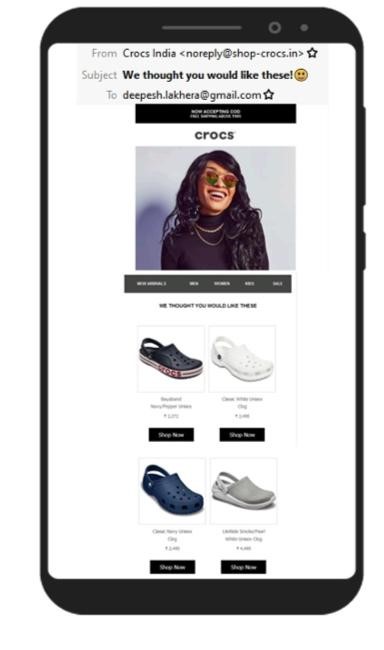 Netcore helped Crocs India personalize their email journey leading to a 42X higher ROI. By using Netcore Cloud, they were able to send personalized emails based on their history and customer behavior. This reduced cart abandonment, reactivated these customers, and upsold products.
Why it works?
By sending a personalized product recommendation email, you can retarget inactive buyers and reduce cart abandonments.
Here are some other ways to use email product recommendations:
Send 'We Miss You' email if the customer hasn't visited your website in the past one month and reactivate the dormant shoppers.
Send email reminders to customers who have abandoned the cart. In your email, you can also recommend new products to customers.
Curated page tailored to preferences
Showcase the range of products that are based on your customers' shopping habits with a curated boutique page. This page is made by taking explicit feedback from the visitors—likes/dislikes. Based on this observation, a curated boutique page is made.
Zivame–Personalized boutique page
Below is an example by Zivame. They have curated a boutique page for their customers based on their recent activity in the store.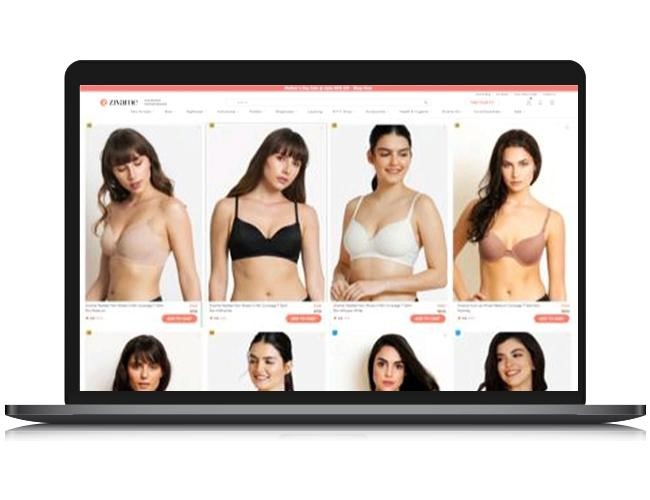 Using this product recommendation strategy, Netcore helped Zivame to generate 12X the marketing ROI.
On deploying Netcore, the AI analyzed Zivame's customers' buying patterns and curated a boutique page for them.
Why it works?
AI studies the shoppers' explicit preferences, the brands they like, the type of products they are looking for, and the price range. Based on this information, it curates a page relevant to customer's needs which helps in making an informed decision.
AI and machine learning play a huge role
56% of retailers expect real-time behavioral data to be a focus in the coming years. There's no doubt that bigger brands today are leveraging the power of AI. AI and machine learning go through thousands of products and collect millions of data points to simplify this process and help you provide the best product recommendations for your customers.

Netcore's Personalization platform helps you achieve exactly the same experience for your customers—discovering the products that customers are interested in based on their behavior and preferences.